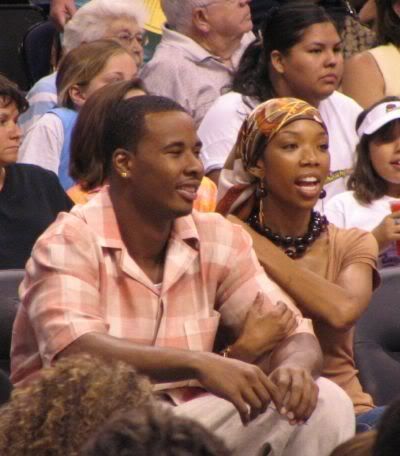 Brandy didn't have drugs or alcohol in her system the day she caused a fatal car accident, but she may have been heartbroken and distraught. The National Enquirer claims that she was dumped for good that morning by her on-off boyfriend and onetime fiance, Knicks forward guard Quentin Richardson, and that she was seen crying when she left his hotel:
The morning of the accident Brandy had been visiting her on-again off-again fiance, New York Knicks basketball star Quentin Richardson, who was in town for a game.

"The tried to reconcile one more time when Quentin finally told Brandy it just wasn't going to work. She left his hotel in tears," said the source.

Later that morning Brandy was going 65 mph when she slammed her 2007 Land Rover in a 2005 Toyota driven by 38-year0old Awatef Aboudihaj, who was married with one child… Aboudihaj's car hit another vehicle then slid sideways before striking the center divider. Brandy was not injured, but witnesses at the scene claim she was hysterical.
[From The National Enquirer print edition, February 12, 2006]
Brandy and Quentin announced their engagement in June, 2004, with Brandy sporting a $1 million custom-designed engagement ring. Right around that time the news came out that Brandy was never really married to the father of her daughter, producer Robert Smith. She claimed Smith was her husband when the two starred in a short MTV reality show about the birth of her child in mid 2002.
Brandy was so crazy about Quentin that she had his face tattooed on her left shoulder blade. She changed the tattoo of Quentin's face to a cat when they ended their engagement in October, 2005.
I have been in one of those relationships where you love the person but it's never going to work no matter how hard you try. It drives you crazy, but you have to just end it and move on. It was probably eating at Brandy for a while, and if this is true she must have been incredibly upset that morning.
Brandy is being sued for $50 million by the family of the woman killed in the accident she caused. The California Highway Patrol is recommending that she be charged with misdemeanor vehicular manslaughter, but she has not been officiallly charged yet. The case is under review by the city's attorney's office.