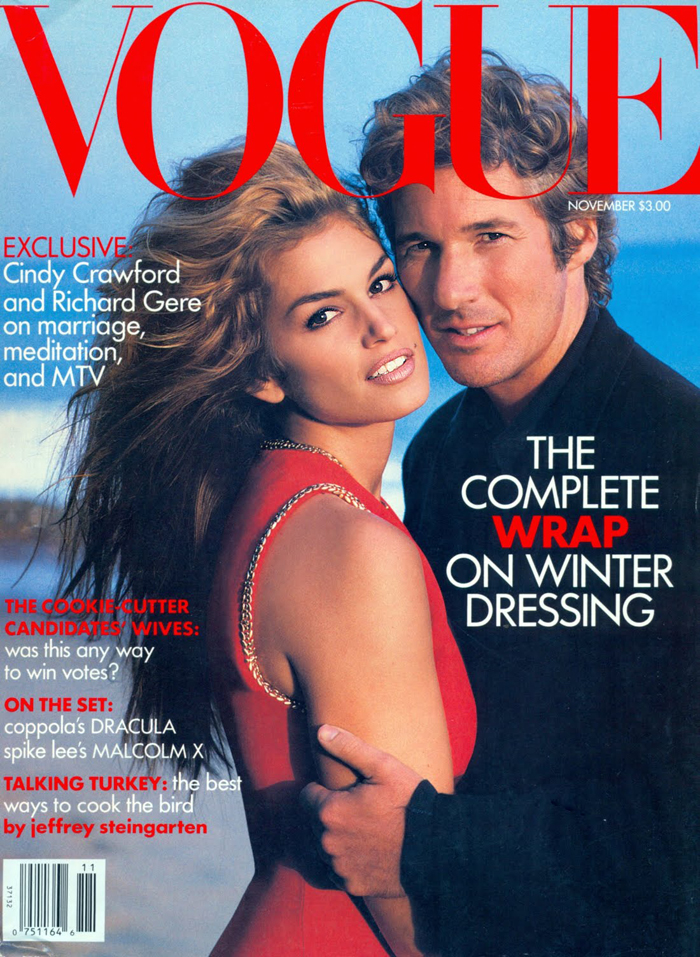 Here's an early 1990s cover of Vogue featuring Cindy Crawford and Richard Gere, who were married for about four years. Sometimes, I even forget that these two were ever together even though they were really one sharp looking couple back in the day. When I'm reminded of their former hotness together, I often find myself wondering exactly what went wrong in that marriage. Was it Richard's roving eye and handsy ways? Or did Cindy believe a certain terrible rumor for which Sylvester Stallone sort of takes ownership? Well, Cindy is talking now on an upcoming episode of "Oprah's Master Class" (which sounds like another OWN disaster in the making) about she and Richard's 17 year age difference, which she said was the major deal breaker. Interesting: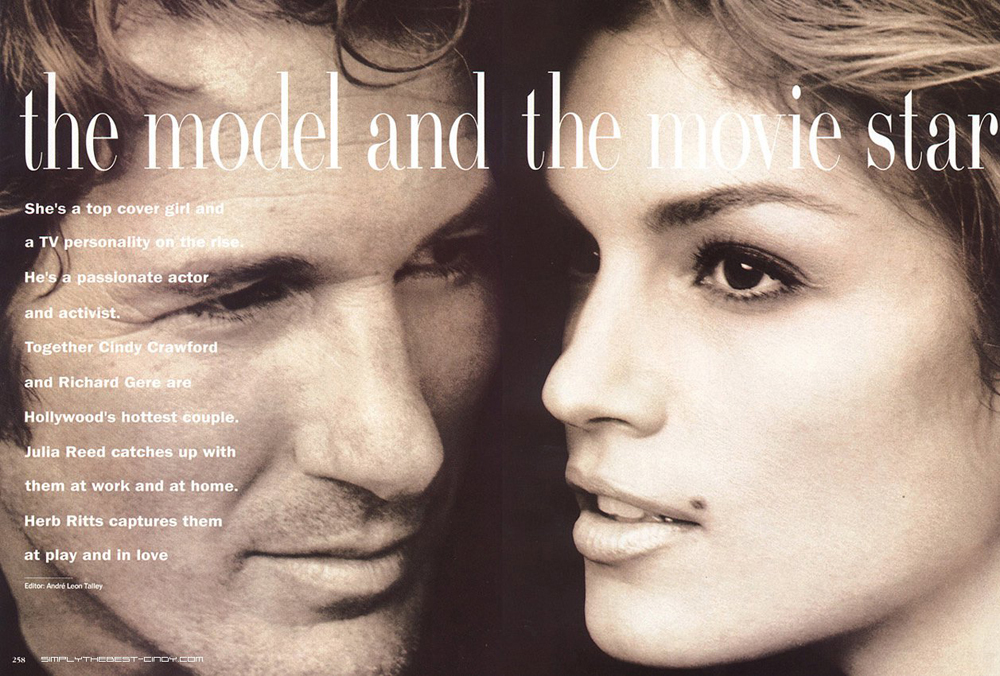 Their love didn't last a lifetime, but Cindy Crawford will always cherish the lessons she learned during her four-year marriage to Richard Gere. The model spoke candidly about their short-lived union during the March 11 episode of Oprah's Master Class, citing their 17-year age difference as the biggest issue in their relationship.

The stars met in the early '90s during a star-studded barbecue at the late photographer Herb Ritts' home. Crawford recalled, "I was 21. It was still all new to me. I met Richard Gere there. We pretty much started dating right away. When I was with him, that's when I was becoming well-known as well." The stars married four years later when Crawford was 25 and Gere was 42; they divorced in 1995.

"I just think your twenties, for women, is such a time when you're starting to come into your own and feel your own power and connect to your inner strength, and it's hard to do that — it's hard to change — in a relationship, because what one person might have signed up for, all of a sudden, you're not that anymore," the model said. "I think I was more willing at 22 to be, like, 'Okay, I'll follow,' but then you start going, 'Well, I don't want to just follow — I want to lead sometimes and I want to walk side by side sometimes.'

"When I would see how he was with fans when they approached him, a lot of the times it wouldn't be a good moment to sign an autograph, shake a hand or sign a picture. But I got to look to him to see how he created boundaries for himself that felt good," Crawford said. "Being a nice girl fro the Midwest, my inclination is always to give and say yes because I want people to like me. But then I saw Richard do it in a way that was like, 'You know what? Sorry, I'm not doing that. But I see you. He felt it was really just about making that connection, looking someone in the eyes and making sure that they felt seen."

Though her marriage to Gere didn't work out, Crawford doesn't view it as a complete failure. "Richard's a super smart guy, and he's interesting, and he's interested, and I learned a lot about the world," she explained. "It was a great chapter in my life."
[From Us Weekly]
According to OWN, "Oprah's Master Class" features "an unprecedented look into the minds of modern masters making a unique impact on the world and the lessons they've learned," and I guess Cindy's episode is about love and marriage. That sounds sketchy to me because I honestly don't think there are any experts on marriage — none at all, and especially not most marriage counselors. It also sounds like a convenient excuse for Cindy (whom I love, by the way) to talk about those rumors that she and Rande Gerber are close to over after she dirty danced with Brody Jenner after getting drunk and making a fool out of herself in public.
Indeed, Cindy does "open up" to give her secret to a long-lasting (in this case, 14-year) marriage to Rande. In that regard, Cindy claims that she and Rande work because "We started off as friends, and I know that Rande and I, we will always be friends, no matter what. Being rooted and based in friendship, it keeps the relationship elevated. There's always a certain level of respect. We really listen to each other. I would want that friendship in my life no matter what." Does that sound about right? Obviously, spouses should also be friends, but it kind of sounds like Cindy is saying she can picture not being "with" Rande but still being friends. Or maybe I'm imagining things.
Here's Rande and Cindy putting on their happy faces on 3/10 at the Stuart House benefit.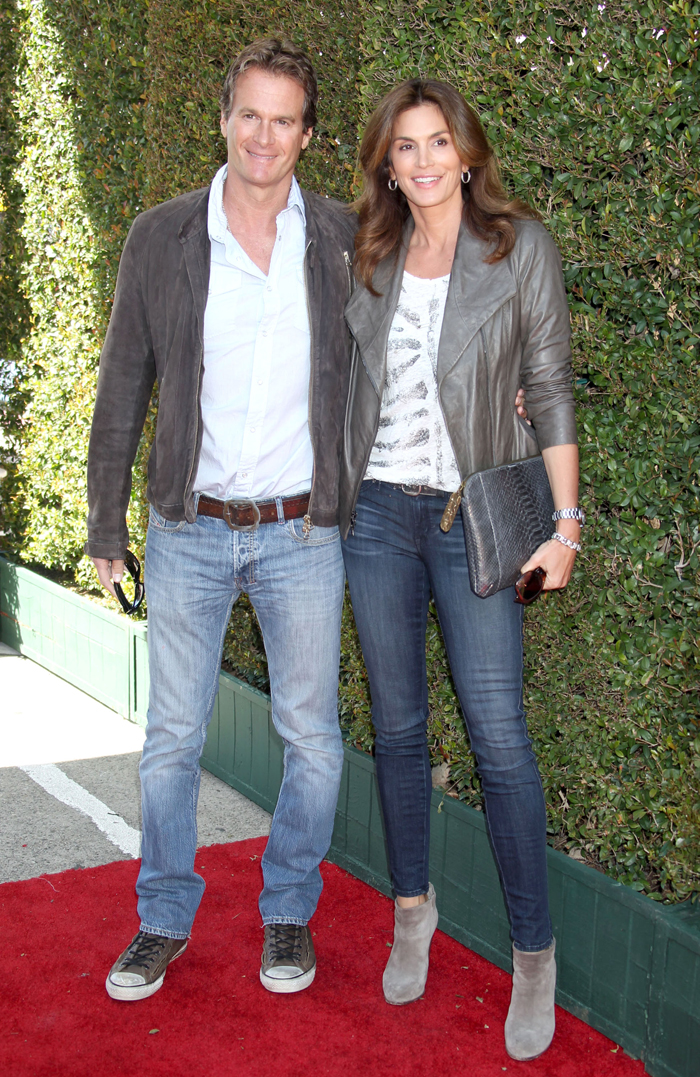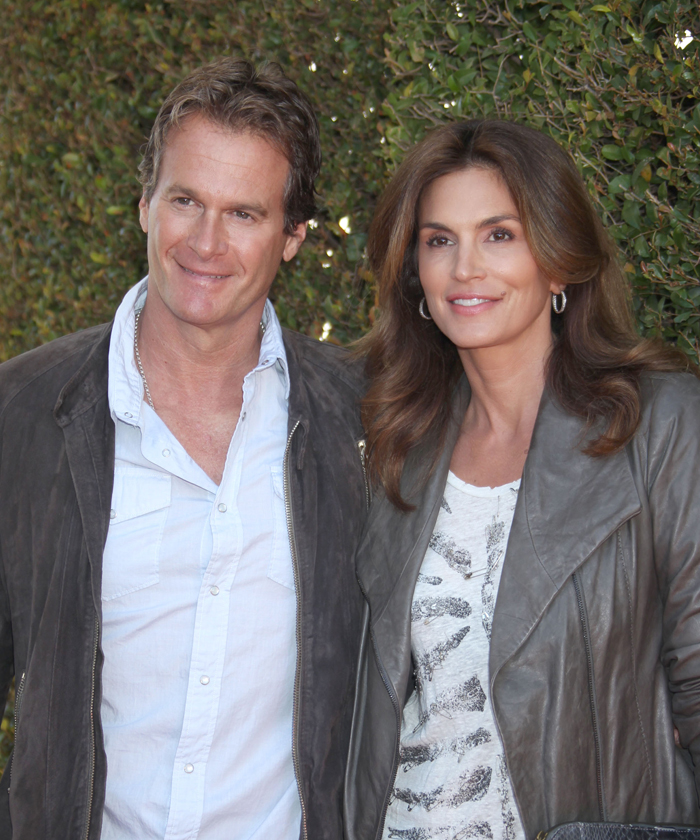 Photos courtesy of Fame/Flynet and Vogue