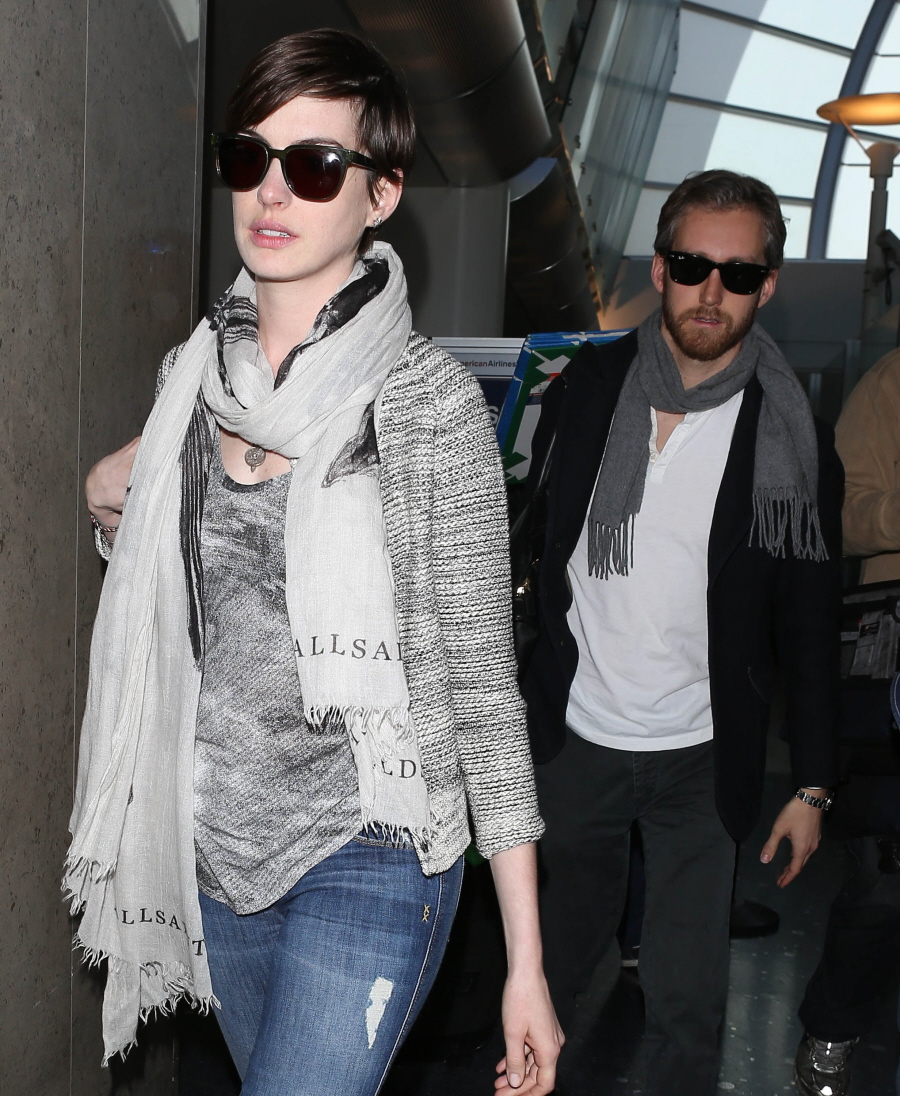 Over the past four years or so, various actresses, writers, directors and producers have been circling various My Fair Lady projects. For a long time, Emma Thompson was going to write another film adaptation/remake and Carey Mulligan was going to star in the film. And at some point, people started talking about doing the original My Fair Lady (the musical) on Broadway or on stage in London. Personally, I would love it if there was a revival of GB Shaw's Pygmalion, the source material for My Fair Lady. Shaw's play is still a work of genius, and Shaw never tacked on the "Hollywood ending" of Prof. Higgins and Eliza Doolittle getting together in the end.
Anyway, as I said, there are lots of rumors and rumors within rumors. The latest rumors – which are a few days old and the rumors haven't been denied yet – are about the film adaptation/remake and who could possibly star. How would you feel about Anne Hathaway as Eliza? The rain in Spain falls mainly in the OMG OSCAR BEAV.
ANNE HATHAWAY will be swotting up on CHAS & DAVE's material having been lined up to play cockney Eliza Doolittle in a film remake of My Fair Lady.

Producer CAMERON MACKINTOSH, who worked with the US star on Les Misérables, is behind the project and is intent on Anne being his leading lady. And there are apparently no concerns about her learning the required London twang.

A source said: "Cameron feels having Anne on board will help replicate the success of Les Mis. The cockney accent won't be a problem. She'll pick it up in no time."

Anne has been linked with the My Fair Lady stage role on Broadway but it's the big-screen version that she's most likely to star in.

Les Mis proved she can hold a note and she played a Brit in One Day, though she was criticised for "the most honkingly rubbish Yorkshire accent".

A few singalongs to Snooker Loopy will help her perfect the East End lilt in no time.
Audrey Hepburn found the accent work (and the singing) particularly difficult too, so if Anne doesn't get it right, she's in good company. No one told Audrey that her singing vocals were going to be mixed with Marni Nixon's voice, and she was absolutely horrified when she first saw the film. The role was originally played by Julie Andrews on the stage, and when Hollywood bought the property, many thought Julie should be given the role, but it went to Audrey instead (some tried to make it into a girlfight, but Julie always maintained that Audrey was a lovely woman and the casting drama wasn't her fault). If Anne does get this role, people will create some girl drama between Anne and Carey Mulligan, because the last I heard, Emma Thompson didn't want anything to do with the project if Carey wasn't involved.
Now, all that being said… I don't hate the idea of Anne in the role. I think Carey would probably be better, but Anne is far from the worst choice. Think about it this way – somewhere, right now, Jessica Biel is making an audition tape because she thinks she would be an amazing Eliza Doolittle.
Some photos of Annie & Adam Shulman at LAX yesterday: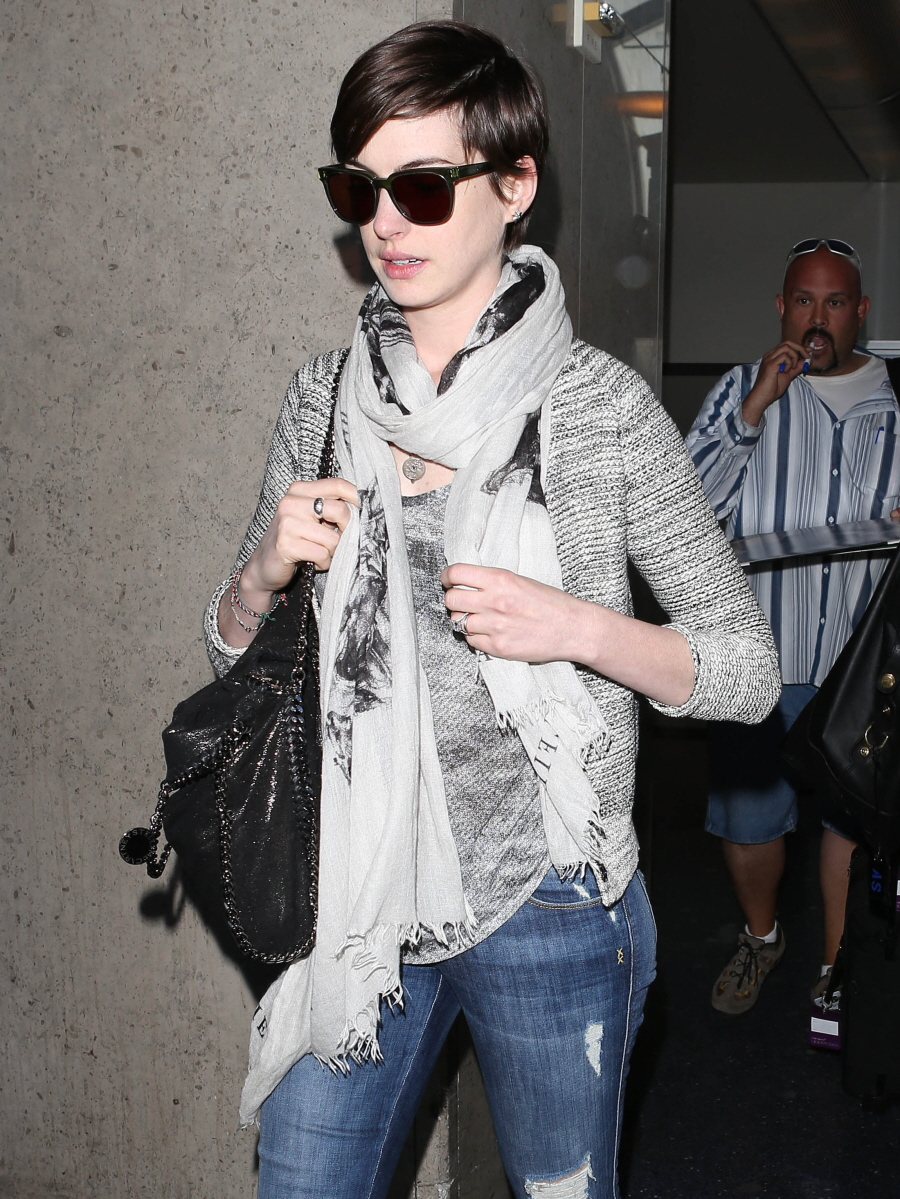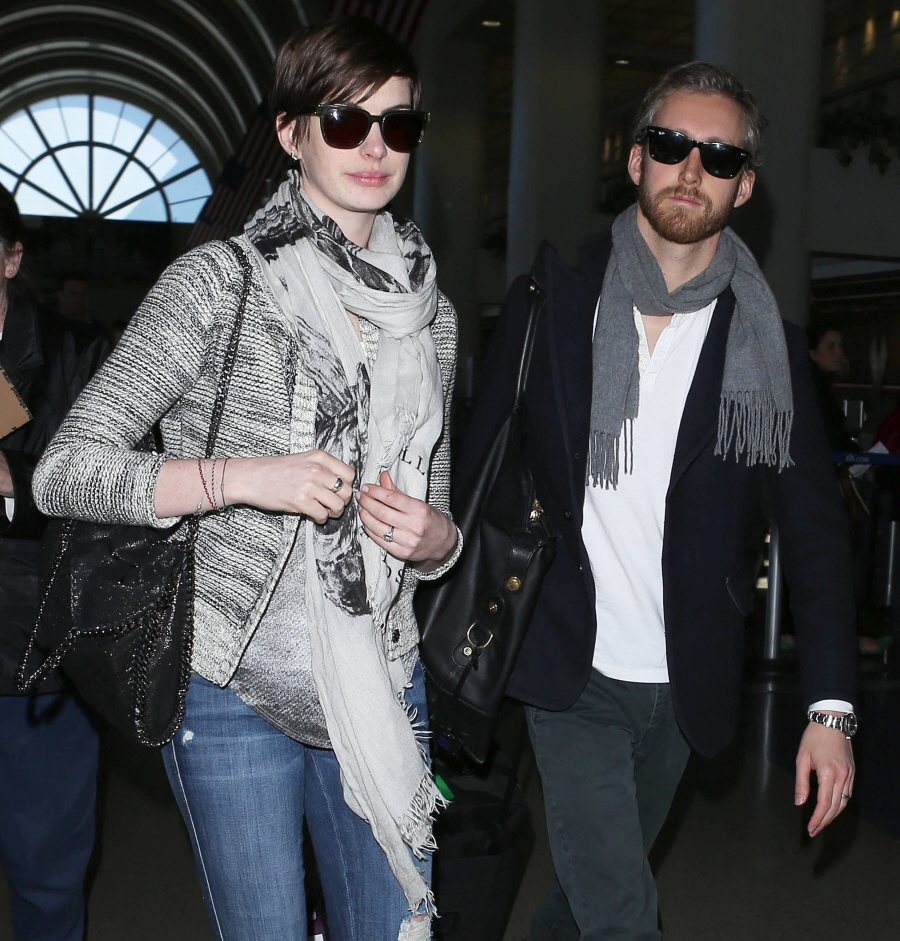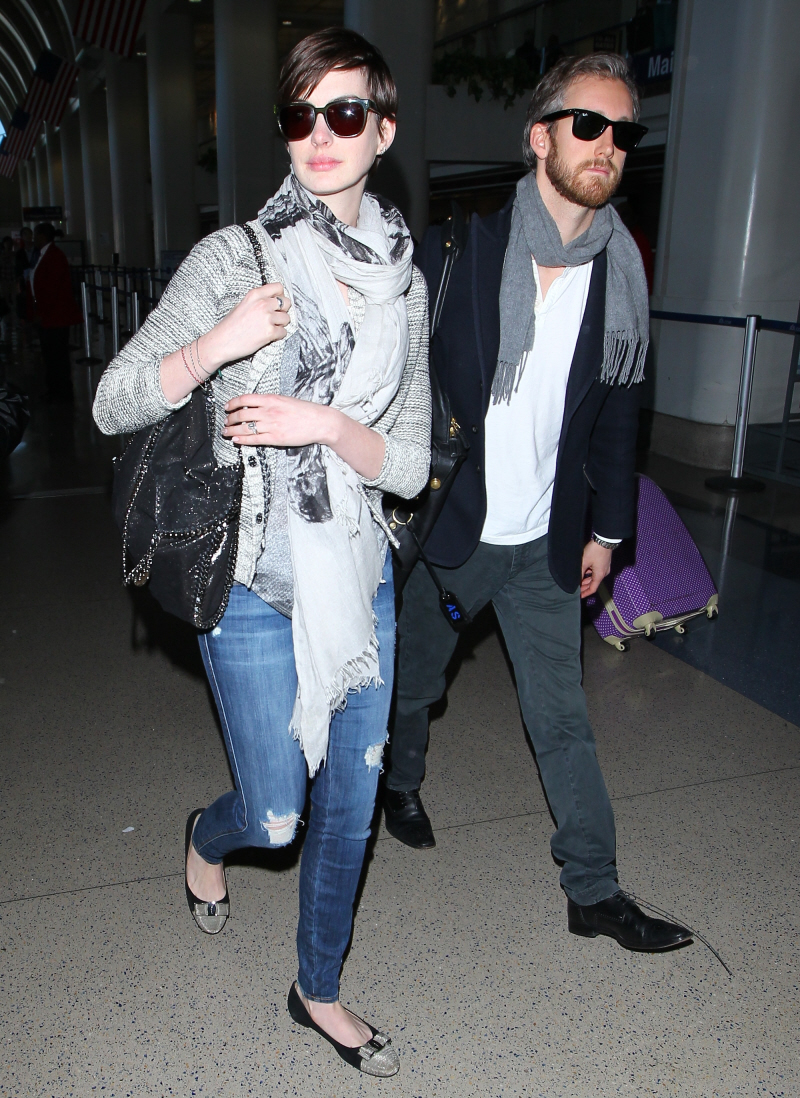 Photos courtesy of WENN and Fame/Flynet.