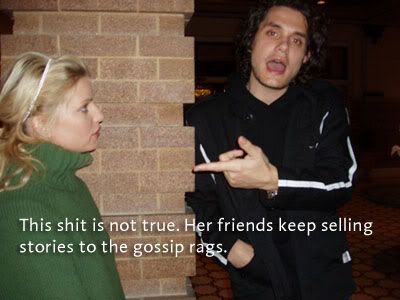 Jessica Simpson and John Mayer have been all over the place lately during his tour in Florida. Now a supposed insider says that John is moving in together to Jessica's house in L.A. this spring.
"She joined the first leg of John's winter tour," disclosed the friend.

"The turned his first dates in Florida into a working vacation. They hit the night spots and dined [sic] in Miami"

The next step, says their pal, will edge them even closer to marriage.

"Jessica and John will be moving in together – most likely into Jessica's L.A. house in the spring."
[From The National Enquirer print edition, February 12, 2007]
The Enquirer goes on to speculate that they could be getting married soon.
Given how reluctant Mayer was to admit that he had a burgeoning fling with Jessica, I really doubt this is true. He doesn't seem sincere about the relationship from what I can glean by judging everything through paparazzi photos.
A fan followed Jessica and Mayer to their hotel as part of an assignment for Life and Style. She rain into the pair in the hotel lobby. She said they were touchy-feely and that Mayer told her that Jessica was "the nice one" after they signed autographs for her and obliged her request for a picture. The paparrazo in training followed the two to Applebees and then to a local theatre, where they saw Smoking Aces.
Here are the two pictures she snapped, courtesy of Sweetkisses.net. Jessica is also seen in Hollywood shopping for groceries on February 1st. Jessica was seen out at Hyde this weekend with new auburn-colored hair, which was probably just a wig as usual.