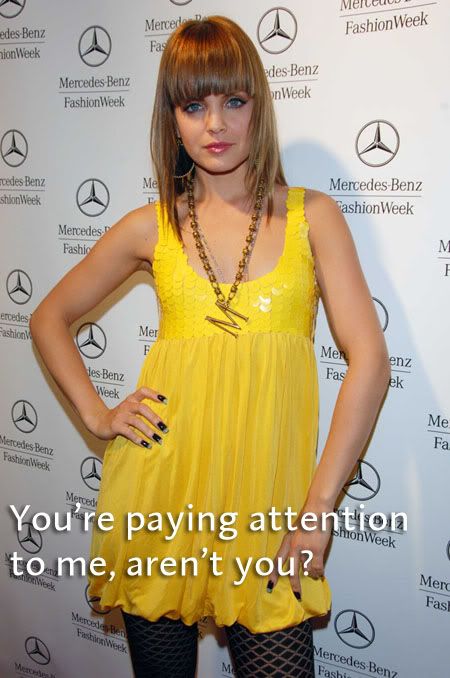 Mena Suvari is not getting enough attention in her one-third-life crisis. In the spring of 2005 she dumped her 17 year-older German husband after five years of marriage, and has been shacking up with a younger breakdancer. She took off her top at the beach a couple of weeks ago – in Florida, not France – and has been seen out in bootlicious outfits. Now she's just dressing fug, and sporting Nelly Furtado bangs.
The top of her canary yellow tank-style dress has those kind of big scaly sequins that would be at home on a mermaid costume, and the too-short bottom is gathered accordian style. She pairs it with black diamond-patterned 3/4 length leggings. Her accessories include giant hoop earrings and a fat 'ol chain with a giant M that looks like she snatched it off the hood of a car. Black acrylic nails with silver embellished tips top off her ensemble. The purse and shoes aren't bad, though.
Mena has a part in that Factory Girl movie, and stars in three upcoming films this year, including another with Sienna Miller called The Mysteries of Pittsburgh, which is the only one that might be decent.
She is shown at a Fashionweek kickoff party on 1/31. Pictures from Gossip Rocks.