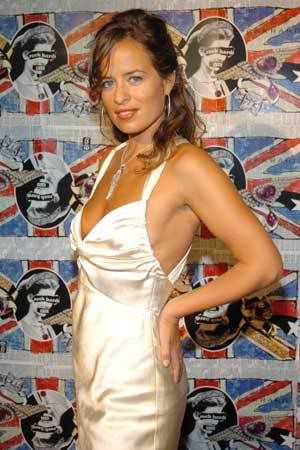 Mick and Bianca Spawn – Jade Jagger – terrorized fellow first class passengers last week – who then gleefully got their own back by spilling bitchy details to Page Six:
Jade was escorted onto the plane as 'a guest of Richard Branson's.' She looked as though she hadn't combed her hair or showered in weeks and was with a fellow of the same bathing habits and a fat, unfortunate-looking woman.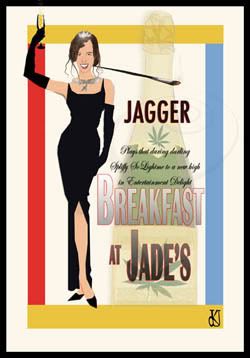 Let's all admit that the fat, unfortunate sidekick really got the worst of that commentary … one expects BoHo, rock spawn, Brits to be rather dirty and carefree. Not long ago in these very pages JJ was rumoured to enjoy a daily chilly chill Breakfast of spliff and champagne.
Sadly Virgin is not able to provide the calming effects of really First Class chronic and so Jade and companions apparently got more than a bit boisterous:
All proceeded to get drunk and loud and were falling down in the aisles, climbing over seats, pointing at people and talking about them aloud. They helped themselves to [alcoholic] bottles on the bar and generally disrupted the entire first-class section.
Dirty Jade and Jade's Dirty Boy apparently snatched some of the wine off other passengers trays, made rude comments about the quality of the wine they quaffed and even indulged in a bit of undercover stewardess kicking. Still at the end of the day the harshest dig was reserved for the "fat, unfortunate-looking woman" FUfs we'll call her … who even when sleeping couldn't avoid giving grave, fat-based offense.
At one point, the captain even had to come out. Then the fat one falls asleep with butt crack exposed.
I suppose not even the authority of the captain's reprimand can contain the cheeky horror of the FUfsy butt crack – which while not snatching wine or kicking the help simply sits there grimacing at one – adding insult to the already rampant injury. We hate FUfs and we hate her fufsy butt crack in all its porcine splendour – lying about like a sow waiting for its litter of piglets.
Jade's London Rep Sara Forage (as in wee piglets foraging for mini-bar bottles of decent vintage) came up with the ballsy:
Jade has a fear of flying and often has a drink before she boards a flight to calm her down.

While she had fun with her traveling companions, she did not realize that her talking and laughing would cause offense and regrets causing any disruption of which, until now, she was completely unaware.
I take it back — that's Sara Forage as in foraging through the British Hempire to score that quality Smoke that scores you that Early Onset Alzheimers buzz. Now that's the kind of London Rep a Jagger needs.