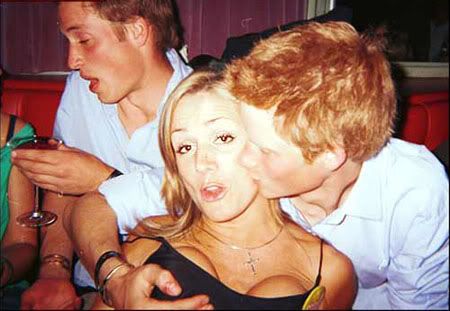 The News of the World reports Red Prince Harry's online romancing complete with secret nicknames, internet trends and getting' buck nekkid
BESOTTED Prince Harry has confessed his love for Chelsy Davy – on a website used by millions.

The prince posts intimate messages on Facebook, a new MySpace-style social network, to keep in touch with Chelsy.

Harry, 22, uses the codename Spike Wells and calls Chelsy "Chicken."
I can't be the only one to note that it's a very stripper spelling of the name "Chelsy." Perhaps it went so thoroughly round the popular girls name cycle — that it popped back up in the British upperclass — I look forward to a slew of titled types: Lady Destineee, Baroness Peachez, or Lusshuss Marchioness of Queensbury. Perhaps the upper classes worldwide have become so undifferentiated from the trashy attractions of contemporary money and power that stripper names are all the rage.
The Facebook silliness continued when Harry was coming home from a London Club:
Harry got out his laptop and wrote on Facebook: "Spike is TAKING OFF ALL HIS CLOTHES, waiting for chicken!"
The lesson here kids … don't drink and post.
On January 23, Harry joked about how depressed he was that Chelsy had gone to America. The Army 2nd lieutenant said: "Spike is contemplating hanging himself with a dental floss and a banana…just coz his fave person in the world has gone!"

Two days later at 4.58am he added: "Spike is finding it hard to get the dental floss to hold…and isn't sure how he can involve the banana!"
Harry, I'm sure suggestions for banana use will now be flooding in from friendly readers worldwide.
It all somewhow brings to mind his Dad's (well maybe his Dad) cringemaking messages to Camilla. The men in this family seem to have an odd notion of what props add to the romance. Bananas and floss still being preferable to tampons. Good dental hygiene and a diet well balanced in potassium is always gonna top Toxic Shock Syndrome.
The ginger Prince had an unusual moment of forethought … that, quite usually, changed nothing that he actually did
Harry admits opening his heart on the net may be a silly thing to do. After returning to Britain from a visit to Chelsy in November the prince confessed he was "madly in love with his girlfriend and knows he's gonna regret saying that over facebook!!"
If the regrets kick in too hard we suggest he contact Jade Jagger's London Rep Sara Forage … she's got some smoke that will put the minger back in his ginger and erase any memory of how it all happened.
Picture below from Just Jared.