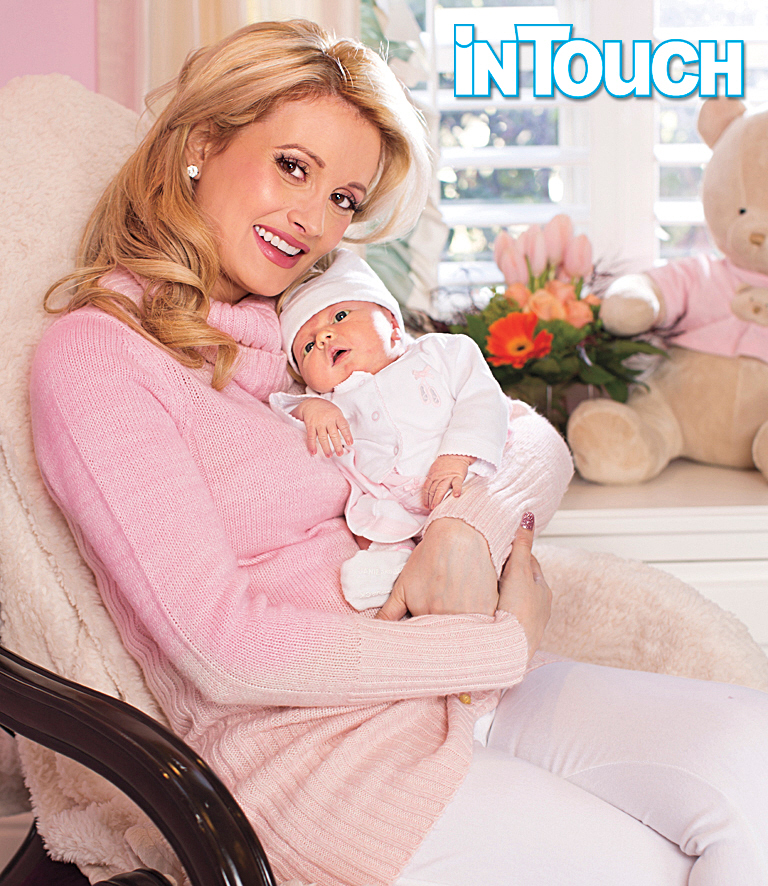 A few weeks ago, Holly Madison gave birth to her first child, a baby girl she named Rainbow Aurora Rotella. As in, Rainbow Rotella. Holly heard that people were making fun of her baby name, and she basically told everybody to STFU and leave her hippie/raver baby name alone. Anyway, Holly decided to sell/give Rainbow's first photos to In Touch Weekly in this week's issue. I'm assuming Holly sold the first photo, but I'm also assuming the photo didn't sell for that much. This isn't a Jolie-Pitt baby, you know! Maybe $50,000-80,000, I'm guessing? The photo is pretty tasteful, I guess. It's a lot of PINK, but I think a lot of new moms do that, and I bet Holly is so jazzed to have a little girl. Holly also sat down for her first postpartum interview with ITW:
Just seven days after Holly Madison gave birth to her first baby, the former Playmate opens her home only to In Touch to introduce daughter Rainbow Aurora to the world.

"Just holding her is so much fun," Holly gushes in the new issue of In Touch, on newsstands now. "Even the delivery was easy — I was actually laughing as I was pushing!"

The 33-year-old star delivered her 7-pound, 2-ounce beauty, whose father is boyfriend Pasquale Rotella, on March 5. "I had an epidural, so it was fun. She made it easy on me. It was crazy when she came out, though – she was dark and covered in blood. It looked like she'd made a zombie escape!"

Holly tells In Touch that Rainbow's unusual moniker comes from a former schoolmate. "I was always envious of her name!" explains the new mom, who ignores the jabs — including those who have sniped that it sounds stripper-esque. "If getting teased about her name is the worst thing that's going to happen to her," says Holly, "bring it on."

For now, the star and Pasquale are blissfully enjoying everything about parenthood — sleepless nights and all. "Like all babies, she has her moments. But I'm so in awe of her that I even think her screams are cute!"

In fact, she's already making plans to expand her brood. "We want Rainbow to have lots of brothers and sisters. I'd love to have six!"
Bless her for saying outright that she had an epidural. I was prepared to roll my eyes at "I was actually laughing as I was pushing" but the epidural makes more sense. She was high as a kite! Apparently, Holly also talked about her plans for "losing the baby weight" because of course new mothers love to talk about this stuff two seconds after they gave birth. Holly tells the mag, "We're putting a gym in our house, so I'll be doing yoga, Pilates, and cardio" and she plans to diet with green smoothies, coconut yogurt (that sounds good) and veggie stews. She says she gained 40 pounds while pregnant, which sounds fine, and I bet she would lose it all naturally by breastfeeding anyway, but postpartum weight loss is a billion dollar industry and don't you know every woman is supposed to hate herself for not keeping it "tight" two seconds after giving birth?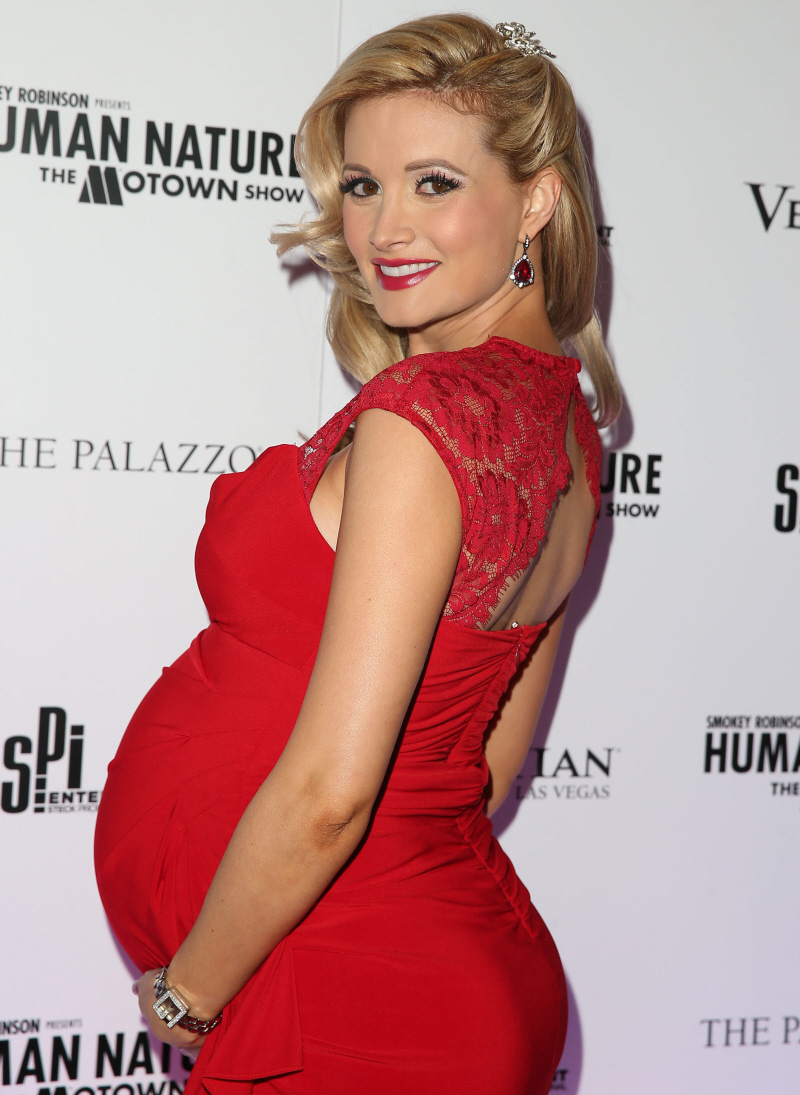 Photos courtesy of In Touch Weekly, WENN.