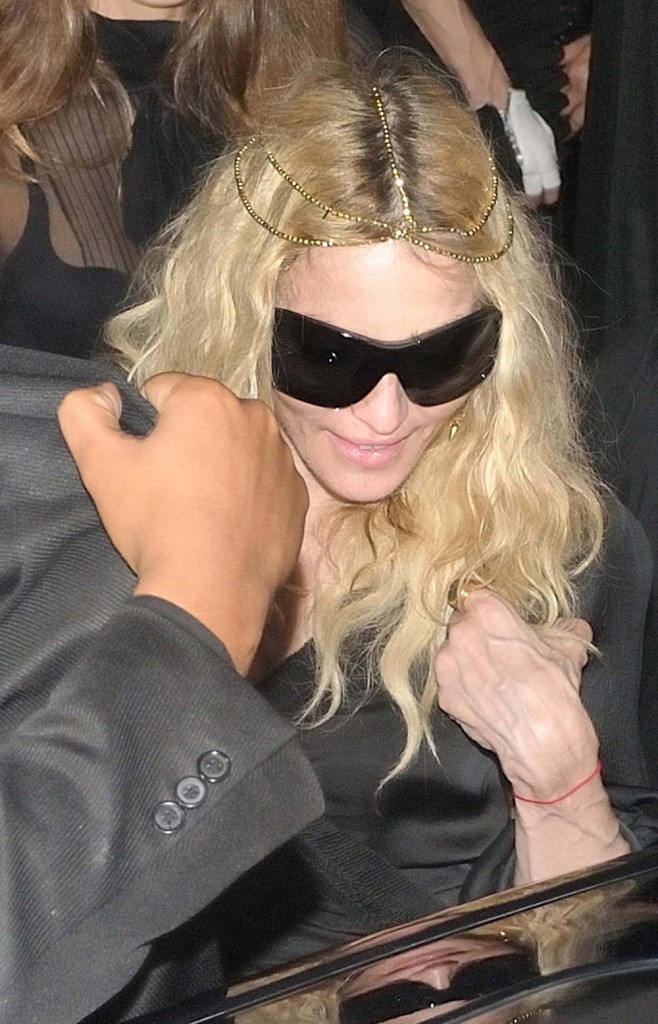 Madonna's charitable donations from 2007 are slowly coming to light. Fox news notes that despite donating $2.6 million to Kabbalah through her Ray of Light Foundation, she failed to donate any money to Malawi that year. Madonna's tax records do not show any donations to her Raising Malawai foundation or to other charities benefiting Malawai. They find this surprising because 2007 is the year that she adopted David Banda from the impoverished nation.
In hard numbers, Madonna really showed her devotion to the group — a total of $2,626,529 to the Kabbalah Center itself and another $4,025 to the group's offshoot, Spirituality for Kids. The latter likely represents her promised donation from royalties from her children's books.

More interestingly, Madonna gave no money to her other charity, Raising Malawi, in 2007, even though that was the year she adopted little David Banda from that country. The tax filing wasn't submitted to the IRS until June 2008, so it could have been amended to show Madonna's appreciation to the African country for letting her change their adoption laws. She sent zero dollars to any groups currently working in Malawi.

In fact, considering that Madonna made a documentary about Malawi and threw a fundraiser for her cause last February with Gucci and UNICEF, it does seem a shade odd that she didn't spread her wealth to a region that so needs it. The whereabouts of that $3.7 million that was claimed from that fundraiser still have not been reported. When they file their Form 990s, it will be interesting to see if that's where Madonna's Kabbalah money went.
Madonna's Ray of Light Foundation is a charity she established herself, which she funds herself, to donate to causes she deems important. Some of the money comes from book royalties, but it is not publicly funded by donations. She also owns shares, which she uses returns from to fund various causes. While most of us wouldn't really consider Kabbalah a charity, if this is how Madonna wants to spend her money it's her prerogative.
Raising Malawi is funded by donations, and is a separate charity to the Ray of Light Foundation. The tax details for this organization, as Fox news itself points out, may not yet have been filed. This charity was formed by Madonna and Michael Berg in 2006, the tax she is filing is for the 2007 year. The details for these donations may not be available yet.
Madonna also donated $250,000 to AIDS causes from her Ray of Light Charity, so while much of it went into Kabbalah, some of it did filter down to more traditional charities. They include cancer research, Jewish Big Brothers and Sisters, and a group that builds playgrounds in Russia. All in all, worthwhile causes.
Note by Celebitchy: Earlier reports had Raising Malawai accepting donations through Kabbalah and using the same tax identification number and mailing address as the controversial religion. When Madonna was criticized for this, she countered that the application for a separate tax ID for the Raising Malawai charity was in process. It's possible that in 2007 they were essentially the same organization and that all donations were funneled through Kabbalah. That would explain why Madonna made no obvious donations to Raising Malawai. It also makes her unaccountable for the nearly $4 million from that celebrity attended Gucci fundraiser she held earlier this year unless she had the sense to make sure Raising Malawai is a separate organization for 2008. Maybe it's much easier for her, and for the Kabbalah bigwigs, if it isn't.
Madonna is shown out in Brazil on 12/22/08. Credit: WENN