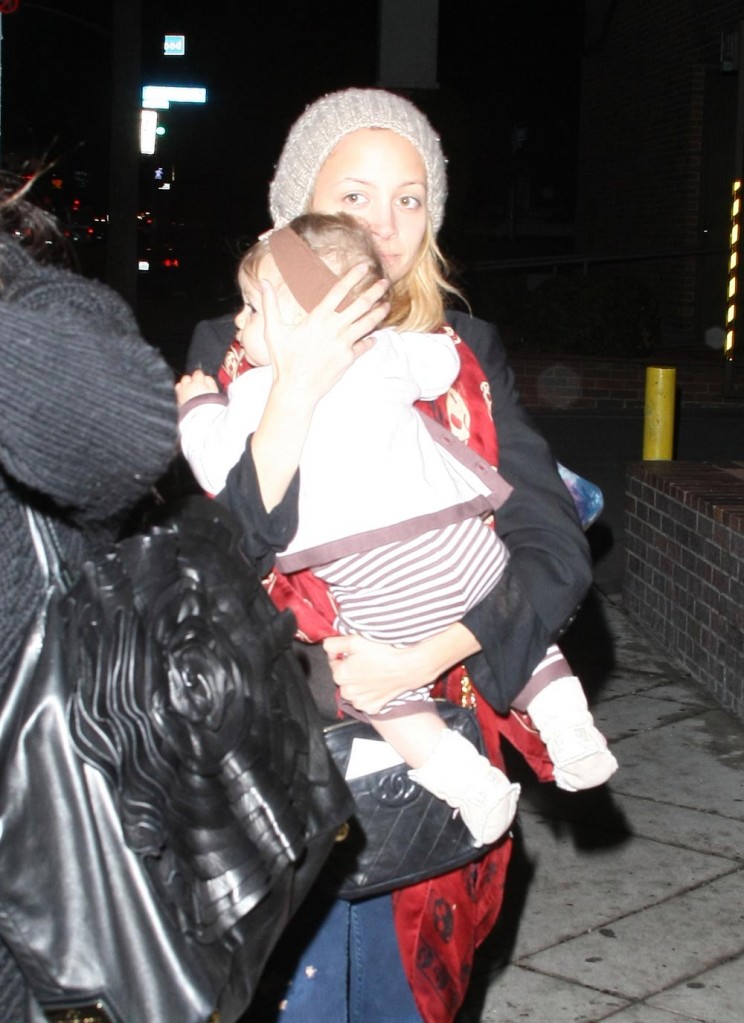 According to Star's cover story, Nicole Richie is going to celebrate baby Harlow's first birthday by trying to get pregnant with her second child. For some reason, it has the rare whiff of truth, even though it's Star. Richie seems like an excellent mother who has shunned the drug usage and partying ways of her youth, and would most likely be open to another baby. Harlow's father, Joel Madden might be a different story, though.
It's baby time again for Nicole Richie and her rocker boyfriend, Joel Madden! As their daughter Harlow gets ready to celebrate her first birthday, reformed party girl Nicole is taking vitamins, eating healthy and designing trendy maternity wear in preparation for her second pregnancy.

"Nicole simply told Joel that she wants another baby —right away," a friend confides to Star. "He was a little overwhelmed at first, but now he's with her 100 percent. They're both thrilled about adding to their family."

And, after overcoming a rocky period in their relationship, the couple seems to be in a good place to expand their family. Nicole and Joel went through a "rough patch, but now things are amazing between them," says a source. "Nicole knows it's because they're both so happy with Harlow, and she truly believes another baby will double their commitment."
[From Star Magazine]
Did Nicole and Joel really hit a rough patch? Maybe – sometimes they do seem at odds, and ever since Harlow's birth, Nicole has seemed much more engaged in parenthood, while Joel seems to be going on the never-ending tour. They were going to get married at some point, and then they weren't, and then Nicole maybe moved out, and then she didn't. Their relationship seems to provide a lot of drama, and maybe Nicole thinks another baby will settle things down. I bet Joel's not into it, though. Honestly, I'm surprised they've lasted this long.
Note by Celebitchy: These two seem pretty stable to me, and I bet that both of them want another baby, not just Nicole. An earlier story in the National Enquirer had Joel begging Nicole to have another baby while she told him he better marry her if he wanted more kids. The tabloids make stuff up all the time so who knows what's really going on. They're not married, but they seem perfectly happy and I would bet they'll be together for a while. Everyone has a different impression though obviously.
Nicole Richie is shown out with Harlow on 12/22/08. Credit: Fame. Nicole and Joel are shown out at a Dolce & Gabanna event on 12/15/08. Credit: WENN/Fayes Vision