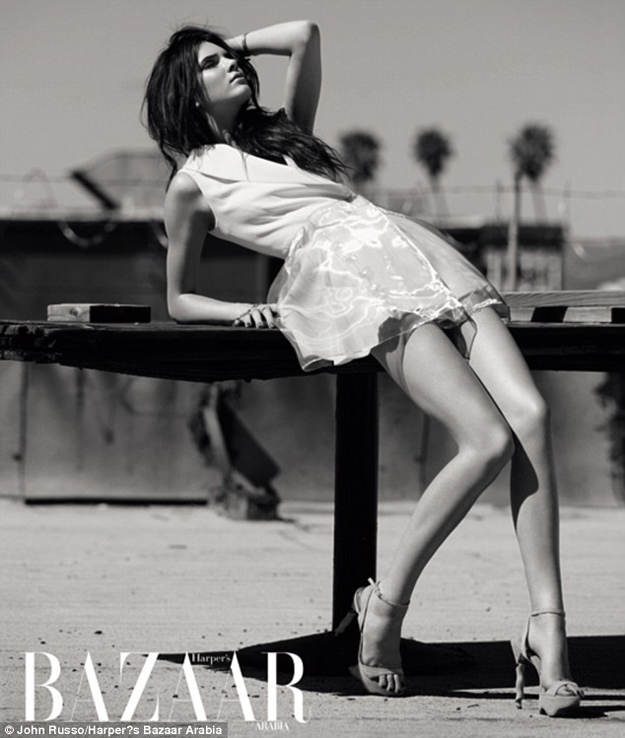 Kendall Jenner covers Harper's Bazaar Arabia at the relatively tender age of 17 years. What's interesting is that even though her name initially resulted in Kendall's first modelling jobs a few years ago, she's a fairly decent model, but the Kardashian-Jenner stigma quite nearly prevents anyone from taking her seriously, which is unfortunate.
The editorial is rather lovely even if the cover (which is featured at the end of this post) isn't so great because poor Kendall is wearing an ugly black-and-white striped maxi dress from Marc Jacobs. I especially like the shots where she's sporting mussed up hair and smoky eyes, and the black Gucci gown is probably my favorite outfit of the entire spread. You may notice that Kendall's long, lean legs appear prominently in this photoshoot, and Kendall discusses in this interview how tough it is to be thin. This seems odd coming from a model, right?
Don't call her "skinny": "I'm constantly criticised for being too skinny. I'm trying to gain weight but my body won't let it happen. What people don't understand is that calling someone too skinny is the same as calling someone too fat, it's not a nice feeling."

She's not just a Kardashian/Jenner: "I'm trying my best with what I want to do, which is modeling. I think I'm on my own career path and I don't really care what other people have to say about me being in the spotlight of my sisters. I'm just doing my own thing."
[From Harper's Bazaar Arabia]
Hmm. The topic of weight perception is quite a touchy subject, and I have noticed that (quite frequently) whenever we discuss models who have curvy figures in a positive light (such as Kate Upton or Ralph Lauren's first plus-sized model, Robin Lawley), there's an undercurrent in the comments from women who take offense at the discussion of how refreshing it is to see models who are not stick thin. Yes, I get that nobody should be passing negative judgment on anyone else's body, but I have never understood why praising curvy figures is an insult to non-curvy ones.
I come from a complicated perspective on the matter or weight issues and body image. At different points in my life, I have been called both too fat and too skinny, and I can say that (from my perspective) it hurt me a lot more to be called fat. Sure, I was irritated and annoyed to be called skinny, but it never hurt my feelings, and that might be because I'm not naturally skinny. I basically had to stop eating to get there, so my outlook on the matter is definitely warped, and now I simply hit the gym a lot and eat to match. I understand that some of you have expressed (like Kendall) how upsetting it is to be called skinny, and I hope you'll explain the matter further to me at some point in the future if not today.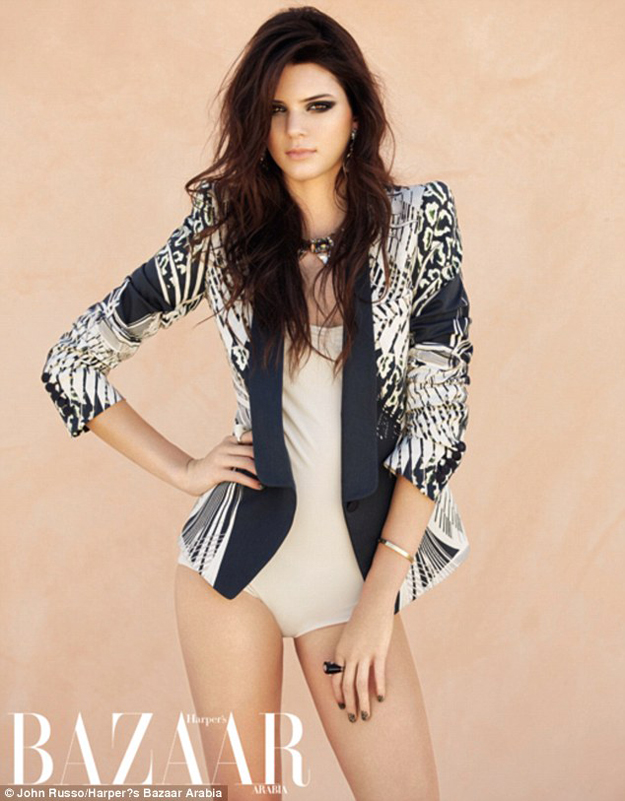 Photos courtesy of Harper's Bazaar Arabia