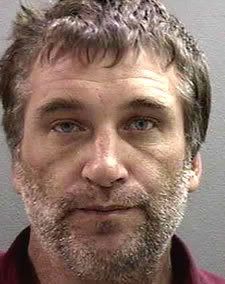 Daniel Baldwin is the latest celebrity with a warrant out for his arrest. The story goes something like this:
Last November 2006, Daniel decided to steal a friend's GMC Yukon and drive it to a Santa Monica motel. The goal was to get as messed up as possible on drugs. To infinity and beyond. The party didn't last long though, because Daniel's friend reported his truck stolen, and the cops tracked it down at the motel, along with our boy Daniel. Daniel was found surrounded by incriminating narcotics and other drug paraphenalia. He was charged with possesion of illegal drugs and grand theft auto on the spot, and bail was set for $20,000. However, the cops later let Daniel go on his own recognizance because, according to them, "his high profile makes him less of a flight risk."
Boy, were they wrong. Daniel failed to show up at court yesterday to face felony charges, and now a warrant has been issued for his arrest! Look out L.A., Daniel Baldwin is a fugitive!
photo via AlaskaReport.com