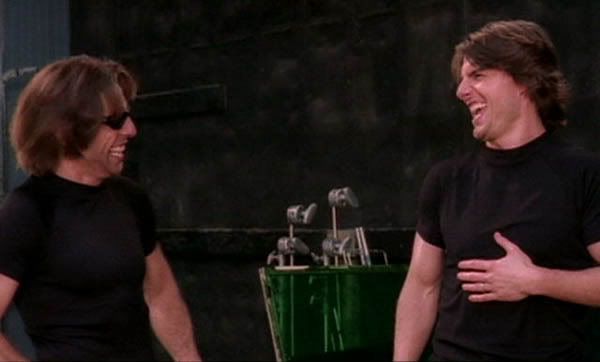 In truly frightening news Tom Cruise and Ben Stiller are in talks to star in a Hardy Boys all grown up comedy Hardy Men. It all started when
Tom Cruise met with Ben Stiller about possibly starring Ben's newest project Tropic Thunder, a film that mocks the Mission Impossible trilogy, but that Cruise won't be involved with that project. The site also reports that Cruise sees the Stiller comedy as a way to remold his image after a string of bad publicity surrounding his odd behavior including jumping on couches and calling Matt Lauer glib.
Having recently finished impregnating (?) and re-sculpting Katie Holmes both outside and inside, nasally and spiritually, Cruise is busting a Betsy Ross on the tatters of his reputation.
The theory being that a comedy will make him both likable again and somehow imply that he's in on the joke – rather than the personally trained butt of it.
When looking for a comedy project – clearly the Ben Stiller train is leaving every five minutes. Stiller's manic over-production seems to turn major motion picture production into a weekly Sketch Comedy show. Something will be rolling out with a catch phrase and a basic parody concept no matter what day of the week it is. Mission Impossible parody not a good fit … no worries … he has baker's dozen of half-conceived projects already in pre-production. This boy needs a lot of love from a lot of people all the time.
Lucky for Ben The Wayan Brother keep churning out their product — insuring the Hollywood bottom feeders rung is always occupied … sometimes your competition is the only thing that keeps you from coming in last.
Stills via Tenth Planet.net