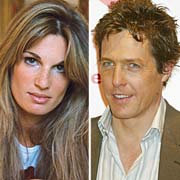 The amusing evil that is the 3am Girls at The Daily Mirror add some catchy lyrics to the ho-hum music of Hugh Grant's love life
HUGH Grant's roving eye has sparked another public spat with Jemima Khan – their second in as many weeks. While Hugh schmoozed the ladies at the post-premiere party of his latest film, Music And Lyrics, on Monday night, his girlfriend of three years was left alone and stony-faced sitting in the corner.
Now stony faced is really one of the better looks on Jemima Khan, whose face is not really her best asset. She occupies that odd rarefied position of the resident hugely horse-faced British IT girl — of some years standing with no discernible talent, charm or accomplishment. Jemima does possess a posh background, money, and has one interesting marriage to a cricket star behind her: this somehow equals tabloid glamour in the UK.
The last few years she has been working as the monogamy placeholder for Hugh Grant … the sort of post-Hurley girly that he walks around while getting up to all sorts of mischief in his doddering confirmed bachelor way
At one point, 46-year-old Hugh was overheard saying: "I can't kiss too many more women tonight as I've already had a row with Jemima!" Oops…
Not that surprising when you realize their last public row was when he took her out on a tour of his old Divine Brown haunts. Almost like he's asking for trouble … or the Universe is delivering it free of charge … surely he should be permanently avoiding Sunset Boulevard
This isn't the only time the couple have fallen out in public. Last month, Hugh yelled at Jemima after they were left stranded on LA's Sunset Boulevard – the very spot where he picked up hooker Divine Brown – because their car didn't turn up after lunch.

And just last week, guests at Jemima's 33rd birthday party at The George in Mayfair were astounded to hear Hugh accuse her of being a "dictator" and a nag – after Jemima had made a joke about him being a commitment-phobe.
Given that he blew up on a talk show yesterday when the "When you gonna marry Jemima" Question was asked …doesnt seem like she was wrong … doesnt seem like she should hang around much longer. Why the long face Jemima … is it Hugh or were you just born that way.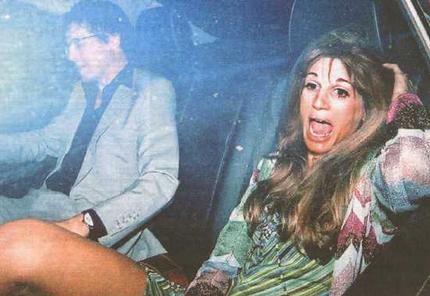 images via Sydney Morning Herald and Sky.com