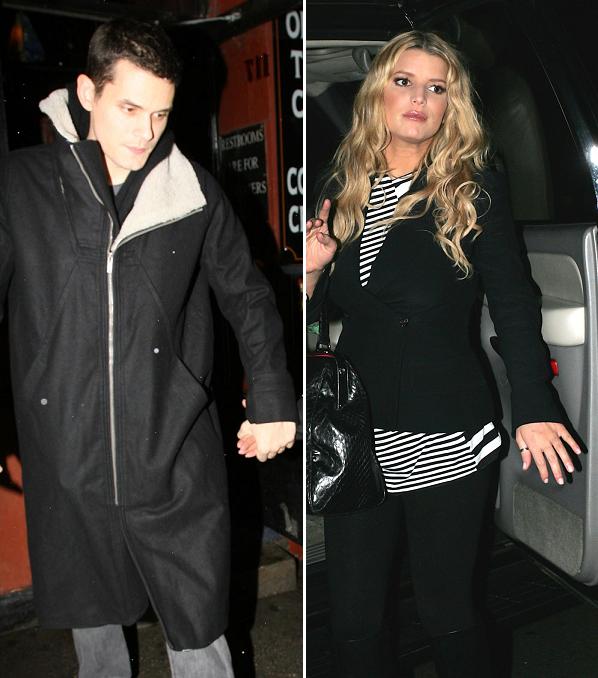 John Mayer has publicly defended ex-girlfriend Jessica Simpson on at least one occasion. But if you think that means he and Jess are on good terms, you'd be wrong. John – being the always courageous man that he is – bolted from an art show after getting word that Jessica would be making an appearance. It sounds like he's pretty afraid of her, even though she generally strikes me as harmless – so long as there are no microphones around.
John Mayer wants to avoid ex-girlfriend Jessica Simpson at all costs. Jennifer Aniston's main squeeze showed up at Gallery1988 in L.A. to support pal Pete Wentz's art effort "Without You I'm Just Me," but ditched out early upon hearing Jess would be making an appearance.

"John showed up early for the public viewing and took pictures with fans, but left before the VIP portion of the evening started," an insider tells us. "He wanted to be there for Pete, but wanted more to avoid the possibility of a dramatic encounter with Jess."
[From Gatecrasher]
I didn't realize Jessica Simpson was the dramatic encounter sort. She always struck me more as the crying in the bathroom type. Really, if John Mayer acted that way around every woman he's ever dated, he could never leave the house. He either needs to stop man whoring around or at least man up enough to be in the same building as an ex.
In sort of related Mayer news, he and Jennifer Aniston are in Los Cabos right now – though technically not together. Jennifer is staying at the same resort as Courteney Cox and David Arquette, while John is at a neighboring place with his two brothers. Nothing says romance like a whole hotel between two lovers.
Here's John Mayer at LAX airport with his brothers Carl and Ben on December 26th. Images thanks to Bauer-Griffin.