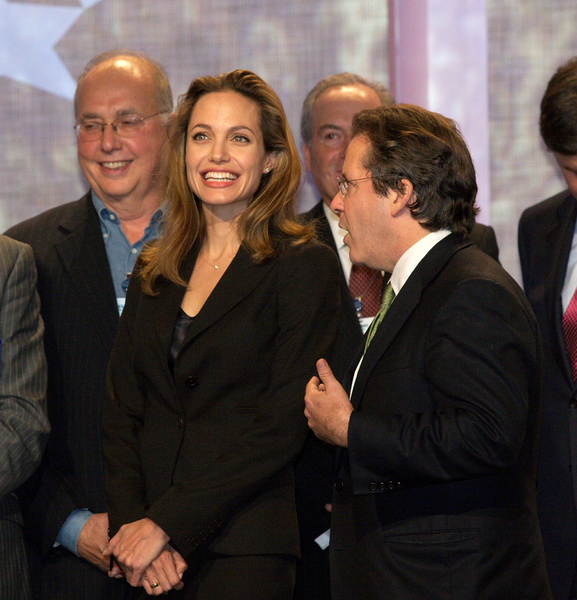 Angelina Jolie has topped the Reuters/AlertNet poll of celebrity humanitarians, beating out her partner Brad Pitt, Darfur activist Mia Farrow, U2's Bono and UN Ambassador of Peace George Clooney. Jolie got about one-third of the votes cast, despite her quieter humanitarian schedule this year- she was pregnant with twins for the first half of the year. Still, Jolie managed to make a UNHCR/USO trip to Iraq and refugee camps on Iraq's border this spring, where she not only met with refugees displaced by the Iraq war, but she also met with General David Petraeus and with American soldiers stationed in Baghdad. In October she made a trip to Afghanistan, focusing more attention on the permanently displaced Afghan and tribal refugees. Through the Jolie-Pitt Foundation, Brad and Angelina donated $2 million to Ethiopia, targeted for a center of learning for children affected by AIDS and tuberculosis. They also donated another $1 million for children affected by the Iraq war.
Hollywood actress, U.N. goodwill ambassador and globe-trotting mother-of-six Angelina Jolie was named top celebrity humanitarian for the second year running in an AlertNet poll. Not many mothers would go haring off to a warzone just months after giving birth to twins, but Jolie squeezed in a trip to Afghanistan in October to raise awareness of the plight of refugees returning home to rebuild their lives.

Jolie scooped almost a third of the votes in the online poll despite the fact she has done relatively little other humanitarian work in a busy year in which she also released two major films. In second place was actress Mia Farrow, who regularly speaks out on Darfur and Congo. U2 rockstar Bono, who campaigns on debt, unfair trade and HIV/AIDS, came third. The least respected celebrity was Madonna, who was roundly condemned over her adoption of a young boy from Malawi which was finalised this year.

Jolie, said to be the world's top earning actress, has made some 25 trips to meet refugees and internally displaced people (IDPs) since 2001 in her capacity as an ambassador for the U.N. refugee agency UNHCR. "She manages to raise the issues on the plight of refugees and IDPs in ways that are very human, simple but poignant," said UNHCR spokeswoman Marie-Noelle Little-Boyer who has accompanied Jolie on many trips. "I'm not surprised she won. She has a way of reaching people that is something particular to her. I think she is so moved by the situation herself that it really comes from the heart."

Of the 132 people who took part in the poll, 40 voted for Jolie. Other celebrities attracting praise included actor George Clooney who campaigns on Darfur and was named a U.N. "messenger of peace" this year, and Jolie's partner actor Brad Pitt who is involved in post-Hurricane Katrina work and runs a Darfur charity with Clooney and actor Don Cheadle. Other celebrities popular with voters included: Actor-director Ben Affleck who made a film on Democratic Republic of Congo to help UNHCR raise $23 million for those displaced by the war Don Cheadle who was commended for his "persistent and consistent lobbying for international attention to conflict in Africa" TV chatshow queen Oprah Winfrey who won praise for "teaching others to make a difference".
[From Reuters/AlertNet]
Apparently, a lot of the same people who think highly of Jolie, Pitt, Affleck, Farrow and Bono absolutely hate Madonna, and are suspicious of nearly all of her actions and her motivations. More than a third of those polled listed Madonna as "the celebrity humanitarian they least respected", singling out her adoption of David Banda and the bad message the adoption and the Kabbalah-centered chairty sent to development projects across Africa. And this poll came out before people even heard about the screwy financing of her Malawi projects.
The article goes on to explain that with the horrible global economy, charitable giving and the movement of "celebrity humanitarians" will take a backseat to more immediate, more personal, more local needs. No matter if the economy begins to improve throughout the next year, aid agencies will be less likely or less able to promote their causes and do larger fund-raising drives, and the public as a whole will not be as eager to hear about global suffering when there's suffering across the street.
Angelina Jolie is shown at the Clinton Global Initiative on 9/26/07. Credit: Janet Mayer/PRPhotos