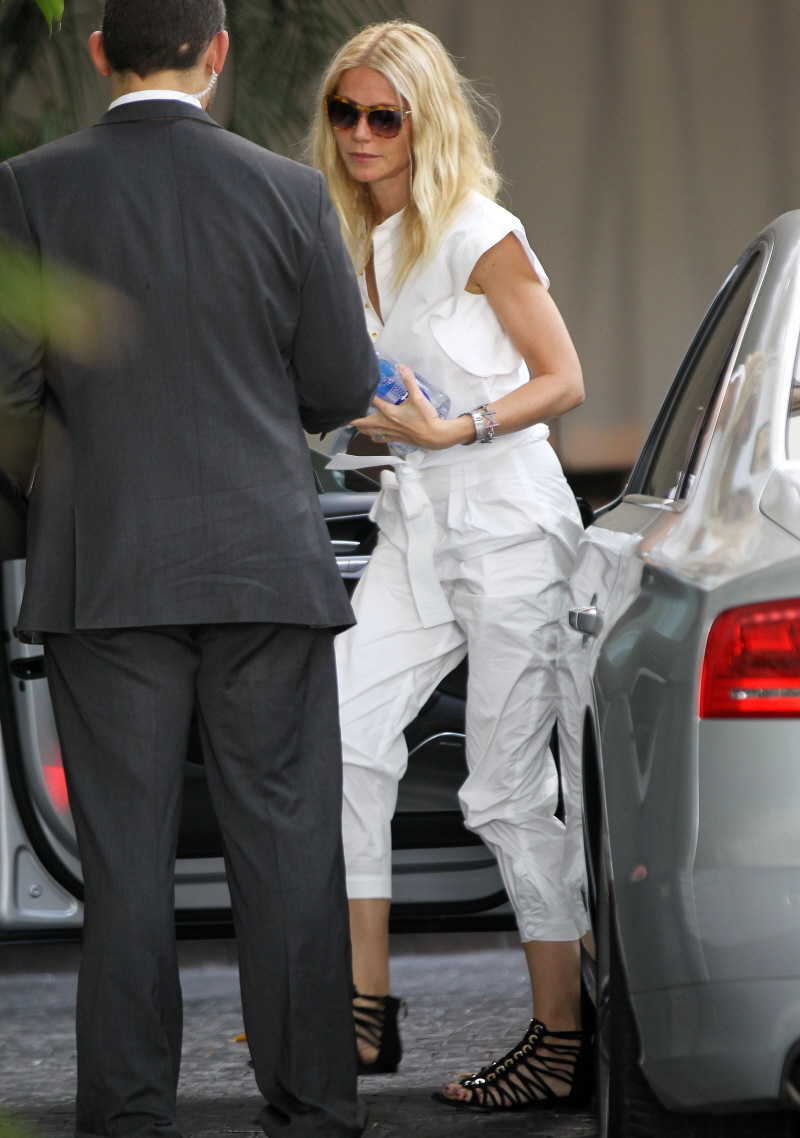 Here are some photos of Gwyneth Paltrow arriving at the Chateau Marmont yesterday. She looks sort of rough-and-tumble (Goop-style), and it suits her. I love when Gwyneth's hair is natural – like, she just washes it and lets it air dry and you can see that her hair is actually rather thick and she's got some natural waves. Why doesn't she rock that natural look more often? It makes her look younger! But Gwyneth insists on her 1990s styling, with flat-ironing and center parts and all of that mess. Also, I'm pretty sure that her outfit probably costs as much as a new car. I'm sure that shirt is $500 and the pants are $2000 and the shoes are $5000 and it's all specially made by Tom Ford specifically for Goop or something.
Anyway, Gwyneth's second cookbook was officially released yesterday. It's All Good is already a success – it's a bestseller on Amazon and when Gwyneth offered signed copies on Goop last week, the limited number of copies sold out really quickly. People love what Gwyneth is shilling. Maybe we should just go with it, I guess. Maybe we should just embrace Gwyneth's aspirational materialism, nonsensical (and often contradictory) dieting advice and her obliviousness to lifestyles not her own. We need to bathe ourselves in the goopiness of life. In case you want to laugh, however, I would suggest reading the growing flame war of Amazon reviewers. It's getting good!
Meanwhile, Gwyneth has given a new interview about her skincare, which… eh. I don't think Gwyneth has to-die-for skin and I don't even think she takes very good care of her skin either. But according to Gwyneth, Her Way Is The Only Way.
Gwyneth Paltrow is obsessive about her skincare regime. The Hollywood actress says her number one beauty rule is to look after her skin with regular exfoliation treatments and chemical peels as well as an intensive moisturising routine.

She told Stylist magazine: "I've always been told I have good skin so I try and look after it as much as possible. I usually deep cleanse and exfoliate my skin four times a week. I get a gentle peel from my facialist that takes away all the dead cells on the surface, and then I focus on moisturisation."

The 40-year-old blonde also shared her secret for achieving her enviable dewy complexion and said using olive oil helps keep her skin glowing.

Gwyneth said: "When I'm flying a lot, I have to make extra effort with my skin, even if it's just using a quick hot cloth wash and applying organic oils. Anything will do – one time, I even applied olive oil."

The mother-of-two believes exercise is a key factor when it comes to skincare and says the natural high keeps her looking young and relaxed.

She added: "I work out a lot and that's helped me to maintain a more youthful face because when you do a lot of cardiovascular exercise, it boosts your blood flow. I believe exercise is an essential part of your beauty regime and it's also a great stress reliever. It's very important to battle stress as, in the end, it really shows on your face. A hot bath with Epsom salts at the end of the day helps you to unwind."
My skin has been looking better since I started working out regularly, so she has a point with that one. But I'll admit, I kind of zoned out as soon as she mentioned her "facialist". You know what Gwyneth has started to remind me of? Eddy from Absolutely Fabulous. Like, she incapable of functioning like a regular person. And I'm Saffy, saying things like, "Just wash your face with soap and get a good night's sleep" and Eddy/Goop is all "SOAP? Did you say SOAP, darling? 'Soap'?! What are we, peasants? We need to wash our faces with something called 'soap'?!"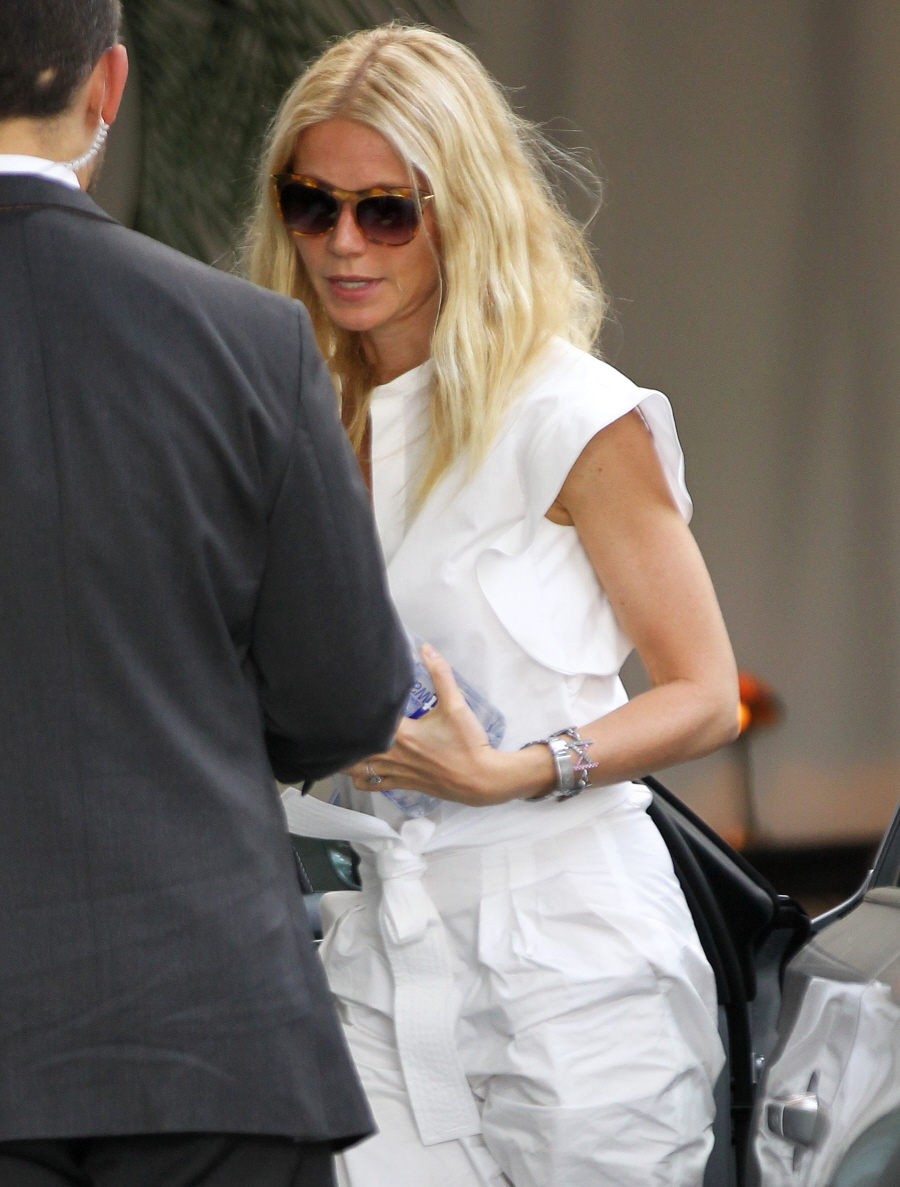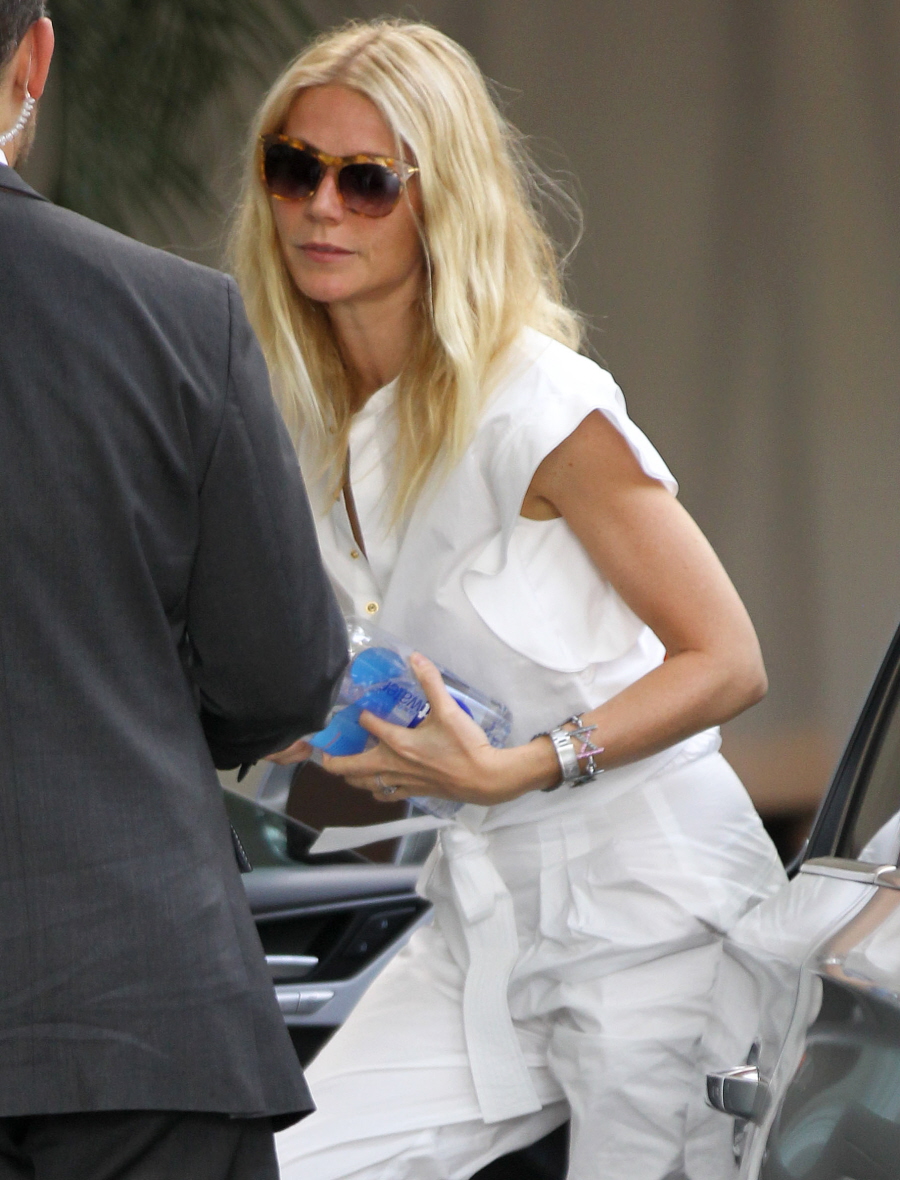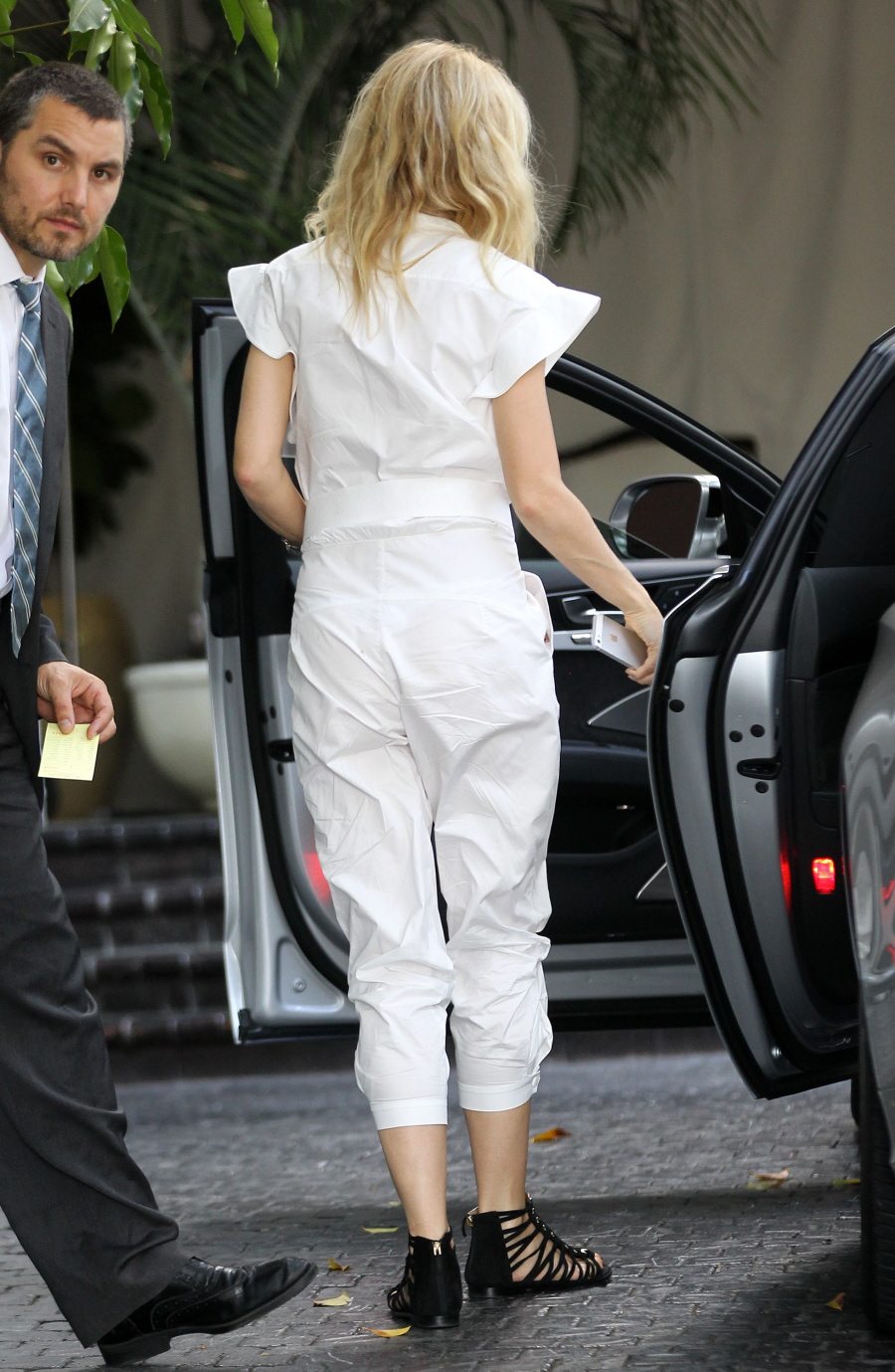 Photos courtesy of Fame/Flynet.