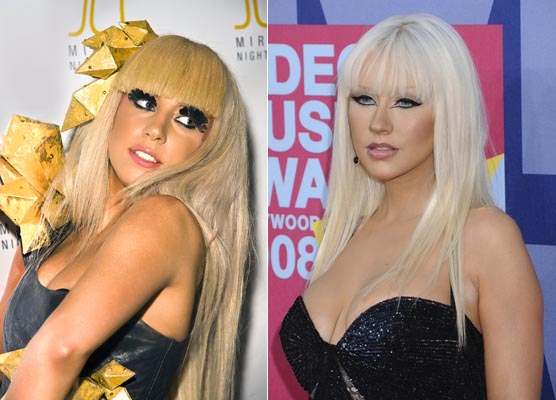 Lady Gaga, a rising star whose infectious hit "Just Dance" has overtaken the airwaves, has responded to Christina Aguilera's alleged style-stealing. Although Christina has been around for little over a decade now, and the NYC-based Lady Gaga is just starting out, it seems that Christina's new look was inspired by the younger singer.  With their platinum blonde hair, blunt bangs, and similar (scanty) clothing choices, people have been asking: did Christina know that she was copying someone else's look?
In November, the LA Times did an interview with Christina in which she denied any knowledge of Lada Gaga at all when she was asked to respond to people who saw a resemblance:
"You know, that's funny that you mention that. This person [Lady Gaga] was just brought to my attention not too long ago. I'm not quite sure who this person is, to be honest. I don't know if it is a man or a woman. I just wasn't sure. I really don't spend any time on the Internet, so I guess I live a little under a rock in that respect."
[from LATimes]
Now, Lady Gaga is responding to all the press.  She says that her association with Christina has led to increased attention to her music:
"Well, it was very flattering when it happened.  She's such a huge star and if anything I should send her flowers, because a lot of people in America didn't know who I was until that whole thing happened.

"It really put me on the map in a way, though of course I don't just want to be remembered for the Christina Aguilera scandal.

"There are no hard feelings with Christina at all," Lady says. "What it showed me was, even thought I have only been on the commercial market for seven or eight months, I've really burned graphic images of my visuals onto the irises of my fans."
[from PopCrunch]
Good for her.  Although she doesn't directly defend Christina, it's nice that she takes press that was actually in her favor and tries to neutralize it.  She could have started a rivalry, but instead she seems to genuinely find it flattering.
One reason that their styles look so alike is that their features are similar.  They have the same nose shape, the same lips, and even a similar face shape.  So when you put them in cooresponding outfits, they almost look indistinguishable.  That is not to say that someone in Christina's camp hadn't heard of Lady Gaga.  Most likely, this is a case of a costume designer finding inspiration in an underground singer, and copying it without telling Christina where the idea came from.  Christina shouldn't be blamed for the overlap in style.
Christina Aguilera is shown performing in a 'Live In Abu Dhabi' concert on 10/26/08. Lady Gaga is shownon 8/11/08, 12/8/08 and 12/11/08. Credit: WENN and PRPhotos