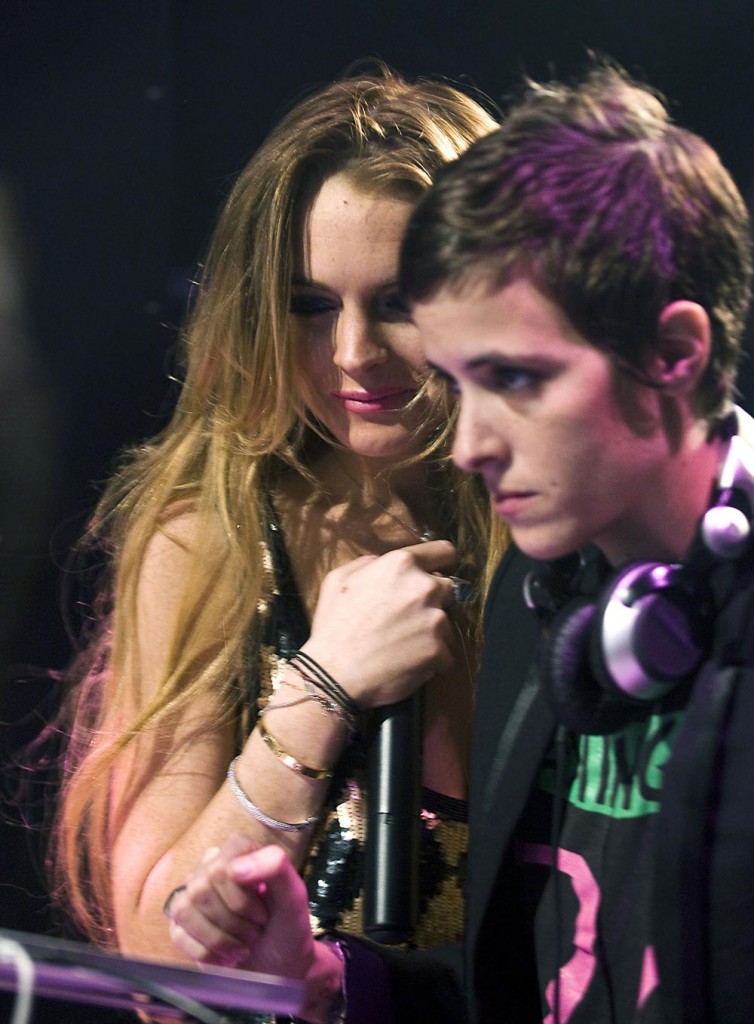 Hollywood's most publicly volatile duo, Samantha Ronson and Lindsay Lohan, managed to kick off the new year with another airline blowout. Witnesses say that Lohan was seen on a return flight home from Miami to Los Angeles yesterday in hysterics, to the point that airline staff asked if she wanted to disembark.
2009 didn't start out well for Lindsay Lohan and Samantha Ronson. Our airport spies say they got into another nuclear fight — this time at Miami International Airport.

We're told it started in the American Airlines Admirals Club. Once on the plane, as one person put it, "Lindsay was so inconsolable the flight attendants asked if she'd like to disembark."

We're told there was lots of crying, tears, etc.

It comes a few weeks after another epic fight Lindsay and Sam had at Sam's Hollywood Hills home. The screaming (and glass-crashing) was so loud it kept neighbors up.
Meanwhile, In Touch is reporting that Sam's relationship with Lindsay is the direct reason she was admitted to the hospital for exhaustion just before Christmas.
"Their constant fighting fighting stresses Sam out," says one pal. "One minute they're screaming at each other, and the next they are kissing and making up. They are so co-dependent."

What's more, the pal says, Sam's eating and sleeping habits have gotten worse since she's been with Lindsay: "They are out almost every night. Sam never ate much to begin with, but but it seems like now all she eats is junk and Red Bull. We saw them recently in New York, and Sam looked like she hadn't eaten or slept in days. She has circles under her eyes and has lost so much weight."
[From In Touch print version, Jan. 12, 2009]
I do feel badly for Sam, but let's be honest: she is not a child. She's 31 years old and is free to walk away from the unpleasant chaos at any time if she wants to. I can't help but believe that Lindsay Lohan as a girlfriend, friend, or otherwise is an absolute nightmare to deal with – but it's not like Sam didn't know this from day one. And then there's the insanity of the entire Lohan clan, from Dina and Michael on down. But Ronson is getting paid between $25,000 and $50,000 per night to DJ at clubs all over the place- no doubt because these club owners know that Lohan will most likely show up too. And if the two women have a vicious lovers' spat that fuels tabloid mention of that club, all the better. That's a lot of money for a few hours of playing CDs. I would have a hard time walking away from that. But then again, if the price I had to pay was non stop dramatics and hysterical screaming, perhaps working as a clerk in a record store somewhere might be a little more appealing.
Lindsay Lohan and Samantha Ronson are shown at club Mansion in Miami on New Year's Eve. Credit: Johnny Louis/WENN. Lohan is also shown on the red carpet that night. Credit: Mavrixonline.