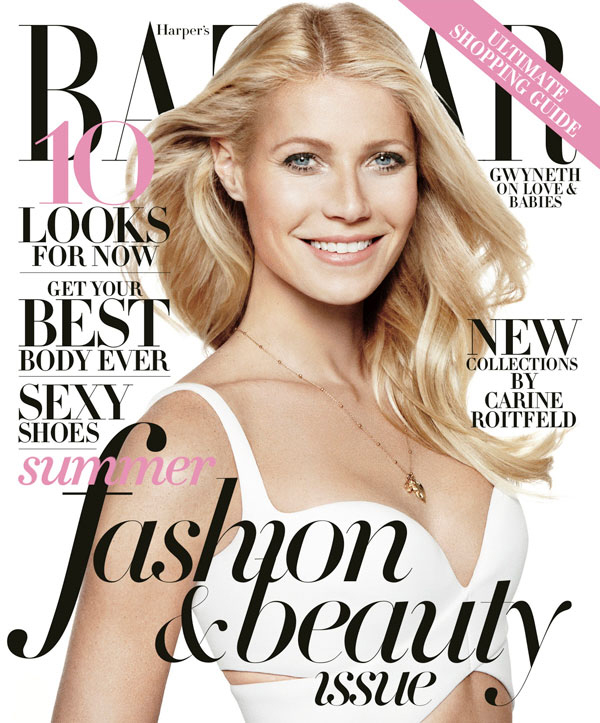 Gwyneth Paltrow covers the May issue of Harper's Bazaar. Yes, she's wearing the same Balenciaga bustier thing that Kristen Stewart wore MONTHS ago to an On the Road screening. I hate to say it, but Goop wore it better, although Kristen gets points for wearing it first! I can't believe Bazaar would put Gwyneth in something LAST SEASON and something that was already worn by someone famous, to an event that got a lot of press. The whole thing is just so terribly gauche. *sniff*
Anyway, you can read Gwyneth's full Bazaar piece here. The interview took place in London (of course!) and the piece is really ass-kissy. They call her a princess and a "honey-limbed chatelaine". Gross. Some highlights from the magazine:
She's "over" being in London: Having survived her 10th London winter (she got through January by assigning it "international month," and amusing Moses and his big sister, Apple, 9, with a visiting Italian chef, Japanese anime screenings, and hand-rolled-sushi lessons, no less), Paltrow admits that her dreams of relocating the family to their recently acquired residence in Brentwood, California, are becoming ever more urgent. "Just to have my kids be in the sun every day—picking avocados, going for a swim," she says. "Even for two years or something, and come back when they go to senior school."

Turning 40 years old: "I'm at quite a pivotal point: Do I want to go back more into films? Do I want another child? Do I want to move back to the States?" Her wide blue-gray eyes flash me a look of amused self-knowledge. "You can call me a lot of things, but you can't call me complacent!"

Working with Robert Downey Jr.: "It's very alive. It doesn't matter if we're talking about robots or aliens, it doesn't matter if it's Shakespeare, if you're working with someone of that quality, it's very invigorating as an artist."

Pepper Potts and Iron Man 3: "There's a portion of the movie where something bad happens to me, and I lose clothes along the way, so essentially I'm wearing a bra and trousers." Self-deprecating pause. "There are certain requirements, but luckily I have a good base because I work out often. I just had to not eat pasta and french fries the night before shooting—which I'm terrible at doing."

Her skin: "I really used to be bad with products, but now I exfoliate every night and use a lot of organic oils on my face," she confides. (She's a Sonya Dakar fan.) "And I have a great dermatologist in L.A. who gave me this amazing laser the last time I was there. It's called Thermage. It's not invasive. I went out to dinner right afterward and I didn't look crazy, but it's quite painful. It feels like someone's smacking your face with a rubber band that has an electric shock in it. But I would do it again, because I feel like it took five years off my face."

Contradictions: As it happens, Paltrow and I share a London facialist (holistic queen Vaishaly Patel), which leads to talk of the lifestyle contradictions presented by the high-tech temptations of the beauty business. "I think it's a mix," she says honestly. "You know, I use organic products, but I get lasers. It's what makes life interesting, finding the balance between cigarettes and tofu.

Botox & Plastic surgery: "I've probably tried everything," she continues. "I would be scared to go under the knife, but you know, talk to me when I'm 50. I'll try anything. Except I won't do Botox again, because I looked crazy. I looked like Joan Rivers!"

Aging: "I don't hold on to fear as much as I used to, because I've learned a lot about genuinely not caring what strangers think about me," she says. "It's very liberating. It's very empowering, and I've learned a lot of that from Jay—Shawn Carter—Z, because his approach to life is very internal. It's a very good lesson to learn."

Random stuff… Her favorite TV shows: "New Girl and Homeland." Guilty pleasure: "My one light American Spirit that I smoke once a week, on Saturday night." Her regret: "Not finding my voice earlier in life." On 10 years with Coldplay rocker Chris Martin: "We are growing into very similar people. It's cool, it's good. It's not always easy, though!"

Giving advice to girlfriends: "I think that women, especially women in my job, come to me because they know I'm very loving and nonjudgmental and I'm not competitive, and I've been through a lot. And so they come round to talk about their stuff. I'm a bit of a mother hen. Everyone wants a home-cooked meal and to come over and talk about where they are in their life," she says. "I love it, and I feel that I have the most incredible women friends, some who are super famous, some who I've had since I was four years old. I love it that people will call me up and say, 'What do you think about this?,' because my dad was very much that person for everyone in his life. So I feel like I'm carrying on my dad's spirit in that way."

Having another kid: "There are some films that I want to do, and I love my business and I want to expand that a lot. We'll sort of see. I mean, if I want to have another kid, I gotta kind of get on it." We discuss the domestic cocoon of new motherhood—and weighing the option of climbing back into the maternal nest. "But then you see a baby and you smell a baby!" she says, almost squealing. "And you're like, 'Yep, I do.' I don't know. It's a very big decision, so we'll see. Anyway, I'm not doing it this month!"
I'm surprised that Gwyneth only name-dropped Uncle Jay – Shawn Carter – Z in this interview and not Beyonce! I'll admit that I laughed out loud at several points in the interview – like when she was talking about her kids "picking avocados". My association with avocado-picking is that it relies heavily on undocumented workers working for less than minimum wage, and so I conjured up an image of Gwyneth literally taking her children to an avocado field to play with peasant day-laborers. As for the Botox and skincare talk… yeah, she did look crazy when she was Botoxing. I'm glad she's admitting that.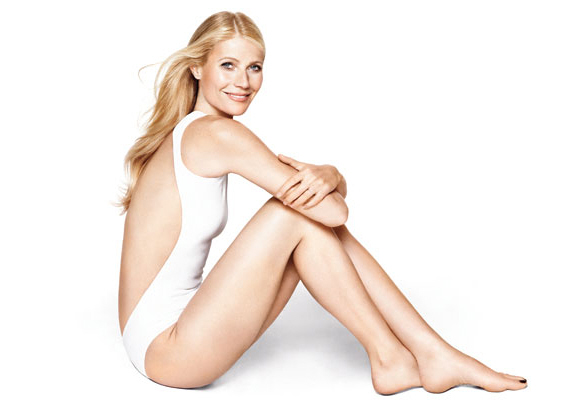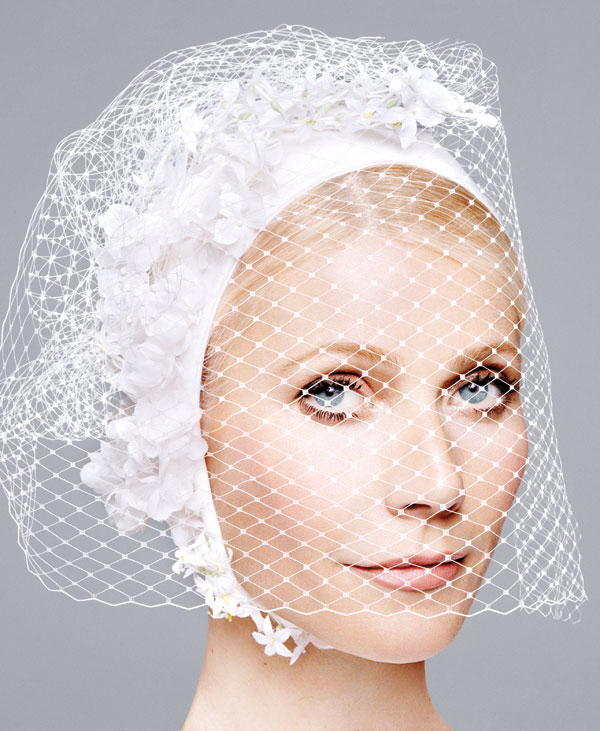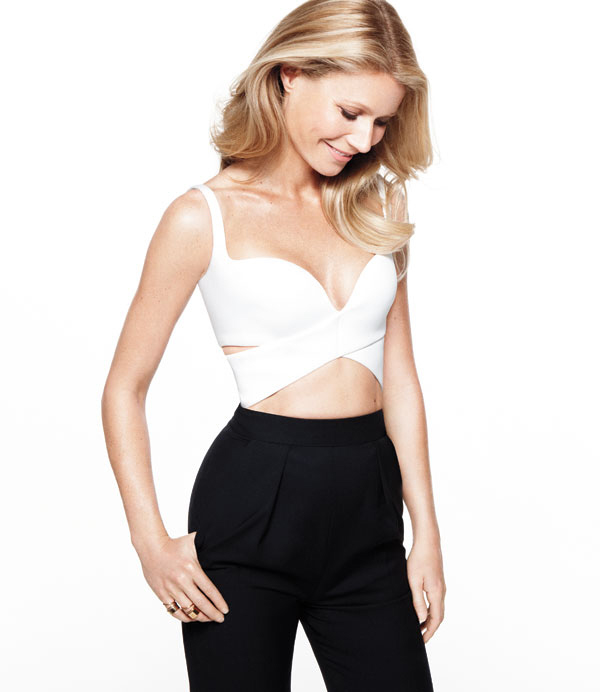 Photos courtesy of Daniel Jackson/Harper's Bazaar.