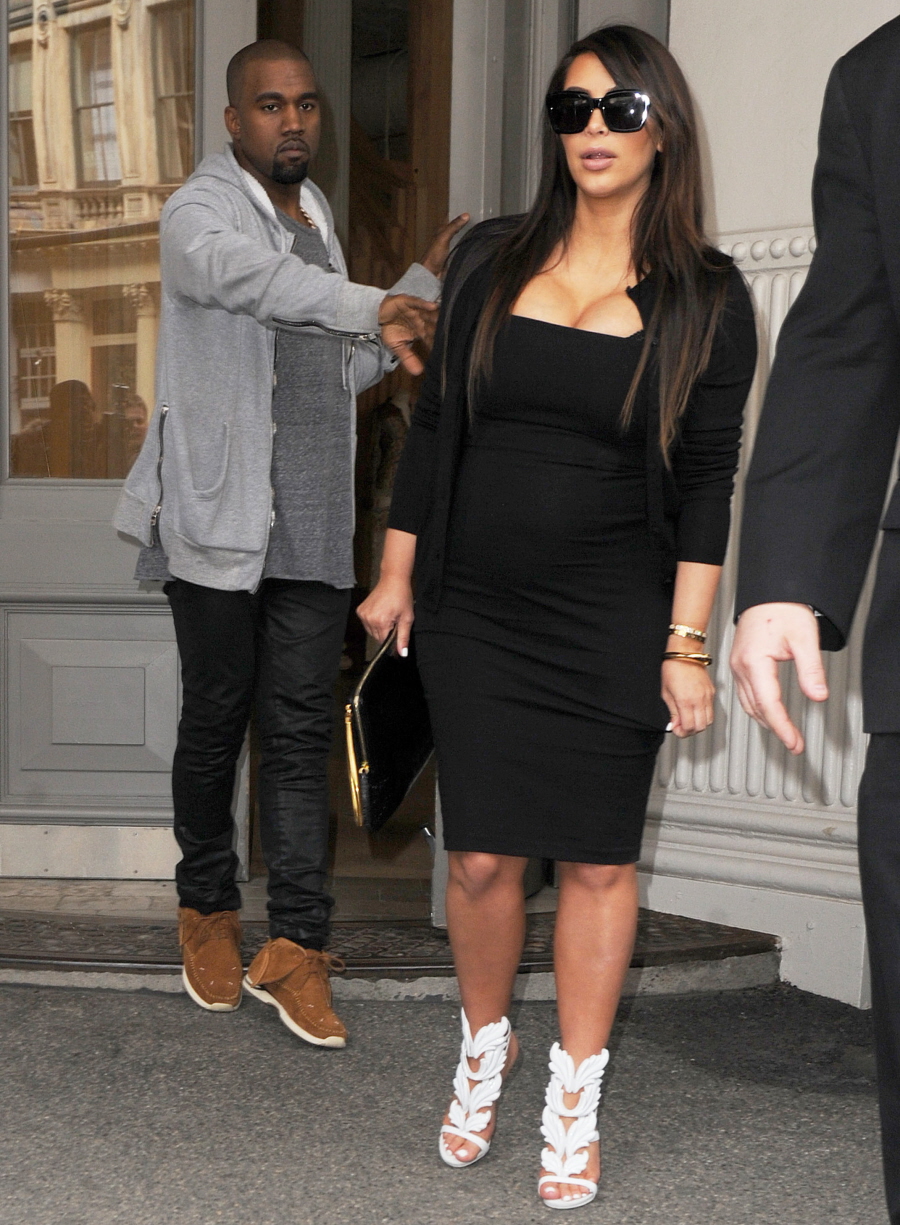 Here are some photos of Kim Kardashian and Kanye West TOGETHER!! They were in New York yesterday – I'm assuming she flew in from LA and he flew in from Paris (where he's been living and working on his new album). To celebrate the first time they've seen each other in some-odd 20 days, Kim poured herself into this tight LBD and she wore a pair of Kanye-designed high heels. Kanye dubbed these shoes "Cruel Summer". Are those itty-bitty wings?
As you know, Kimye has barely spent any time together in the past four months or so, and it really looked like they weren't even going to make it as a couple through Kim's pregnancy. But everything's coming up Kat-Face these days! First, Kim "wins" her divorce (ha) and now she can focus all of her energy into forcing this Kanye thing to stick. The first move was to plant the seed via TMZ – Kanye and Kim are fine, he's been visiting LA "secretly" to go with Kim to her doctors' appointments, etc. Now it's the photo-op in NYC (and maybe another one in Paris… soon!). Kim is also spending some time talking about how she probably wants to get married again HINT HINT HINT.
Kanye and Kim take New York! Three days after settling her year-and-a-half-long divorce battle with ex-husband Kris Humphries, Kim Kardashian stepped out in New York City on Monday, April 22, looking healthy, happy, and more confident than ever. No doubt at least part of that has to do with her being reunited with boyfriend Kanye West, who has been living and working in Paris, France, for the last several months. A source confirms to Us Weekly that the two met up on Monday in the Big Apple, where West has an apartment.

Leaving her hotel with sister Kourtney and mom Kris Jenner, the six-months-pregnant reality star showed off her growing baby bump in a tight black dress and matching black cardigan. She paired the monochromatic ensemble with white "Cruel Summer" sandals from West's collaboration with designer Giuseppe Zanotti.

The first-time mom-to-be was presumably en route to meet up with her rapper beau, whom she last saw earlier this month during a whirlwind trip to the City of Lights. (The couple spent Easter weekend together in Paris.)

Their reunion in New York City couldn't come at a better time — with Kardashian's divorce now finally behind her, the couple can at last move forward with their lives. For the moment, at least, they're focused on getting ready for the July birth of their baby, but as the 32-year-old star hinted to Ryan Seacrest, she hasn't ruled out another wedding.

"I do think I would get married again," she told Seacrest in the E! special Ryan Seacrest With the Kardashians: An E! News Presentation, which aired Sunday, April 21. "That's what I've always wanted. And just because you think you find it and you realize that's not it, I think I was brave enough to realize that quickly and not waste time."

"I found what I really wanted," she continued, referring to her year-long romance with West. "So I think I definitely do want that."
Of course she wants it. I was listening to "Golddigger" while I was working out yesterday, and I had a realization about how absolutely prophetic that song is for Kanye. It's like his young self was rapping to his older self. Now, I would actually love it if Kim and Kanye got married. Just because it would be a total mess and I think Kanye's credibility as an artist would take a permanent hit. But… I doubt they'll ever really make it down the aisle. We'll see.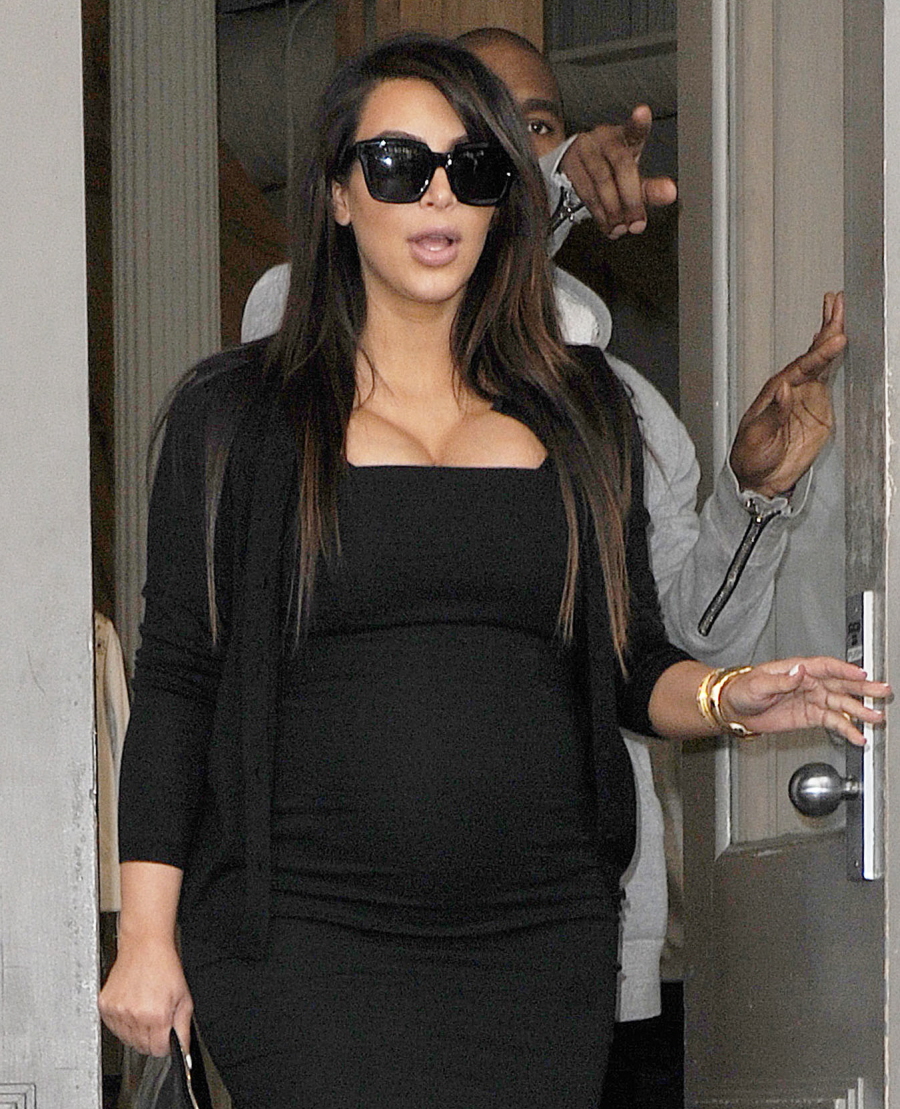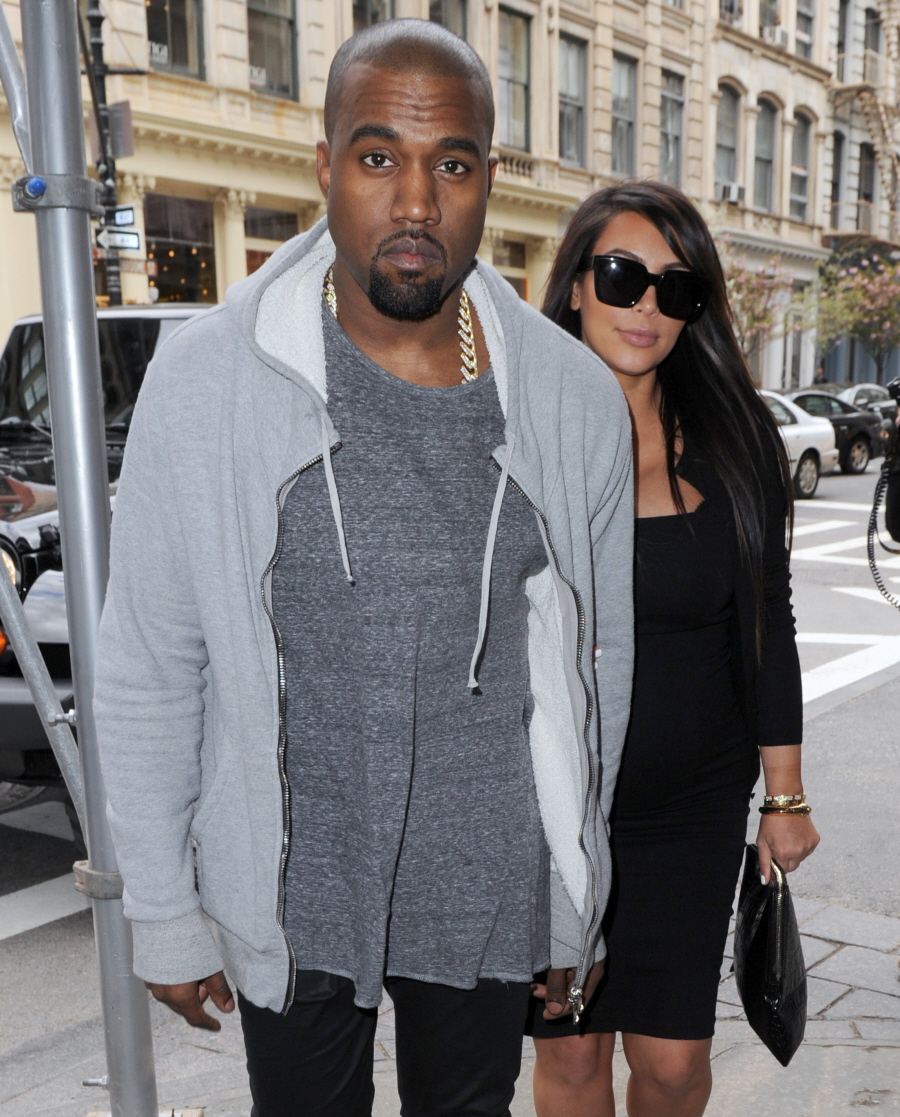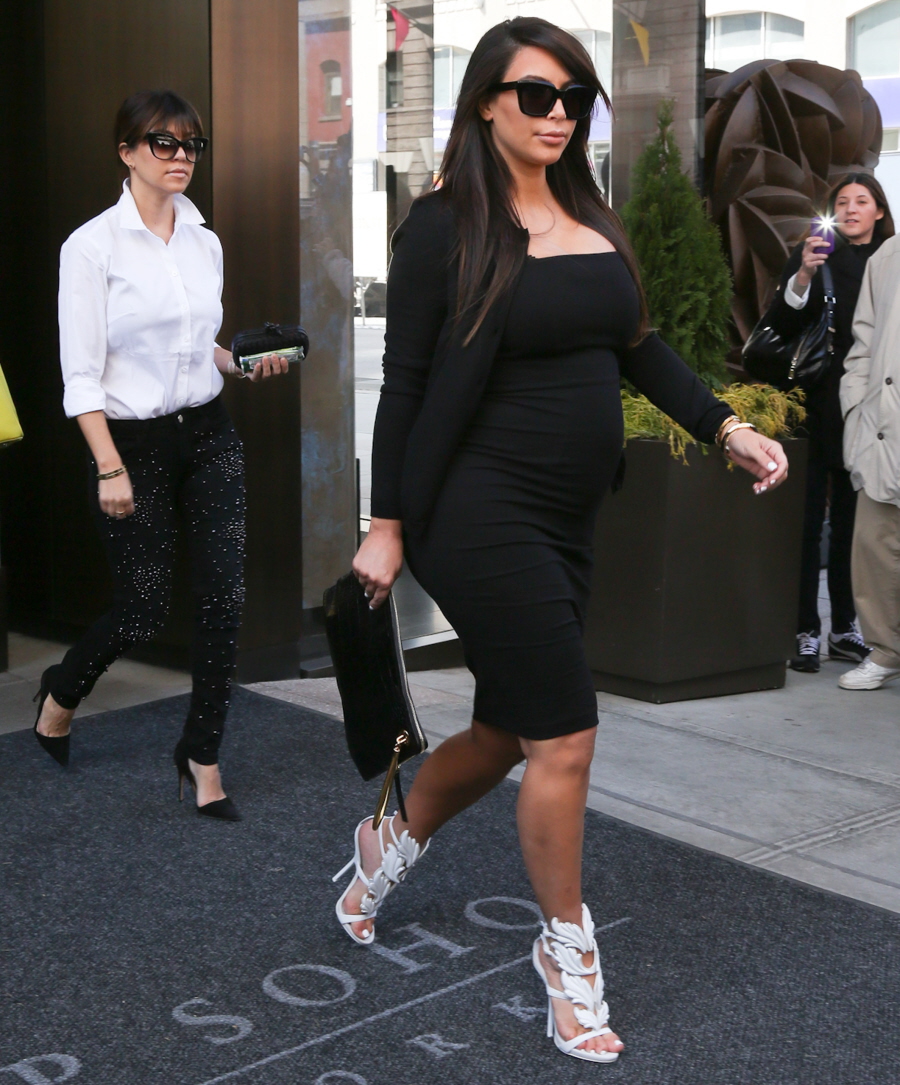 Photos courtesy of Fame/Flynet.