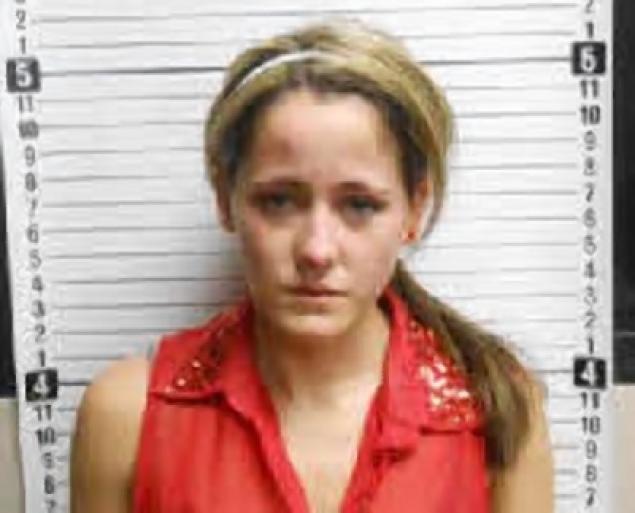 MTV has left the fate of Teen Mom 2 up in the air while it gauges public interest. They're also probably waiting to make sure something horrible doesn't happen with one of the castmembers, like the recent tragedy that took the life of Buckwild star Shain Gandee. We've heard that they've considered pulling the show following Jenelle Evan's public antics, and now that she's been arrested on multiple drug and assault charges – again – they're probably going to make it official.
It's exhausting trying to recap Jenelle's issues, but she's clearly a drug addict, she's admitted that she's bipolar, and she's had a very rocky relationship with her felon husband of just a few months, Courtland Rogers. You can scroll through the stories on her here. It's been a whole three months since we paid attention to her, so I guess I'm not surprised that something big went down. Apparently these two got in a fight that involved furniture, they called the cops, and the cops found a bunch of heroin and drug paraphernalia in their house so they got arrested. (Score for me for spelling paraphernalia right on the first try.)
Jenelle Evans is back behind bars — the "Teen Mom 2″ star was arrested in North Carolina today for possession of a BUNCH of heroin … and is also accused of attacking her husband, TMZ has learned.

According to court documents obtained by TMZ … cops discovered 12 bindles of heroin in Jenelle's possession when they arrived to her home following an alleged domestic dispute with her husband, Courtland Rogers.

FYI — a bindle is commonly known as a small paper packet used for storing drugs.

According to the docs, Evans was also found to be illegally in possession of Percocet (a prescription painkiller) … as well as plastic wrapping paper and a glass smoking pipe, which is considered illegal drug paraphernalia.

As for the assault charge, cops say Evans struck Rogers with a piece of furniture during a domestic dispute.

Rogers was arrested too — cops say he assaulted Jenelle by "hitting her on the neck and striking her with a closed fist on her head."

Cops say Rogers was also in possession of heroin with intent to manufacture, sell, distribute … and drug paraphernalia. According to police, both Evans and Rogers denied possession of the heroin … which is why they were both charged.

At the time of her arrest, 21-year-old Evans was also served with a warrant for failing to pay child support.

Evans has a history of legal problems — she tested positive for marijuana and opiates while on probation … and she was also involved in an epic girl-on-girl brawl in 2011.
Sometimes TMZ bugs me with their lack of detail but in this case I really appreciate just reading the bullet points. Bottom line: this chick is a mess, MTV made her famous, and if they're going to cancel Buckwild after a freak accident that was innocent and unexpected they need to cancel Teen Mom 2 when one of the stars goes so spectacularly off the rails. We've been watching this unfold for a while, and it's nothing but predictable.
I just made the mistake of checking Radar, and of course these idiots are talking to the press, even though they were still in police custody at the time. Jenelle tells Radar that Courtland set her up, and that the drugs were his. I'm so sure that her four day stay in rehab in February worked for her and that she wasn't doing drugs at all.
And then I googled "Jenelle Evans Twitter" and she's back on Twitter. Unless she's tweeting from jail, Jodi Arias style, she's out already. Maybe they didn't confiscate her smartphone though.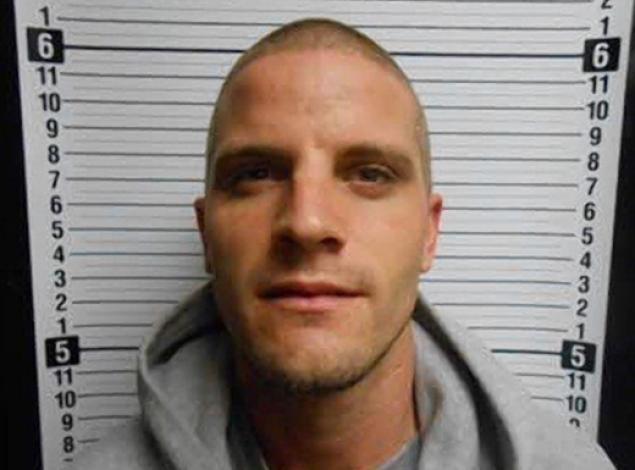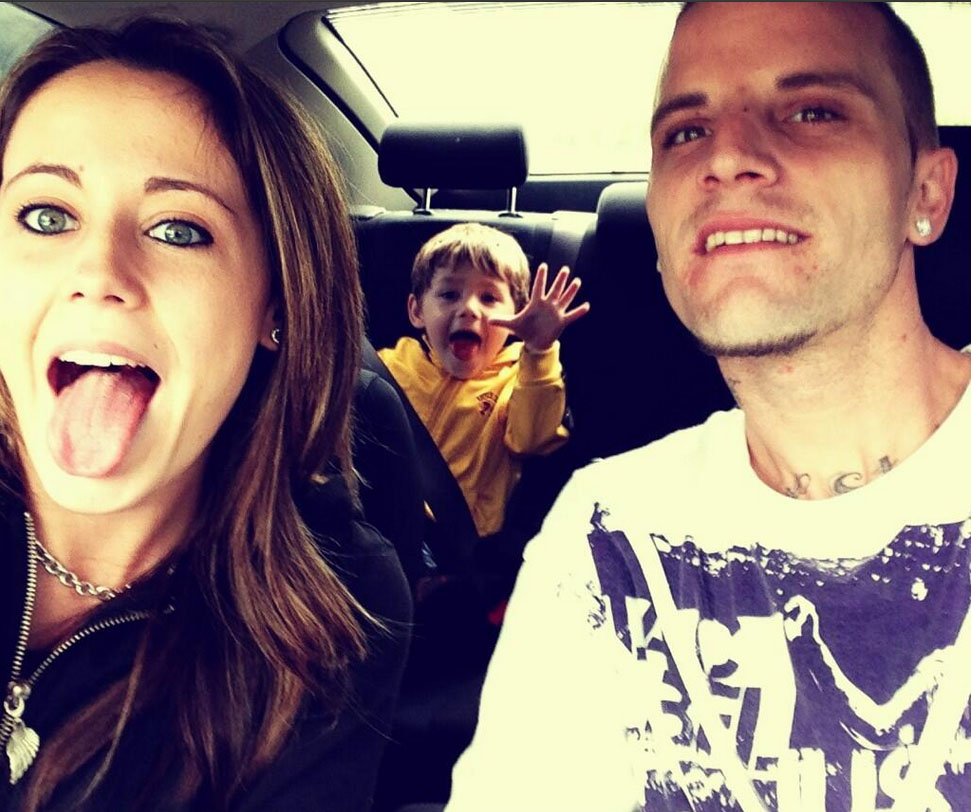 Does Jenelle look sober at all in this pic?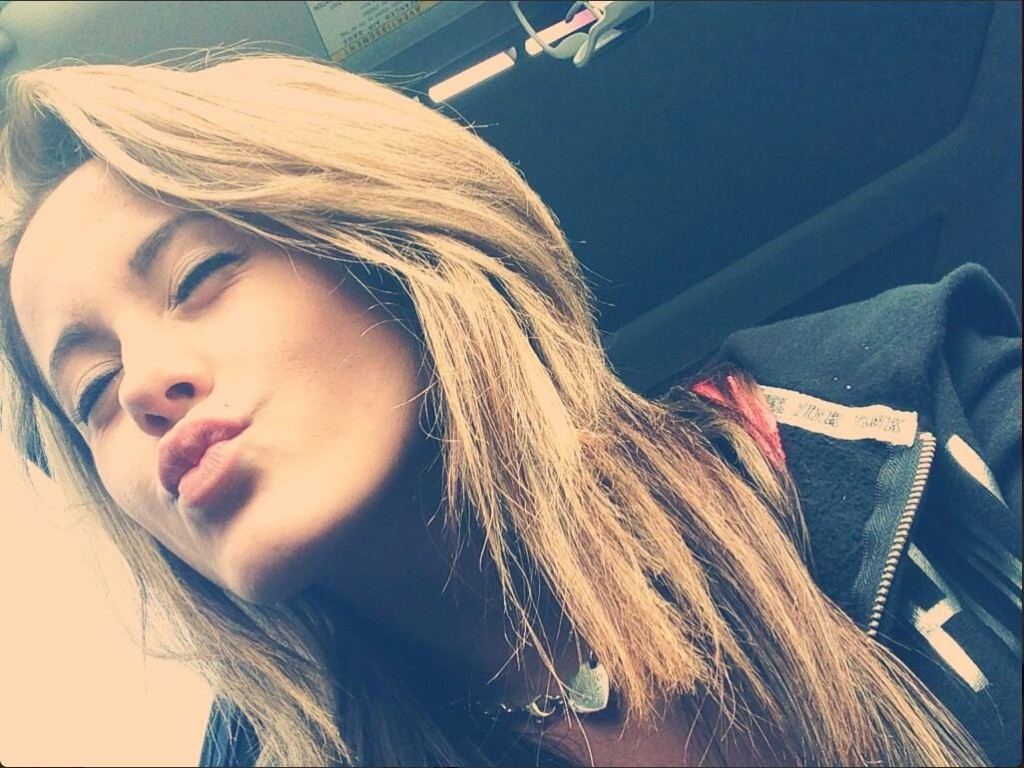 Mugshot is a handout via NY Daily News. Other photos via Twitter