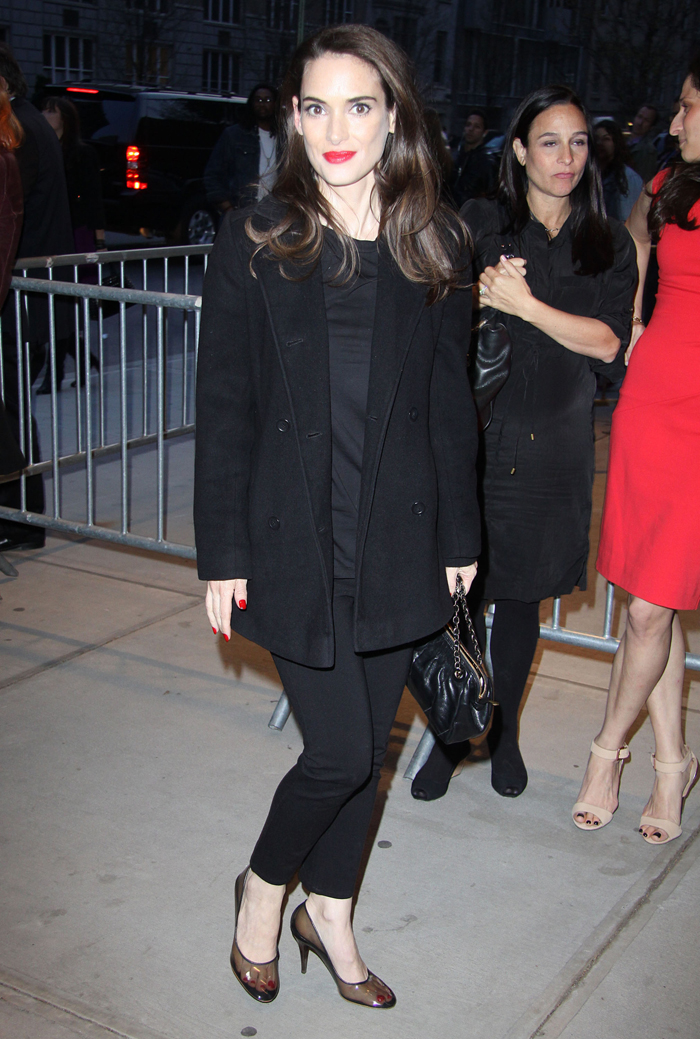 This story could actually be a bit of creative fanfiction, but I think some of you will appreciate it regardless of its veracity or lack thereof. In the past few months, Winona Ryder has been featured on this website and not only invoked nostalgia but also expressed enthusiasm for growing older and ushered in our near-collective appreciation for 1990s dark velvet. Now that Winona has recaptured our hearts and set about reclaiming her rightful place in Hollywood, she's also allegedly looking to hook back up with a very old flame …. none other than Johnny Depp!
Now I'm not crazy about Johnny these days, but I can freely admit that he was once a terribly attractive and enigmatic man. Now I just see him as an overaccessorized dude in the midst of a mid-life crisis who also looks like he smells perfectly awful. Back in the day though, Johnny was hot. He was hot when he was with Kate Moss, and he was hot when he was with Winona Ryder. So maybe he could regain some hotness by getting back with Wino Forever? Not so fast. The Enquirer says that Johnny is still "blinded by love" for "bisexual free spirit" Amber Heard, and they're preparing to actually go public with their romance soon. Maybe:
Hollywood heartthrob Johnny Depp is caught between wild-child beauty Amber Heard and his ex-fiancee Winona Ryder!

In TinselTown's latest love triangle, Amber has demanded Depp take their romance public, while Winona is secretly plotting to win him back, sources say. "Amber has hit Johnny with an ultimatum: 'Go public with our romance — or it's over!'" a close friend told the Enquirer. "Meantime, Winona is doing everything she can to orchestrate a hook-up with Johnny!"

"Amber has been at Johnny to go public since the beginning of the year," said the source. "When he balked, she walked out on him and went back to [her lesbian lover] Tasya, and Johnny totally freaked out! Amber's become the major organizer of his crazy world and he couldn't cope without her.

He bombarded Amber with calls and gifts, and even wrote her a song, begging her to come back. But she stood her ground until he relented to go public." Now Depp is considering appearing with Amber at the Kentucky Derby, or the premiere of his film, The Lone Ranger in July, sources say.

Meanwhile, it's been 20 years since Depp and Winona, 41, ended their rocky relationship, but she still holds a torch for him, sources say. The two met at the 1989 premiere of Great Balls of Fire, and got engaged the following year while filming director Tim Burton's hit Edward Scissorhands. A smitten Depp had "Winona Forever" tattooed on his arm, but changed the tattoo to "Wino Forever" after their bitter 1993 split.

"In hindsight, Winona realizes that she and Johnny were too young and immature to make their romance work," a source told the Enquirer. "But now that they're both 20 years older and wiser, Winona believes there's hope they can rekindle their romance. She's even dropped hints to their mutual friend, Tim Burton, about arranging a date or even developing a film project for them."

Another source added: "Both Winona and Amber are crazy about Johnny, and they both know that being by his side would help their careers."
[From Enquirer, print edition, May 6, 2013]
Aww, poor Winona. She hasn't really had a big, all-encompassing love ever since she and Johnny broke up, right? I mean, she dated around, and Winona got a lot of crap for dating Dave Pirner of Soul Asylum in the mid 1990s, but otherwise, she's been pretty low key. Maybe she's been biding her time all along in wait for Johnny. Hopefully and if they do hook up, Johnny will bother to shower and shave for her so they can go at it like old times.
Here's Johnny looking all hoboed out after his "Late Night with David Letterman" appearance in February. God, he is so grody now.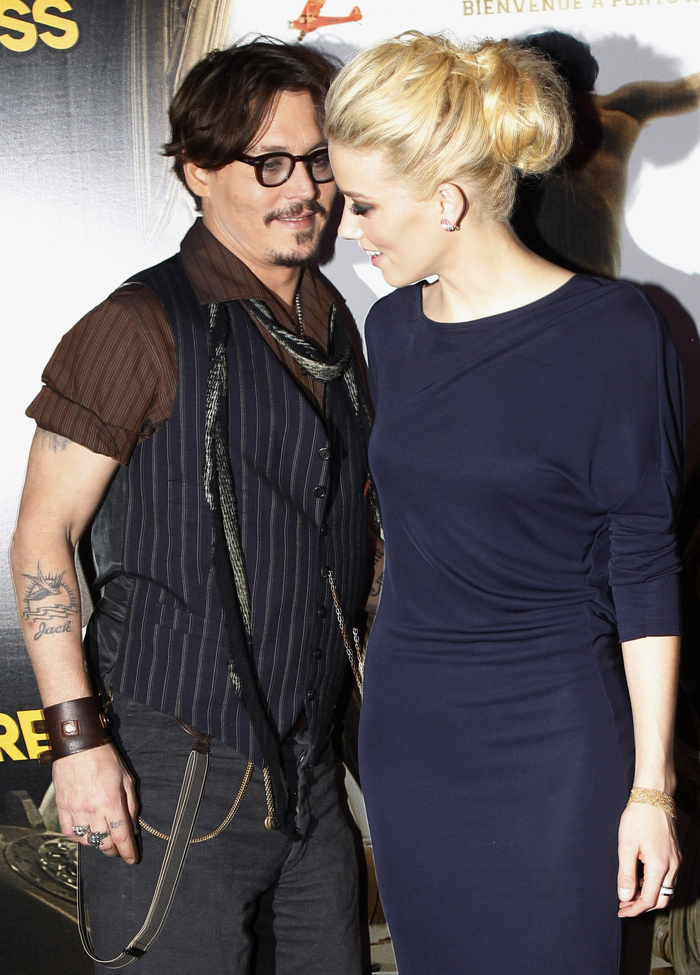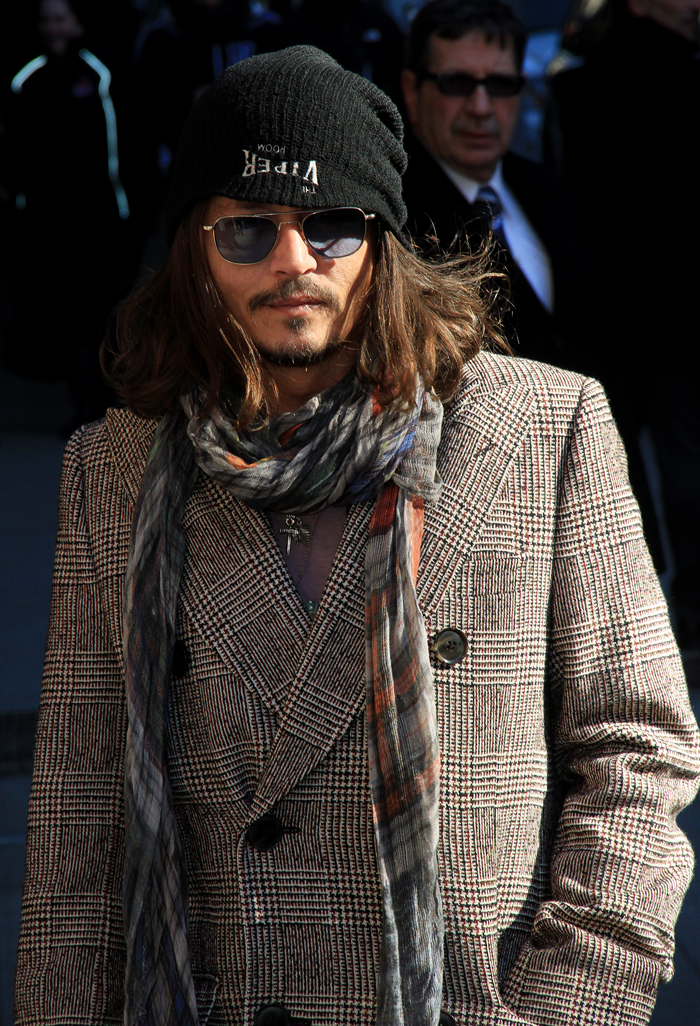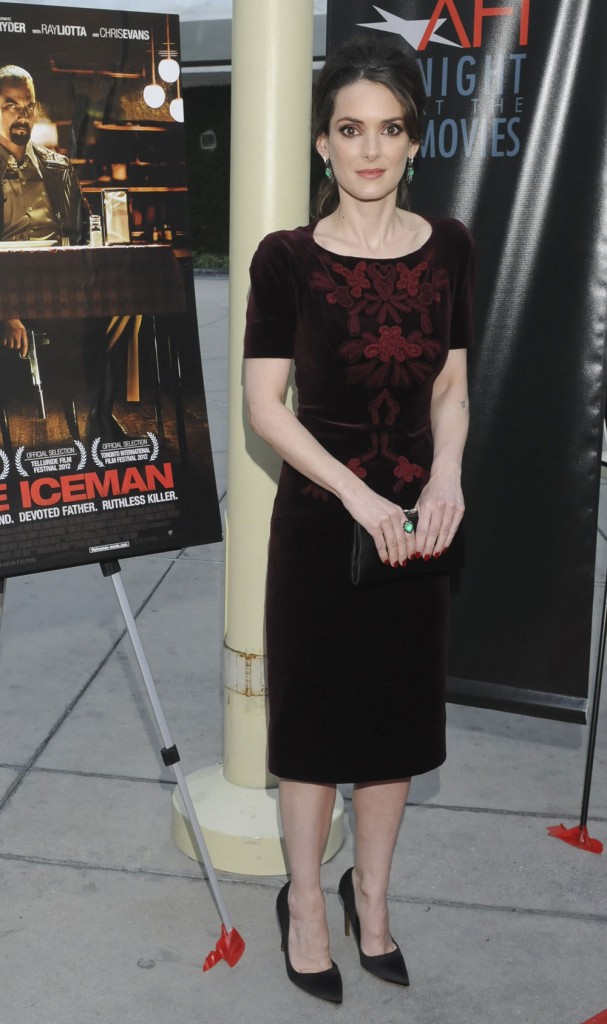 Photos courtesy of Fame/Flynet and WENN