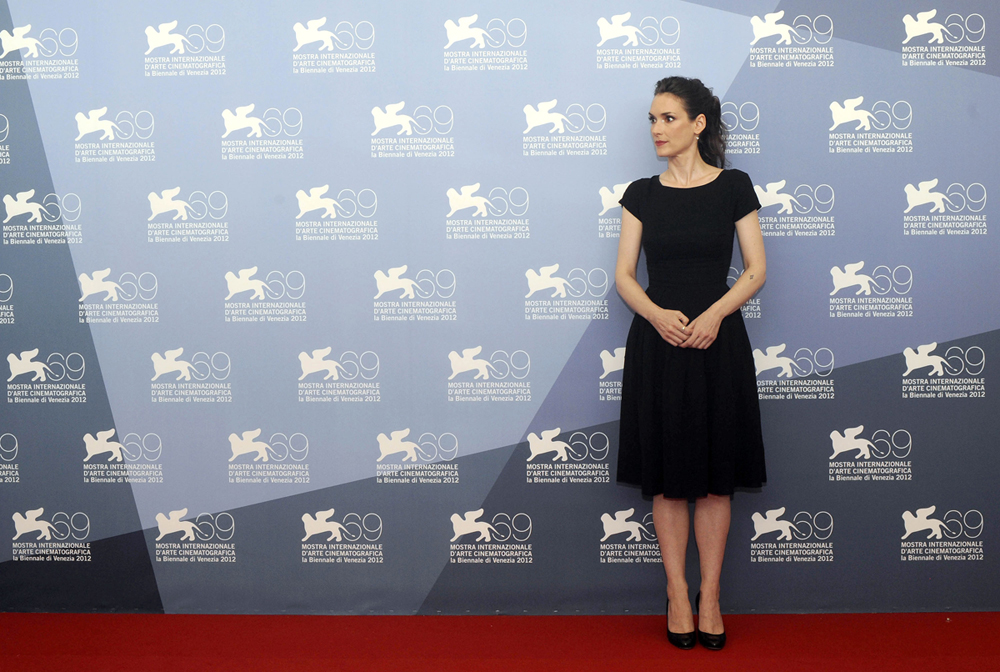 Kaiser has been covering the fashion wins for Winona Ryder as she's promoted The Iceman in Venice and Toronto over the past week or so, and she's looked quite uncomfortable and somewhat terrified but lovely all the same. Honestly, I'm glad that Winona is back on the scene — she was really great a few years ago in Black Swan and nearly stole the entire show with a fairly limited role.
Winona's return to the big screen has been greeted with enthusiasm, but there have been subtle digs here and there at her age (she's now 40), which is par for the course in Hollywood but still really sucks nonetheless. Last year, Winona mentioned to Elle that she related to her Black Swan character "on a certain level. Just that thing of, you know, when I'm told I'm not the ingenue anymore." Indeed, after a fairly triumphant run in the late 1980s and throughout the 1990s, Winona's career stalled. She was jilted by Gwyneth "Frenemy" Paltrow, who scooped up that Shakespeare In Love role that was supposed to go to Ryder. Then she was faced with people assuming she was jealous of Angelina Jolie's Oscar win in Girl, Interrupted. And then came those shoplifting charges that occurred well over a decade ago by now. Certainly, Winona recovered from that relatively isolated incident, but she's had a hard time fighting her way back into Hollywood feature film roles.
Of course, Winona did screw up with that shoplifting nonsense, but she's been paying for it for a very long time. If a male (like, say, Shia LaBeouf) had experienced the very same sort of shame, you know he'd have Robert Redford patting him on the back the next day. The standards are somehow different for women though, and they also have to deal with obnoxious questions from journalist in that regard as well. During a TIFF press conference, a reporter framed his inquiry about her "return to Hollywood" in one of the most awkward methods imaginable: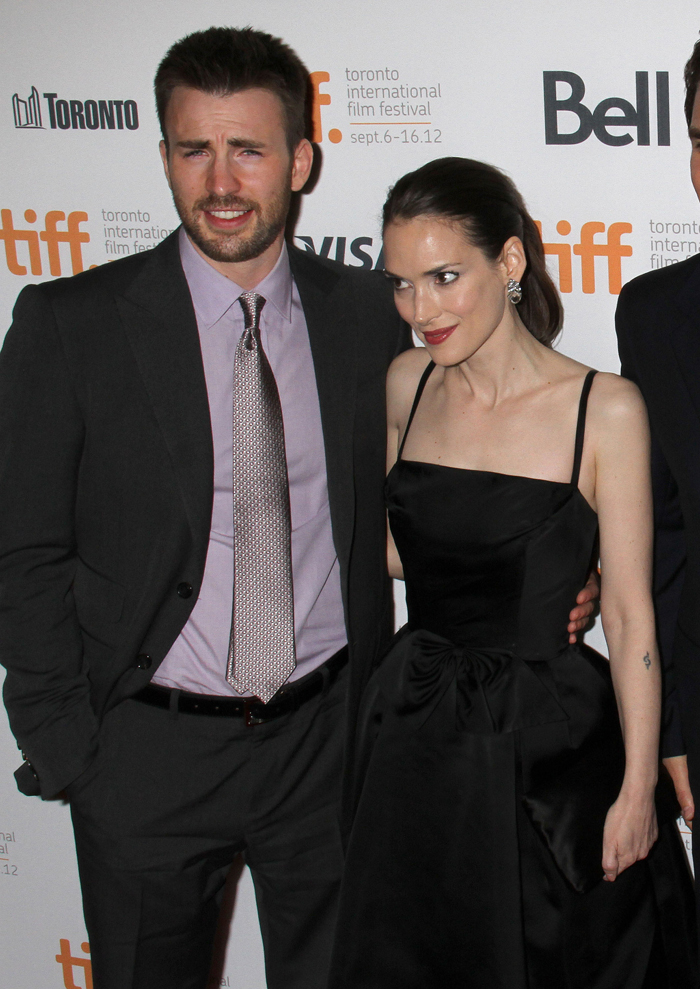 Either nothing is off-limits at the Toronto International Film Festival, or something got lost in translation.

While promoting her new movie, The Iceman, at the TIFF Bell Lightbox September 10, Winona Ryder, 40, was singled out during a press conference with costars Chris Evans, 31, Ray Liotta, 57, and Michael Shannon, 38.

"It's been a long time we've seen you," a male reporter with a thick accent told Ryder. "Now you're coming out with this movie and Frankenweenie. So two movies in the same year. So now do you feel welcome again in Hollywood?"

Writer, director and producer Ariel Vromen, 39, shook his head and said something under his breath to Shannon, but Ryder — famously convicted of grand theft, shoplifting and vandalism in 2001 — tried to keep her cool and answer the reporter's question.

"Well …. Um … I don't … I was asked that question in Venice. I don't know if I'm developing a little bit of a complex because I don't know if you're saying, 'We missed you!' or 'What are you doing here?'" Ryder responded. "I think for me, I started so young, and when you experience a lot of blessings and success when I did, usually you're told you get three years, and it's great just to have that. . . I couldn't believe I was still doing it in my 20s."

"Then I went through a period where I realized how important it was to have a life outside of [acting], because at the end of the day, you come home," continued the actress, who dated the likes of Johnny Depp and Matt Damon back in the day. "And as every actor knows, you're waiting to wrap something and freaking out. It's a weird cycle. I had to get out of that."

Ryder added that she's "very close to my family and friends, and there's other stuff I do and I'm interested in. I think living in San Francisco and basing myself there is equally important to be a friend to my friends, and sister to my sister … and to have a healthy life."

"I think I needed to take some time to do that, but also I think … actors are blessed, and I'm not complaining at all. But when you go through your adolescence doing it and you're the ingenue … there is a lot of pressure."

"And the parts are sort of … You go through this weird age," she said. "And I'm now 40 and I'm actually psyched for 40 and psyched to get older because I think you get more comfortable with yourself, and it's more interesting, and the roles — the size doesn't really matter. Usually those kinds of roles are more interesting. For me as an actress … it takes something very special for me to want to leave my life."

"So sorry for the long-winded answer," Ryder finished. Fifteen minutes later, the press conference ended, and Evans put his arm around Ryder.
[From Us Magazine]
Such a rude reporter, right? Winona seemed to handle the question pretty well though, and at least now she's got a very good justification for continuing to look terrified on the red carpet. Also, she got a big hug from Chris Evans, which is always a win. In another recent interview with Hollywood Reporter, Winona explained how she tried but (somewhat) failed to stay grounded in her career: "I still did my laundry in a laundromat until I was in my late 20s, in part because I didn't want to lose perspective on what was happening around me. But I still got overwhelmed at a certain point, and I think I've emerged a wiser person. I'm one of the only people you'll hear from Hollywood who says I actually like getting older. I do. Older people are more interesting." She's going to be just fine, people. Winona is back.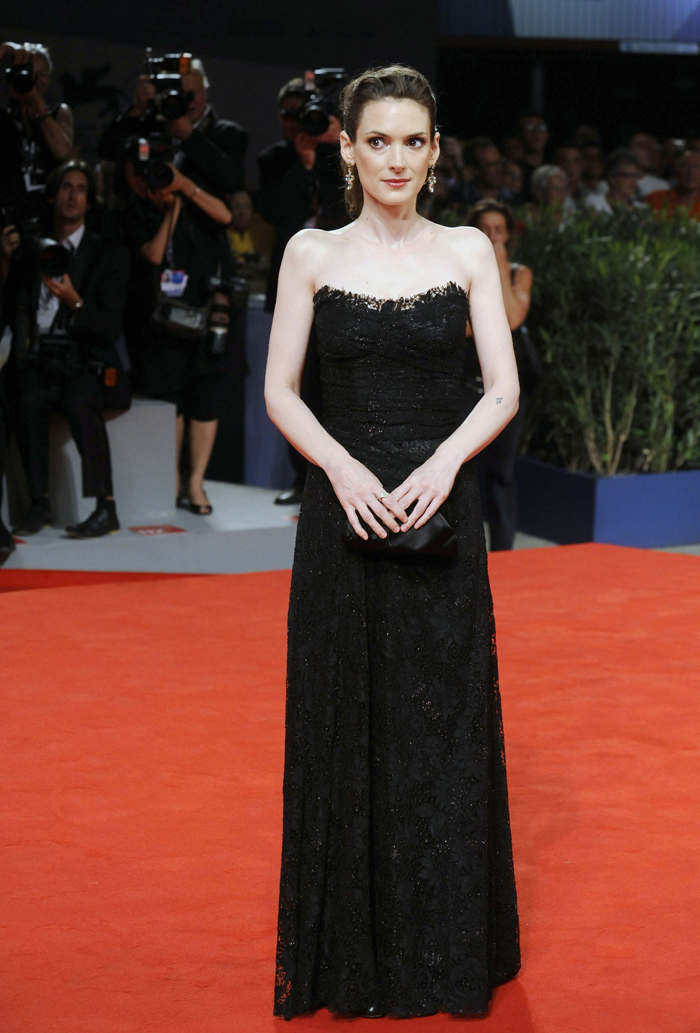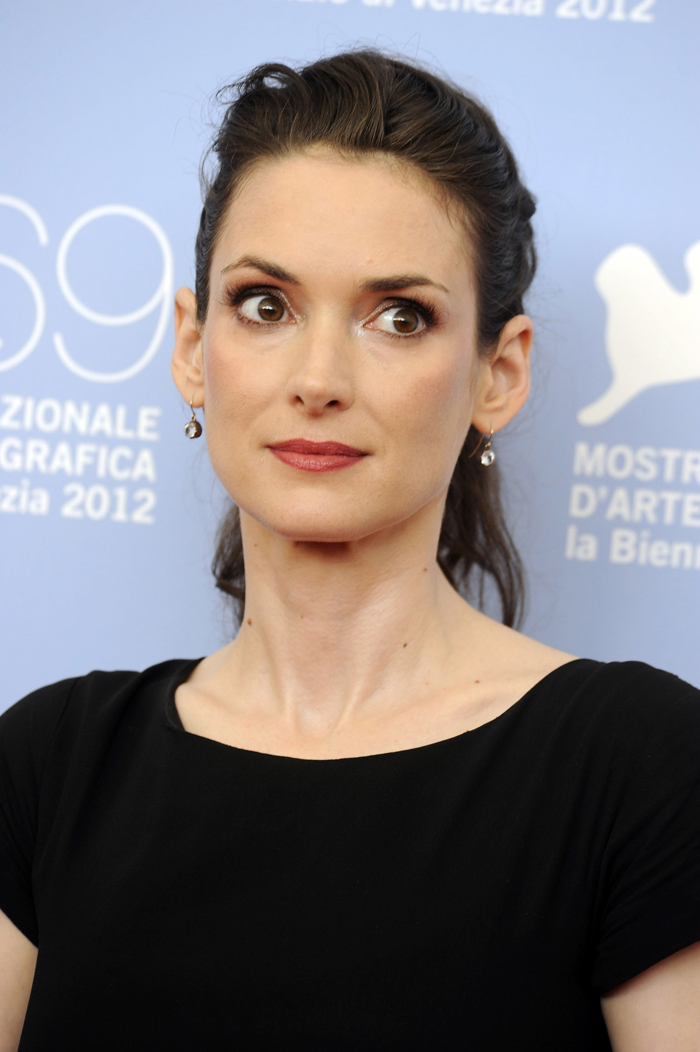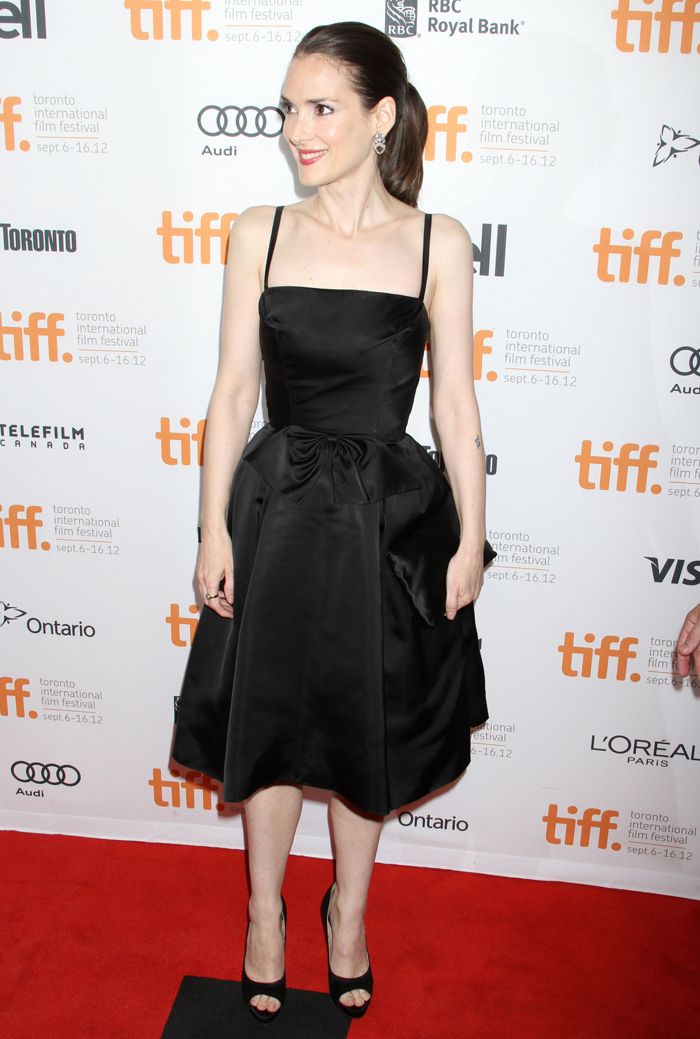 Photos courtesy of Fame/Flynet