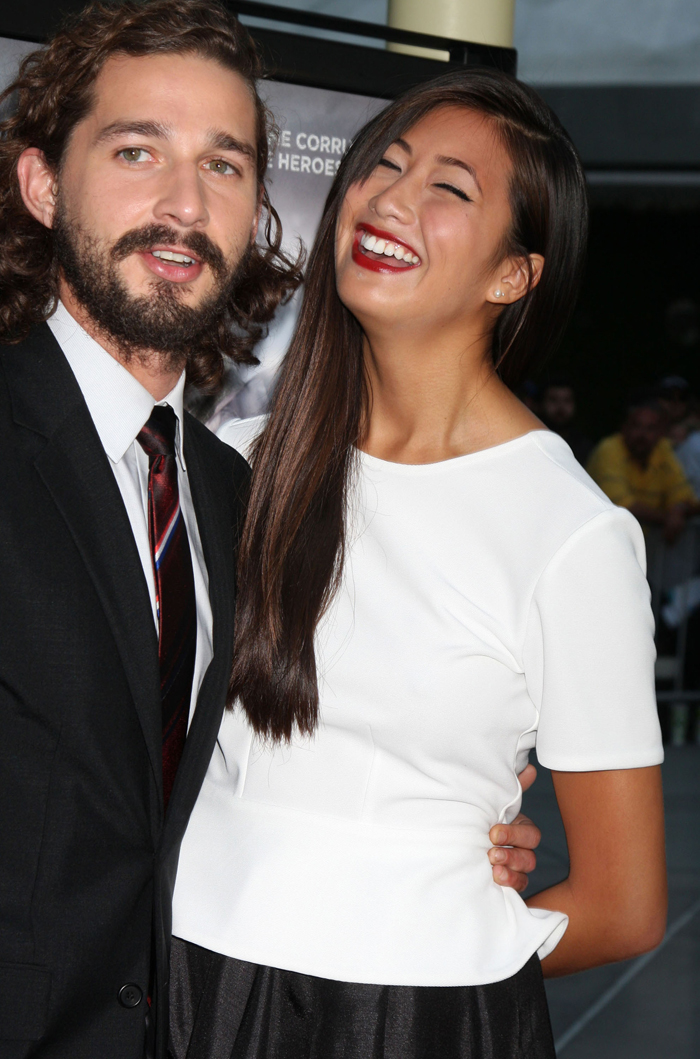 Here are some more photos of the Lawless premiere that Kaiser already covered, but Shia is looking like such hell lately that I couldn't help but rehash the sentiment. I'd like to think that girlfriend Karolyn Pho is laughing her ass off at his hair in the above photo, but she must like what she sees, right? I guess.
Shia has done a new interview with USA Today to promote the underwhelming looking Lawless, and his big deal right now is that he's so "Method." At least, that's his current justification for signing on to have actual, on-camera sex in Lars Von Trier's upcoming N-mphomaniac, which has just begun production in Germany, and that's how he's also explaining his need to completely drop trou for a role in a recent music video. Shia's also claiming that he drank moonshine while filming Lawless (it's a Depression-era bootlegging story) and that he dropped some real acid to get into character on the set of The Necessary Death of Charlie Countryman. Meanwhile, he's still whining about the studio system too. Basically, Shia is full of himself, and here are some excerpts: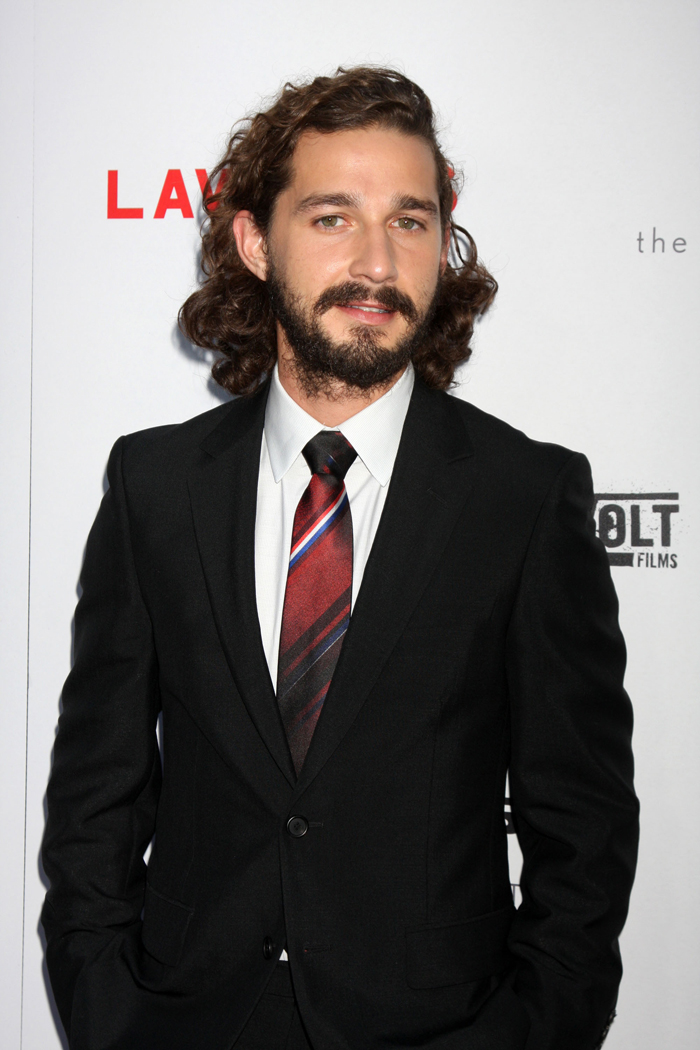 He dropped acid for The Necessary Death of Charlie Countryman: "There's a way to do an acid trip like Harold & Kumar, and there's a way to be on acid. What I know of acting, Sean Penn actually strapped up to that (electric) chair in Dead Man Walking. These are the guys that I look up to."

Preparing for N-mphomaniac: [H]e just received a request to send the production office photos of his nether regions for body doubles. "I framed the e-mail," he says. LaBeouf's limits with role immersion? "There are rules," he says, reached by consensus with the director. He would not take on an experience like N-mphomaniac without considering his girlfriend, Karolyn Pho. "I have ethics, I'm not completely out of my mind. But I don't think there's anything wrong with sex. Sex is beautiful if it's done right. And I wouldn't just do it for no reason. … Sex is different than love, and there is a separation, and that middle gap is what the movie's about."

On badmouthing the studio system: "All I'm really trying to say in the most politically sensible way is, 'Thank you so much for giving me the opportunities, I would just like to make movies about people now.' That's it."

What about all his wealth from blockbusters? "If I could give the money back and get all the credibility in the world that I'm seeking, I would do it tomorrow," he says. "In a heartbeat."

He calls Robert Redford "Bob": "I wound up getting into a bar fight. I have to go to work the next day with (Redford) and Stanley Tucci. And I need to get my confidence back. And now I'm sitting in front of legends, and I feel like a (jerk). And Bob goes, 'Come with me.' And he shows me scenes that we had been shooting. And then he goes, 'Listen to me. The only thing that matters is the work, kid.' And that was it." [I]t's part of why working for "free now, essentially," has meant so much to LaBeouf.
[From USA Today]
I find the double standard with Shia's drunken antics (i.e., hissy fits and bar fights) to be rather nauseating. Any female movie star who engaged in such behavior would be practically blacklisted and shipped off to rehab, post haste. But with Shia? He gets a nice pat on the back from "Bob" Redford.
Then again, Shia is used to enjoying double standards after he threw Megan Fox under the bed bus and then went on to star in a third Transformers movie only to essentially do the same thing that Megan did (that is, badmouth the franchise and Bay) and then go on to metaphorically crap all over Steven Spielberg too. Yet he continues to be hotly pursued by all manner of directors. I just don't get it.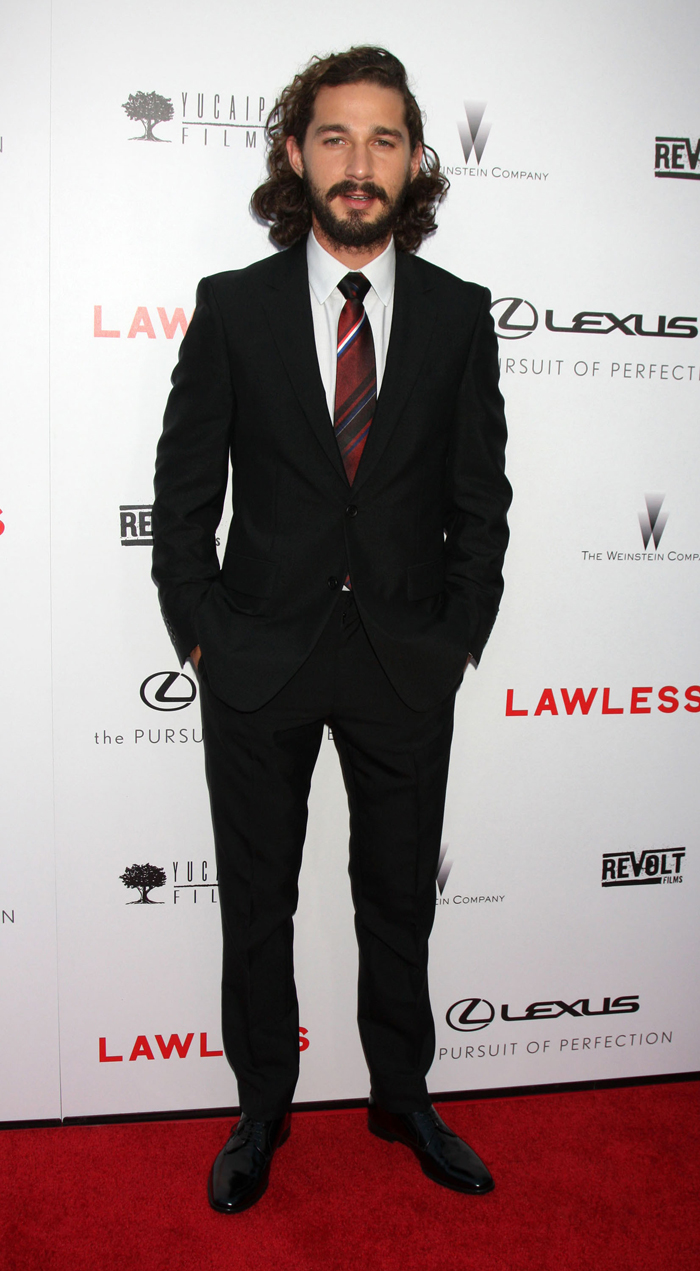 Photos courtesy of WENN