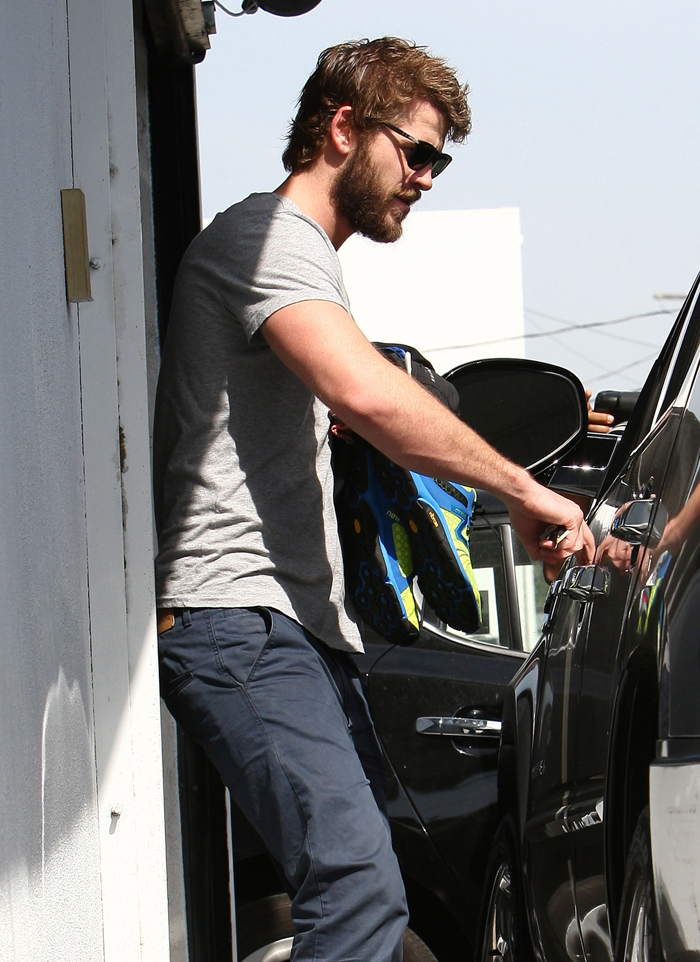 Here's some new photos of Liam Hemsworth doing exactly what the paps catch him doing all the time lately — leaving the gym. While I can certainly appreciate that the dude is into fitness, I'm not crazy about his new beardy look (like Kaiser is) these days. I like my Hemsworth brothers clean shaven, thank you very much. Basically, Kaiser can have Liam when he doesn't use the razor, and I'll take him on ther other days. Or if it comes down to it, I can just take Chris Hemsworth all the time. My little 5-year-old niece keeps announcing that she wants to marry Thor, and I just told her to get in line behind Aunt Bedhead.
Anyway, this is an update post about Liam and Miley Cyrus' neverending drama, and I pretty much ignored Snoop Lion's recent (stoned) declaration that the Miley-Liam situation is actually a "relationship that no longer exists" because I figure Snoop was stoned out of his mind during that interview. Also, I think a lot of people are suffering from Miley fatigue, and even though she might have actually told Snoop it was over, that might have just been a momentary thing. Like, Miley and Liam may just break up every other day, and it's getting seriously old.
Now onto today's topic, which is a new story from Star that alleges Liam is still hot and heavy with January Jones. This comes (sort of) hot on the heels of last week's Enquirer story about Miley being enraged to discover that Liam is still texting January. Of course, Star was the first one to scrounge up a story about Liam and January making out at a party after those photos surfaced of them sharing a car ride. Now Star says that Liam is developing feelings for January and that Miley knows what's going on, but she just thinks he'll get over it and come back to her. Oh girl: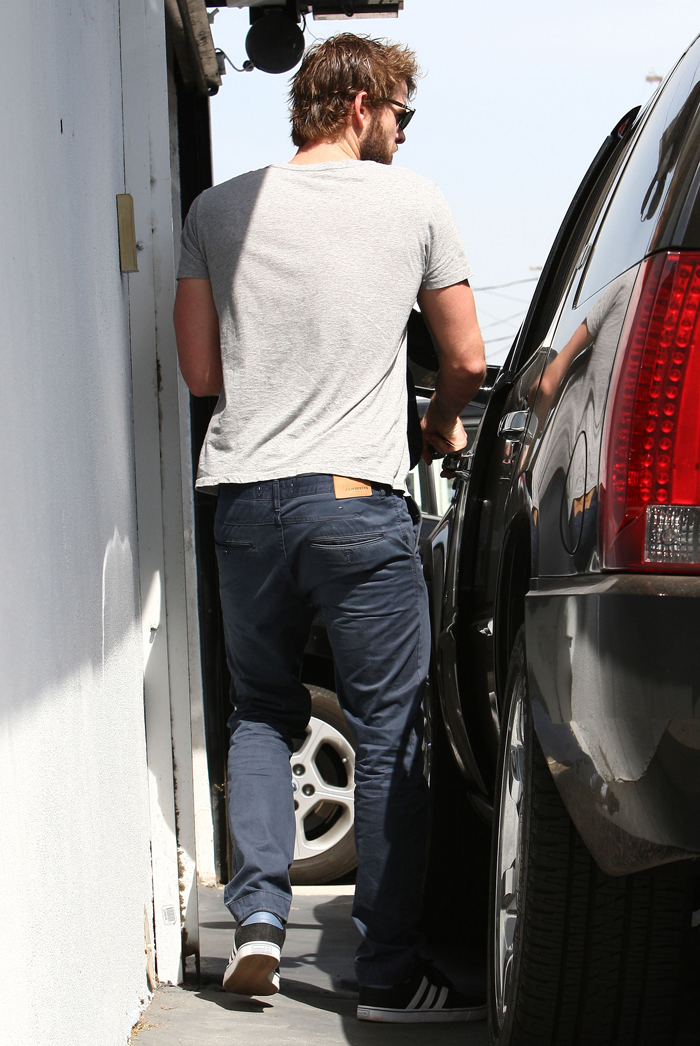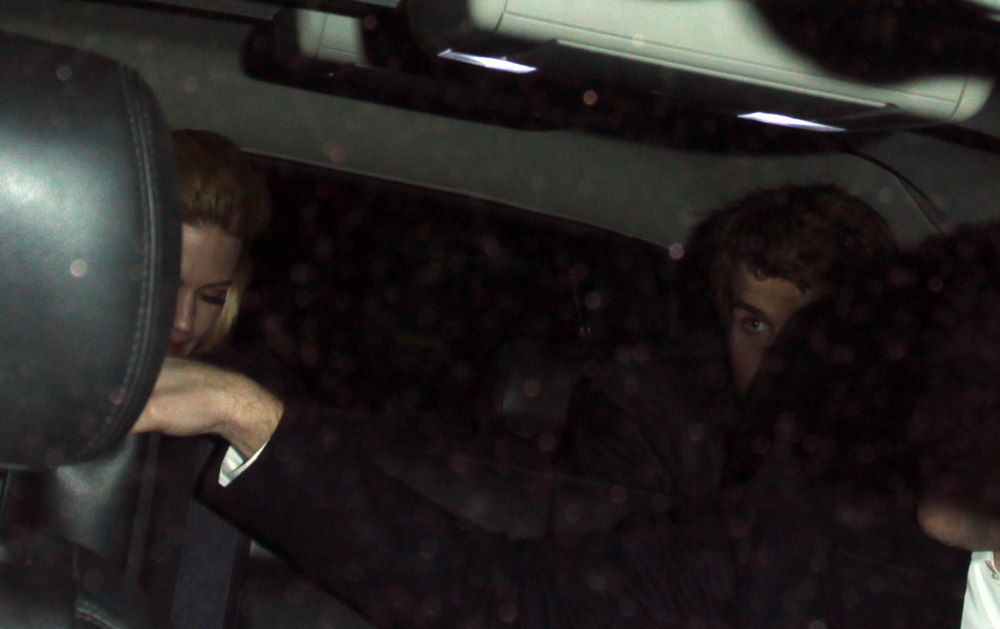 Miley Cyrus and Liam Hemsworth's relationship has been hanging by a tread lately, and the engaged couple are in for a whole new wave of drama — because Liam, 23, is secretly dating January Jones! After being the first to reveal the pair's secret hookup in February after being spotted leaving a pre-Oscars party together, Star has now learned that Liam's dalliance with January, 35, has turned into a full-blown relationship!

According to an inside source, the Hunger Games actor has become a fixture at January's L.A. home in recent weeks. "Liam is at January's house all the time," says the insider. "He brings her favorite wine, and they hook up. They have date nights in — they never go out, because they want to keep it a secret."

Although Miley, 20, is fully aware of Liam's rendezvous with January, she is apparently refusing to break up with him; she's praying it's just a phase and that he'll come to his senses. "She's in denial," continues the source. "She is desperate to marry Liam and make the relationship work."

But while the "Ashtrays and Heartbreaks" singer may still be fantasizing about a wedding, Liam and January have developed strong feelings for each other. "Liam is interested in seeing where the relationship can go," spills the pal. "January is doing her best to keep Liam around." With Miley's dad, Billy Ray, recently referring to his daughter and Liam as "really good friends," the odds look like they are ever in January's favor!
[From Star, print edition, May 6, 2013]
God, how long with this nonsense continue before Miley finally wakes up and pushes this dude out of her life? For her part, Miley is still continuing her claims that she's all about the music but is also upping the stakes by saying she's so super-focused in the studio now that she's voluntarily pushing everyone away. If Miley is always in the studio as she claims, then why are we getting photos of her clubbing and smoking weed while pantless? All for music that isn't even very good.
Now let's get back to January, who has been looking quite pleased with herself lately, hasn't she?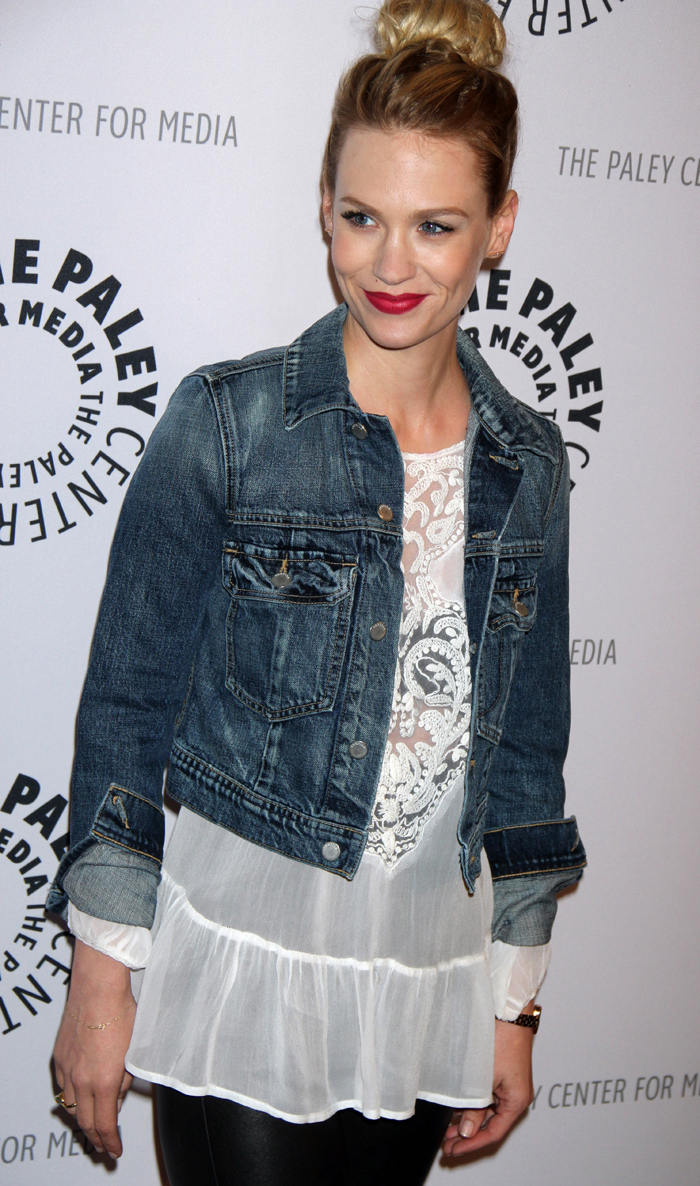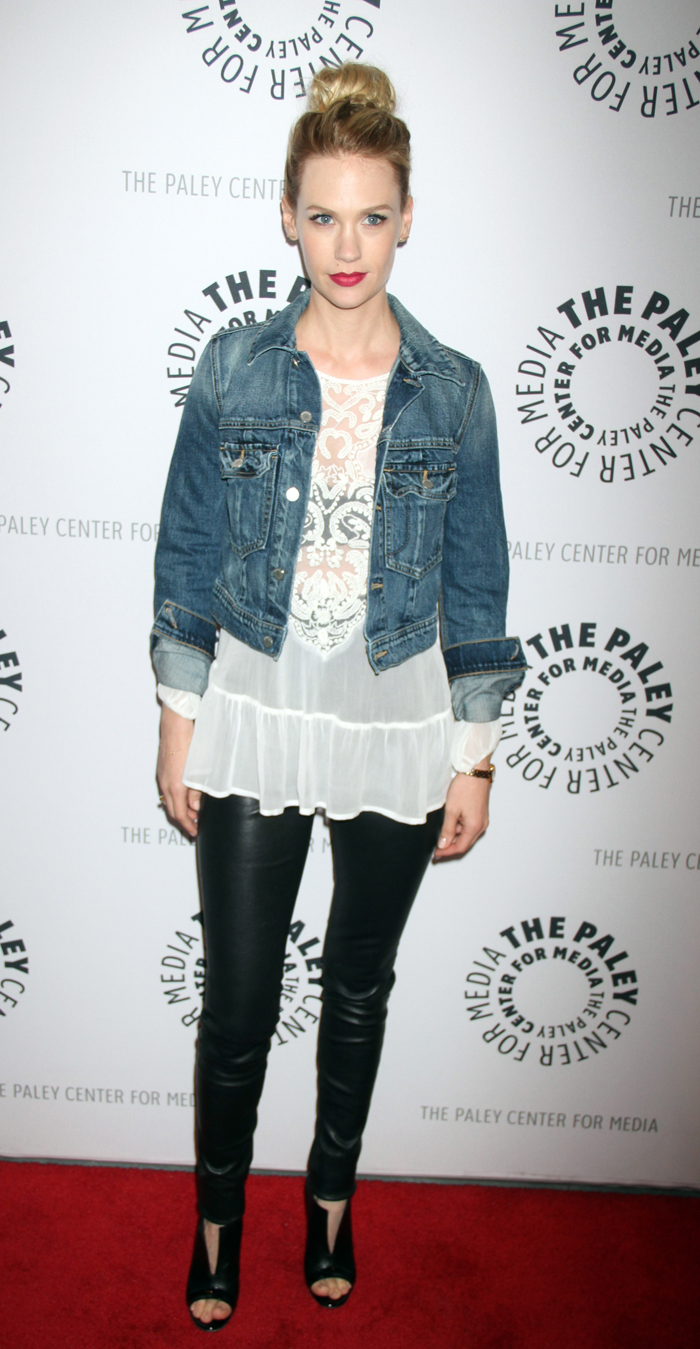 Photos courtesy of Fame/Flynet and WENN