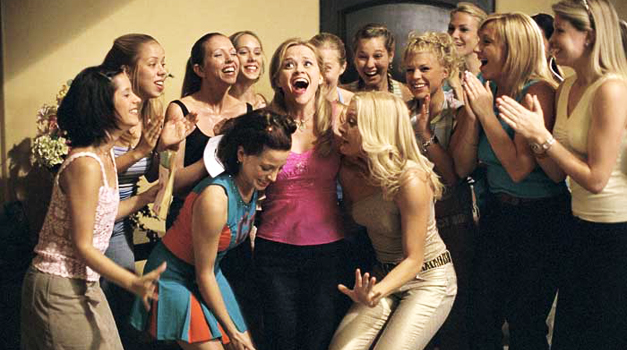 these are pics from Legally Blonde
Did you guys see the crazy ranting sorority e-mail? Of course you did. The background is that a sorority sister was chastising her fellow sisters for not sucking up enough to guys in the fraternity they were supposed to be hanging out with. She really lit into them and it was hilarious. The email, which is full of some awful yet creative putdowns ("cunt punt!!") also makes sorority women look like crazy nasty bitches. I'm sure there are a lot of sorority ladies who cringed when they saw all the negative publicity that email was getting, particularly for that one sorority the e-mail originated from, Delta Gamma. Well Delta Gamma has issued a response. They say the young woman responsible for that email has resigned and that the email was unacceptable, basically. Other sites have named the email author and they have her photo. They also have some of the equally cringe-worthy and very offensive tweets she put out (before she deleted her Twitter.) This chick is an outrageous piece of work.
In her insanely angry, expletive riddled missive [The sorority sister] threatened to "c**t punt" her entire sorority chapter and berated members for "'LITERALLY being so f***ing AWKWARD and so f***ing BORING" when interacting with a fraternity during Greek Week.

Kicking off her rant with the understated warning, "tie yourself down to whatever chair you're sitting in, because this email is going to be a rough f***ing ride"

[The sorority sister] then went on to insult people of various different….

Ethnic groups:

"One of the perks of going to class ugly is that the Mexicans working along the sidewalk don't try to talk to me #fug4thewin #nottryinghard" she mused at one point.

"I like my men like I liked my karate movies. . . vaguely Asian but white enough that I can understand what they're saying," she shared later.

Sexual orientations:

"Why am I not surprised that the girl w/ a pink mohawk and cargo pants is talking about LGBT rights when it doesn't even apply to this class?"

And everyone's favorite stalwart easy to offend topic, religion.

"You know you go to Maryland when the guy next to you at the gym is wearing a yammaca."

In the true spirit of sisterly solidarity, [The sorority sister] warned against supporting rival teams, vowing, "I WILL F*****G ASSAULT YOU" if caught—adding, "If you have done ANYTHING I've mentioned in this email and have some rare disease where you're unable to NOT do these things, then you are HORRIBLE, I repeat, HORRIBLE PR FOR THIS CHAPTER."

Signing off from her motivational message with, "For those of you who are offended at this email, I would apologize, but I really don't give a f**k."

It is not known who leaked the email to the press but it rapidly went viral after the website Jezebel posted it, and the backlash and ridicule has been considerable.

[The sorority sister] was also forced to delete her Twitter account after Jezebel posted numerous screenshots of varying degrees of offensive tweets she had posted poking fun of people from different races, ages, body types and sexual orientations.

In their statement, Delta Gamma acknowledged the email was not intended for public consumption, "This is a regrettable action by a college junior – a personal email that is now on view for a global audience."

But that, "no matter who released it to the pubic or how it reached such a mass audience, the email content should not reflect on any sorority woman in general or any fraternal organization at large."
Radar reports that she was forced out, and they have a source who says that despite the tone and bossiness of the letter she wasn't a president of the chapter and that "she wasn't really in charge of anything even though she made it seem like she was in that email."
This is going to haunt this chick for decades. She may not be able to get jobs because of this, and rightfully so. It's not just one horrible awful email, it sounds like she was being nasty and bigoted on the internet for quite a while before her latest rant went viral.
Update! I'm so sorry for the Michael Shannon video that was embedded in this post. I didn't realize it was auto-play! Here's a link to it as I don't want it to get anyone in trouble at work. He's such a good actor, and that email is so offensive, that I couldn't even watch the whole thing. Warning: the link has very NSFW language.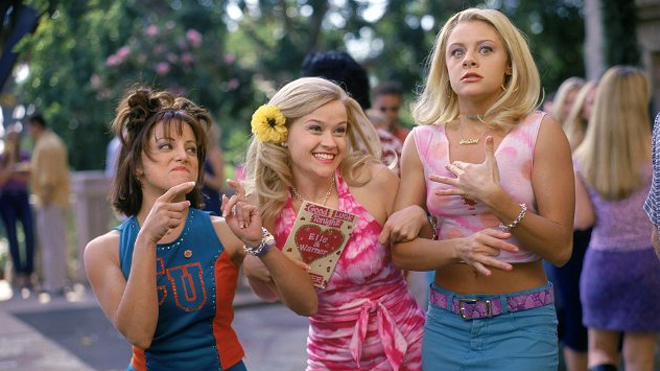 These are Legally Blonde pics. Credit: Fox News for using them. There are photos of the chick all over. I don't know why I feel weird about posting her pic or naming her. Given what an awful person she is, I shouldn't care.