Drew Barrymore was a guest on French chef Eric Ripert's cooking show, On The Table. She was there to shill her new wine, Barrymore Pinto Grigio, which has received mixed reviews. (Some of the positive reviews on wine.com seem fake to me in that the reviewers have only commented on that one wine.) She also cooked "clams Montecito" and went on at length about herself and her career while chef Eric laughed and asked her questions. To be fair, it was an interview and that's what these celebrities are expected to do. Some of the things she said were unintentionally hilarious, though. As we've heard, Drew is a new mom and she's over-the-top. She wants to do everything all at once, she wants to be perfect at it, and she'll tell you about it. She seems fun, but she strikes me as someone who is best taken in small doses. Here's some of what she said, and she was drinking and getting a little loose so you may want to take that into account. (If you want to see the main part of the interview, fast forward to about 8:30 into the video above.)
On her childhood
It was really hard, I wasn't popular in school either. I was in and out of school all the time because I'd be on a set. I think it didn't help me bond with anybody.

On any "bad influences"
But I had fun. I got to go to Studio 54 and like, see the death of disco. It's not how I would ever raise my kid but I'll never regret the experiences I had.

On how she's like a stay at home mom
I've had 17 different lives, I'm like a cat who has had several lives, and now I'm like a stay at home mom and you know, kind of subdued. But you kind of find yourself along the way, and I've had these incredible crash courses on radically different lives. I now know as like a 38 year-old woman, which one I would choose.

Everyday I ask myself "what did I learn today?"

Her "religion"
I'm obsessed with the Abe Lincoln quote. 'If I do good, I feel good. If I do bad, I feel bad.' That is my religion. I keep writing it down lately. It's so succinct and perfect.

She was asked "are you moody sometimes on the set?"
I think I'm moody because I'm a woman. I can ask any man in this room, like women are just inherently like, moody or hormonal people. I don't know how men deal with it. I praise them.

On if she would do reality TV
I would prefer to stay off reality TV, because a lot of it is really sensational. I want to share my life with people… I've always been an open book, but think there's always a boundary.

On the turning point in her career
When I was about 18 I started my own production company called Flower Film. I love filmmaking. I love all the decisions that go into a making a film. I love directing. It was always my goal… I can't wait to do it again.

On how she became a producer.
I started to produce. I started learning how I could be a director… I think life really just sort of took off from there… I really went to school to be a producer. I trained myself. I studied everything. I created like my own college… I put together writer's lists… I'm like Tracey Flick in election. I'm pulling the buttons at night, I'm ripping the posters off the wall. I've got crazy African music in my head. I like studying.
[From "On The Table" YouTube video]
Drew was asked about the moody thing, so it's not like she came up with it out of thin air. It was somewhat over the top, like she could have demurred and said "sometimes I am, that's the nature of the work" instead of making a general statement about all women being inherently moody. That was short-sighted.
After that they got into cooking the clams, with chef Eric giving her cooking tips and adding some fish to make it a main course. It looked tasty and made me hungry. I would hang out with chef Eric and eat his cooking, but Drew isn't my preferred dinner companion. She's a trip, but she would get on my nerves after a while. 20 minutes was about all I could take of that interview.
Also, Drew talked about her work with the World Hunger Program and said she's currently building a school in Africa. You can learn more about her charity work in this video.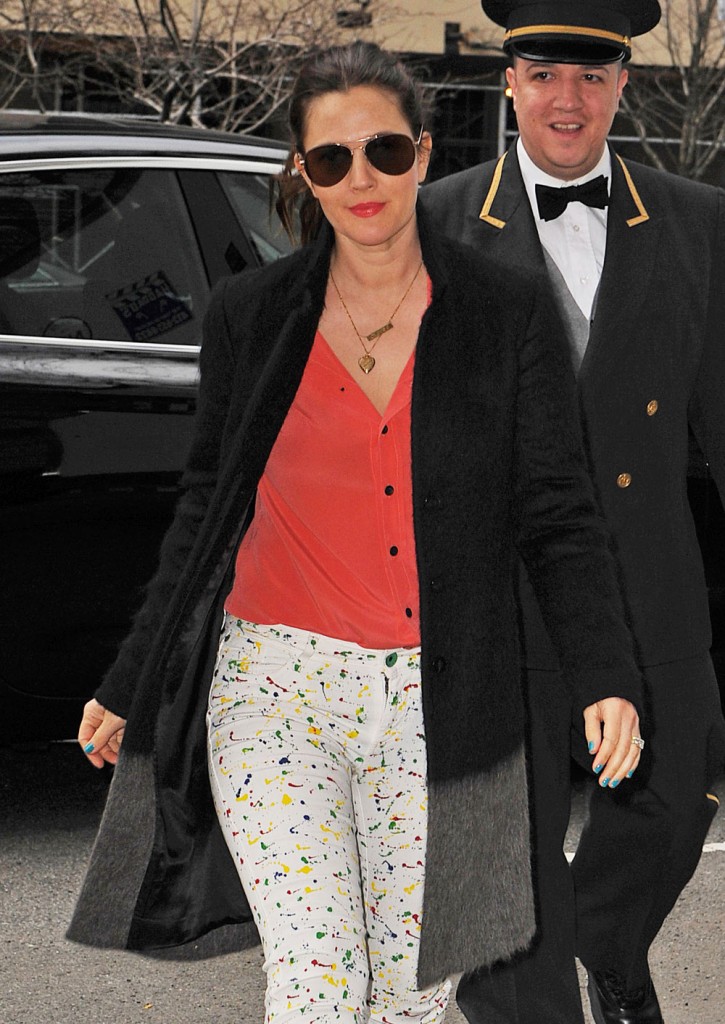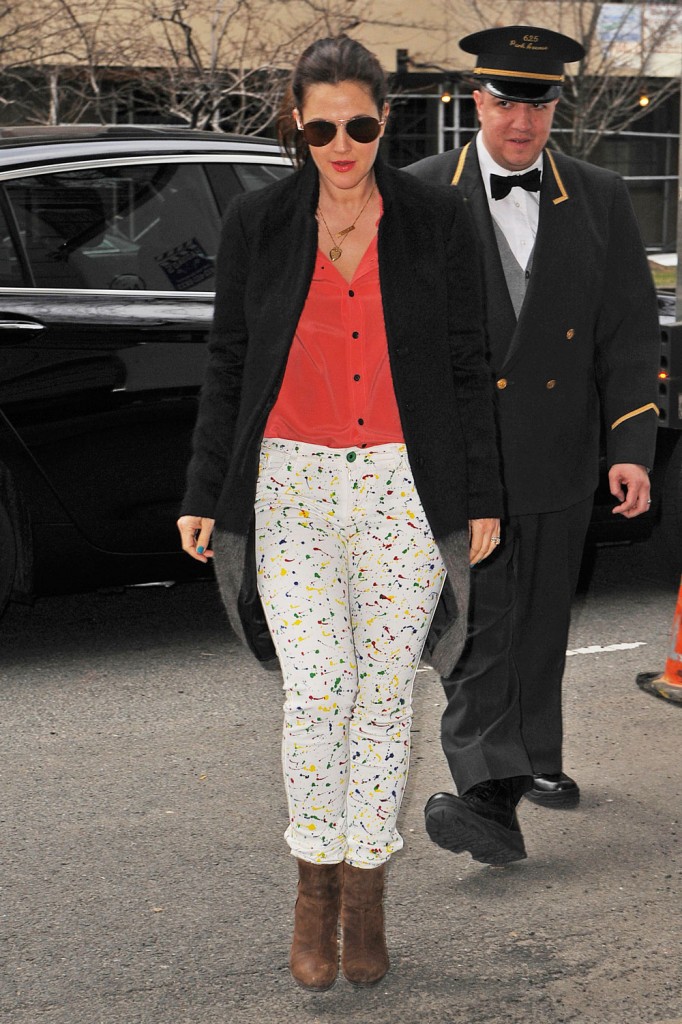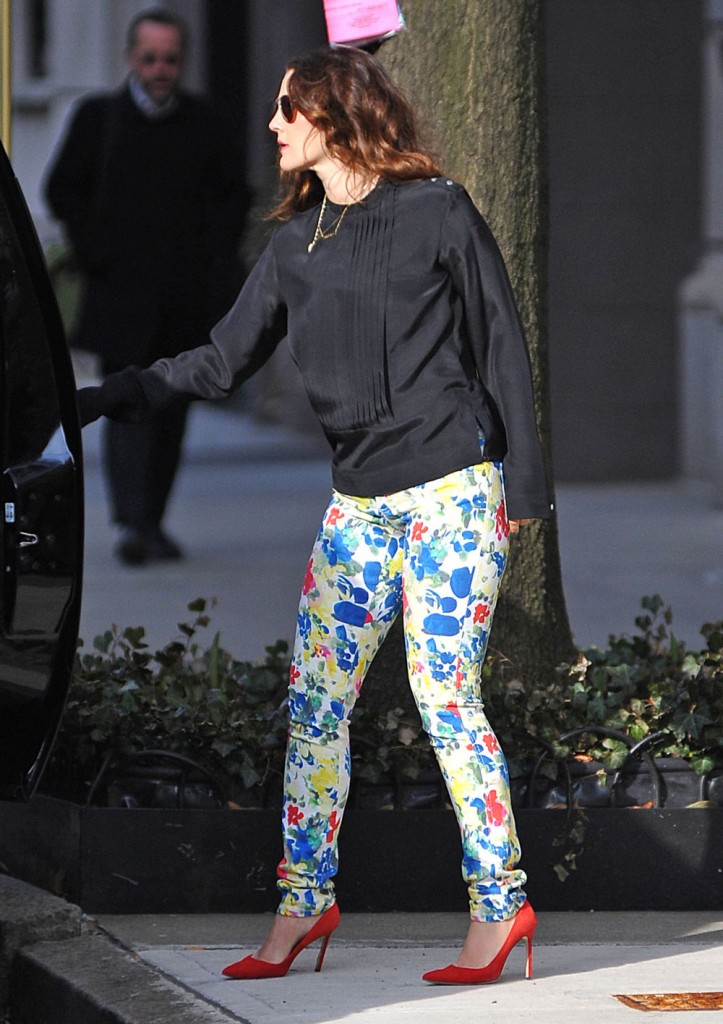 These photos are from 3-21 and 3-22-13. Credit: FameFlynet