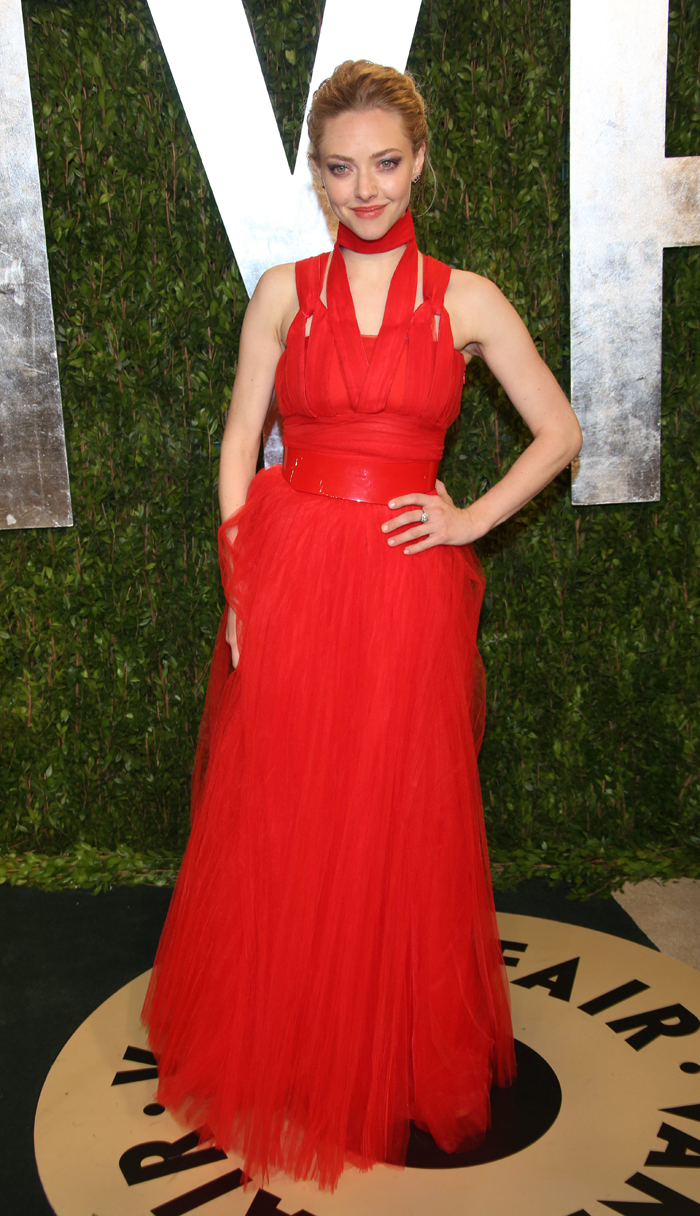 Amanda Seyfried just signed as the newest face of Givenchy, which makes sense in retrospect since she was wearing this dramatic, slightly bondage-inspired red gown by Givenchy when she attended the Vanity Fair Oscar party in February. I'm a sucker for most things red, so I dug the dress and especially like the way Amanda was proudly working it. Clearly, girl was looking for a new endorsement, and she scored it!
More specifically, Amanda has replaced Liv Tyler in the role of representing Very Irresistable Givcnchy perfume, and the fashion house has issued a statement saying that Amanda possesses the requisite "style and elegance" and "is a chic, sexy woman who is a perfect fit for Givenchy." As for Amanda, she had a bit more crude response to this gig, and it's kind of funny. Here's what she had to say to Women's Wear Daily: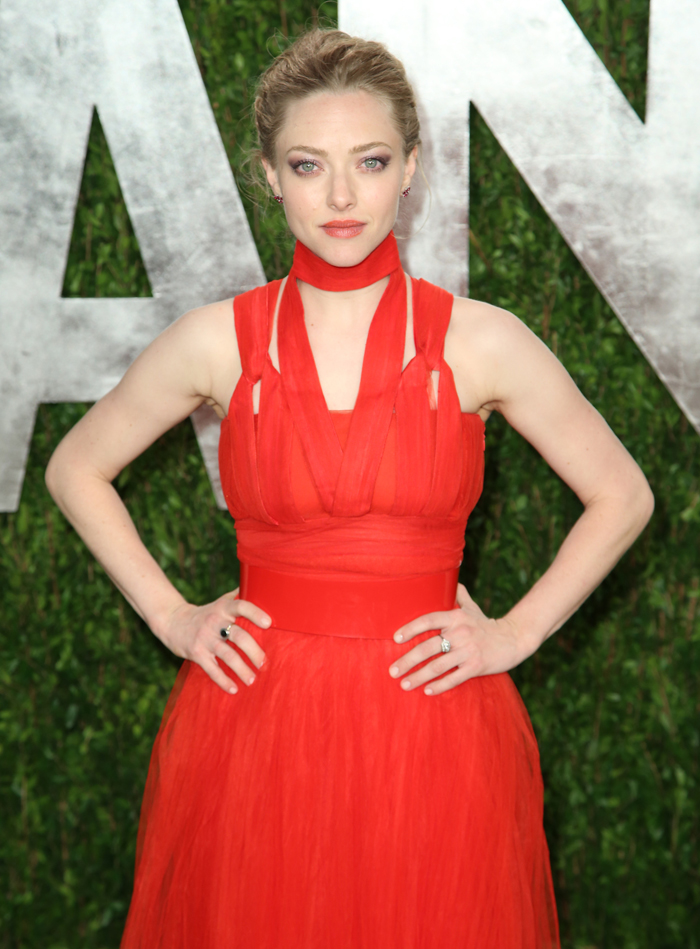 Her response to the Givenchy deal: "F*** yeah. It's an honest collaboration. I'm proud to be a part of [the brands I'm involved with] because what they do is really cool, especially Givenchy — they're so artistic. And I feel like I have a foot in the fashion industry now."

She won't do a celebrity fragrance of her own: "They're hard work, and the more you do, they take away from your work as an actor. I'm doing these two campaigns because I care about them and the people involved. They're great things to be attached to."

On her career choices: "I like indulging in certain situations which I wouldn't normally be in. I like that idea, of playing somebody really lost or going through something impossible to understand, because that's a journey in itself. You come out of those experiences with a richer, broader view. Lovelace felt like a big shift in my life and career. That culture is fascinating. I loved the idea of portraying her internal stuff and examining what was going on behind the scenes, that no one saw. Knowing that we were only telling her story made it a lot easier for me — I had to respect her and be her voice. That was the challenge. At the end of the day, it wasn't really a movie about pr0n. It was about abuse between a husband and wife. The pr0n part was easy to wrap my head around — it was more the violence and the emotionally disturbing dynamic that she and her husband had that was challenging."

What she really wants to do is produce: "It's great to get your ideas heard and to have creative input, to be part of the process. At some point, I'd love to produce things that I don't necessarily have to be acting in."
[From WWD]
Are you surprised that Amanda developed an instant potty mouth when the topic of her Givenchy signing came up with WWD? I bet her publicist instantly freaked out, but I think it makes Amanda seem more interesting (as opposed to pale and interesting) than her usual gorgeous-but-bland image would dictate.
Here are some newish photos of Amanda with Australian Shepherd, Finn, from a few weeks ago. Seriously, I need to meet this dog.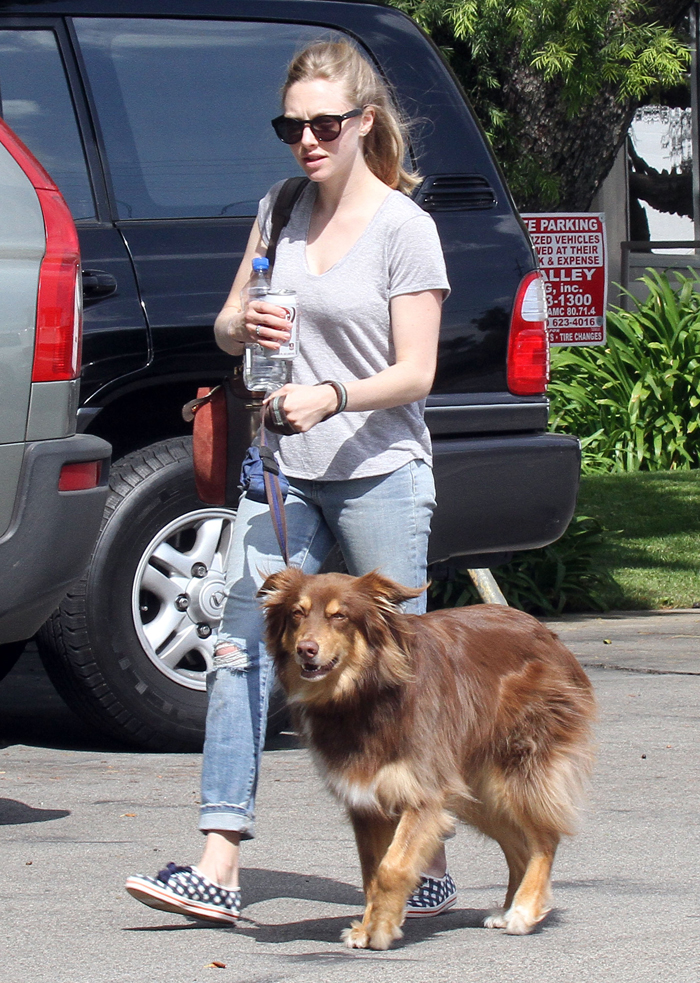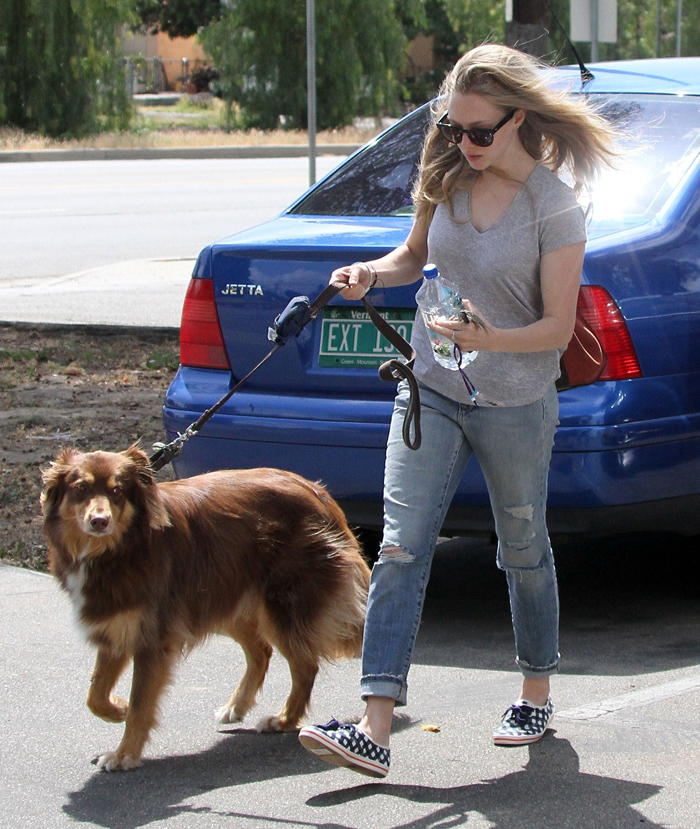 Photos courtesy of Fame/Flynet and WENN