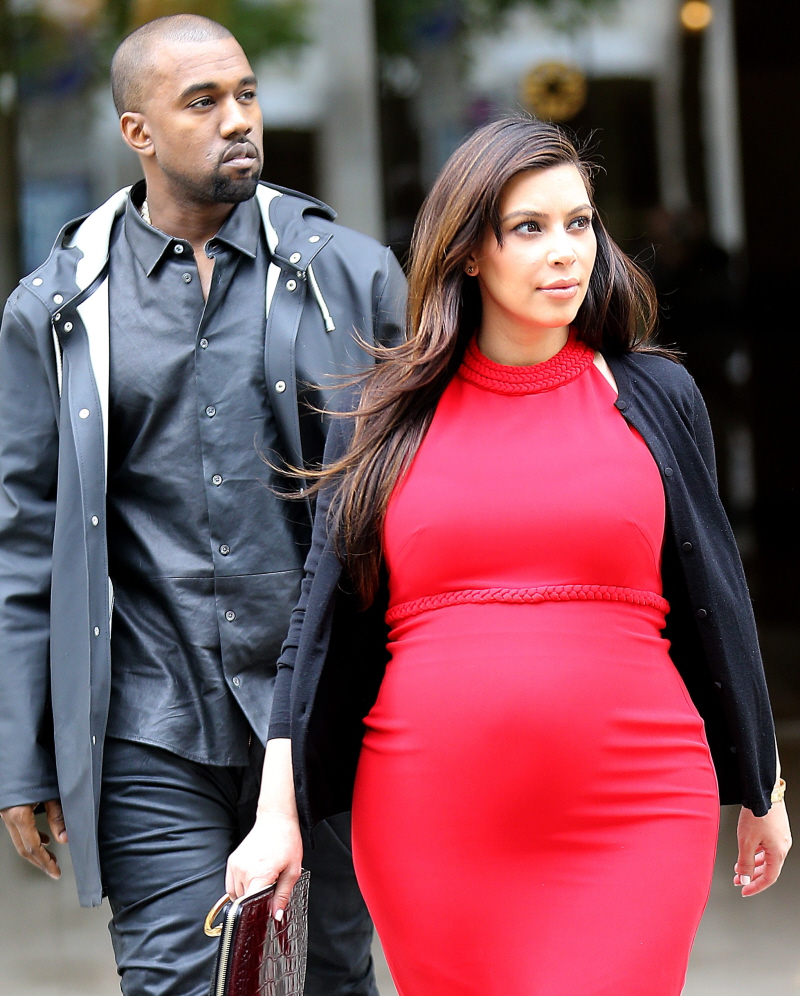 In Touch Weekly's cover story this week is all about how Kanye West is totally over the Kardashian thing and he has no interest in marrying Kim. I kind of doubted the story when I was covering it yesterday, and someone sent us a tip about Kanye's Facebook page in which Kanye might have been talking about how much he was looking forward to becoming a father and how much he loved Kim. Then Kanye deleted everything off of his Twitter feed and he tweeted this: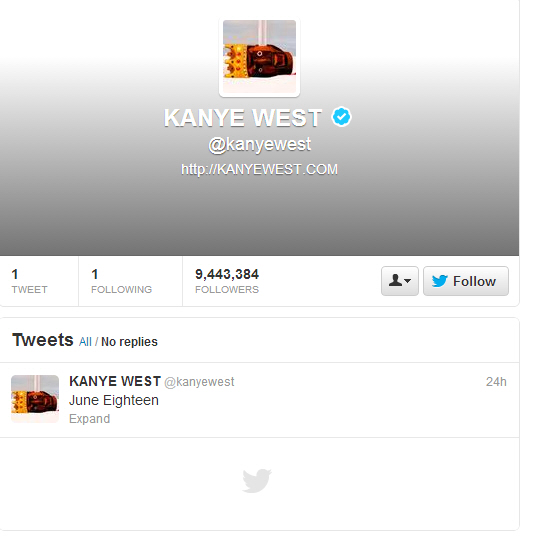 And in case you're wondering, the one person he's "following" is Kim. So what is going down on June 18th? Is that Kim's due date? Is that the date of her scheduled C-section? Or is it – as I theorized to myself yesterday – the date in which Kanye and Kim will get married? Radar says Kanye has finally set a date! Sort of.
Kim Kardashian and Kanye West have finally set a wedding date, and RadarOnline.com has all the details. After months of will-they-or-won't-they speculation, the couple is going to tie the knot in a lavish wedding in the Los Angeles area right after the birth of their child, an insider close to reality TV's first family tells Radar exclusively.

Kim is set to exchange "I do's" wearing an "ethereal white wedding dress," the source said, and wants a location "where they can hear the waves and be married under the moon and stars.

"Kim's choice at the moment is a starlight ceremony in California's Big Sur," the insider added, noting that Kanye has signed off on all of the stipulations, as well as signing off on whichever wedding planner she chooses.

But don't think that Kim is going to be making all of the decisions about the wedding — or in this relationship. Kanye has made it completely clear to Kim that he does not want ANY media at the wedding and they will not sell their wedding photos for profit.

"Instead, Kanye says they should consider a donation to one of Kim's charities like the Skin Cancer Foundation, or Mattel Children's Hospital in a deal around the wedding for a short film," the insider said.

The decision to marry right after the baby is born came after Kim ended her year-and-a-half long battle with ex-husband Kris Humphries. Of course this is all dependent on the paperwork for Kim's divorce being finalized in time!

The insider said the superstar couple have been talking "about marriage for a long time, so it's not like Kanye is going to propose and they'll get engaged — its been something they've been looking forward to for a while during the divorce. Now that Kim's almost a free woman, she wants an immediate wedding — she wants to marry the father of her baby as soon as possible, but the birth must come first."

Besides preparing for the birth and wedding, Kim has also been feverishly looking for a home with three nurseries, keeping Kanye, who's been working in Paris, in the loop on "every tiny detail."

The insider said that Kim showed Kanye "a folder of houses she's seen and all her recent scans and medical reports. She had a folder for Kanye to take, so he hasn't missed any of the baby progress or house choices … they're both getting more and more excited for the baby."
IF Kanye agrees to marry Kim, do you think they'll wait until after the baby is born? I kind of think that if they're going to do it, they'll do it shotgun style. I was trying to figure out the exact date of Kim's divorce dissolution of whatever but I can't find it. I think she's going to be "officially" divorced by the first week of June, which means there's a window of time where she and Kanye can get married and then she'll give birth.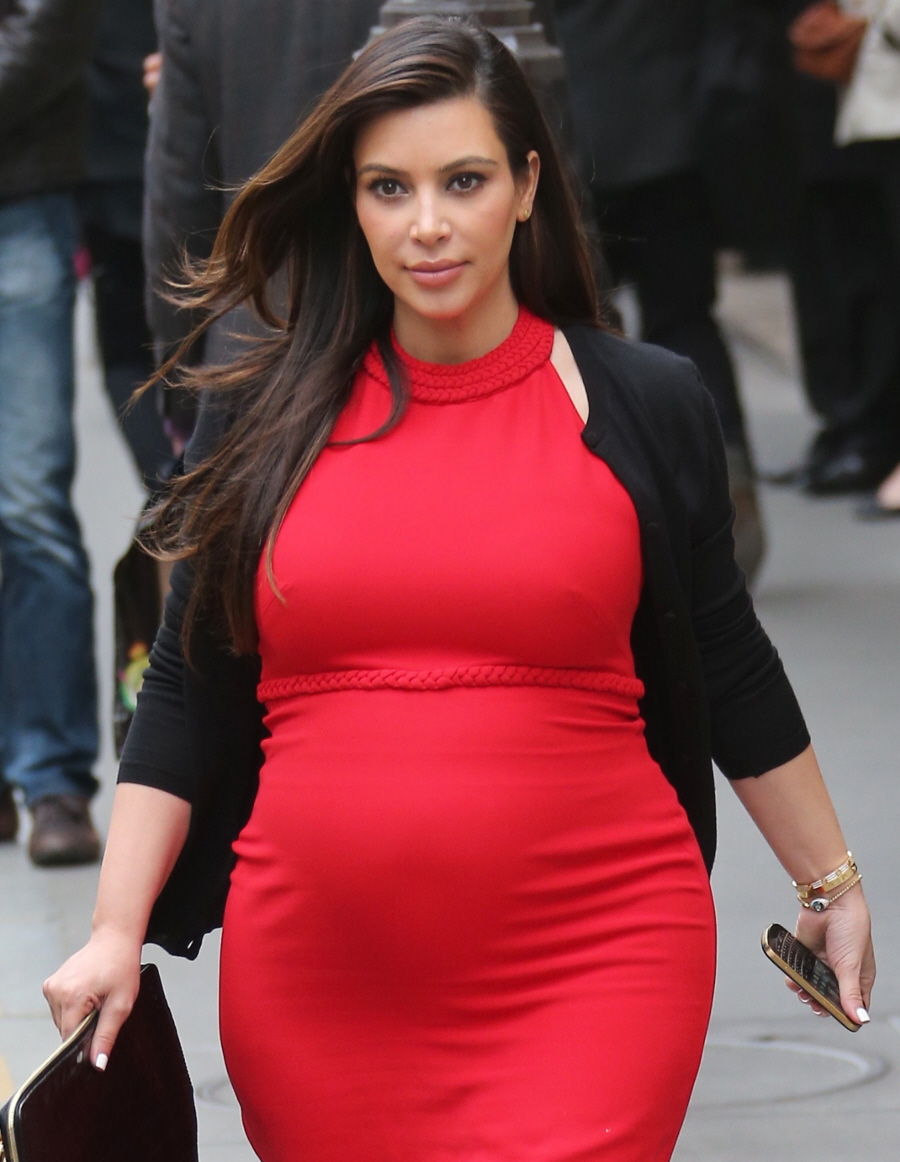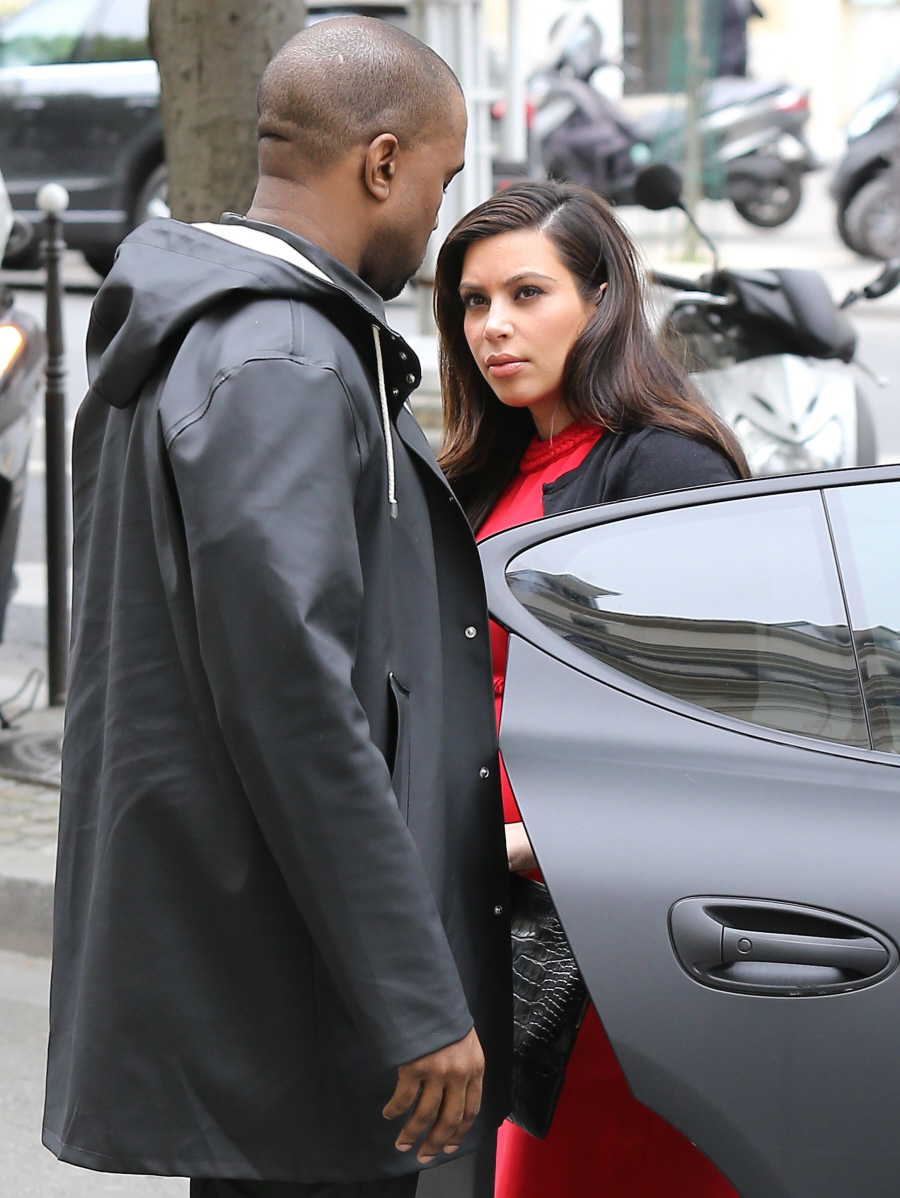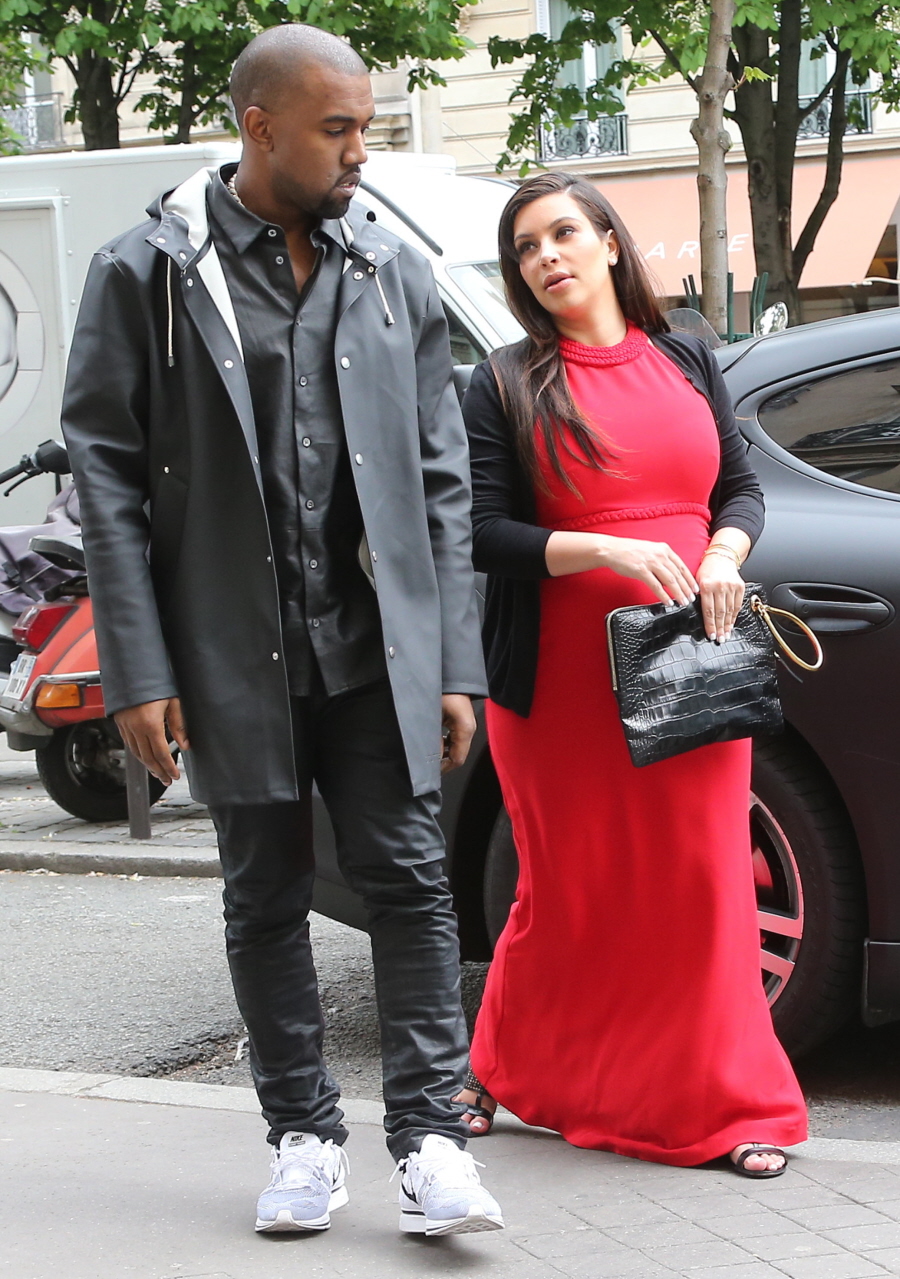 Photos courtesy of Fame/Flynet.