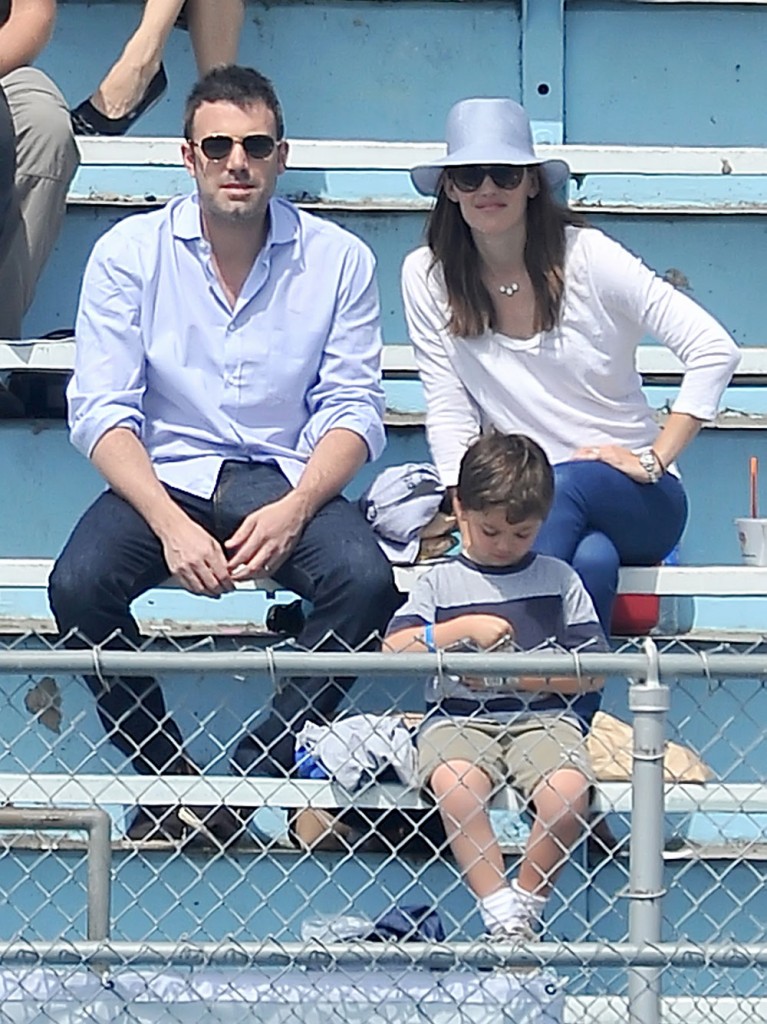 Remember how Ben Affleck talked about how he was going to be "Mr. Mom" to his three kids this summer while his wife, Jennifer Garner, was on set? He said "She's got a couple of movies coming up. There's going to be a little Mr. Mom action and I'm going to get back in the ring." Well if Star is correct (and that's a big IF) that's no longer happening. They say that Garner plans to take the kids with her on set, at least for a couple of weeks, and she's wondering what Ben will be up to when she's away. I can see her bringing the kids, she seems like a hands-on mom who would really miss them if she was away. But I can also see Ben visiting a lot. So we'll see. The paparazzi follow them so much that we'll know by either the lack of photos, or the new photos on set. Here's some of Star's story:
Jennifer, 41, is worried sick that 40 year-old Ben might cheat on her. "Jen really doesn't trust Ben," states the insider. "She's going to Cleveland for two weeks this month to begin shooting a new film. While she's away, she's pulling the kids out of school in Brentwood to be on set with her – and she's worried about Ben being by himself…

"There was talk that Ben strayed with Blake [during filming of The Town]," continues the pal. "And he started talking to J.Lo again. His wife checks up on him all the time and looks through his phone…

"Ben is a good dad, but he's becoming obsessed with work… It's all about him, his friends and his career. Jen has decided to do fewer movies to make sure the marriage works…

"He still drinks and hangs out with friends a lot," dishes the pal. "They are not 100 percent solid, like their image suggests."
[From Star Magazine, print edition, May 20, 2013]
Even if Star made that up out of whole cloth, which is entirely possible, it has a ring of truth to it. We've been hearing these rumors about them for years. Plus every time Ben opens his mouth he confirms that his relationship is "work" and that he considers caring for the kids work. So I believe that Garner checks up on him and that their marriage isn't as rosy as the photos would have us think. They've lasted though, and isn't that the point Ben was making in his Oscar speech?
The Enquirer also has a story this week about the Garner-Afflecks. They say that they're being courted for a reality show:
The Enquirer has learned that a Hollywood producer has big plans to convince the Oscar-winning actor/director and his beautiful wife to do a blockbuster reality show.

He aims to show how an a-list celebrity couple handles the trials and temptations of life in the showbiz fast lane. He also wants to reveal the secrets behind Ben and Jen's eight-year marriage.

"It would be great for them to open up about their lives," said the source. "It would help people understand why Ben said 'marriage is hard work' in his Oscar acceptance speech this year."
[From The National Enquirer, print edition, May 20, 2013]
Yeah this isn't going to happen. This is some guy's pipe dream. These two have worked too hard on their images to risk that with a reality show. Even though Ben seems to risk their family image every time he does an interview.
These photos are from 4-28-13 of the family at a children's running event in which Seraphina, 4, participated. The family was at Disneyland in Anaheim just this weekend. (Those photos linked just show Jennifer, but Ben was there too.) Credit: WENN.com