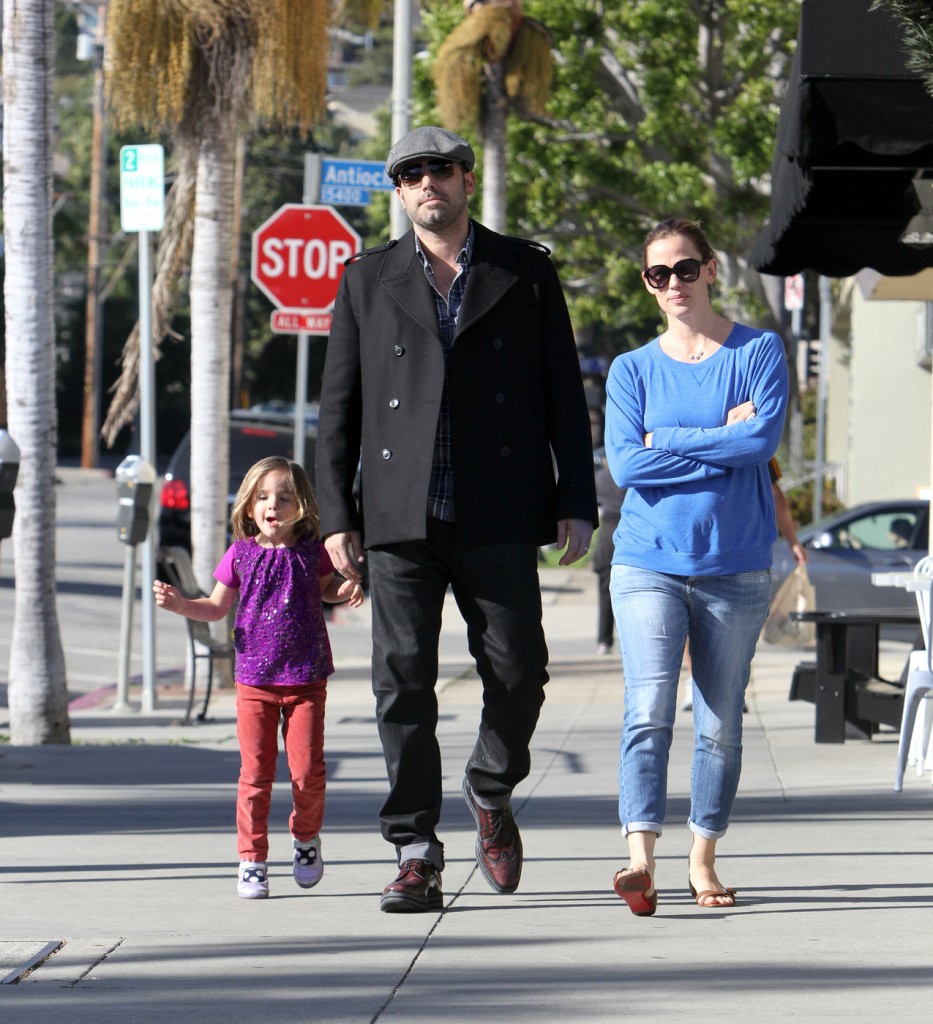 These are photos of Ben Affleck, Jennifer Garner and their daughter Seraphina out getting ice cream on Tuesday. In some pics these two look really annoyed at the paparazzi, which is understandable. There are photos of them out yesterday, with Violet, where they're kissing and looking loved-up. I think they know when to turn on the charm when it's needed.
Where this family is concerned, there's always the question of whether they court the paps. I believe that they do somewhat, although I don't think they can control them by any stretch. Let's put it this way, if you leave food out and too many ants come in your house, should you keep leaving food out? That's a bad, over-simplified analogy, but you get the point. They would have to move outside of LA to stop the daily photos at this point and that would involve switching their whole life around. They would have to change their daughters' schools and move out of their mansion compound, etc. Plus we talk about them constantly when they're photographed and that benefits their careers. The paparazzi ants are more like symbiotic creatures who are sometimes pests, or whatever.
Ben did a recent interview in which he revealed that he's going to be taking care of their three kids on his own (with the help of nannies presumably) and he jokes that he'll have to shape up for it, like Mr. Mom. Garner told The Telegraph earlier this month that they trade off caring for the kids – sort of. She said "I definitely work less because Ben is so busy but we have three kids, that's just part of the deal… I've reserved this summer [for work]. It's mine." So Ben is stepping up:
Ben Affleck's next leading role? Mr. Mom! The actor joked with reporters at the premiere of his film, To the Wonder, on Tuesday, April 9 that he's preparing to be on daddy duty this summer while wife Jennifer Garner goes back to work.

"She told me to go to the gym, I'm preparing myself," Affleck, 40, joked on the red carpet of the premiere, sponsored by Fiji water, at the Pacific Design Center in West Hollywood. "I'm going to take on some more of the burden." (Over the past couple years, Affleck has worked on To The Wonder, Runner, Runner and the Oscar-winning film Argo, which he also directed.)

Aflleck and Garner, both 40, are parents to daughters Violet, 7, Seraphina 4, and son Samuel, 13 months. "She's got a couple of movies coming up," Affleck explained. "There's going to be a little Mr. Mom action and I'm going to get back in the ring."
I haven't even heard of Ben's film, To The Wonder, which is out tomorrow in limited release. It's a Terrence Malick film (Tree of Life, Thin Red Line) co-starring Javier Bardem, Olga Kurylenko and Rachel McAdams. The trailer makes it look like a treatise on love and life, which is similar to Tree of Life I guess. (I didn't see it yet sorry! I did see that Roger Ebert called it one of the top ten movies of all time. Sidenote: they just released his redesigned site posthumously.)
Getting back to Ben being Mr. Mom, that's cool and I'm glad he does that for his family, and wife. Ben said in an interview earlier this year that he doesn't "want to be a stay-at-home dad. Work is very important to me." I'm guessing that he's only half-joking that he's going to have to shape up in order to watch his kids this summer.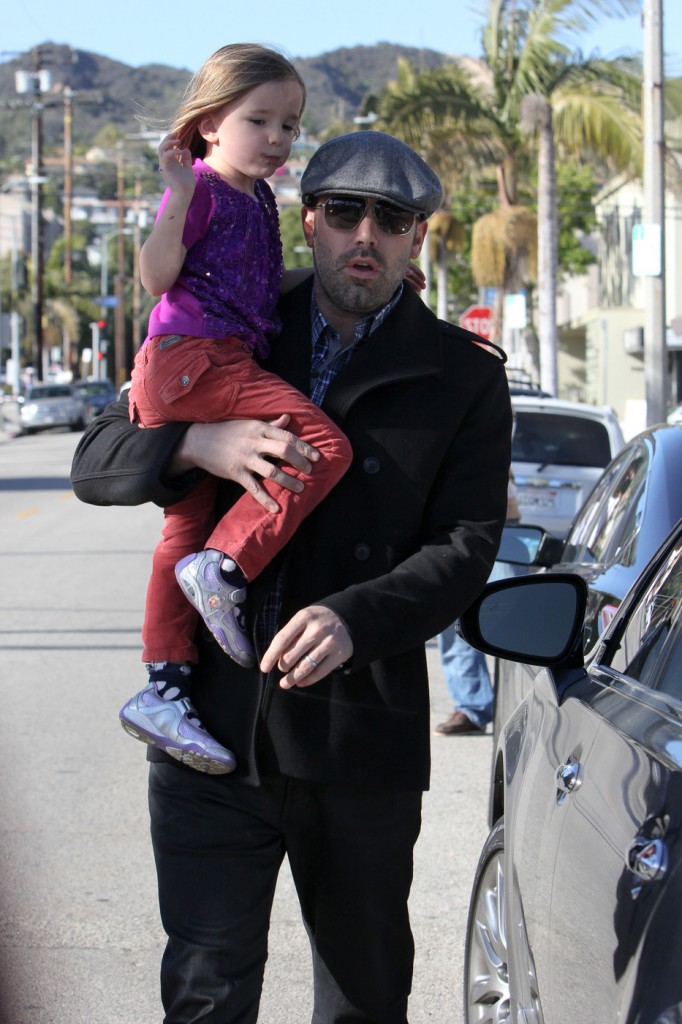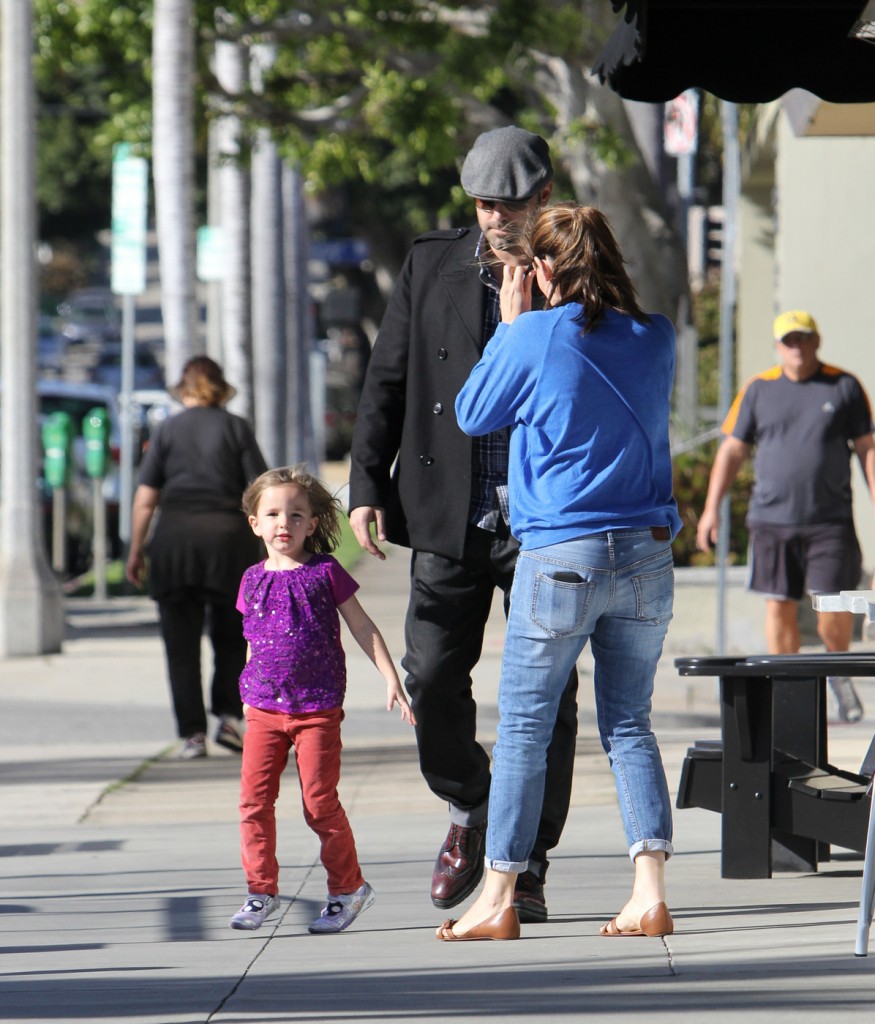 photo credit: Pacific Coast News