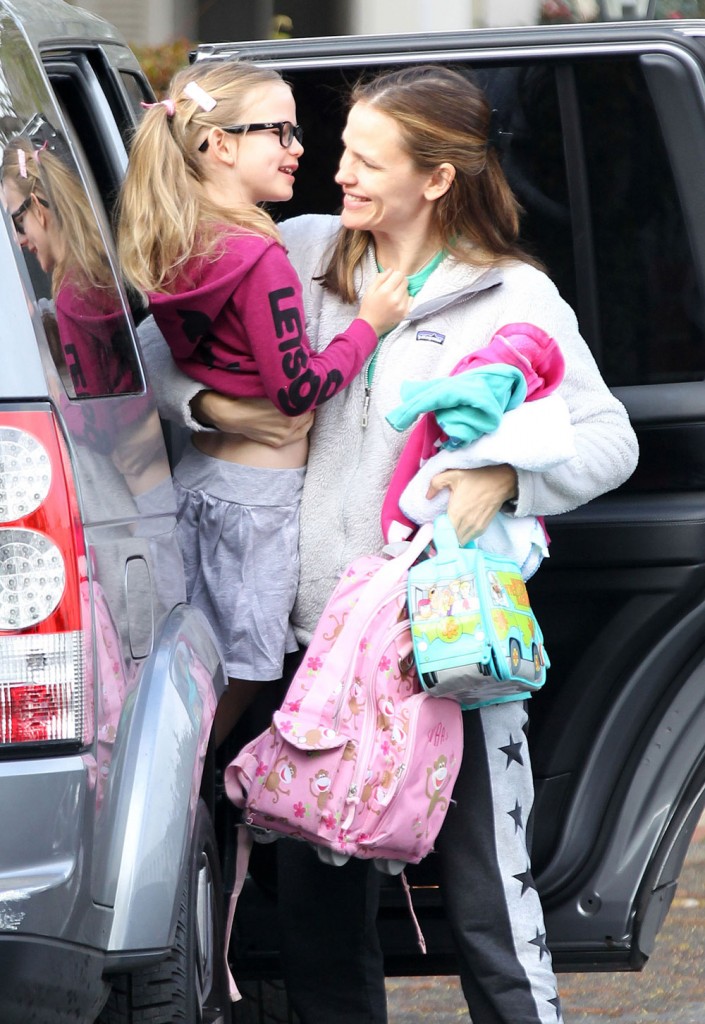 Jennifer Garner was interviewed in Britian's Telegraph to promote the UK release of The Odd Life of Timothy Green, which is out there on Friday. (I lived in Europe for a while and it's maddening how long it takes movies to premiere.) It's a nice, long interview and profile, which is what the British press excels at. The interviewer must have had a good rapport with Garner, or maybe she was just ready to spill her guts, because she seemed to open up about a lot of things: the paparazzi, her husband's controversial Oscar speech, and how it feels to be a celebrity.
Note that some of the interview is translated into "Brit speak," they have her say "mum" instead of "mom" and some of it is phrased in a distinctly British way that makes it sound made up. It's clear that she met with their reporter at least, and it's possible that some of her quotes were switched around for their audience. Here's more:
On the paparazzi
"Seven cars followed me when I left home at seven o'clock this morning. I wish I could say that it doesn't bother me. But you wouldn't like it if you had it, and neither would anyone else. They sit outside my house every day. They wait for me at school drop-off and pick-up."

"This is almost worse [than having a stalker]. They stalk you on a much more regular basis."

"[If she escapes the photographers] Somebody always calls them and tips them off. They give random people their numbers; nannies in the park."

On her husband's Oscar speech
"I had a friend call and say, 'Are you OK?' I know Ben, I knew he meant it as the hugest, warmest compliment in the world. I think he was saying, 'Look, what we have is really real and I value it above all and I'm in it with you and I know you are in it with me.' That's the way I took it."

On the fallout Ben faced after that speech
"Poor guy. It's so horrible to put yourself out there – he didn't have to worry about it from my point of view."

On balancing career and motherhood
"I definitely work less because Ben is so busy but we have three kids, that's just part of the deal. I want to be a mum. I'm happy for him that he's as energised about work right now as he is. He should be out there doing it.

"That's just what makes sense for our family."

On becoming a mom
"I really thought when I was pregnant with my first that it wouldn't affect my work at all, it would just be a baby that grows up on set.

"And I was absolutely wrong. For women, the high point of their career and needing to have babies just don't really go together."

On celebrity culture
"Why does everyone think they need to be a star? It's ridiculous. The celebrity culture is so silly and the fact that people grow up thinking that it's something to aspire to just seems wrong"

"I don't mean to bash my life, I love my life, I just think it's not the only way to go. Why don't we celebrate teachers and doctors – people who actually do something?"
There was a lot more in the interview, particularly about Garner's career. I know a lot of people accuse her, and her husband especially, of playing the paparazzi when they have something to promote. I do think that they do that, but I don't think they can control how much they're followed by photographers. I remember seeing video from years ago of them absolutely swarmed by paparazzi outside their oldest daughter's school, and it was clear to me they were being harassed. I think Garner works hard to play along and smile because she considers it part of her job. In a way, she made the situation worse by being so congenial to photographers and by becoming such an in-demand celebrity mom. It's only benefited her public image, and she surely knows that and struggles with it. She's not bitching about the paparazzi constantly either, she'll tell you about it once in a while but she doesn't make it a point like Halle Berry does, and unlike her husband you never see her scowling or arguing with the paps.
As for her response to the Oscar speech, I do think that she was wounded a little by what Ben said. You could see the look of shock and surprise flash over her face momentarily before she got it together and smiled. She's not going to say that, though, just like she's not going to fight with the paparazzi or frown when she's having a bad day. That's the kind of person she is. She has a charmed life, she knows it, and she's more than happy to play the game.
Thanks to invisiblename on Twitter for the tip! These photos are of Garner dropping Violet off at daycare yesterday and of her out with her three kids on Saturday. Credit: FameFlynet