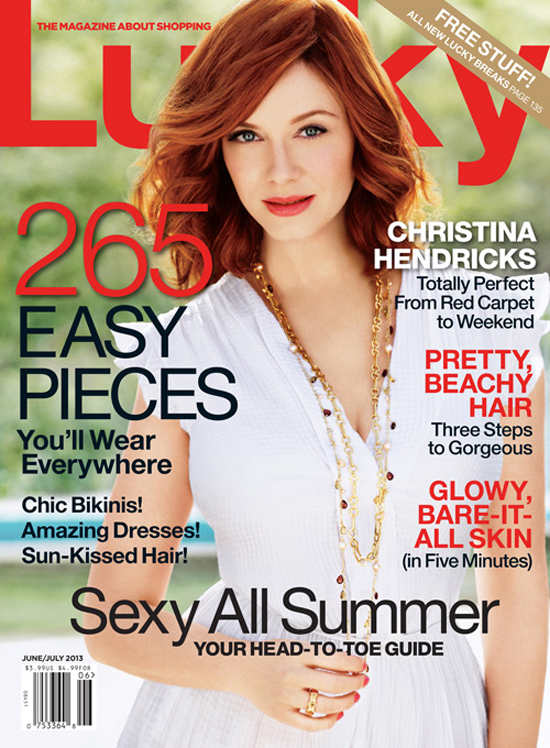 Christina Hendricks covers the June issue of Lucky magazine, and she looks absolutely lovely. Unfortunately for some of you, the magazine has covered up most of her famous assets, so there goes the famous booby appeal. She is showing just a hint of cleavage in one of the shots, but it just isn't the same, right? I'd bother getting up and arms about such a stereotype, but Christina is the one who's usually going for boob spillage dresses on the red carpet. It's her thing, I get it. She's gorgeous, and here are some interview excerpts about fame, "Mad Men," and the nefarious nature of sweatpants: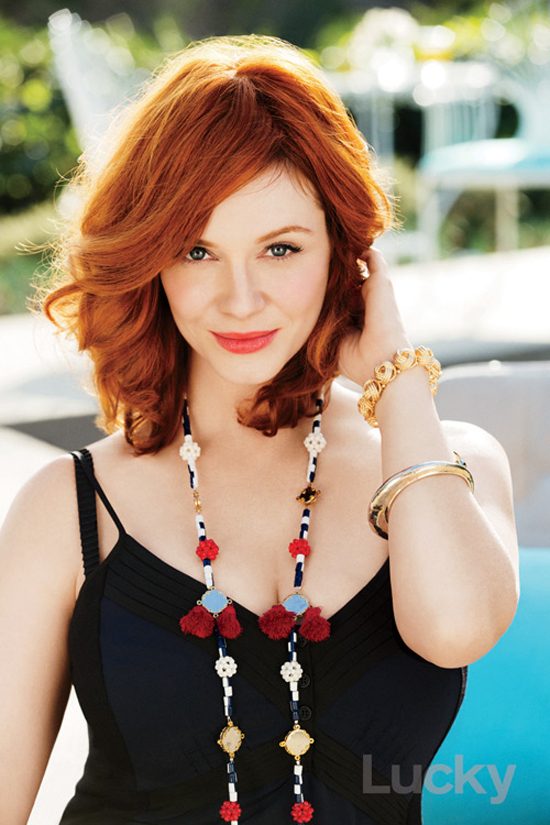 On her original acting plan: "I just thought I would work in a hair salon and do community theater. There were so many actors, why do we need one more?"

On the struggle: "I was crying before I went in [to the 'Mad Men' audition] I was just so desperate. I was like, 'I'm not going to get this,' and my friend said, 'It's your role.'"

Fame is weird: "Just walk down the hall and try to imagine that you know everyone is looking at you."

She likes dresses that don't require bras: "Christian Siriano makes his dresses that way. It makes me feel so taken care of."

Sweatpants at home are a no-no: "I can't do that to my husband, not after three years of marriage. At home, I put on a low-cut caftan, and he's like, 'Babe, you look great.'"

On her Joan character: "Joan used to be Peggy. She just wants the next girl to not get trampled on like she did.. Joan is fascinating. I would play Joan forever."
[From Lucky magazine]
What does Christina mean when she says she doesn't slob around at home — "not after three years of marriage"? I can't tell if she's referring to a certain "honeymoon period" that dictates when sweatpants are appropriate or not. I do understand the sentiment that it's always nice to fix oneself up for one's partner or spouse, but there is a difference between, say, lounging around in form-fitting yoga pants (rowrr) without makeup and wearing hole-filled sweatpants while neglecting personal grooming. I guess Christina and her husband see a caftan as a bit dressier than sweatpants. To each his own. Chris Evans loves sweatpants.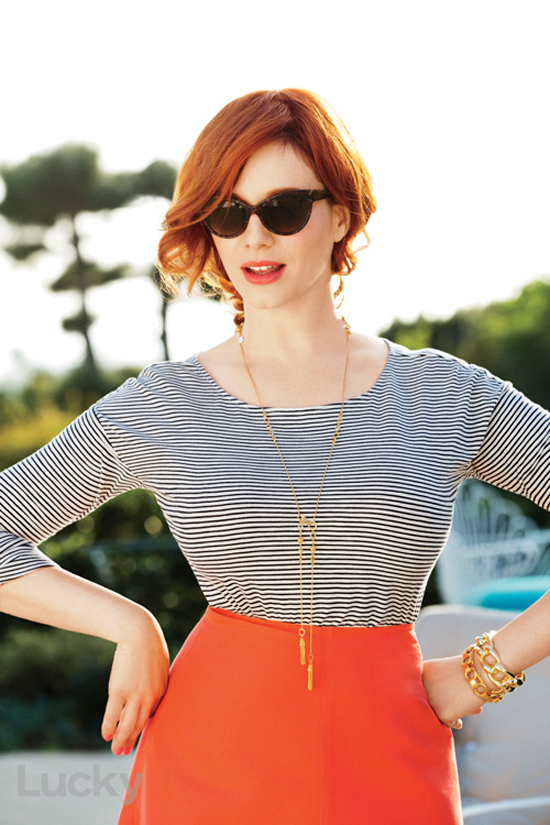 Photos courtesy of Lucky magazine