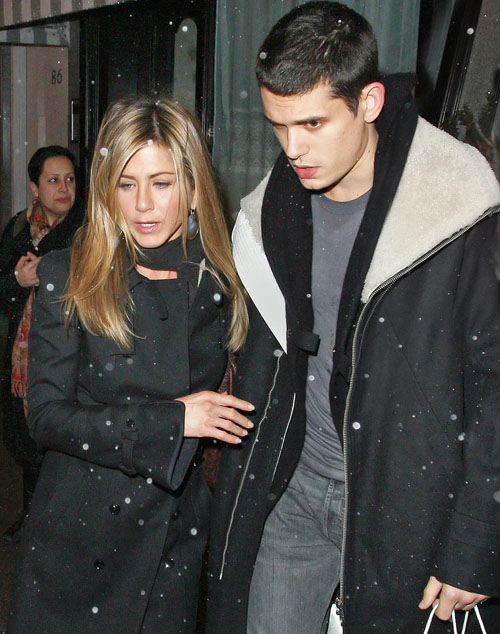 Turn the "Cringe Meter" up to 11: John Mayer is writing love songs about his romance with Jennifer Aniston. I sure hope this is just John messing with the media like that stunt he pulled with Perez Hilton. Star Magazine is reporting that Aniston wrote Mayer a love poem over the holidays that he has put to music and recorded just for her. He surprised her with the song during their post-holiday trip to Mexico and had the "Friends" star blubbering. Must. Hold. Back. Vomit.
Jennifer Aniston and John Mayer are making sweet music together — literally!
Jen wrote John a poem for Christmas, and as a surprise New Year's gift, he recorded it as a song.

"He changed it a little bit to make it more lyrical," an insider reveals. "But it's all John Mayer style, so it sounds good."

"Lucky in love, lucky in love," the song begins. "Didn't forget me when I asked you to leave me." (Guess that clarifies who dumped whom!) It continues, "Didn't forget me/ Now you're alongside me/ You've brought luck to love/ I've been hit by a truck in love."

John surprised Jen with the tune during their trip to Cabo San Lucas, Mexico, over New Year's. A source says Jen broke down in tears of joy.

"She said, 'It was only a little something I wrote down for you, and you made it beautiful.' And then she joked, 'Do I get the publishing rights?' "

It was a special moment, but this kind of creative collaboration is par for the course in their relationship, another source reveals. "Jennifer and John are always writing poems for each other. Because they are often apart, it's their way of staying in touch and keeping things romantic."
The most laughable line from this entire article is this one: "But it's all John Mayer style, so it sounds good." Oh, really? I'd say that the words "John Mayer style" and "good" don't even belong in the same sentence.
No word on whether the Aniston-penned song will be released to the general public, but if it does exist it probably will be released and make a bunch of cash. Yes, the lyrics to this alleged song are atrocious, but they aren't any worse that Mayer's own hit songs. This is a guy who repeats the phrase "Say what you need to say" approximately 40 times in that stupid song he did for that movie "The Bucket List." I'd say Jen's words are actually an improvement – as long as she wasn't the one who came up with the "hit by a truck" line.
Jennifer Aniston and John Mayer are shown out in NY in late December. Credit: Splash News