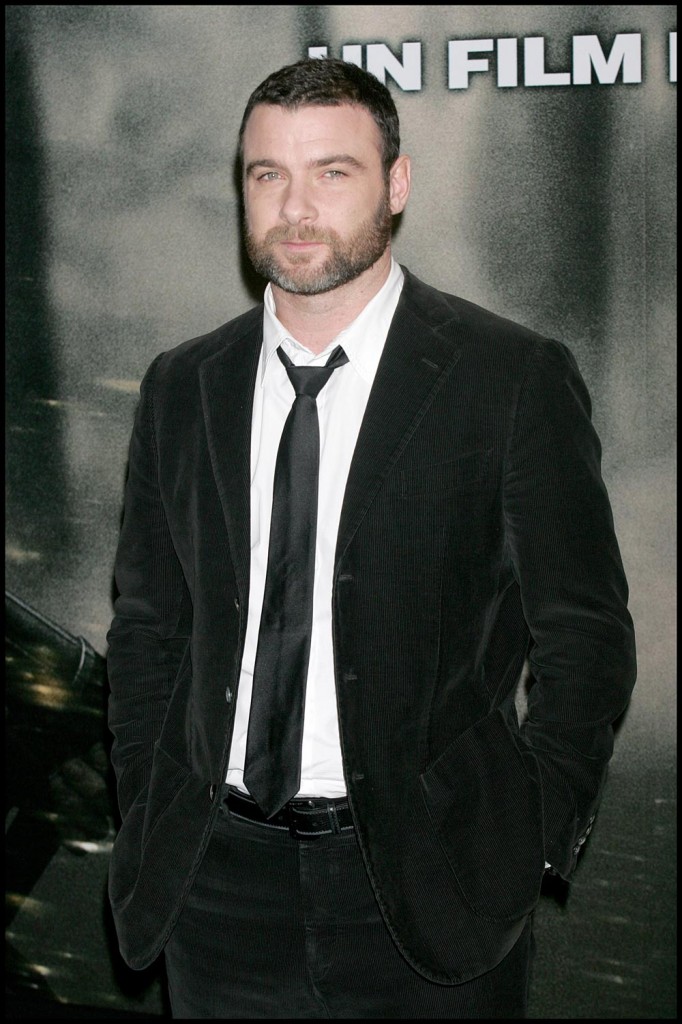 Liev Schreiber is one of those really talented actors who finds a balance between a steady, interesting career and a quiet yet star-powered coupling with a fellow working actor. Liev's partner is Naomi Watts, who just gave birth to their second son, and they seem really happy together. Liev's career is filled with character roles in big movies and steady work on Broadway and off-Broadway theatre roles. Liev used to be one of my favorite actors (I've since moved on to actors like Clive Owen and Daniel Craig.) Most people will recognize him from the Scream franchise (he played Cotton Weary), but I can make a few recommendations for some of Liev's best work: A Walk on the Moon (with Diane Lane) and Spring Forward (with Ned Beatty).
Liev's two latest roles couldn't be more different. First up, he co-stars in Defiance, that film about Jews who hide out in the woods during the Holocaust, also starring Daniel Craig and Jamie Bell. After that, Liev plays second fiddle (Sabretooth) to Hugh Jackman in X-Men Origins, the untold story of the X-Men's Wolverine. Liev's been doing some press for Defiance, and most of it is as depressing as you'd think promoting a Holocaust movie could be, but I found this one interview in Britain's Times that was a little shocking. Liev had a *really* screwed up childhood.
His acting, he says, has complicated roots and comes from a childhood that is infamously dysfunctional. A simple précis couldn't possibly capture the texture of it (the essayist and writer John Lahr tried to do just this in a lengthy New Yorker magazine profile of Schreiber in 1999). The key points include an early divorce between Schreiber's blueblood father Tell and his Jewish former communist mother Heather; some time in an upstate New York commune with Heather; Tell kidnapping Schreiber back from Heather; a custody battle won by Heather, followed by a childhood for Schreiber dominated by his mother's penury (they frequently had no electricity, hot water, or even beds).

He endured her mood swings and bohemian proclivities (she made him take Hindu names, wear yoga shirts, and he was forced, briefly, to go to an Ashram school in Connecticut when he was 12). It culminated in a fractured ankle during football practice at Brooklyn Tech in 1984, when the 17-year-old Schreiber was forced to turn away from sports and eventually towards the stage.

Acting, says Schreiber, is therapy. "I may have been working out my relationship with my mother and my father all along, and I probably will be for the rest of my life. But then that's one of the luxuries of being an actor — it's about self-exploration."

He is now based in Manhattan and in a long-term relationship with fellow actor Naomi Watts, and his life at the moment is defined by the couple's two infant children, Sasha, 17 months, and four-week-old Samuel Kai. "Remember that voyage of self-exploration I was talking so fondly about just then?" he says, chuckling to himself. "Well it just ends. You go, 'Awhh sh-t! No more me time!'" He then sighs and quietly confesses: "I am struggling, though. It's f***ing hard. So little sleep. It's 23 hours and 59 minutes of exhaustion. But then they do one little thing in that last minute that is just so compelling and fascinating that it makes the other 23 hours and 59 minutes worthwhile."
Yeesh. A communist mother, a kidnapping, a commune *and* an ashram? You couldn't write this stuff. I always wonder about people who had extremely messed-up childhoods. Do they work extra hard to give their own kids the "normal" childhood they never had? Or do they screw up their own kids in the same old ways? In the interview, Liev also takes more about X-Men Origins, and his future theatre and film roles.
Schreiber's next role is even more action-packed — he stars as the mutant supervillain Sabretooth opposite Hugh Jackman's Wolverine in the comic blockbuster X-Men Origins this summer. The role, which required four months of bulking up and working out (transforming his already imposing 6ft 3in frame into a thing of hulking beauty), is the final step in Schreiber's transformation from a man who's all brains into one with muscles too.

"I like to think I'm part of the new Obama transition," he says, tongue deeply in cheek. "Obama is hermetically intelligent, he knows what he wants and he never screws up. So maybe now there's room for intelligent action heroes too."

The real kick here is the sheer breadth of Schreiber's professional evolution. A Tony award-winning stage dynamo, he has repeatedly wowed New York critics and crowds alike with his headlining Shakespearean roles (from Cymbeline to Hamlet to Henry V and beyond) since graduating from Yale School of Drama in 1992. "I do think there is some truth to the notion that you have little to fear from any role if you can comfortably break down a Shakespearean soliloquy," he says, without false modesty.

Furthermore, he adds, children give you some much needed perspective on your work. Because despite the fact that he has a summer blockbuster on the way, and a romantic comedy with Helen Hunt called Every Day, plus a Jude Law sci-fi film, Repossession Mambo, he is still wildly unsure of his career prospects. "You can never be comfortable as an actor," he says. "It's like Heisenberg's Uncertainty Principle. The minute you name an event it ceases to exist. It's like that with acting. The minute you say you're happy with your career, it's gone. Over."
Definition alert! The Heisenberg Principle is that the act of observing an event, changes the event. Not exactly Liev's definition, but I understand where he's coming from. I understand how Liev can be nervous about the stability of his career, especially with two young children at home. Hopefully, Liev's star continues to rise, and his happy remains as happy and healthy as it is now.
Liev Schreiber is shown on 1/7/09 at a Defiance photocall in France. Credit: WENN