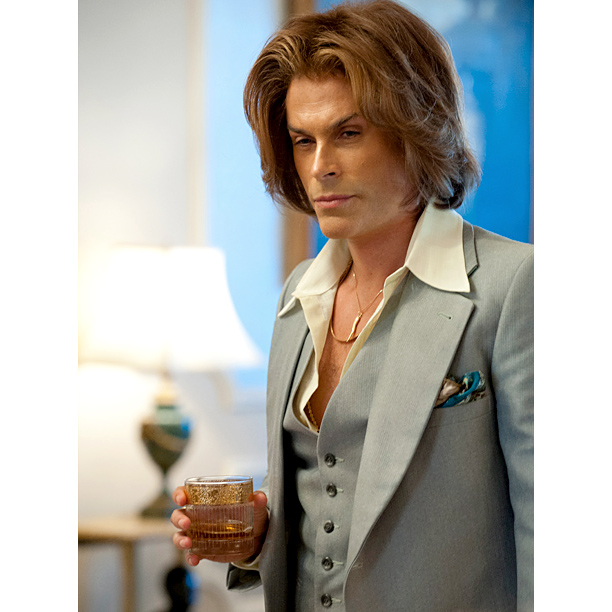 These are photos of Rob Lowe in character as Liberace's plastic surgeon, Dr. Startz, in the HBO movie "Behind The Candelabra." If you haven't seen it yet you might assume that it's a comedy, but it's not. Lowe's character just stands out amid a sea of campy, kitschy bling and over the top costuming. I can't do justice describing "Behind the Candelabra." It's wonderful and it feels realistic. Overall you get the sense that you're peering into Liberace's world as seen through the eyes of his young idealistic lover, deftly played by Matt Damon. It's a glittering fantasy that only Liberace could create. Parts of it are hard to take. There are semi-graphic sex scenes that seem awkward, but the most cringe-inducing are the plastic surgery scenes. They really show Lowe's hack tight-faced surgeon slicing into Matt Damon and Michael Douglas' faces. Lowe has explained that those scenes were done with real-life replicas, and that he felt like he was slicing into cadavers.
Startz was a real surgeon who operated on Liberace and his lover, he was sued multiple times for damaging patients and eventually committed suicide. (That's not a spoiler.) There are no known photos of Startz (Update: Here is a photo, thanks to Eddie for the link. Rob said on Ellen that there were no photos of the man.) Lowe and director Steven Soderbergh just went by descriptions of the doctor in the book the biopic was based on, written by the man Damon plays, Scott Thorson. Lowe wanted to go extreme with Startz, and Soderbergh was supportive. In a new interview with EW, Lowe explains his character and how he was inspired, and gives some insight into the film: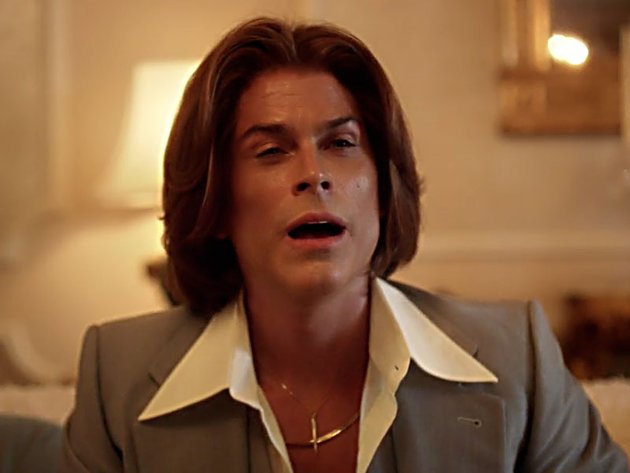 This interview has some spoilers for Behind The Candelabra
How much of the eyes were prosthetic and how much of the look was you having to squint and work at it?
In the long meetings where we were testing, doing makeup tests, I just sort of was playing with different ideas with how to hold my face and came upon the realization that with the eyebrows pulled up as egregiously as they are, if I closed my lids, it looked so freaky, because you can't do it in real life. Like if you right now were to like raise your eyebrows, your eyes open. There's no way they can't open. So with my eyebrows up but with my eyes closed, that just looks bizarre because you can't do it in nature.

How did they lift the brow? It looked like a temporary facelift.
It's tape and pulled behind my head. It's literally what they used to do in the early days of cinema before there were facelifts for actresses. You know, Joan Crawford, her whole career was this. You tape, you pull around the back of the head, but you have to have a wig because it covers the elastic. We did that, and I'm also wearing a dental piece and then I'm doing a couple of things, a couple of tricks with my own face, the way I'm holding it. Then of course the makeup is literally like Earl Scheib autobody paint sprayed on my face.

That could not have been comfortable.
It was actually really painful, because being pulled that long and that hard for a 12-hour day — it gave me migraines. We shot during the summer. It was unbelievably hot. The wig, being pulled, it was definitely not the most comfortable experience physically for sure.

Once you started preparing, what did you base your character on?
Obviously there's the book that the movie was based on [Behind the Candelabra by Scott Thorson], and there are the references to Dr. Startz in the book and they have amazing research throughout the whole movie. But when it came to Dr. Startz, no one could find anything other than what appears in the book. In the book he's described as pulled unbelievably tightly and his face almost looked plastic. That was a very good leaping off point. In my first conversation with Steven, I was trying to get a sense of what the tone of this movie was going to be because I had a very specific vision of how I wanted to play him, but how I wanted to play him wouldn't fit in 9 out of 10 movies.

How did it fit in this one?
Happily, when I asked, "Steven, what's your appetite for me really going for it?" he said, "My appetite is full. Sky's the limit." So the end result is the version of Dr. Startz that you see in the movie.

Your character is the major comedic element of the movie, but at the same time he's very disturbing and sad.
Well Dr. Startz did blow his brains out. We do know that. So there is that element underneath of a guy who is trying to make himself something he's not. Which by the way is one of the main themes of the entire movie, weirdly enough.

Was it on the forefront of your mind to make this character extreme but also not a joke?
What I love about the movie is that it's so outrageous, so over-the-top, and yet it's completely based in reality. And you feel an emotional connection that often you don't feel for characters that are as over-the-top as some of these are. In my work as Startz I really wanted to make sure that this wasn't a Saturday Night Live sketch character. This is a really fully rounded man. Otherwise it just wouldn't work. It would just seem odd.

In a shocking and at times hard-to-watch movie, the only parts I covered my eyes for were the plastic surgery sequences that you had to perform.
Those were hard to do. We had full upper-body realistic casts of Michael and Matt. And they looked like they were dead. I once had to research a role and had to go to a morgue and hadn't really seen that kind of thing before and what you realize is that dead bodies look like Hollywood wax figures. When I would come into work, it was very disturbing because it looked like Matt and Michael were dead and lying on my table. And we had the surgeon consultants. All that work you see is actually me doing it. It looks like it might be inserts, but it's actually me. So if you want a cheap, easy facelift, I'm your man. Although I can't speak for the results.
That's what got me about the film – that it was outrageous, but it had a sense of realism at the same time. Rob Lowe's character stood out of course, but that was extremely relative in this movie. I'm away from home and had to watch it online on HBOGo, but I'll watch it again on television in HD. This is a film I want to own and see again and again. Also, I didn't realize that taping up women's faces was common in early cinema. I remember hearing that Marlene Dietrich used to do it, though.