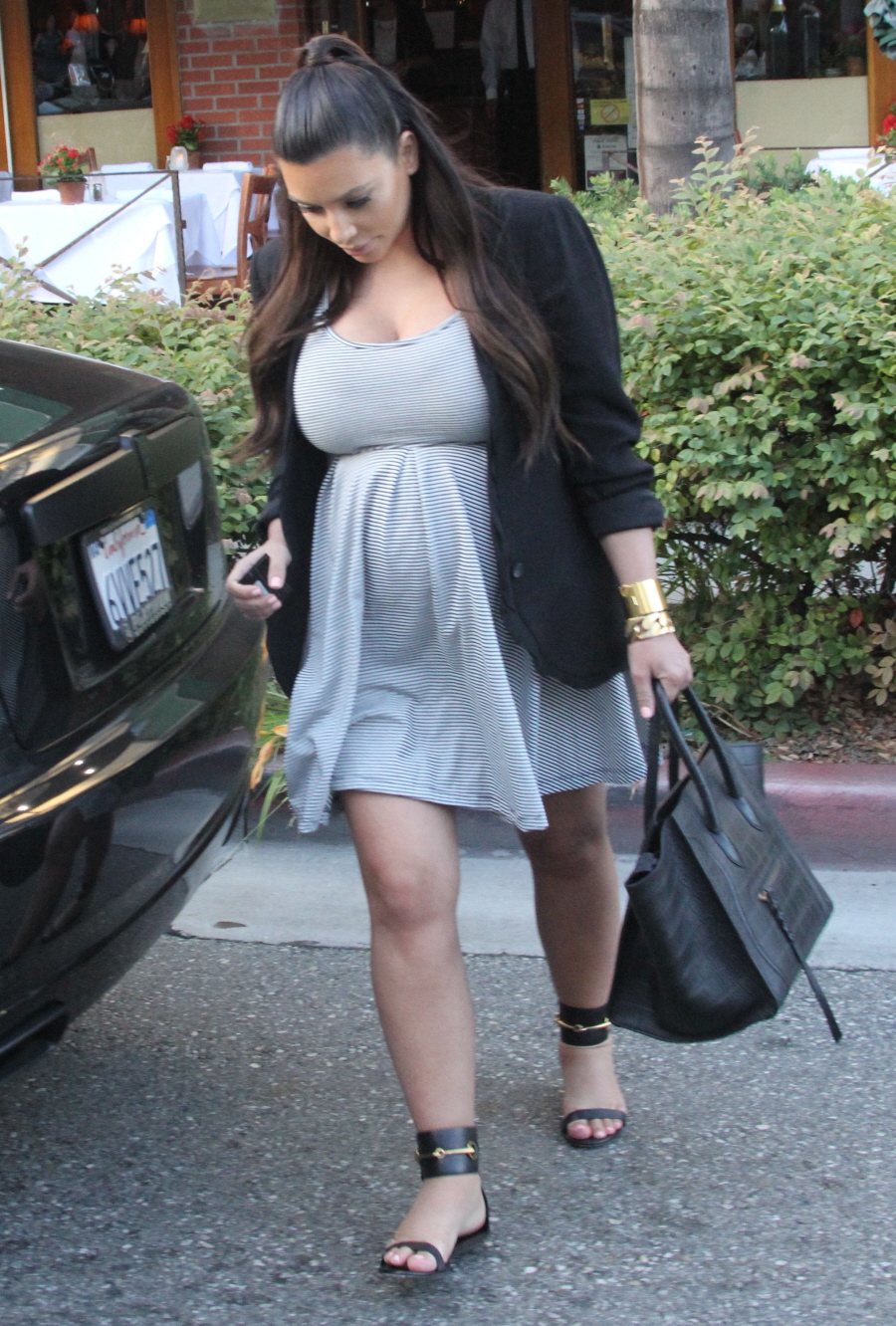 Here are some new photos of Kim Kardashian out and about in LA yesterday. Kim seems to want to follow in Duchess Kate's path of wearing too-short dresses on windy days, because Kim also had a "Marilyn moment" in this little dress – you can see those photos here. That is seriously not the only way that Kim and Kate are similar, but I'm a broken record on that fact, so whatever. I do like that Kim is wearing flats and compared to how she usually looks (uncomfortable), she looks decent here. According to Radar/Star, Kim is super-worried about her appearance though. And she might even be Botoxing… while pregnant.
Kim Kardashian has been roundly criticized about everything from her fashion choices to her baby weight gain but a new shocking claim says that she is still getting Botox injections during her pregnancy. The 32-year-old reality star is set to give birth to her first child in July, but according to a new report she has been so obsessed with staying young looking that she is getting the plastic surgery treatment to keep her skin smooth.

"She's still getting injections even though she's seven months pregnant," an insider told In Touch magazine. Kim's rep denied the claim about her getting Botox during her pregnancy to RadarOnlie.com.

Kanye West's baby mama has gained a startling 70 pounds during her pregnancy, and it is this that has caused her so much anxiety.

"She's become more neurotic than ever about her looks," a family insider told the magazine. "She'll do anything to be beautiful."

Kanye lost his own beloved mother Donda West after a botched plastic surgery operation and a source said it would not bode well for Kim if he found out she's getting Botox injections.

"It would really set him off if he found out that Kim was putting his baby in that kind of danger just for her looks."

Beverly Hills plastic surgeon Jon A. Perlman, who does not treat Kim, told the magazine "the lack of upper facial wrinkling and expression suggest Botox. Her skin is too smooth."

A source close to Kim dismissed the report, saying "this is totally not true and she would never do this. It is absurd."

Still, Kim reportedly is continuing the risky behavior.

"She's so worried about what she looks like – that's why she's still getting Botox," a family insider said.

"Are you surprised?" they asked about Kim's obsession with staying young. "This is Kim. She'll go to any lengths to protect the one thing that's most precious to her: her beauty."
Note all of the denials spread out in that story. Yeah. I don't know if Kim is still getting Botox while pregnant or not. I think there's a possibility that she is. I also think there's a possibility that she did so much damage to her face pre-pregnancy that this is just how she looks now permanently.
Also: Life & Style claims Kanye has "convinced" Kim to move to Paris for three months after the baby is born.
For most of Kim Kardashian's pregnancy, Kanye West has chosen to be in France, more than 5,000 miles away from Kim and their unborn baby. Now, Life & Style has exclusively learned that after much persuasion, Kim has agreed to move to Paris with Kanye after their child is born in July.

"Kanye asked her for months to consider the move," an insider tells Life & Style. "She finally decided to compromise and make the move for at least three months."

The parents-to-be, who were spotted shopping at Paris baby store Bonpoint in early April, have already set up a nursery in Kanye's apartment in the city.

On May 18, although heavily pregnant, Kim, 32, flew to Paris for last-minute prep. "Checking on our place," she announced two days later.

To the Kardashians, LA will feel empty without Kim and her new bundle of joy. "Kim's a first-time mom, and Kris wants to help her as much as possible," another insider tells Life & Style. "Kim's also worried — she wants Kris to visit Paris a lot."
You can yell about the dangers of Lucifer's Homegirl (Kris) and the rest of Kardashian-Jenner clan, but seriously, what first-time mother wants to be 3000 miles away from her family with a newborn (and a boyfriend who spends all of his time Riccardo Tisci's apartment)? I feel bad for her. Go ahead and yell at me. This is ridiculous. And Wendy Williams is right (!), Kim IS going to be raising this baby alone.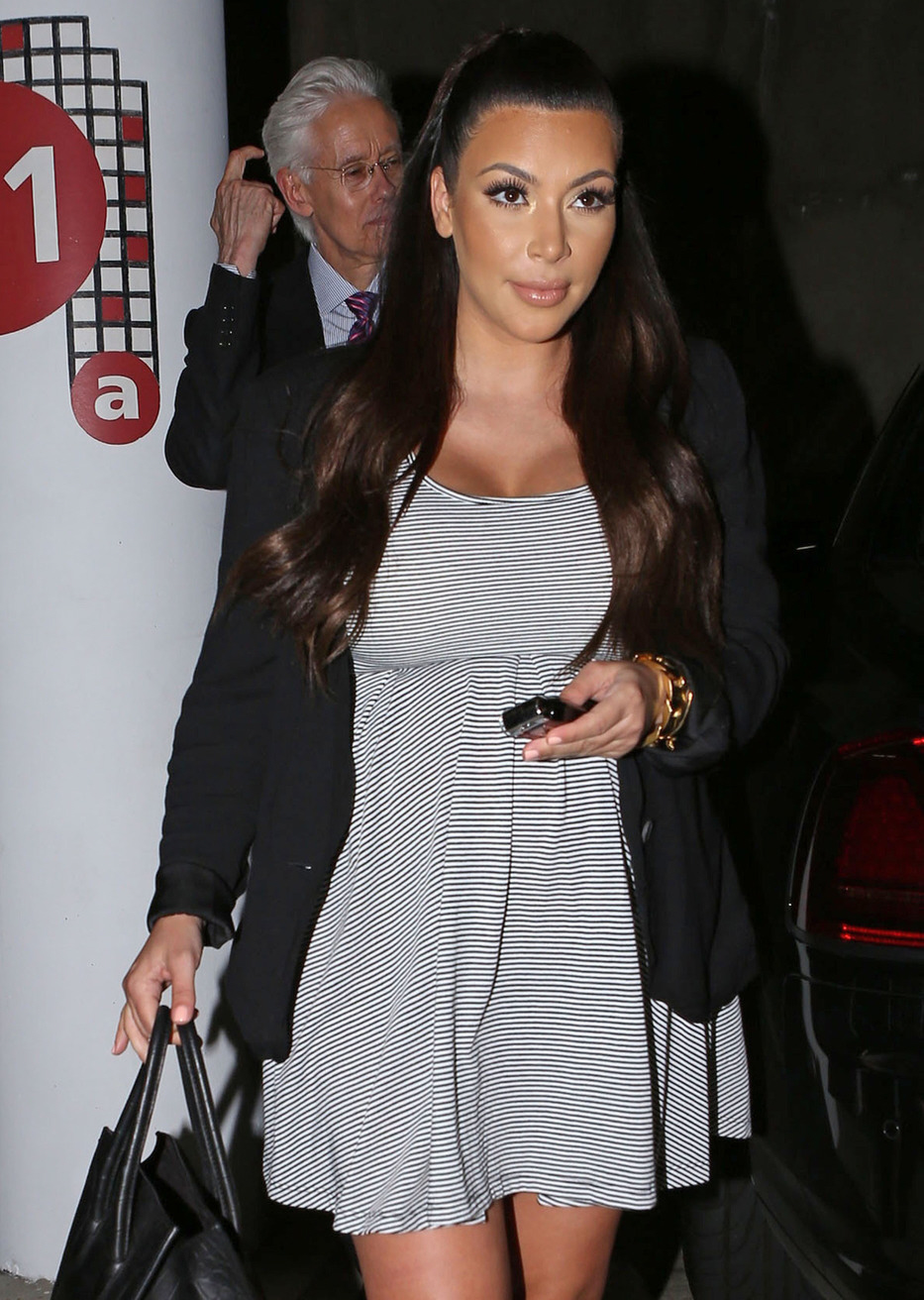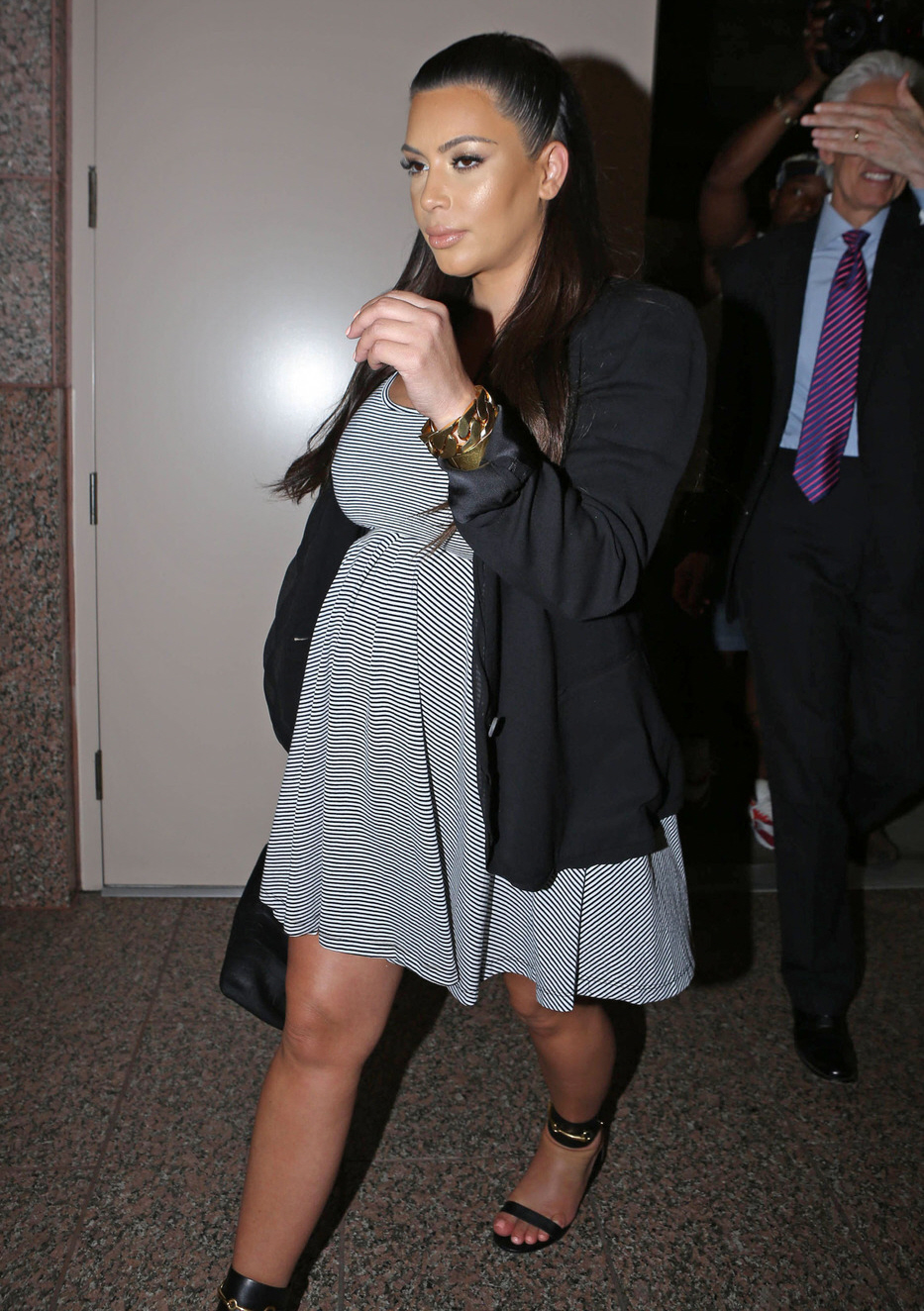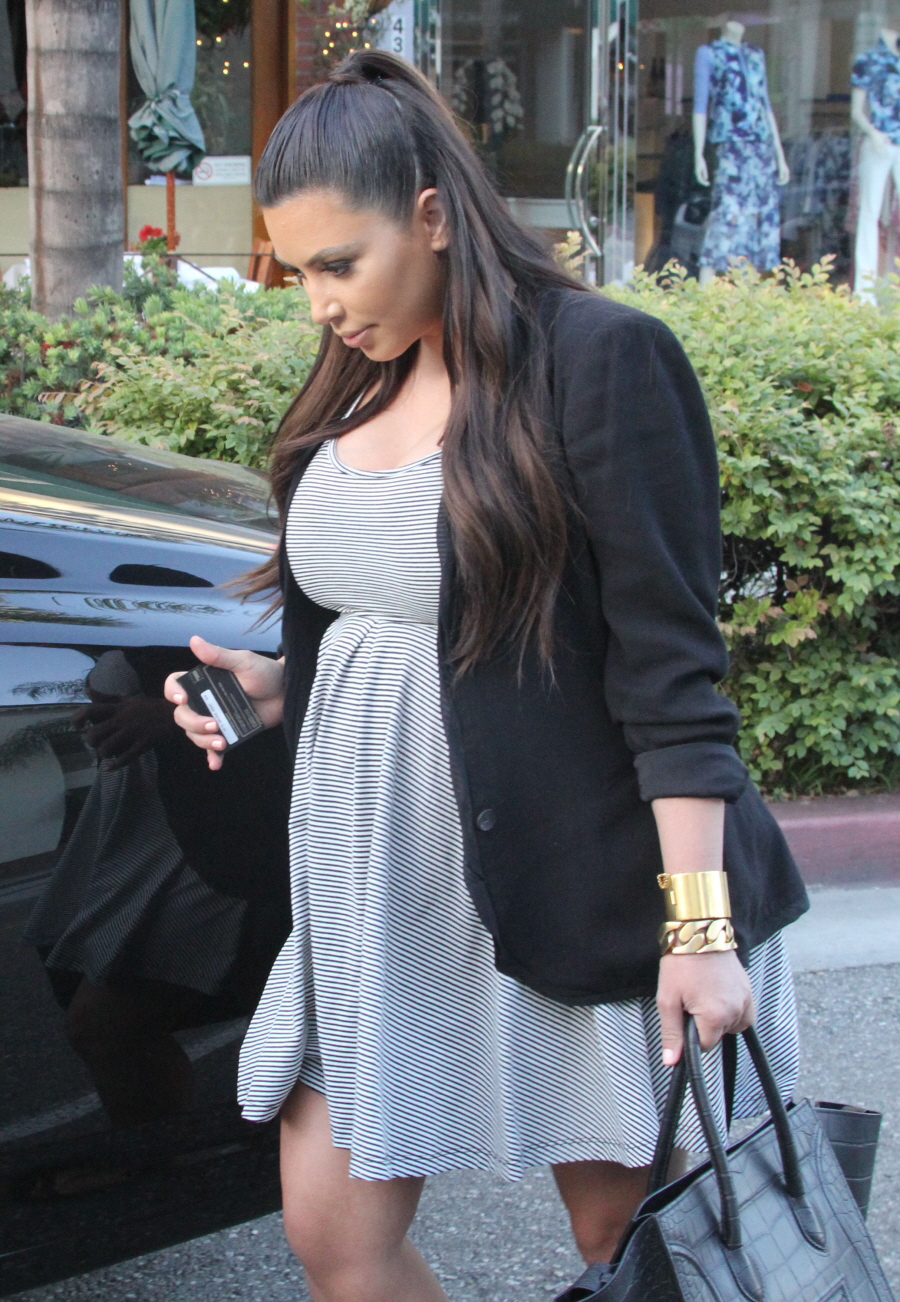 Photos courtesy of Fame/Flynet and Pacific Coast News.