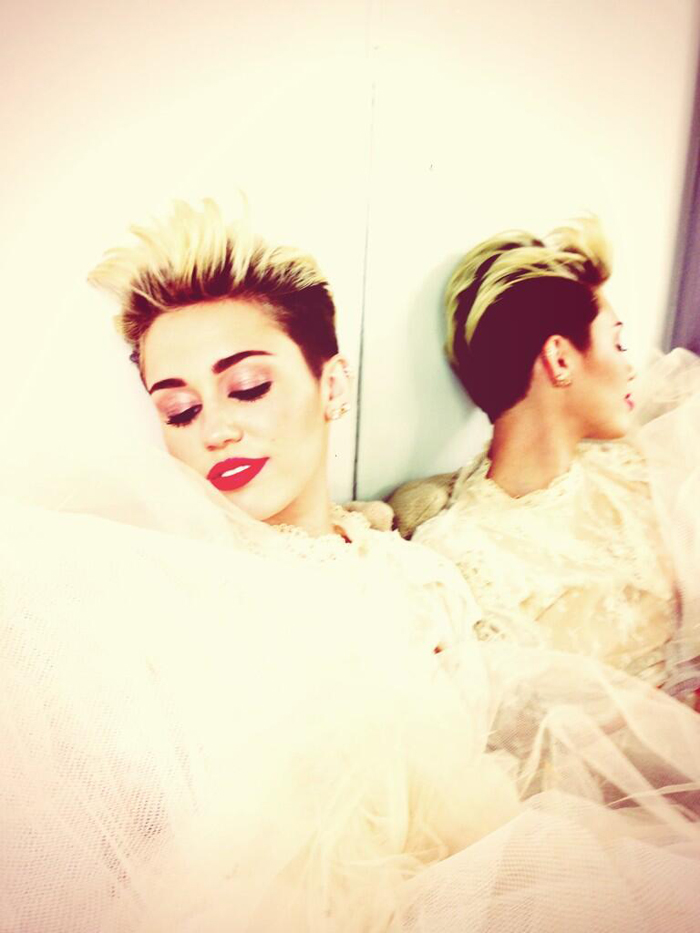 Good lawd. I do believe that Miley Cyrus is working some damage control. She tweeted the above photo of herself (which I assume is a selfie because she didn't credit a magazine) wearing a very fancy dress, and it suspiciously looks to be a "wedding" dress. Why on earth would Miley reveal such a thing if she'd probably get an exclusive deal with a tabloid to cover her wedding to Liam Hemsworth if it actually ever happened? Which it won't, by the way. And that's exactly why Miley tweeted a photo of this dress that may or not have been one of the dresses she planned on wearing for that special day. Because the wedding is not going to happen, but Miley seeks to keep the dream alive … for all of us, I guess. The only one she's fooling here is herself. Girl is nursing a seriously chronic case of denial, and I do feel for her.
If one looks at the timeline involved with this latest bit of relationship drama, Miley tweeted this photo at about 6:00 pm on Tuesday, which was the day before Us Weekly broke the story that Liam dumped Miley because he was "miserable." Miley's rep probably got wind of this story a day or two in advance as a courtesy. Publications do that sometimes, such as when Jennifer Lawrence was contacted and given the option of being set up with Sam Claflin or Bradley Cooper as a tabloid romance.
Now I'm not completely certain that Us Weekly nailed the breakup as it happened because, after all, it is a slow, post-Memorial Day newsweek (to wit — the Enquirer, Star, and In Touch are all running with a story I predicted two weeks ago, which is the lame "romance" between Katie Holmes & co-star Luke Kirby). Still, we all know the Miley and Liam breakup is coming if it hasn't happened already, but Miley is about to drop a single in a few days, and she desperately wants attention in any shape or form. Hence the silly/sad "wedding dress" photo. Honestly, this story is exhausting at this point, but someone must still be interested because a Miley source has spoken to E! Online to officially deny the breakup. Here we go again:
Despite seemingly endless speculation that Miley Cyrus and Liam Hemsworth have ended their engagement, E! News confirms that the two are still engaged and together.

A source told E! News, "It's been rocky, but they are hanging in there."

In fact, Hemsworth is still living at Cyrus' Los Angeles pad and the two were there together last night.

The quality time came just ahead of Miley hitting the promotional trail, as the "Can't Be Tamed" singer is gearing up to release her next single, "We Can't Stop," with the debut happening June 3 on Ryan Seacrest's morning radio show.

"#4dayswecantstop," she tweeted this afternoon.

Meanwhile, Cyrus has been keeping plenty busy, having shot the music video for "Fall Down" with Will.i.am yesterday. She'll be shooting "We Can't Stop" throughout the week in Los Angeles. Liam, for his part, was spotted stepping out solo today for a trip to the gym.
[From E! Online]
In addition, this week's issue of Star says that Miley and Liam are arguing over who gets to keep the engagement ring. Supposedly, Liam wants it back even though (by CA law) Miley is entitled to keep it, and "Miley won't give it back, because she thinks it will mean their relationship is over for good." Such drama.
Since we probably won't ever see photos of Miley and Liam together again, here are some photos of the happier couple in 2010. They were really in sync at that point, right?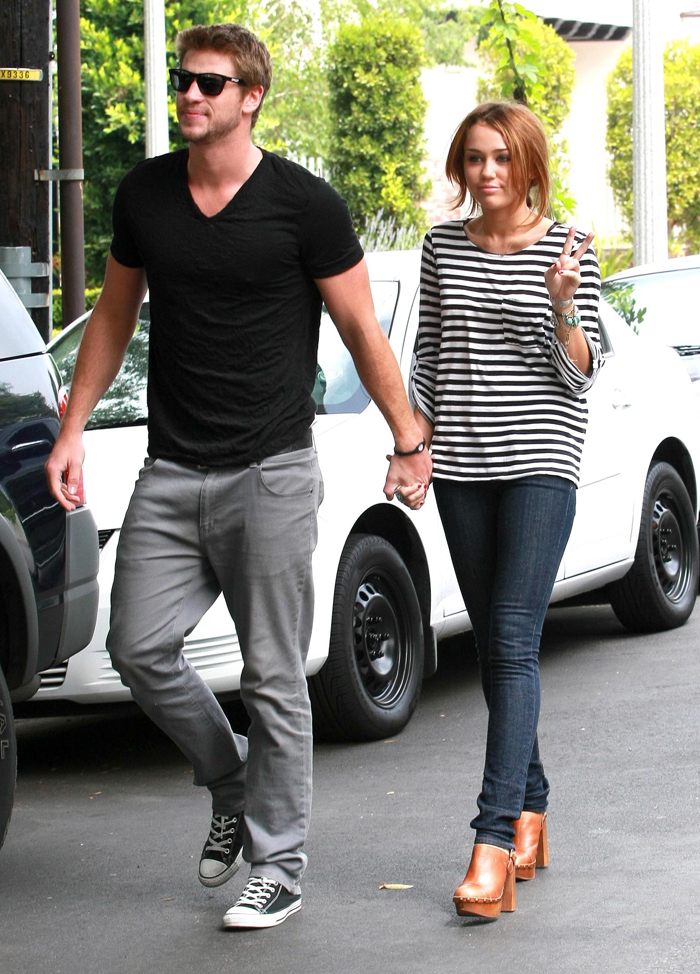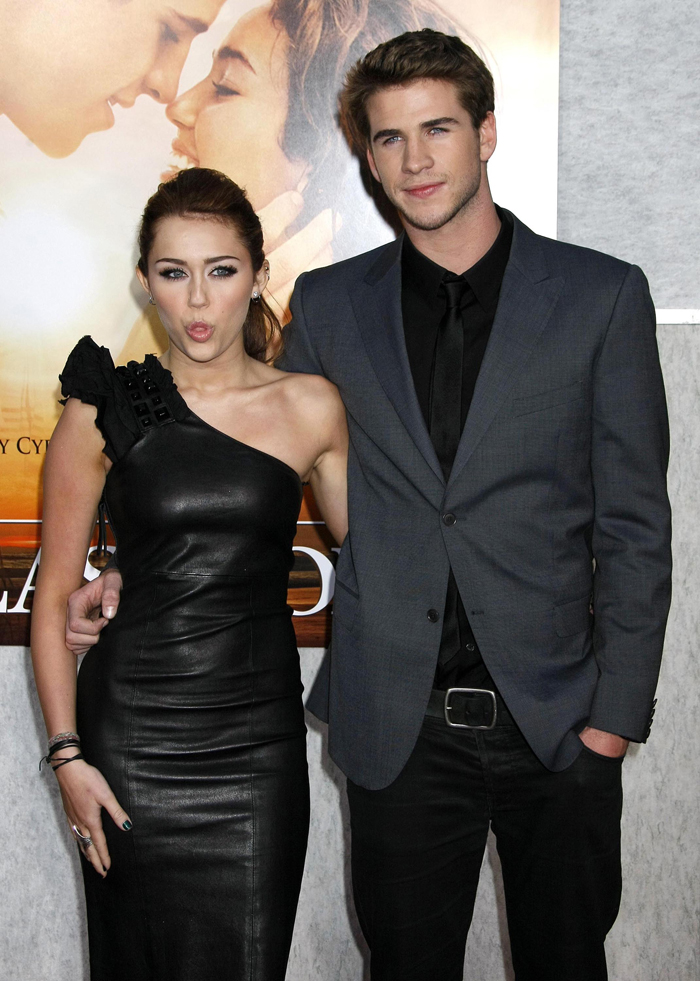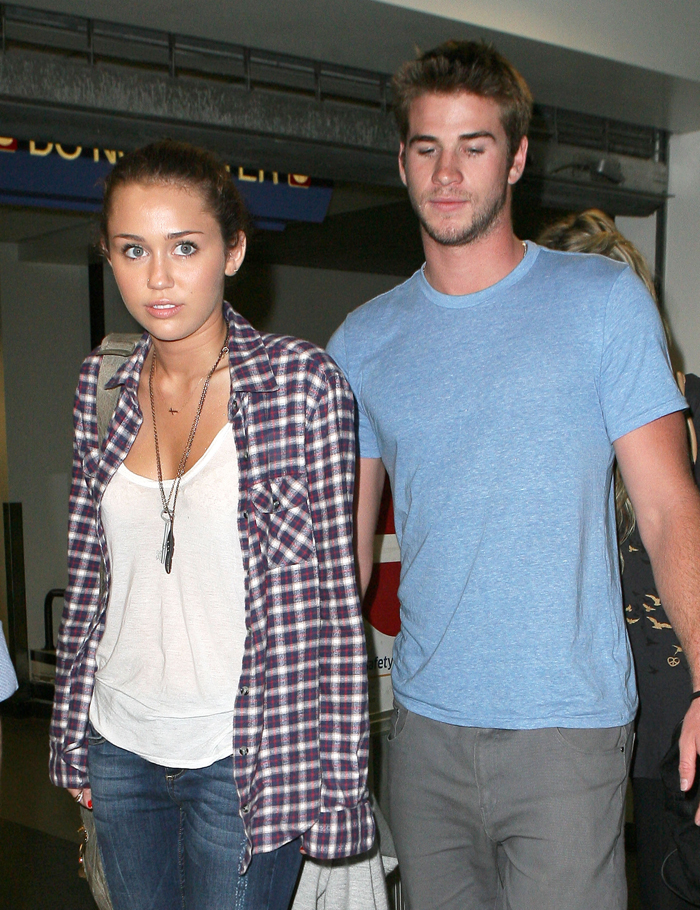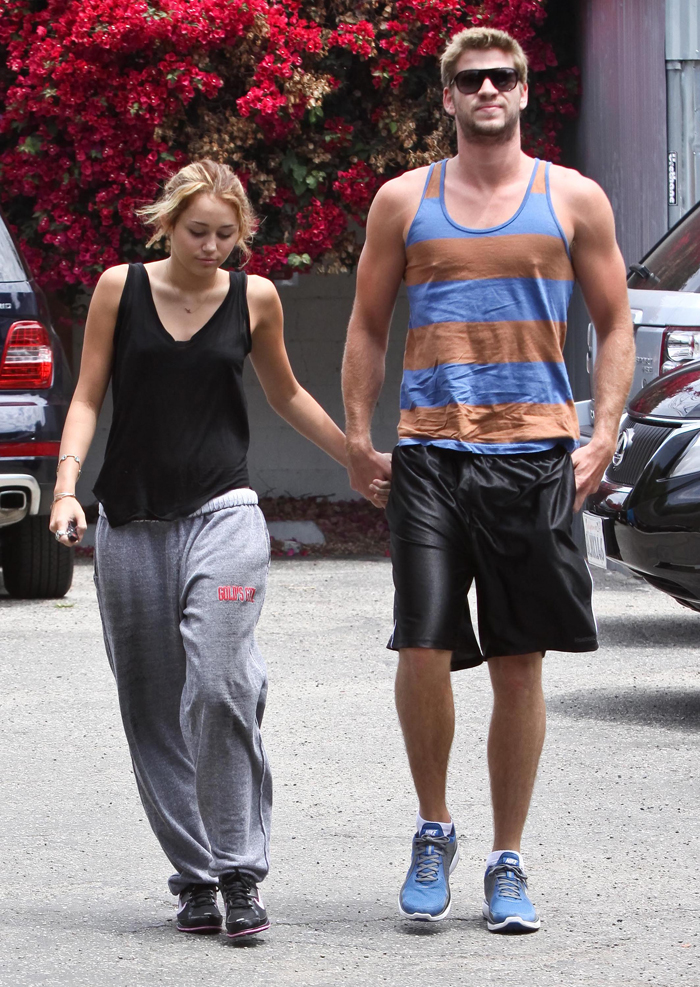 Photos courtesy of Fame/Flynet and Miley Cyrus' Twitter