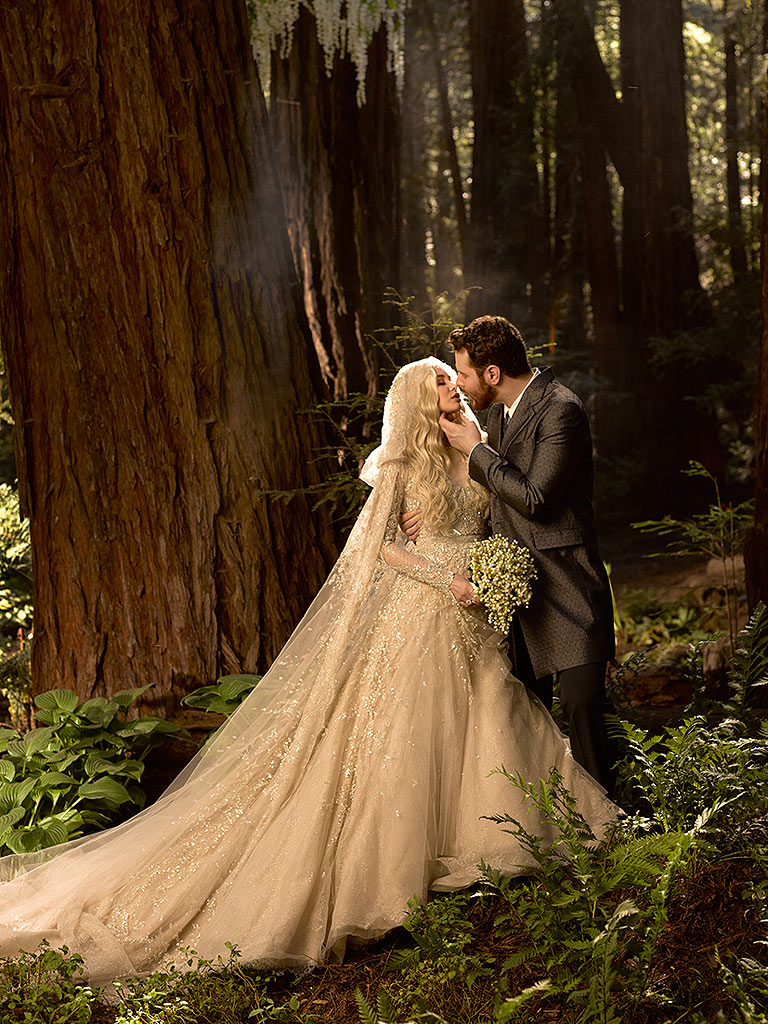 You may know Sean Parker as the guy who founded Napster, was an early investor in Facebook, and had a cameo in The Italian Job. His role in The Social Network was played by Justin Timberlake. Parker is a tech investor worth $2 billion. Unlike Facebook founder Mark Zuckerberg, who is worth $14 billion, he's not reticent about flaunting his massive wealth.
Remember Zuckerberg's quiet backyard wedding with friends and low-key honeymoon in Italy? Zuckerberg's down-to-earth wedding looks even more admirable compared to the ridiculous blowout that Parker just had. It cost an estimated $9 million and featured a stone gate that cost $600,000 to construct, flowers costing a million dollars alone, and costumes for all of the 300 guests, made by the costume designer for Lord of The Rings. It wasn't a medieval theme, though, and Parker insisted "the wardrobe we're giving wedding guests is essentially modern. This is not a 'theme' wedding, and there will be nothing medieval about it." He was responding to this story in The NY Post which was based on his "save the date" cards.
The wedding happened over the weekend and People Mag has more details for us. The bride, singer/songwriter Alexandra Lenas, wore Ellie Saab and the couple's infant daughter attended.
Officiated by Rev. John A. Buehrens, the wedding took place at The Ventana Inn in Big Sur, Calif. Lenas wore a gown by Elie Saab, while Parker, 33, the couple's infant daughter Winter Victoria and the guests were dressed by Academy Award-winning costume designer Ngila Dickson.

Assisting with the nuptials were designer Ken Fulk, caterer Paula LeDuc and designer Preston Bailey, who did the flowers. Photographs were snapped by Mark Seliger.

Guests enjoyed cake from Perfect Endings as well as music by Loreena McKennitt and The Good The Bad and The Ginger.

The event was rumored to be one of Silicon Valley's most expensive weddings, reportedly costing $9 million.

Parker – who made billions from Napster and Facebook and was portrayed by Justin Timberlake in the film The Social Network – is said to have staged his nuptials on a spot resembling a Hollywood set, complete with fake waterfalls, bridges and ruins.
It sounds romantic but I can't wrap my mind around the fact that it cost $9 million. I guess that's a drop in the bucket to these people.
While planning an elaborate wedding that cost more than some low budget movies, no one bothered to get permits for any of the work being done. Plus the construction was potentially damaging to local wildlife. So Parker just settled with wildlife officials for an additional $2.5 million.
Sean Parker's massive $10 million wedding was a MENACE to sensitive fish and plants in Big Sur … and he NEVER got proper permits for any of it … so claims wildlife officials who have settled with the Facebook billionaire for $2.5 million.

Parker struck the agreement with the California Coastal Commission after agents were tipped that he built a wedding site the size of a massive movie set in an ecologically sensitive area — cabins, dance floor, staircases, waterfalls — all without permits.

By the time coastal officials investigated, the structures had already been built … but they let the wedding go on as scheduled. The 33-year-old Parker tied the knot Saturday with singer-songwriter Alexandra Lenas.
All of that just makes me appreciate Mark Zuckerberg more. When you have that kind of money and the sky's the limit, people get carried away. Congratulations to Parker and Lenas.
While I was searching for photos for this story I found this priceless one of the couple's early years.