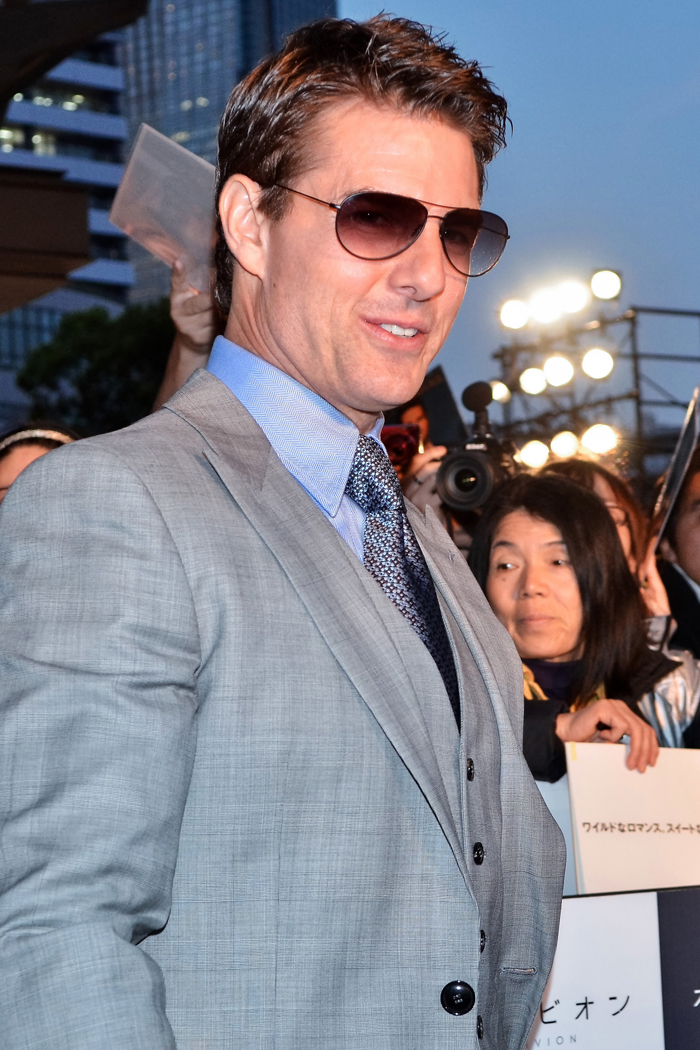 Tom Cruise has been seriously quiet for the past few weeks, and I sort of assumed that a certain blind item was possibly correct and that maybe (just maybe) Tom has been preparing his big Father's Day surprise for the media. Of course, that's just a blind item, but if anyone is truly preparing to roll out a new "relationship" with a happy-family rollout next weekend, it could very well be our favorite lift lover. I will admit to keeping tabs on the lovely Julianne Hough to see if she does a "disappearing act" similar to Katie Holmes back in the day; but fortunately, Julianne was spotted shopping in Los Angeles on Tuesday, and I've included that piece of photo evidence at the bottom of this post.
Back to our talk of Tom Cruise, who miraculously showed up last Friday at the Wal-Mart shareholders gathering in Fayetteville. He wasn't the only celebrity in attendance either — Hugh Jackman was there too, and Kelly Clarkson, Jennifer Hudson, and John Legend all performed. Oddly enough, none of the famous people who attend these gatherings are paid for their trouble. Instead, the prevailing theory is that Wal-Mart will "decide to feature" the DVDs or albums of the celebrities who willingly kiss their exploitative asses. It makes me sad that Hugh Jackman would go there, but it doesn't surprise me at all about Tom. Surely, Oblivion will receive a nifty endcap display to promote sales at all Wal-Marts.
By now, many of us are aware that Wal-Mart treats its employees terribly (by keeping wages and hours low so they don't have to provide benefits and insurance) and destroys small local businesses. One only need to read Barbara Ehrenreich's Nickel and Dimed or watch Wal-Mart: The High Cost of Low Price to realize how the company will walk over anything in its path. Anyway, Tom was at this shareholder's gathering to brown nose, and he did so in abundance. He also showed just how clueless he is about Wal-Mart's practices, and we all know that Tom has never purchased anything at one of their stores. The article notes that Tom was reading from a teleprompter but still messed up whatever it was he was aiming to say about poverty and hunger: "A great many people in America — and this is very hard to believe — they have little food to eat. Little too much food. They do not have enough food." Whatever, Tom.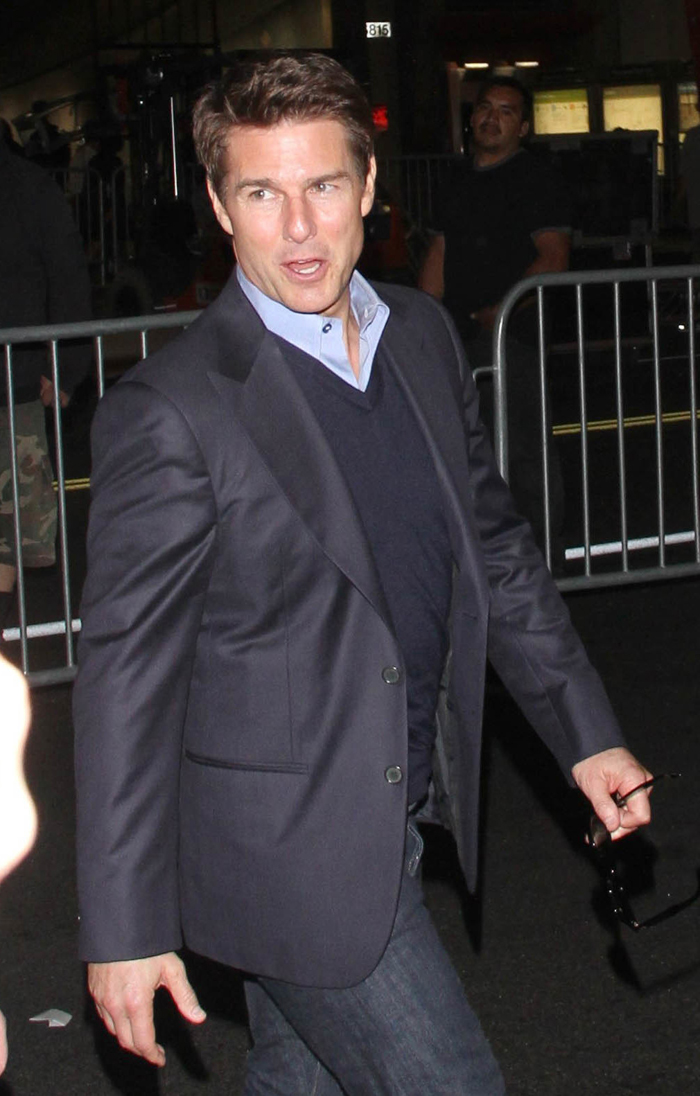 Tom Cruise raised some eyebrows Friday when he praised Wal-Mart as a "role model" at a gathering of shareholders in Fayetteville, Arkansas.

Reading from Teleprompters, Cruise said Wal-Mart is "using its size and scale to improve women's lives across the world."

The company is facing class-action lawsuits filed by women in Tennessee, Texas and California alleging gender discrimination when it comes to pay and promotions.

While not referring to the legal claims against Wal-Mart (which have not been proven in court) Cruise defended the company. "Women make a difference to this company, not only as customers but as associates."

On Twitter, @beantownzgirl scoffed at Cruise's comments. "I was part time working full time hours no benefits," she wrote.

Cruise stumbled slightly on his remarks about hunger. "A great many people in America — and this is very hard to believe — they have little food to eat. Little too much food. They do not have enough food."

He praised Wal-Mart for making affordable, healthy food widely available.

But critics point to reports – including one from the U.S. House Committee on Education and the Workforce – suggesting the retailer's low wages drive as many as one-quarter of its employees to public assistance.

In California, lawmakers have proposed hefty fines against the company for each full-time employee who ends up on the state's Medicaid program.

Cruise, who was introduced by Hugh Jackman, said he admired Wal-Mart. "The culture that you have going here is really like no other," he said. "All around the globe, Wal-Mart is taking the lead in making a difference and that's something I really admire."

Many people used social media to react. "This is sickening," tweeted Monica Cassani. @Inklau wrote: "Totally lost respect. Good example of rich supporting the rich."
[From Globalnews.ca]
Well, of course Tom approves of Wal-Mart's practices and probably sees nothing wrong with its labor management policies. After all, Tom loves slave labor like nothing else, and he's probably been informed by Wal-Mart's people that they are being "unfairly persecuted," and you know how Tom loves to cry victim on behalf of cult-like entities. Ordinarily, I'd throw out a "shame on Tom," but the dude just wouldn't get it.
Here's an eye-opener for you though. It's common knowledge that Wal-Mart's labor and business practices are unconscionable, and they treat their employees worse than crap. Turns out that they're not so great to their customers either — despite Wal-Mart's "lowest price" claim, the company actually charges higher prices than Target and Kroeger on many items. In other words, people have few excuses to continue shopping at Wal-Mart.
P.S. Here's Julianne Hough, safe and sound in LA yesterday! I guess Tom isn't going the obvious route for his next girlfriend.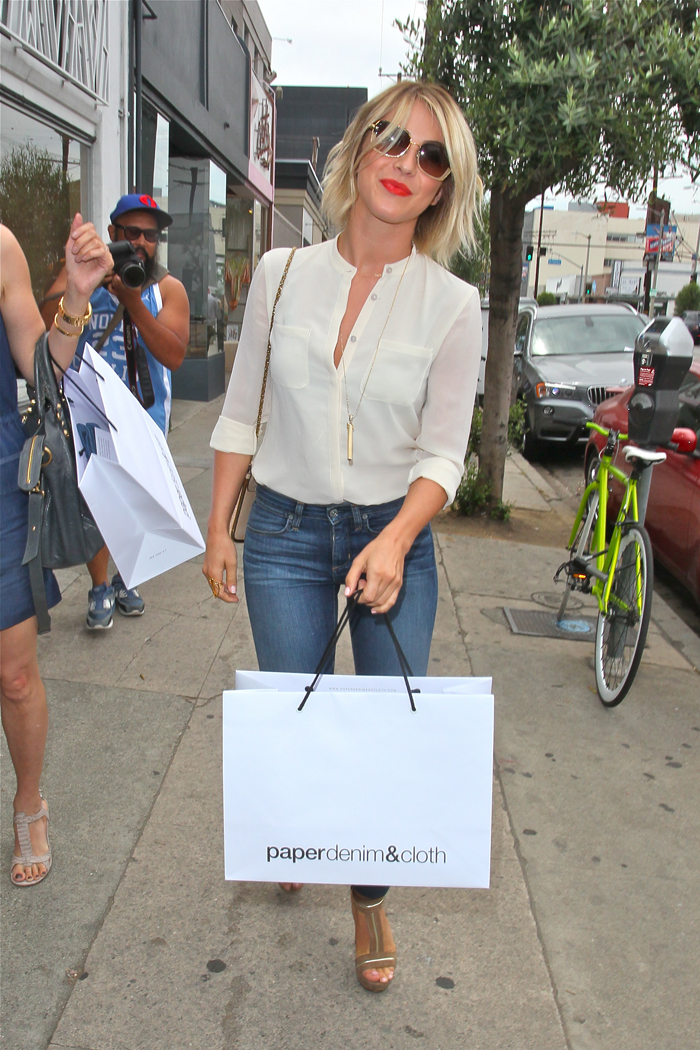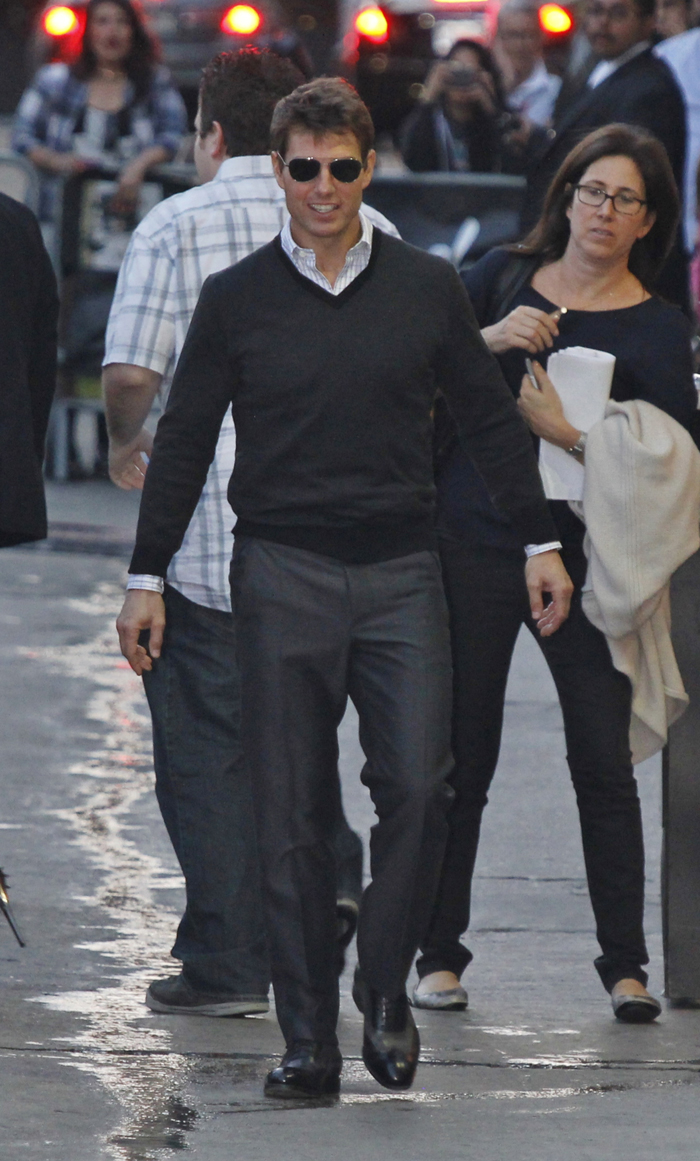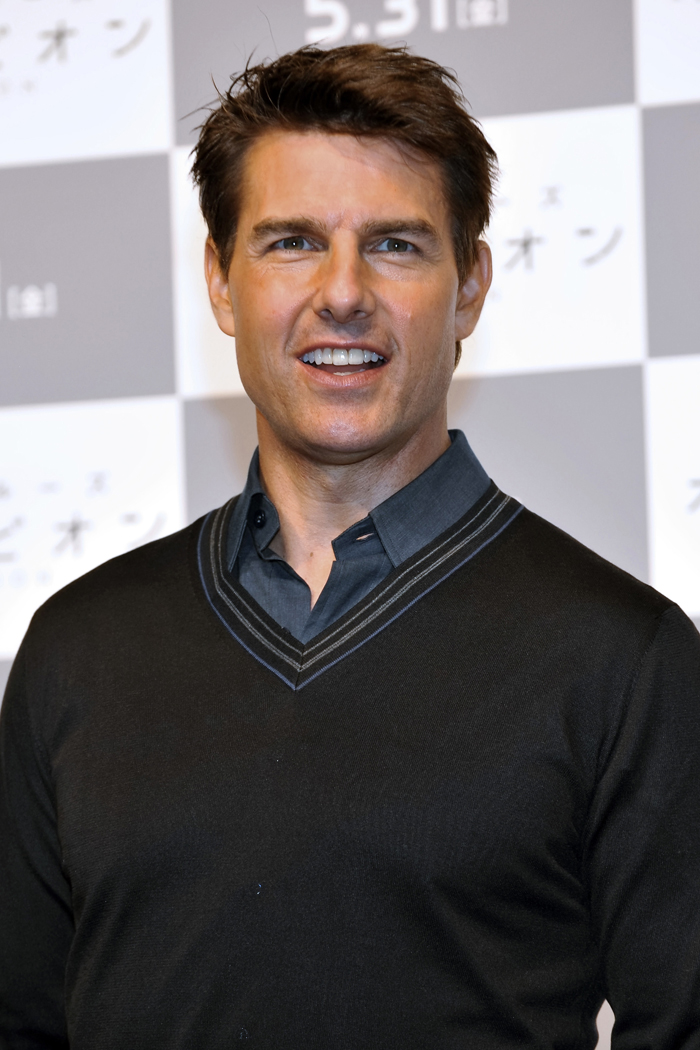 Photos courtesy of WENN