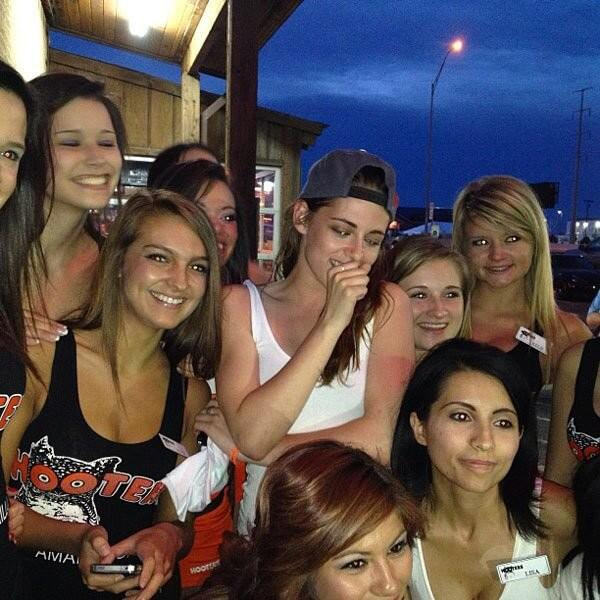 Believe it or not, I do get tired of bashing Kristen Stewart. I mean, I'm not her biggest fan or anything, but there are certainly worse celebrities who piss me off on a more regular basis. Kristen is just a try-hard emo hipster who needs to stop giving interviews and stop boning married men. So, I'll still defend her about some things. With that in mind, I have to say that Kristen has been handling her breakup really well. She's been stepping out for regular candid photo-ops, she's been looking clean-ish and sober-ish, and she hasn't issued any public statements. Good for her. All of that is really, really smart.
Also smart? She's getting away from LA! These photos – the Instagram photos – are from this weekend, where Kristen was spotted in Amarillo, Texas. It looks like K-Stew went on a road trip to Amarillo to see the Cadillac Ranch, a public art installation. While in Amarillo, Kristen stopped into the local Hooters for some wings too, which is where these Instagram photos come from. According to eyewitnesses, Kristen was in a good mood, agreeing to pose for photos with fans outside of the Hooters. She even bought herself a Hooters t-shirt!
Kristen Stewart and these Amarillo Hooters girls look like bosom buddies!

On Saturday night, Robert Pattinson's ex had some of the Texas breastaurant's famous Daytona chicken wings and a beer, a source tells E! News. Although she reportedly tried to keep a low profile, the star agreed to take some pictures after dinner with fans and the "delightfully tacky, yet unrefined" ladies themselves.

"She was trying not to be noticed, so she sat with her back to the restaurant," says a source. "When she was eating, a guy asked her if she was Kristen Stewart. She said, 'Yes.' When the guy asked her if he could take a photo, she asked if she could take it after her meal."

And, true to her word, K.Stew went outside to a group of fans outside and took pictures. "She was really nice," says the source, adding that the 23-year-old star "smiled and said bye before she left."
Although the Twilight beauty reportedly asked fans not to post their snaps on social media, a few just couldn't resist. One supercute pic shows Kristen and a young girl smiling together, and another shows the actress mid-laugh surrounded by Hooters employees.

Kristen's not the only celeb who's a fan of orange shorts and cleavage! Selena Gomez, who frequented the chain as a child with her father, recently hit up the Hooters in Boston.
Yes, the first thing that came to mind was that Kristen is "copying" Selena Gomez. Selena has been very vocal about feeling at home at Hooters, since her father used to take her there all the time. Selena stops into Hooters often enough and poses with the local waitresses, and it's all very cute. I guess Kristen really likes the wings too.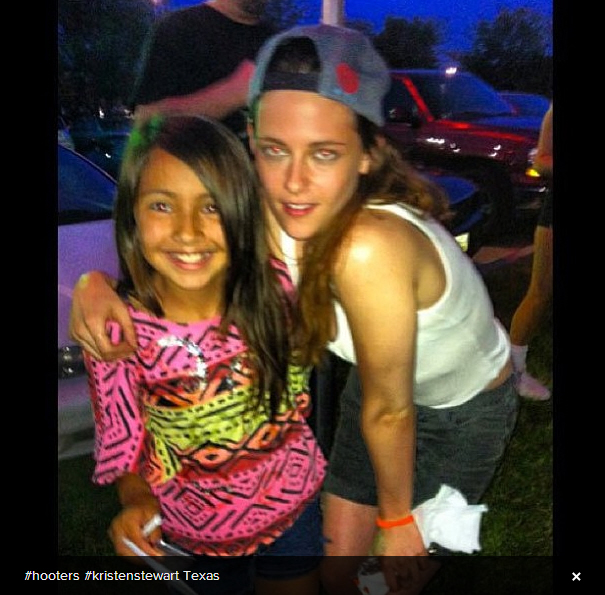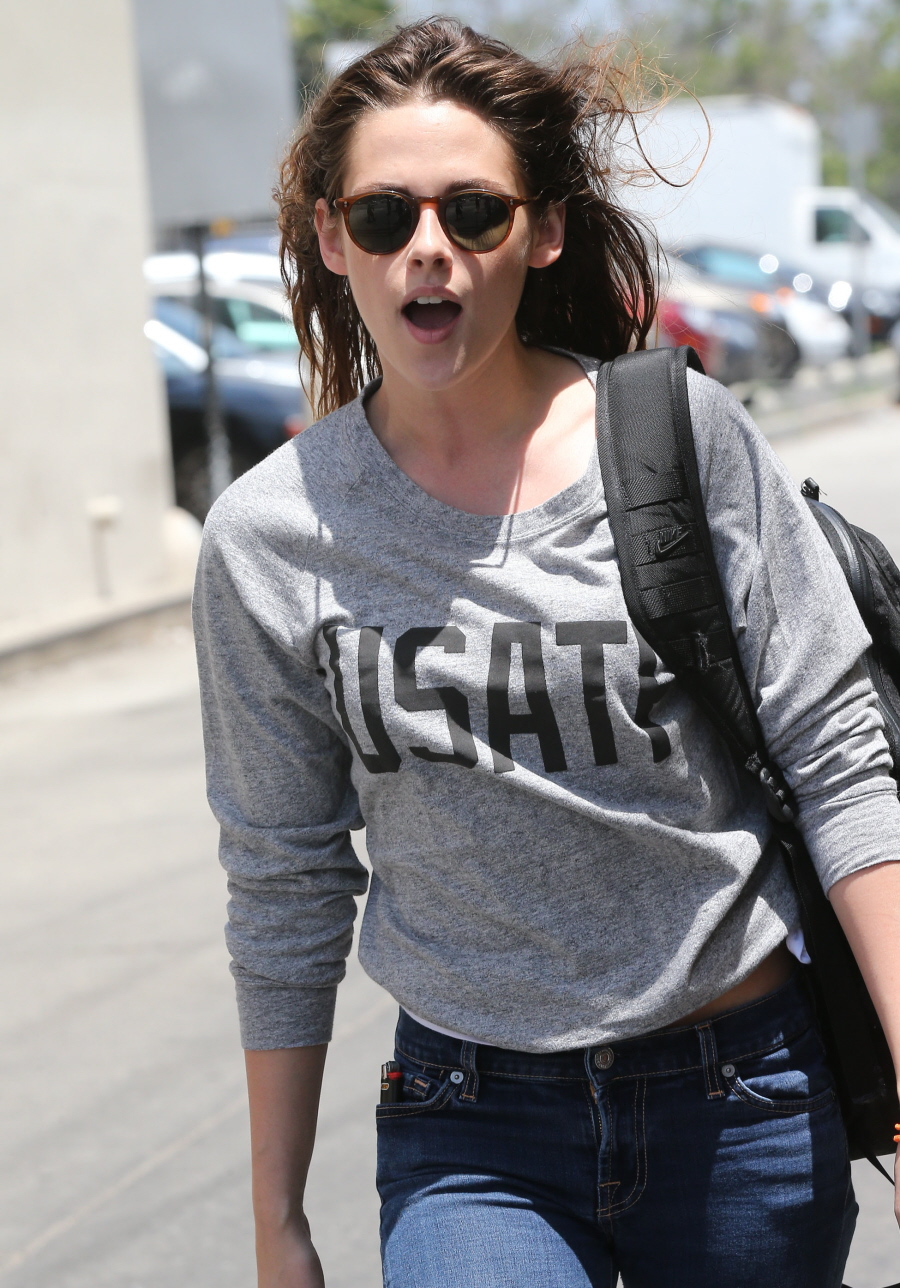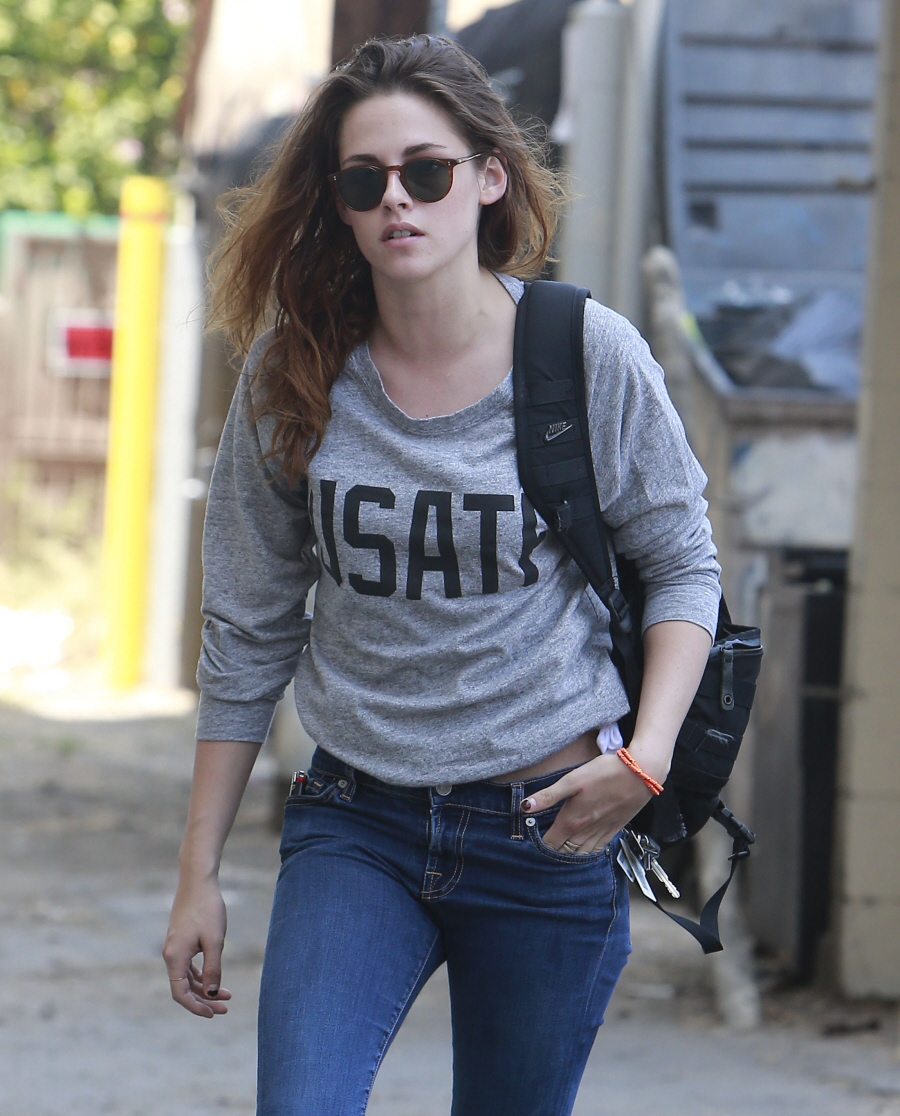 Photos courtesy of Fame/Flynet and Instagram.