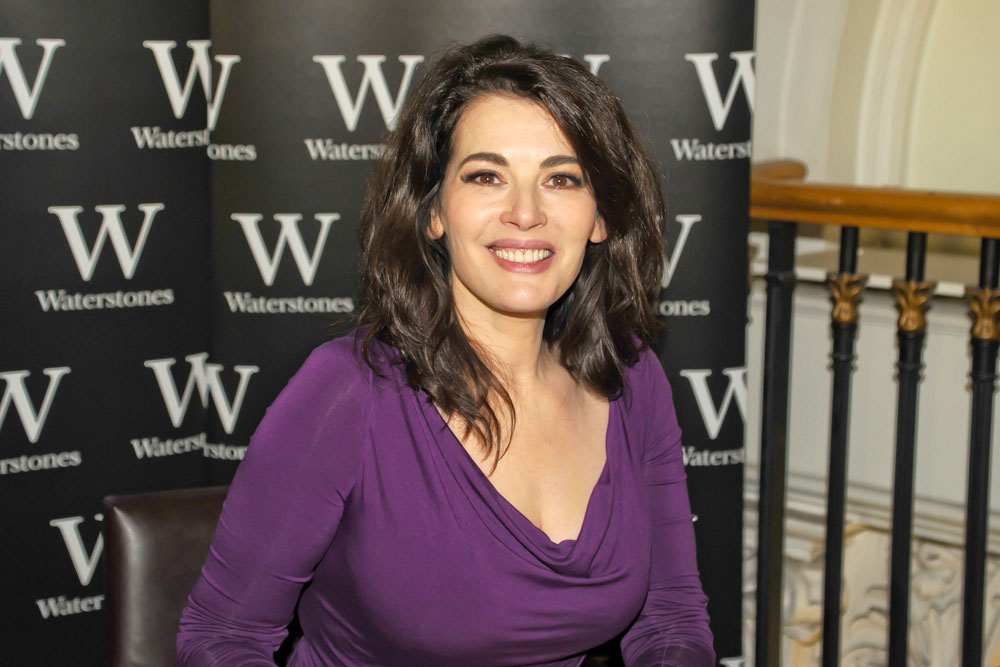 Yesterday's post about Nigella Lawson being choked at a public restaurant by her husband, Charles Saatchi, was the subject of quite a discussion. To briefly recap, the Mirror acquired exclusive, graphic photos of the incident that showed Saatchi gripping his wife's throat on the patio of a public restaurant while she looked panicked, humilated, and disturbed. Sadly, nobody in the restaurant or on the street came to her aid, and she was left alone by Saatchi at the table and later fled to her car in tears. The incident happened over a week ago, but nobody (except the do-nothing bystanders) knew what had happened until the Mirror published the pictures. In the aftermath of the photos' release, Scotland Yard was said to be investigating the incident while Nigella fled the marital home with her teenage son in tow.
For what it's worth, Saatchi was pictured leaving a central London police station late Monday afternoon after being questioned for over five hours over the photographs. He left with only "a caution for assault," which means that he's only received a formal warning with absolutely no penalty. Of course. Saatchi has also given a statement to London's Evening Standard paper about how it may very well have looked like he was choking his wife, but he insists that it was merely a "playful tiff." This makes absolutely no sense because Nigella looked absolutely horrified at her husband's actions, but whatever: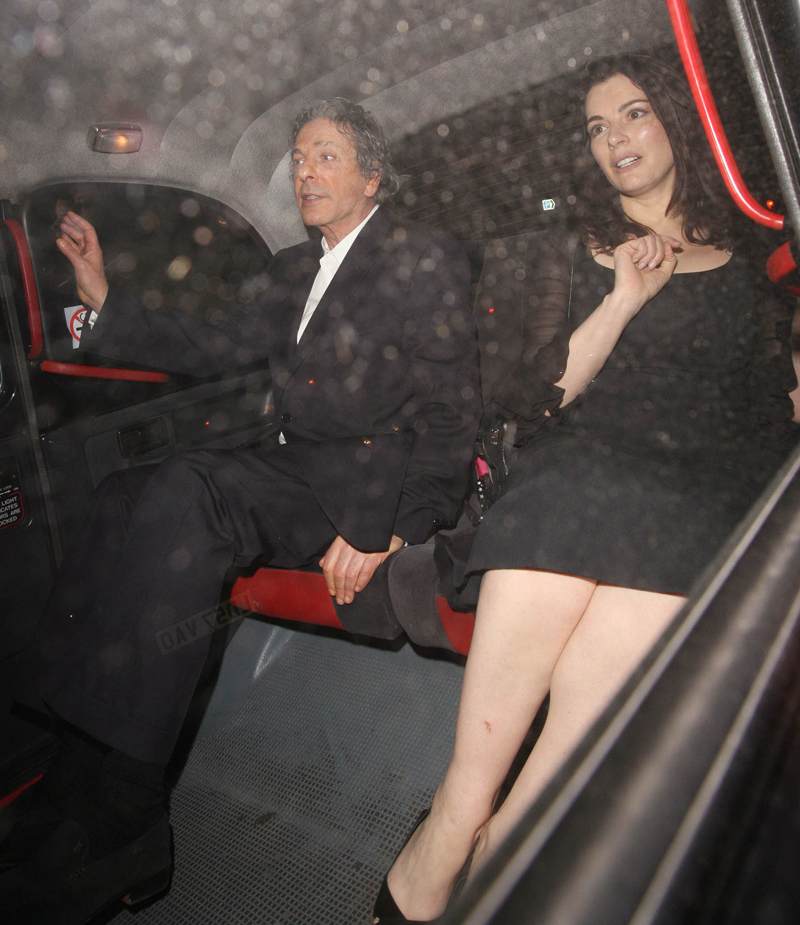 Nigella Lawson's husband today declared that pictures of him taking his wife by the neck outside a London restaurant showed nothing more than a "playful tiff."

Charles Saatchi admitted the couple had a row as they sat outside Scott's in Mayfair but said they had "made up" by the time they got home.

His comments are the first by either of the pair since the pictures were taken as they were having dinner on the terrace of the restaurant.

The photographs appear to show the 70-year-old art collector leaning across the table with his hand around Ms Lawson's neck. She seemed to be grimacing and tearful as he held her neck four times, first with his left hand and then with both.

A spokesperson for Scott's said: "The staff and management at Scott's are aware of the reports in the media and would like to make it clear that they did not see the alleged incident nor were they alerted to it at the time."

Ms Lawson, 53, the daughter of former chancellor of the exchequer Nigel Lawson, was reportedly seen to be tearful as she left the restaurant on Sunday 9 June.

Today Mr Saatchi, the former advertising mogul, multi-millionaire art collector and columnist for this newspaper said: "About a week ago, we were sitting outside a restaurant having an intense debate about the children, and I held Nigella's neck repeatedly while attempting to emphasise my point.

"There was no grip, it was a playful tiff. The pictures are horrific but give a far more drastic and violent impression of what took place. Nigella's tears were because we both hate arguing, not because she had been hurt.

"We had made up by the time we were home. The paparazzi were congregated outside our house after the story broke yesterday morning, so I told Nigella to take the kids off till the dust settled."

Ms Lawson has no immediate plans to return home. Her agent declined to comment this morning.
[From Evening Standard]
I'm disgusted by Saatchi's own justification of his actions — that the act of menacingly placing his hands upon his wife's throat was all a game and a big misunderstanding, and she only left their home with a suitcase on Sunday because he told her that it would be best to let the controversy blow over for a little bit. The sad thing is that he might be telling the truth about that last part; perhaps Nigella had no intention at all of leaving their home until the following occured: (1) The public was made aware of the choking incident; and (2) Saatchi actually told her to leave. If she's as abused behind closed doors as I am guessing (and this has probably been going on for quite some time in a decade-long marriage such as theirs) and Nigella is truly lacking confidence as yesterday's story suggests, then she didn't want to leave at all.
I can only hope that Nigella has an adequate support network of people who will help her get out of the marriage for good and stay out. She's probably been hiding a lot of her fear from everyone, so I hope she has people that she can trust who will give her some solid, nonsensical advice. From what a lot of you have indicated in the comments, physical abuse in a relationship is so common that it would surprise a lot of people, and abusers are very good at explaining away their behavior. My personal favorite: "It's all your fault that I _______. If you wouldn't keep on __________, I wouldn't be forced to react this way." That sounds like something that Saatchi would say, doesn't it?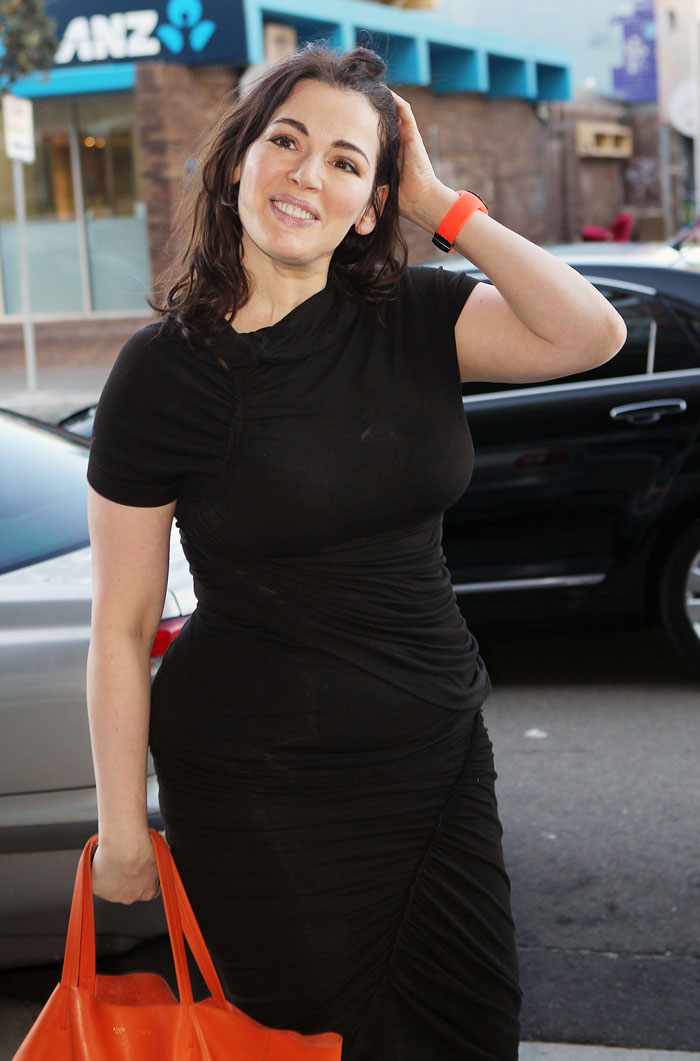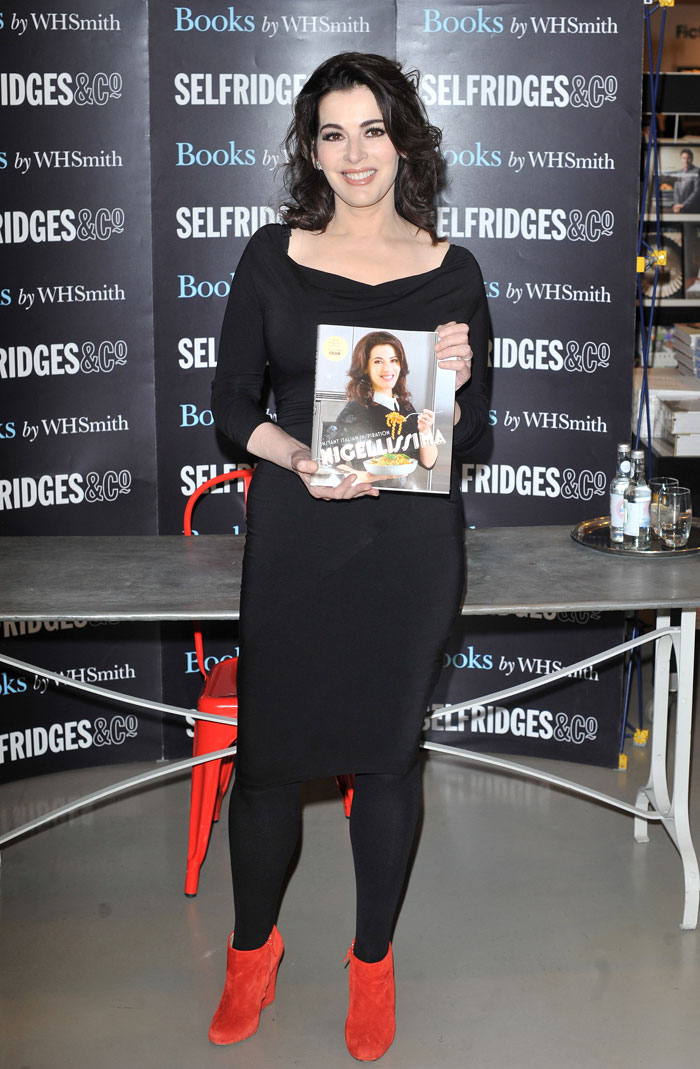 Photos courtesy of Fame/Flynet and WENN