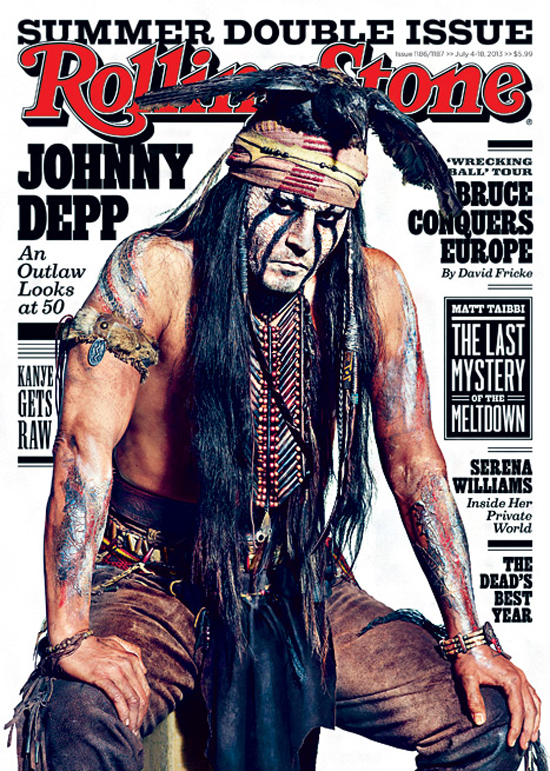 Johnny Depp covers the July 4 issue of Rolling Stone as his character, Tonto, from the upcoming Disney's Lone Ranger movie. This interview is a doozy and spans several pages, but not once does he mention the hot young thing that he's spoiling, Amber Heard. Instead, we're getting a very different picture of Johnny as the man who regrets the demise of his most recent long-term relationship. Yep, he's finally talking about his split from Vanessa Paradis … just in time for the release of a potentially disastrous $250 million film that could use all the tabloid-oriented publicity that Depp is willing to throw its way. Yes, I question the timing of Depp's sudden need to shill his private life and appear remorseful about ending it with Vanessa while also conveniently neglecting to mention his new piece.
In this interview, Depp also explains why his bird-wearing Tonto seems so freaking weird and why last year's turn as grand marshal of the Comanche tribe parade (in Lawton, Oklahoma) left him with the perception that "he had never felt so accepted anywhere in his life." The journo notes that during part of the discussion, Depp is "possibly blushing a little under the shadow of his awful hat," which sets the tone for this piece quite nicely: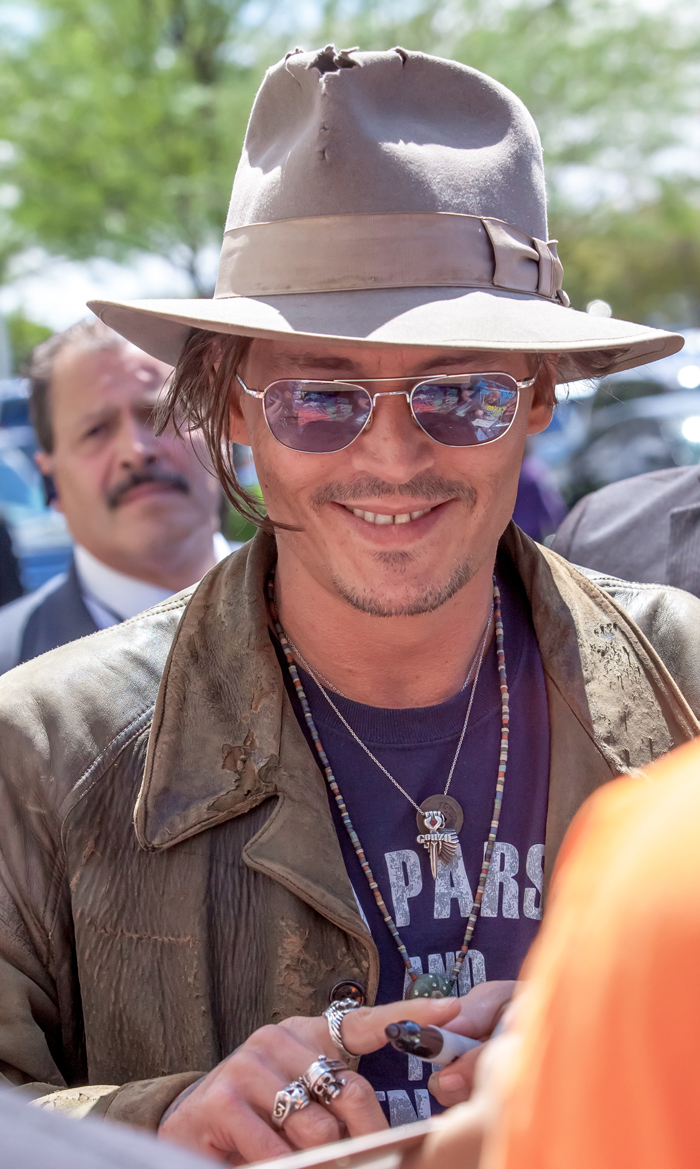 On getting older: "I'm kicking 50 right up the ass. I can't say that I'd want to be doing this for another 10 years." Thoughts of retirement pop up "every day," he says. But nothing's imminent. "I think while I've got the opportunity and the desire and the creative spark to do the things that I can do right now, I should do them. And then, at a certain point, just take it down to the bare minimum and concentrate on, I guess, living life. Really living life. And going somewhere where you don't have to be on the run, or sneak in through the kitchen or the underground labyrinth of the hotel. At a certain point, when you get old enough or get a few brain cells back, you realize that, on some level, you lived a life of a fugitive. I don't know if I can relax. Relax, I can't do. My brain, on idle, is a bad thing. I just get weird. I mean, not weird. I get, I get antsy."

Why are his jeans duct taped? "I realized one morning as I was going to a thing my boy had at school — one of those things where, you know, they get up and sing a song? I had to be there at a certain time, and, of course, I was running late and I was reaching back to check and see if I had my wallet and passport and stuff. I always have a passport for some reason. And so I reached back and I thought, 'Jesus Christ!' There was this really long tear — and there were no undergarments involved. That's the general approach. And so, yeah, I just immediately looked for duct tape. I know, it's pathetic. And then I continue to wear them."

He justifies his smoking habit: "If you're a cigarette smoker, a serious smoker, then you're a junkie. You're a junkie to that drug. They show some guy with three and a half teeth and some sort of red, dangly bit in his mouth. So that's for the smoker to look at. OK, fine. He sets it down on the f*ing table and eight kids see it. That's cool? Jesus. There's worse shit out there. I mean, what's wrong with these people? We all know it's not f—ing good for you. Life's not good for you! It kills ya! Do you know what I mean? God damn! These are the same people who are so adamant about not smoking and being around smokers. No, you can't smoke on the Sunset Strip when you're eating outside — however, you are welcome to all the diesel fumes and every bit of dirt and filth and dust and disease and everything that gets rifled up in the streets."

On Vanessa Paradis: "The last couple years have been a bit bumpy. At times, certainly unpleasant, but that's the nature of breakups, I guess, especially when there are kiddies involved. Relationships are very difficult. Especially in the racket that I'm in because you're constantly away or they're away and so it's hard. It wasn't easy on her. It wasn't easy on me. It wasn't easy on the kids. So, yeah. The trajectory of that relationship — you play it out until it goes, one thing leads to another. So for whatever reason that ceases, it doesn't stop the fact that you care for that person, and they're the mother of your kids, and you'll always know each other, and you're always gonna be in each other's lives because of those kids. You might as well make the best of it."

He stopped drinking a year ago: "In terms of the breakup, I definitely wasn't going to rely on the drink to ease things or cushion the blow or cushion the situation. 'Cause that could have been fatal. I felt it was my duty to be real clear throughout that. I had something pretty serious to focus on, really, which was making sure that my kids were gonna be cool. They've been incredibly understanding, incredibly strong throughout the whole ordeal. And it's hard on every side. You know, Vanessa's side, certainly not easy. My side, not easy. The kids are the most complicated. The thing is, kiddies come first. You can't shield them, because then you'd be lying. So you can at least be honest with your kids, and you say the absolute truth to your child – that was very important to not p-ssyfoot around." Not drinking helped him with that, he says, allowing him to "bite the bullet and deal with real life, deal with clarity."

Why he's so big on costumed characters: "Covering myself up in makeup, it's easier to look at someone else. It's easier to look at someone else's face than your own. I think for everyone. Jesus, you wake up in the morning, and you brush your teeth, and you're like, 'Ugh, that f—er again? You're still here? What do you want?' Hiding: I think it's important. It's important for your — for whatever's left of your sanity, I guess."

He won't watch his own movies:"I prefer to walk away with the experience. My job, as an actor, is to give the director options. You can only hope that the takes that you thought were the best were chosen. But, then again, if I don't watch it, I'll never know. So, better off."

On his version of Tonto: "I wanted him to be no joke. First of all, I wouldn't f— with someone with a dead bird on their head. Second of all, he's got the f*ing paint on his face, which scares me." Depp has Native American blood. "I wanted to maybe give some hope to kids on the reservations," says Depp, who's wearing an ancient Comanche symbol on the end of his rope necklace. "They're living without running water and seeing problems with drugs and booze. But I wanted to be able to show these kids, 'F— that! You're still warriors, man.'"
[From Rolling Stone]
Well, now I feel like I understand a little bit more why Johnny obsesses over the sugar, fat, and salt content of his food as he chain smokes, and it's cool that he's basically validated that story in this interview. Johnny seems like he's a bit of a mess and somewhat self-destructive. (and he always has been – it's just that, nowadays, he's no longer throwing furniture out of hotel room windows) However, I do appreciate his sentiments about his children and making sure they are the first priority in his life — that part of this discussion rings awfully sincere.
As for Vanessa? I guess that relationship simply ran its course after 14 years. Here she is looking gorgeous at Paris Fashion week a few months ago, and she'll be fine.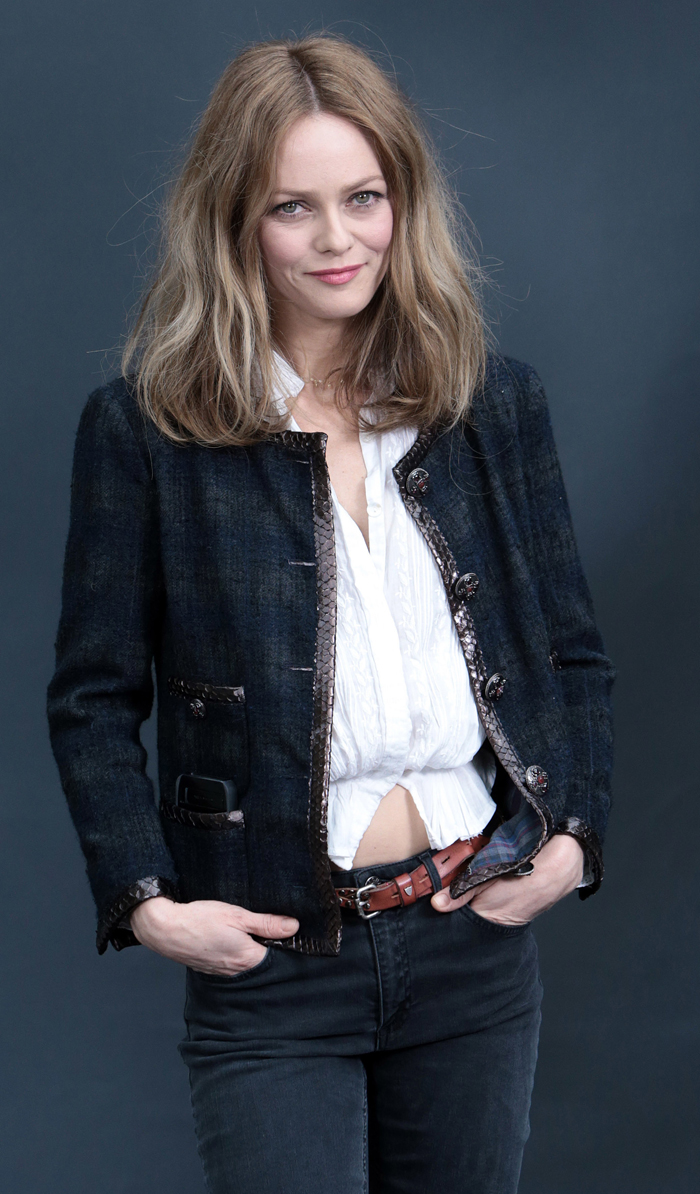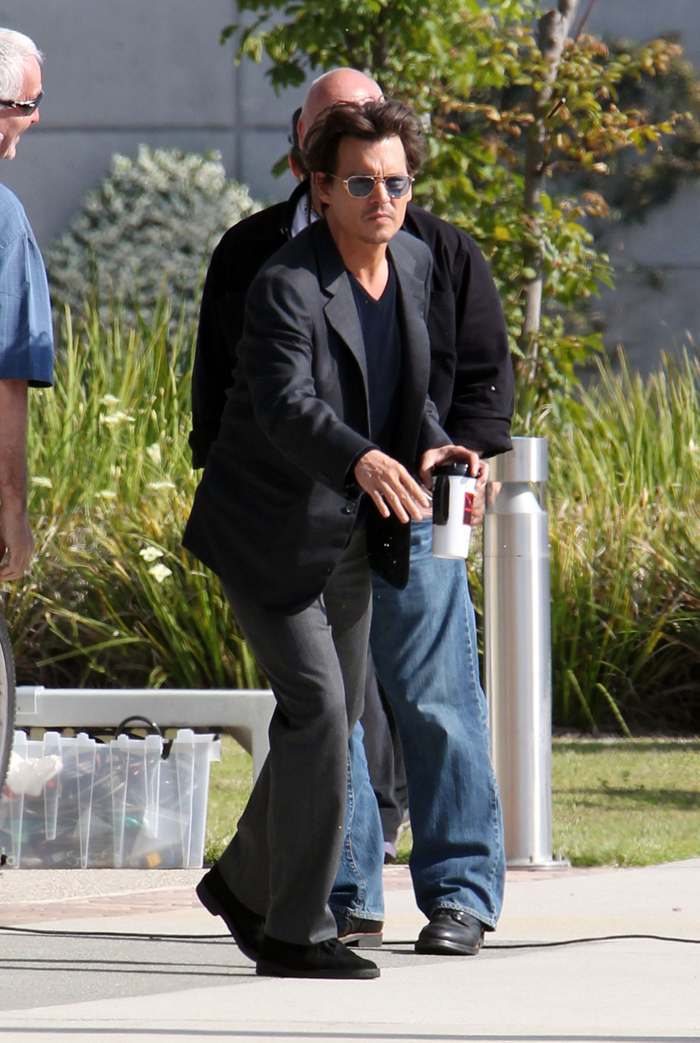 Photos courtesy of Rolling Stone, Pacific Coast News, and WENN