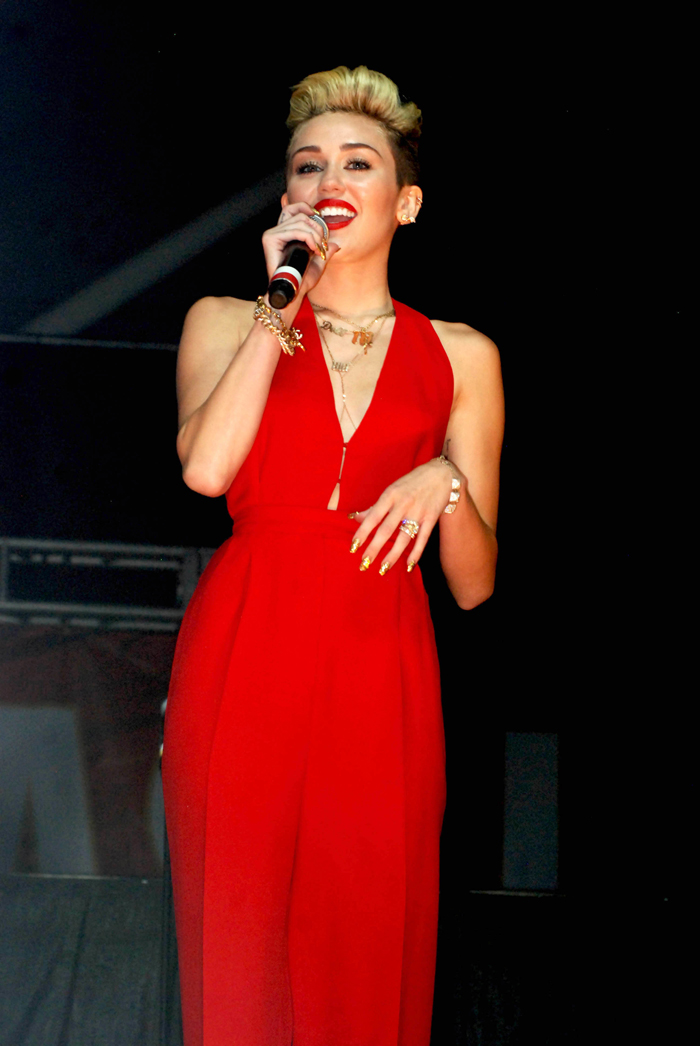 These are photos of Miley Cyrus at last weekend's Pepsi Summerbash, and she's ravishing in red and looks like she's disposed (at least temporarily) of the tacky gold grill. That's not the big story today though. What is? Well, for the first time in over five months, Miley was photographed with Liam Hemsworth on a coupley-looking outing. A date, perhaps. E! Online has the exclusive pics of a mostly dressed-down Miley (with one ass cheek strategically hanging out of her jeans) clinging to the arm of Liam as they exit a movie theater.
What does it mean? I don't know, man. We've been hearing all sorts of stories that say Liam was utterly miserable and ended the relationship while Miley was desperately tweeting wedding dress selfies to dispel breakup rumors. So are these two back together, or have they remained engaged all along, and the laugh is on us? All I know for sure is that Miley's latest music video will premiere today, and she's been tweeting about it nonstop. How convenient: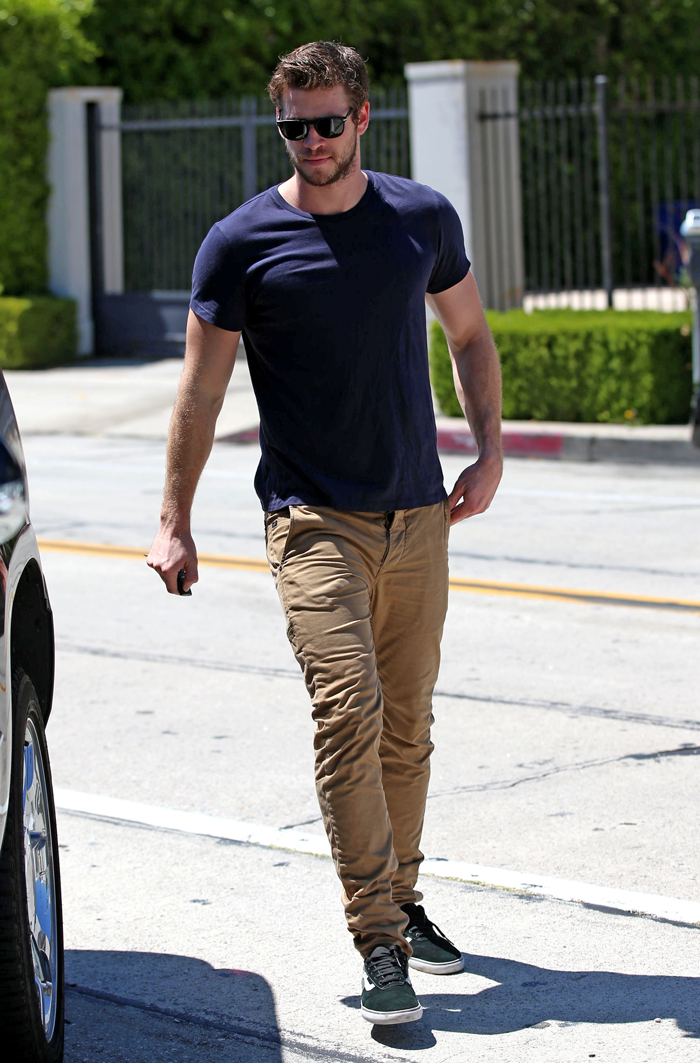 Miley Cyrus and Liam Hemsworth are doing just fine, thank you very much.

The engaged duo stepped out Monday in L.A. for a low-key movie date night at ArcLight Cinemas, looking very much relaxed and comfortable together–the outing marked the first time the couple had been spotted together in public in months. Miley, who was wearing her engagement ring, stayed close to Liam's side, holding on to his arm as they made their way past the paparazzi.

The affection, of course, wasn't one-sided! The Hunger Games hunk gallantly led the way for his fiancee. At one point, he placed a kind, protective hand on her lower back to guide her in the right direction. These photographs are the first taken of the engaged duo together since their vacation in Costa Rica back in January.
[From E! Online]
What are we to make of this new development? I'm not sure whether to applaud, laugh, or roll my eyes. These two don't look particularly enthused in those photos, but I guess they're back on or whatever — this week, anyway.
Miley also appears in a tiny feature in the July 4 issue of Rolling Stone to once again deny rumors that she was "dancing with Molly" in her new, ubiquitous "We Can't Stop" single. She swears that it's just her accent that is making "Miley" sound like "Molly," so we should all just chill out. Fair enough. Miley goes on to discuss pot vs. alcohol: "I think alcohol is way more dangerous than marijuana – people can be mad at me for saying that, but I don't care. I've seen a lot of people spiral down with alcohol, but I've never seen that happen with weed. As long as it isn't illegal, there are far more dangerous things." Girlfriend has a point, right?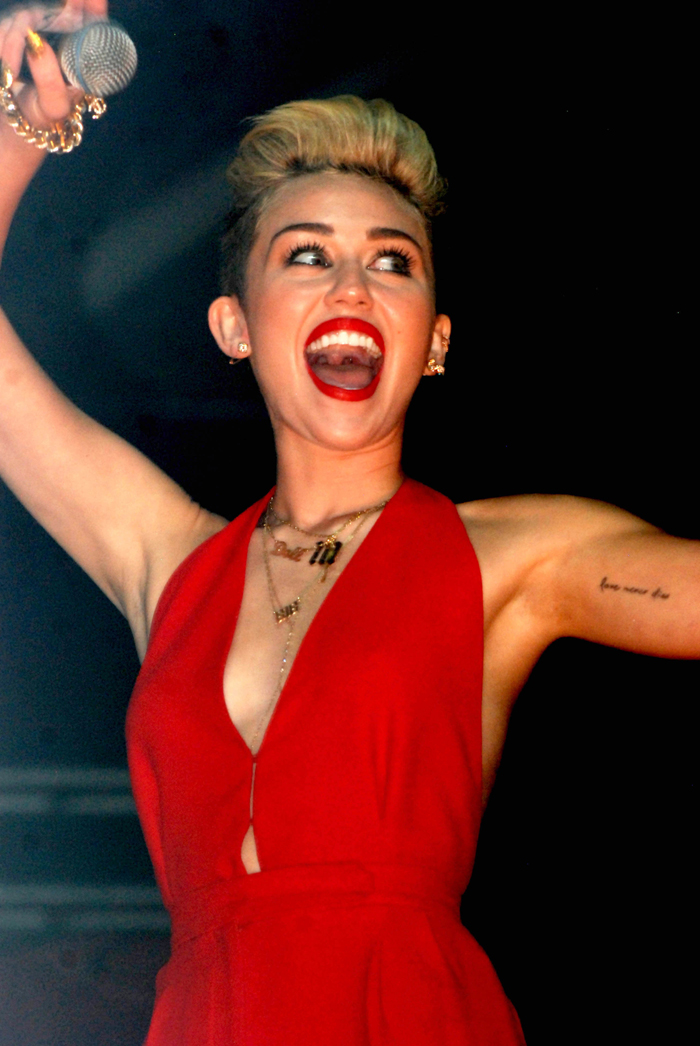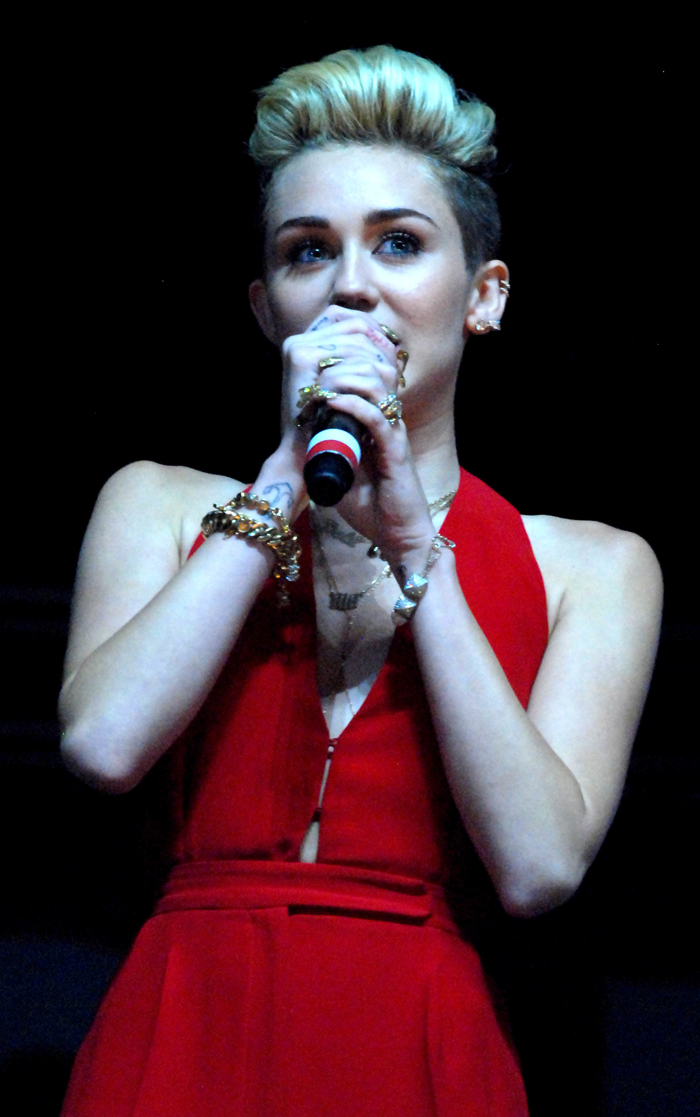 Photos courtesy of WENN