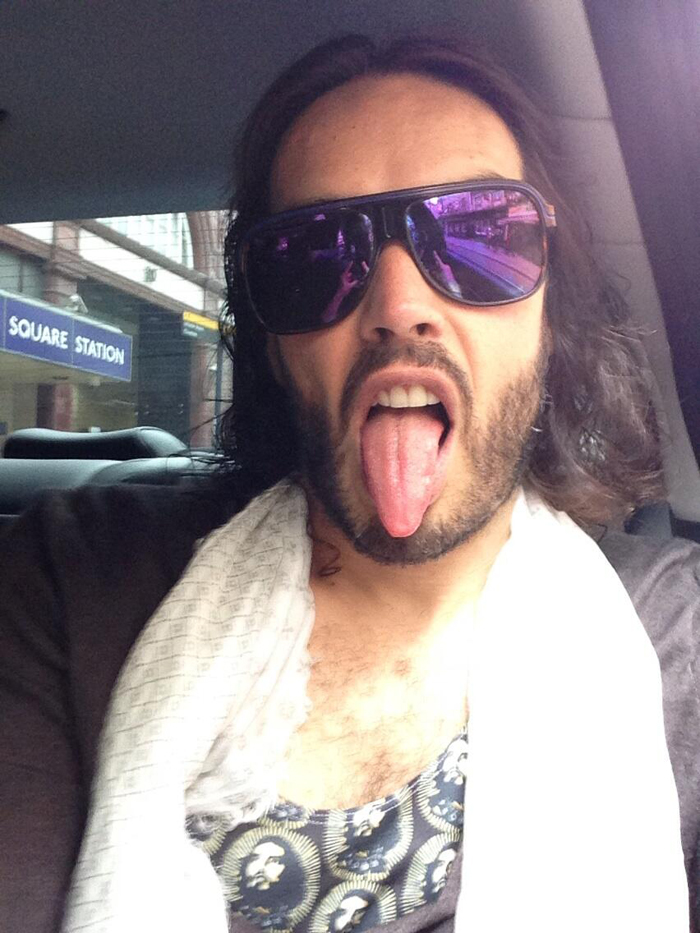 I've been woefully remiss lately by failing to check in with Russell Brand's Twitter page, @rustyrockets, where he is currently being pelted with insults from Katy Perry fanatics in wake of her declaration that he divorced her via text message — nevermind that she signed the papers with a happy face. Anyway, I swaggered across cyberspace to check up on ol' Rusty and discovered the above photo with a declaration that he's freshly back in London to wreak havoc wherever his jolly self so desires. Early yesterday morning however, Rusty was still stateside and working the promotional circuit for his upcoming worldwide standup comedy tour, "The Messiah Complex."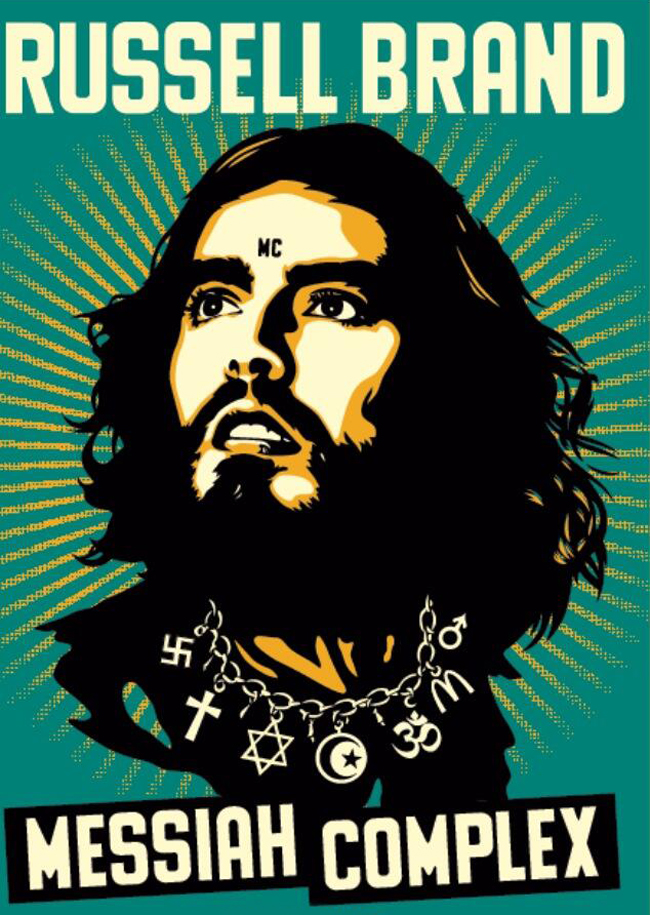 While doing so, poor Rusty made the near-fatal (via boredom) mistake of stopping by MSNBC's "Morning Joe" program to explain the title of his show: "I'm talking about Malcolm X, Che Guevara, Ghandi, and Jesus Christ. And how these figures are significant culturally and how icons are appropriated and used to designate consciousness and meaning, particularly posthumously." This explanation is a little more heady than Kanye West's Yeezus complex, no? Obviously.
Well, the co-host of "Morning Joe," Mika Brzezinski, and panelists Katty Kay and Brian Shactman had no idea how to react to Russell's paradoxical eloquence. They were completely confuzzled by his verbiage and manner of speaking in a quick and witty manner, and of course, they observed Rusty's intelligence to be sharply at odds with his physical appearance, which really messed with their minds. So they proceeded to awkwardly poke fun at Russell (Brian in particular seemed fixated upon the comedian's chest hair) and talk about his dodgy accent, and then they spoke about Russell in third person as if he wasn't even at the table. This epic, continuous faceplant moment dragged on for about six minutes before Russell realized that these hosts had no interest in helping him discuss the topic at hand; that is, he has a tour to promote, so Rusty grabbed the reins, and sh-t got real:
"Is this what you all do for a living? Okay, well let me help you. I'm here to promote a tour called "The Messiah Complex." It's here for the people of America. I want the people of America to come and see me do standup. RussellBrand.tv where you can purchase tickets to see me. These people I'm sure are typically very, very good at their job … [riffs on several news headlines and puts the panel to shame] … Look beyond the superficial. That is the problem with current affairs. You forget about what's important and allow the agenda to be decided by superficial information. What am I saying? What am I talking about? Don't think about what I'm wearing. These things are redundant, superficial. Don't be distracted. What do you think that gesture means, the way you're grabbing that bottle? What does that indicate? What's the subtext of that? She's grasping for the shaft. She's a shaft grasper."
[From MSNBC's Morning Joe, June 18, 2013]
Really, that transcript doesn't do Russell's speech any justice, so you'll have to watch the video for full effect:
Hahaha. Maybe Russell went a bit overboard on morning television by labelling Mika "a shaft grasper," but he was trying to illustrate a point while also being funny. These so-called journos were judging Russell all over the place based upon irrelevant observations, so he made one of his own. And let's face it, Mika was really obsessed with working that bottle all through the segment.
In conclusion: Russell Brand: 1; MSNBC: 0.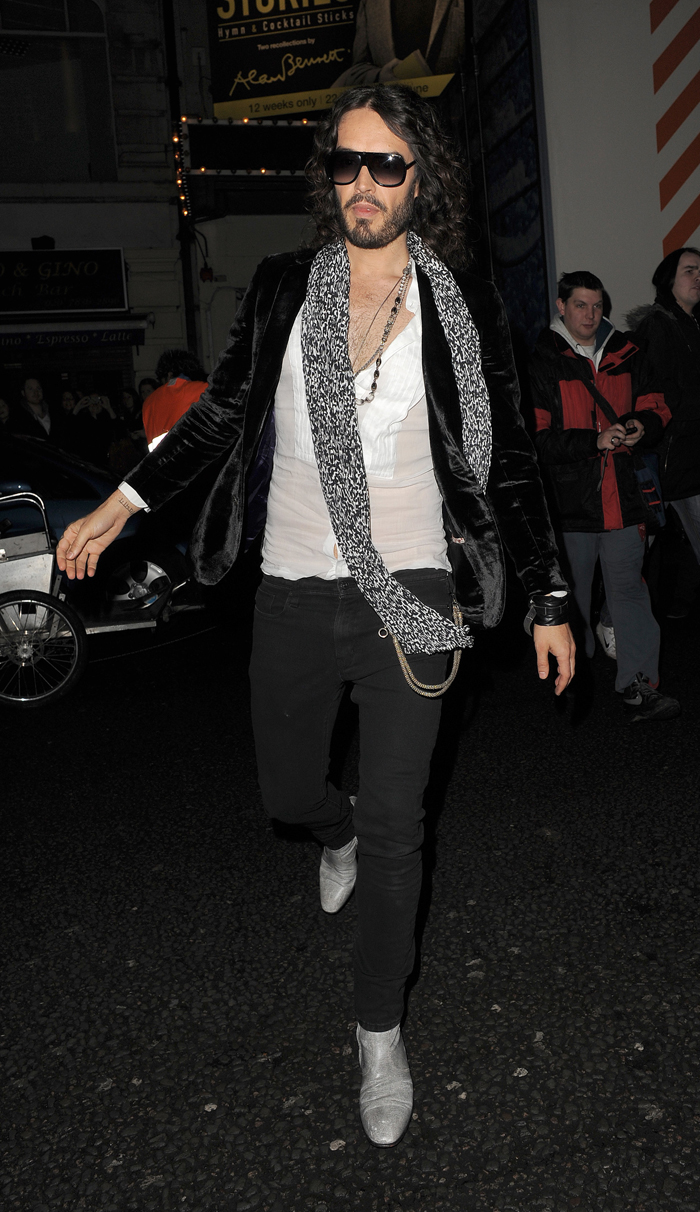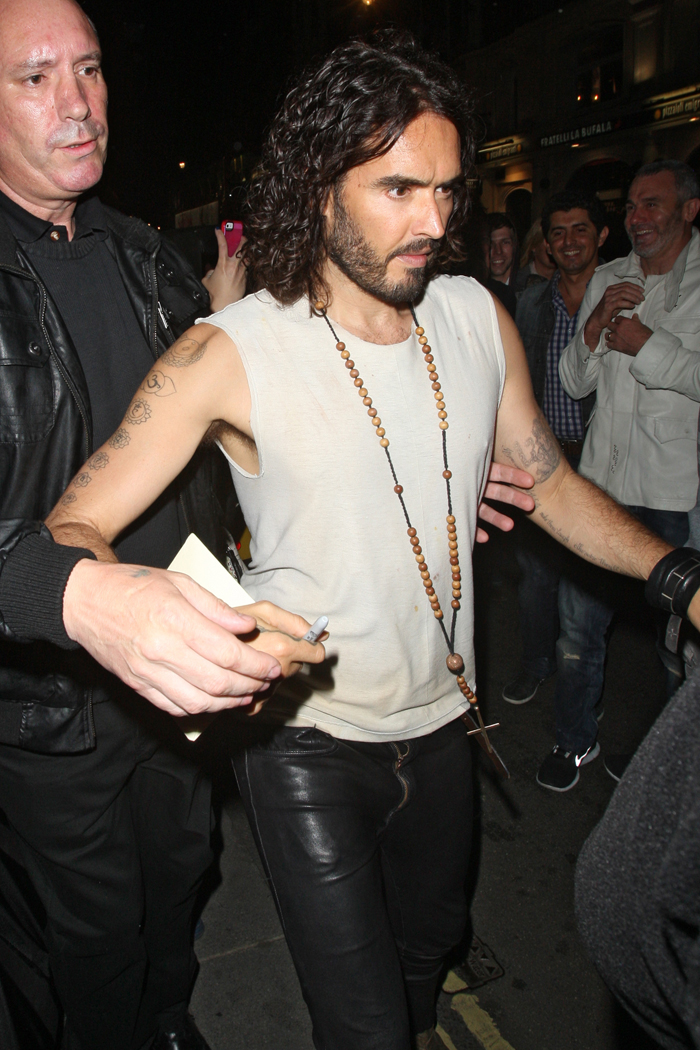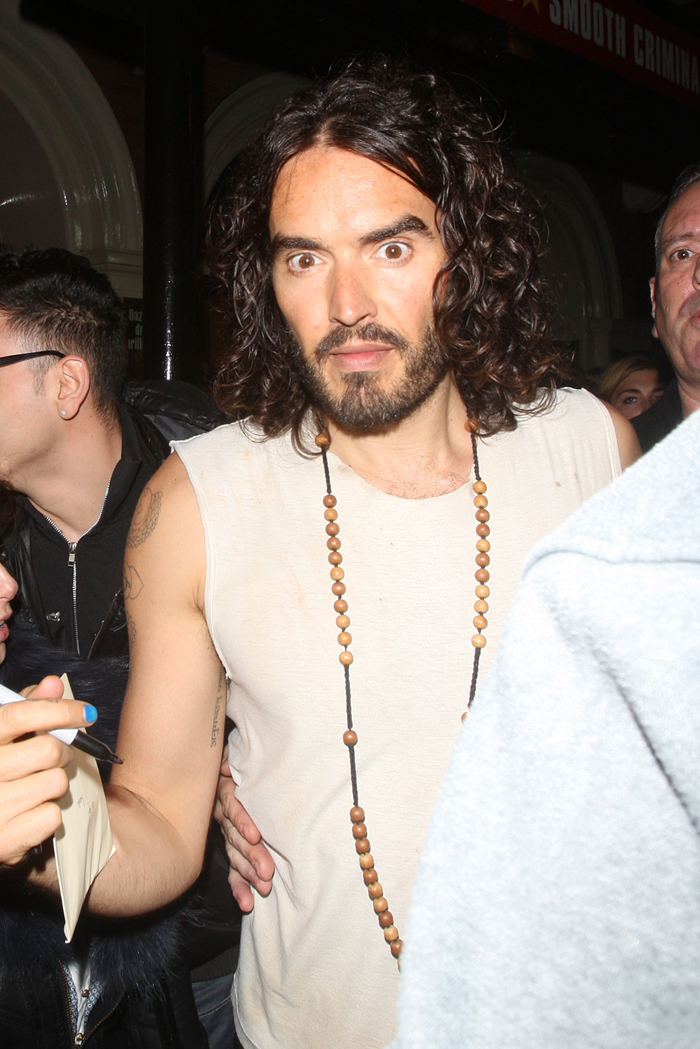 Photos courtesy of Russell Brand's Twitter and WENN