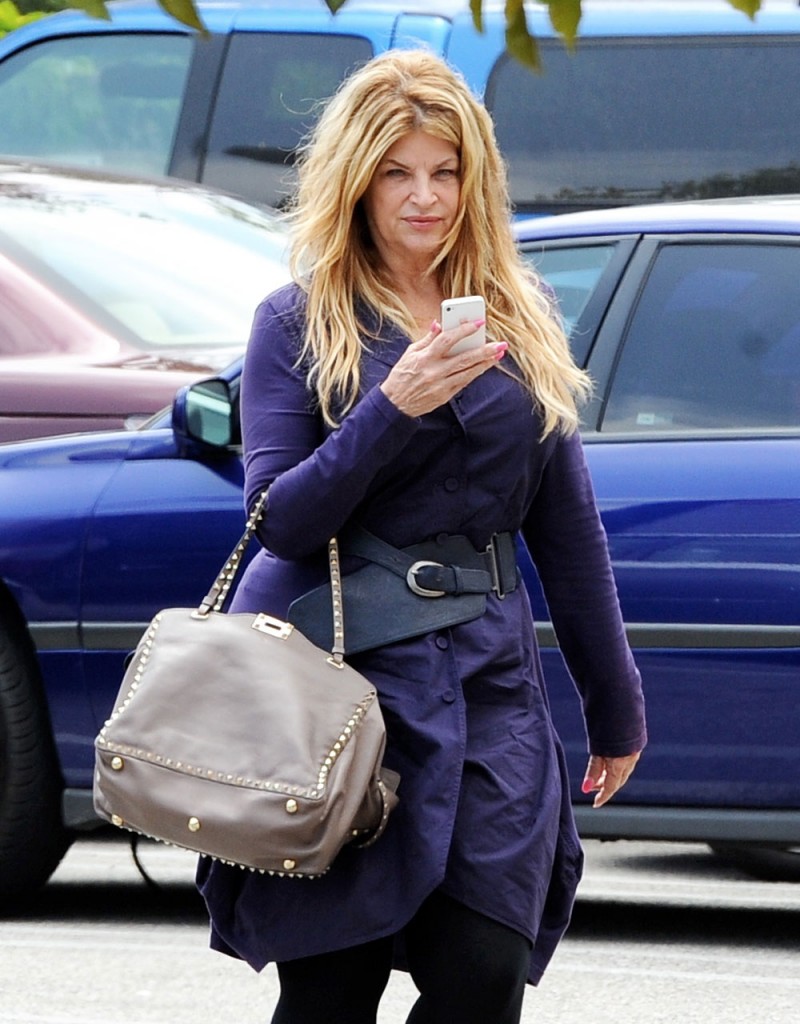 Do you remember how Kirstie Alley launched an "organic" weight loss line in 2010, lost a bunch of weight in 2011 from competing with DWTS but still credited her weight loss line? Kirstie's juice and vitamin "weight loss" program, Organic Liaison, also bore a striking resemblance to the "Purif Rundown," a detoxification regime developed by L. Ron Hubbard, the founder of the Scientology cult. Kirstie is a proud Scientologist, but she's haughtily denied that her diet program is associated with Scientology at all, even though the overpriced vitamins she shills are the same as the ones used in Scientology rituals.
Last year, we heard that a dissatisfied customer was suing Kirstie for having an ineffective, inferior weight loss product and for not being honest about how she lost the weight. The Enquirer has the news that Kirstie just paid out a court-ordered $130k settlement to the woman, including the woman's legal fees, and has to admit that she lost weight in 2011 after participating in Dancing with The Stars. Burn to Kirstie. Here's more:
Court documents obtained exclusively by The Enquirer reveal that the former "Fat Actress" star paid out a hefty six-figure sum and quietly settled a lawsuit with a disgruntled customer who slammed Kirstie's Organic Liaison diet products as nothing but a pricey fraud.

"This is a major setback not only to Kirstie's profitable business enterprise, but also to her reputation" a source close to the star told The Enquirer. "Her expensive lawyers did everything in their power trying to dismiss the lawsuit, but the judge found Kirstie's program misleading. Her claims that her products were proven to help lose weight were deemed false advertising."

Dissatisfied weight watcher Marina Abramyan, who initially filed suit against Alley's Florida-based company in July 2012, finally got her day in court, forcing the former DWTS finalist to make changes to her product claims…

According to legal documents filed in LA Superior Court on March 20, 2013, Alley must abide by the settlement agreement, which includes removing the term "Proven Products" and issuing a disclaimer on Organic Liaison's website explaining that it's a "calorie-based weight-loss product."

The plus-sized star's bio page on the promotional website must also include a statement that Kirstie appeared on DWTS in 2011. In a final blow, Alley, 62, will pay Abramyan and her attorneys a whopping $130,000.
[From The National Enquirer, print edition,
Kirstie is a yo-yo dieter and her weight fluctuates quite a bit. That wouldn't be something to mock her for if she would just STFU about it. She brings it up constantly she launched a weight loss program before she'd even lost enough weight to show it worked, and she is completely delusional about her size. She's claimed to be a size 4, she's claimed she has a 22 inch waist and she's credited it all to her diet program, even when she was working out for hours a day in DWTS practice. Someone called her on her crap and she had to pay up. It's not going to change anything about her, anyone as deep in a cult as she is must live with near constant denial and justification.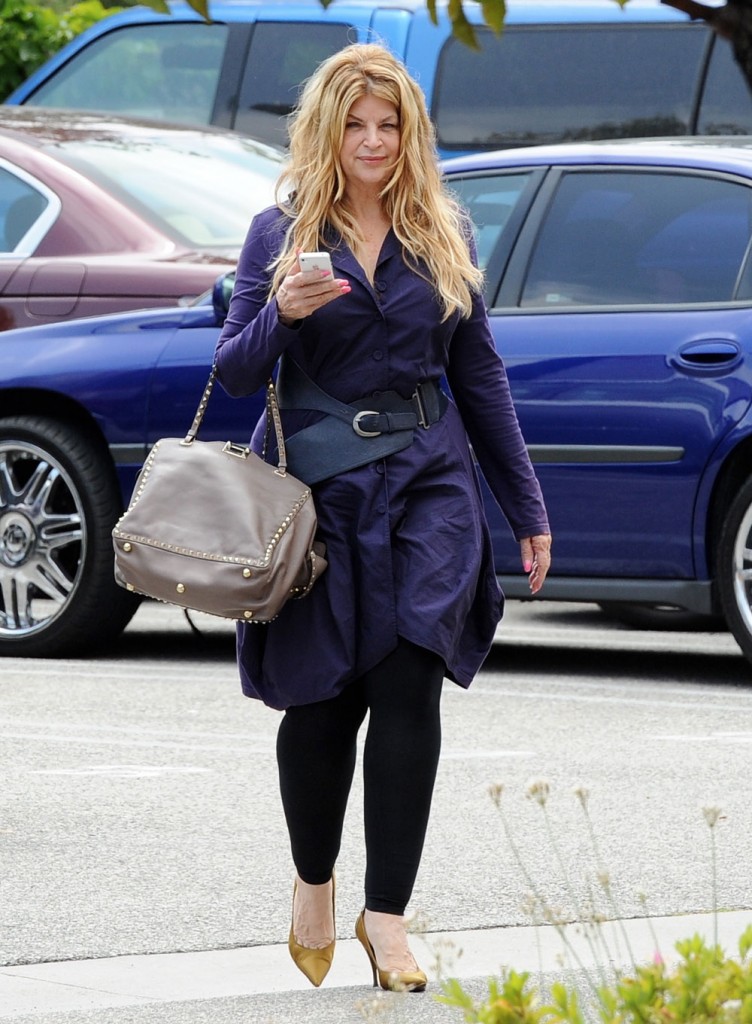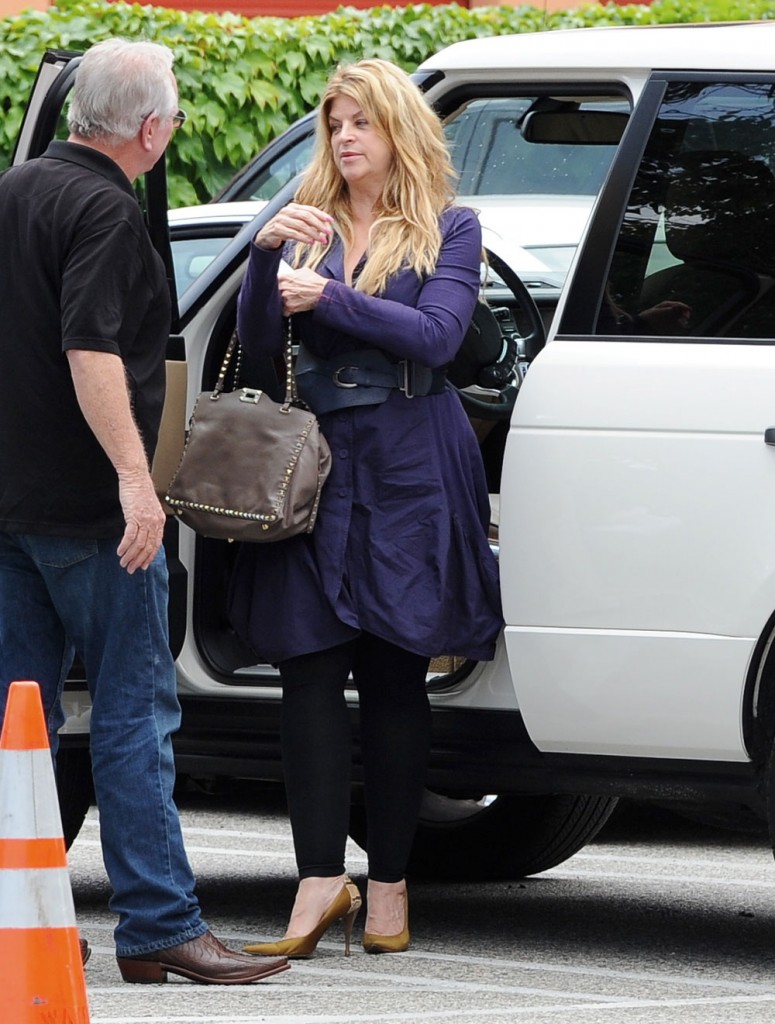 Kirstie Alley is shown on 4-30-13. These are the most recent photos we have of her, I did not deliberately pick the worst ones. Credit: WENN.com