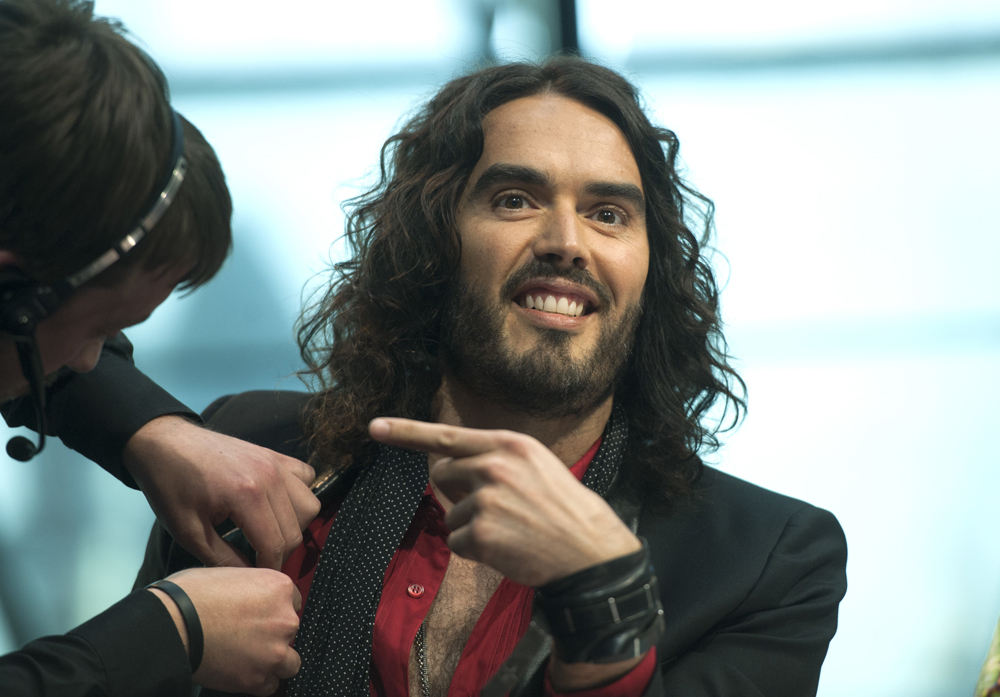 Good news for Russell Brand fangirls (and boys) — there is plenty of Rusty news to be had today. Russell has been pounding the pavement pretty hard to promote his upcoming "Messiah Complex" tour. Sadly, news just came down the pike that Rusty has had to cancel some dates in the Middle East (primarily Abu Dhabi and Lebanon) because he's had some credible theats upon his life; and the venues have informed him that the could not guarantee his safety in the event that these threats were taken to fruition. Rusty believes his tour poster might have something to do with the threats, but who knows. It's difficult to make sense out of people who make death threats.
Let's move onto a slightly cheerier topic, which is Russell's immutable habit of skirt chasing. Rusty spoke to The Sun about how he tried very hard to get with Mila Kunis while they were filming Forgetting Sarah Marshall, but he was dismayed to find out she was dating the kid from Home Alone: "She's gorgeous. She's so gorgeous. I was chatting her up, and got the conversation around to, 'Have you got a boyfriend?' and she went, 'Yeah.' She's talking about her boyfriend 'Mac.' Eventually, she said 'My boyfriend's coming tomorrow.' She was excited – and when he came it was not 'Mac,' it was Macaulay Culkin!" Poor guy. I'm sure Russell got over it and promptly commenced hitting on Kristen Bell.
Moving right along — these photos show Russell as a panel guest on "Question Time," which is recorded live at London's City Hall. Russell was arguing for a transformation in the way British law treats addicts (he has previously done so in an eloquent manner in front of Parliament). On this program, he was joined by a couple of MPs, the mayor of London, and a journalist (who, presumably, is more competent than those "Morning Joe" yahoos). Here's a recap of the best quotes from the episode: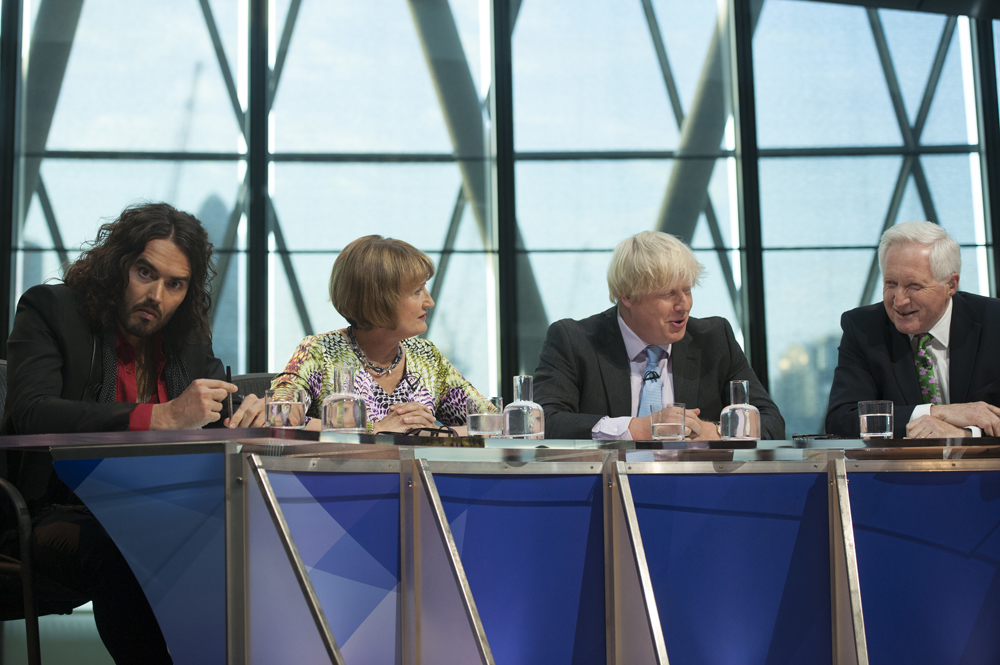 Russell Brand tonight called for a review of British drug laws during an appearance on BBC1's Question Time. The former heroin addict criticised the current system and called for a rethink on the way drug users are treated. Brand was joined on the panel by MPs Tessa Jowell and Ed Davey, London mayor Boris Johnson and journalist Melanie Phillips.

Brand said: "I don't think drug laws are working because people take drugs all the time. People will take drugs because of social, psychological and emotional reason. For me it's not about the drug laws, it's about treating people with addiction issues in a compassionate and empathetic way. As a recovering drug addict myself, when I was using drugs I didn't care if drugs were illegal.

"If I need drugs because I'm in pain inside, I'm taking drugs and I know this to be true of across drug addicts all over our country. If you criminalise them and marginalise them, you place an industry in the hands of criminals and you make it difficult and shaming for them to get treatment. That is the wrong way to handle the situation. We have to reach out to people compassionately – then we have a chance of achieving a solution."

Secretary of state for energy and climate change, Ed Davey, agreed that change was necessary. He said: "We need to look at the evidence. I think we do need to review the drug laws, I think we need to look at the evidence. Nick Clegg's asked our ministerial colleague Jeremy Brown to look at the experience in Portugal, in Amsterdam, in some US, parts of the United States, in the Czech Republic and other places where they've changed some of the laws and let's look at the evidence. If changing the law leads to a positive effect for society then we should consider that."

And further agreeing with Brand, he added: "As Russell said if we can treat people with humanity when they've got an addiction and try to help them get off that addiction that can make a real difference to that person's life and the wider society. I'm not convinced yet that we've won the war on drugs by any means there are still thousands of people dying from drugs, they scar communities, there are drug barons who are making billions from this."

Brand declined to comment on whether all drugs should be decriminalised. He said: "I don't like to get drawn on that because I am dealing with this in a very direct way in that people who are suffering from drugs problems don't care about the law, they care about getting the correct treatment which I believe is abstinence-based treatment."
[From The Mirror]
See? Important people care about what Russell has to say about addiction, and they are listening. Not too long ago, Rusty was shooting up under a bridge and in a dingy Hackney flat, and now he's being taken seriously by the mayor of London and Parliament. This guy is making a difference, and the sentiments expressed here are similar to what Russell has already said about favoring absinence-based treatment; that is, he does not believe that heroin addicts should simply switch to methadone, which simply allows them to plug themselves into another state of addiction. This logic makes sense even if there's never an easy answer to this social problem.
Oh, and Rusty paid lipservice on Twitter to how he schooled a certain MSNBC panel the other day while plugging a Gawker interview he gave about Bradley Manning. I won't get into that political discussion here, but it's very interesting if you'd care to read it.
I did an interview about Bradley Manning http://t.co/sxE8NDmOIW The journalist was nice (didn't call me Willy Brand).

— Russell Brand (@rustyrockets) June 19, 2013
Look, here's Rusty imitating Miley Cyrus. He does that sometimes, you know.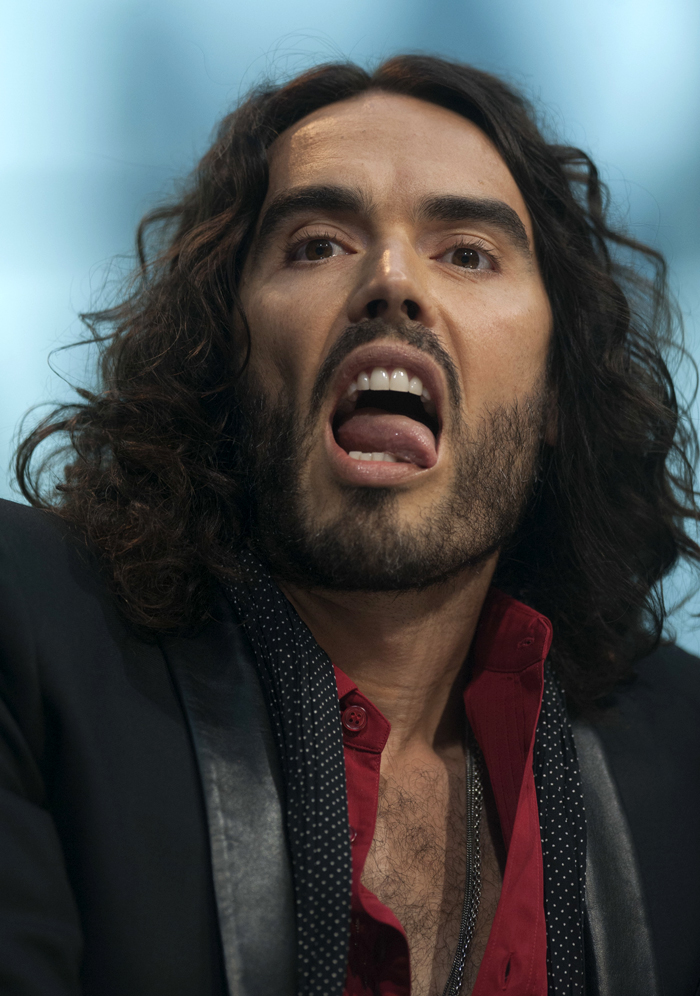 And here's Russell all over the place in London over the past few days. Plan World Rusty Domination is on its way.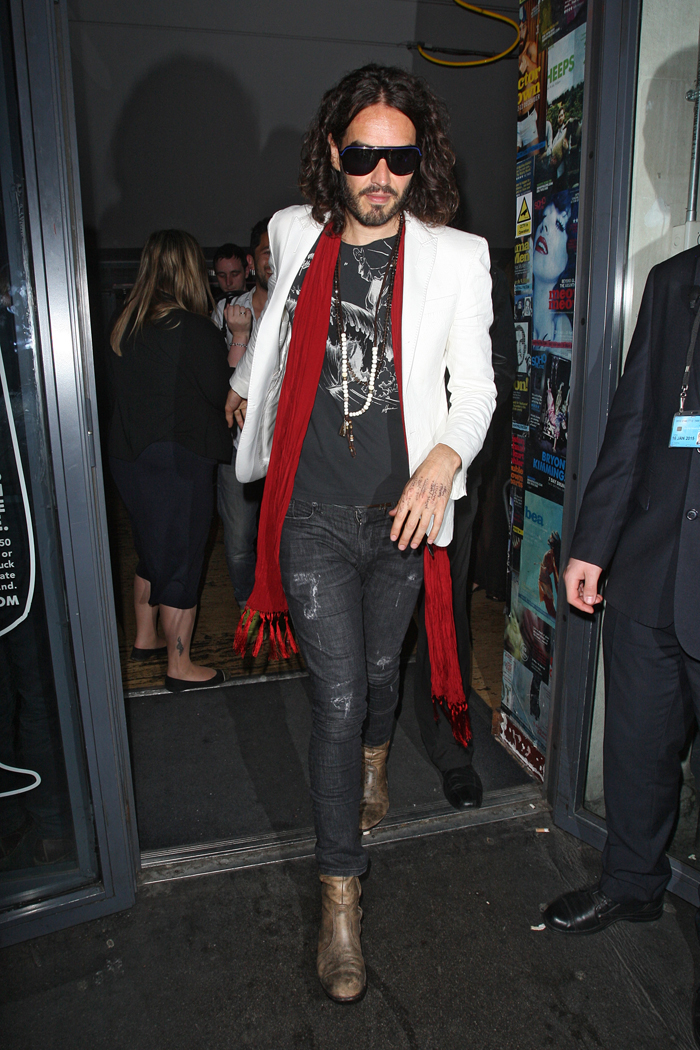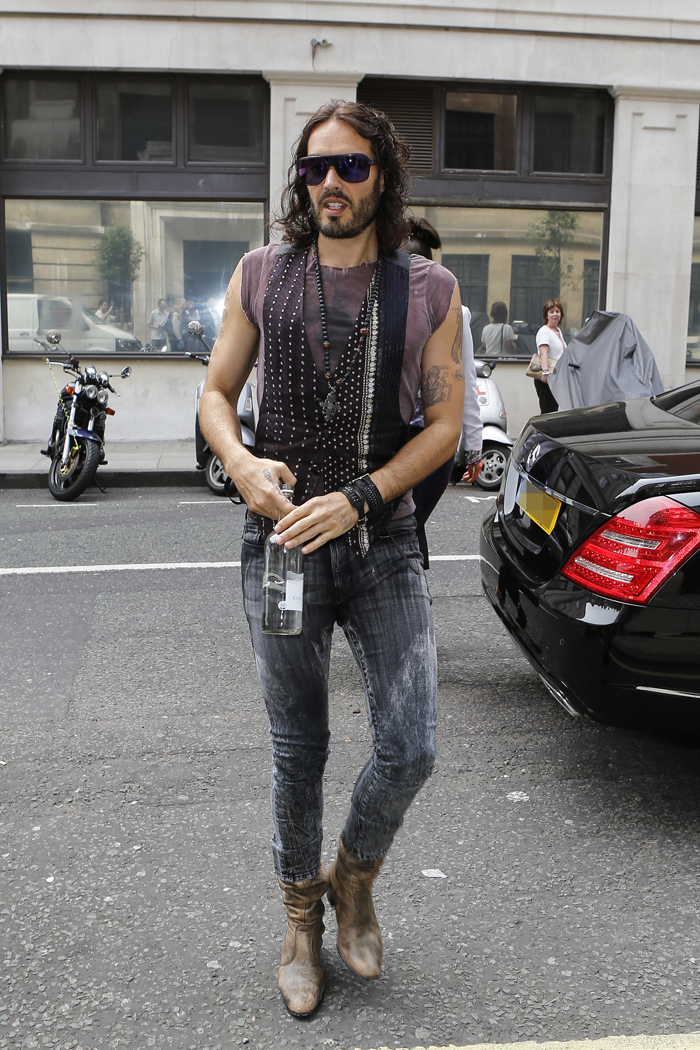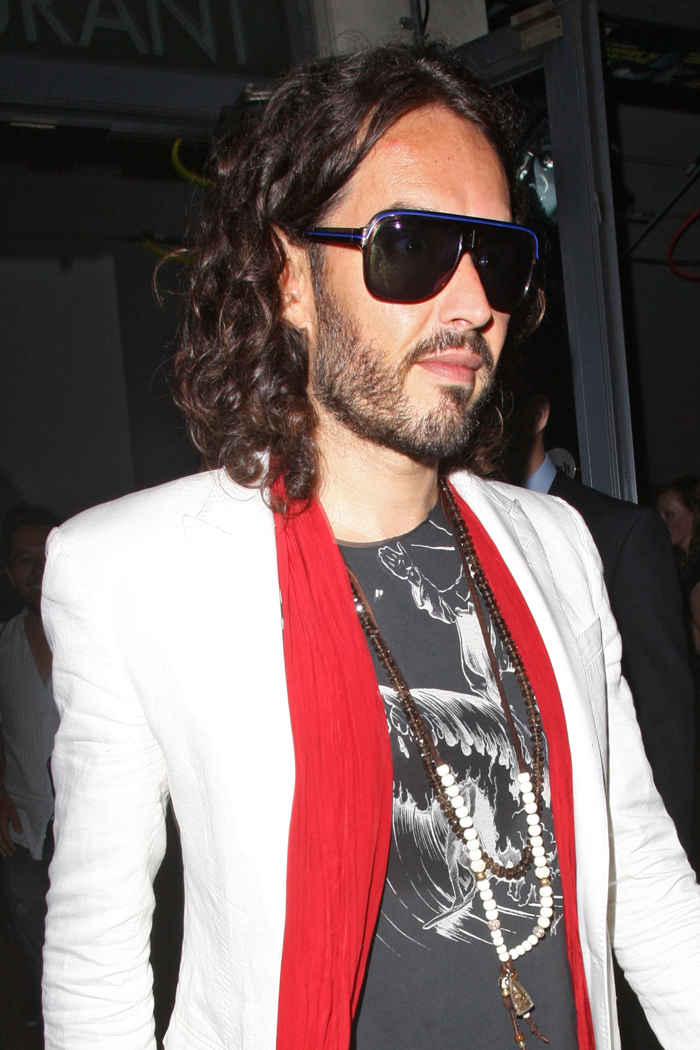 Photos courtesy of WENN