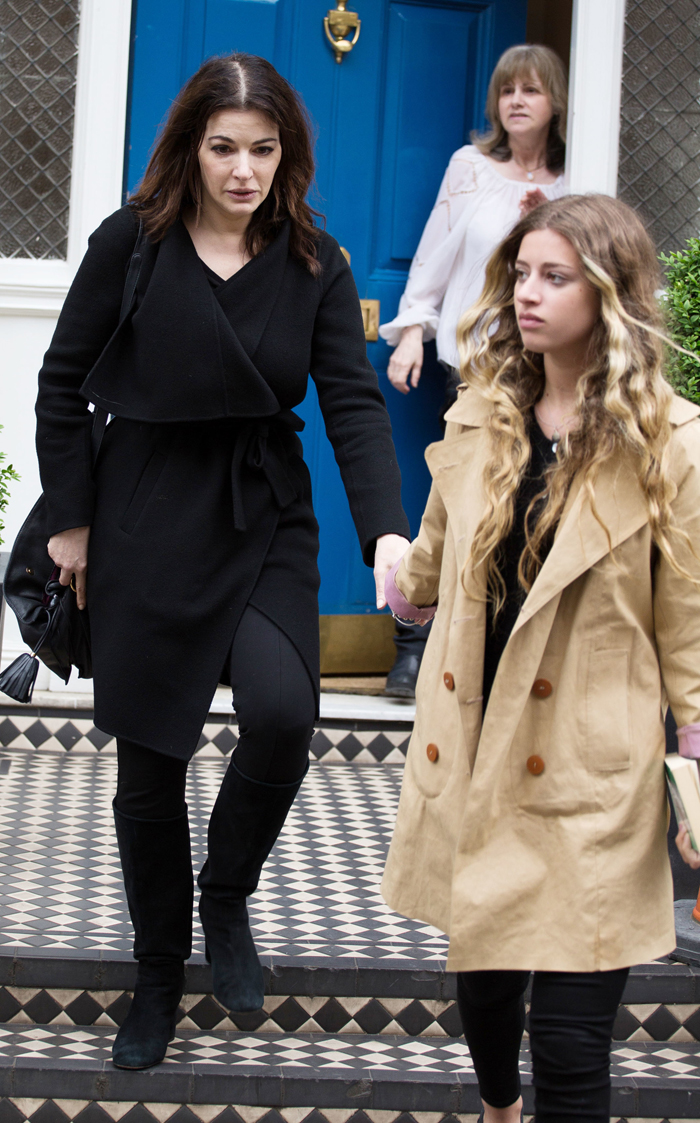 These are photos of Nigella Lawson on Friday while leaving a friend's home with her teenage daughter, Cosima. This is Nigella's first public appearance since leaving her marital home a few hours after the Mirror published photos of her husband, Charles Saatchi, choking her at a public restaurant. In the immediate aftermath, Saatchi dismissed reports that he was hurting Nigella, and he claimed that it was all in good fun, i.e., "a playful tiff," before Scotland Yard let him off with a police "caution." Saatchi also made it sound like he was the one (and this could be true) who suggested Nigella leave the marital home to let things blow over. We've also heard that Nigella stopped wearing her wedding ring and felt pressured to leave her husband for the sake of "her brand."
Now there's some new information coming down the pike from the Mail, which says that Nigella would never have left her home if photos of the choking incident hadn't surfaced. That much is obvious since the incident took place a week prior to the Mirror's story, and Nigella seemed content to forget that it ever happened. In addition, the Mail reports that Nigella is riding out the storm at a £10,000 apartment in the Mayfair district of London while she tries to figure out whether or not to get a divorce; it's said that she wants to rebuild her marriage to Saatchi, but she wants him to get counseling for his anger issues. Yet it will be hard to convince Saatchi to admit he has anger problems if he sees choking as a "playful tiff," right?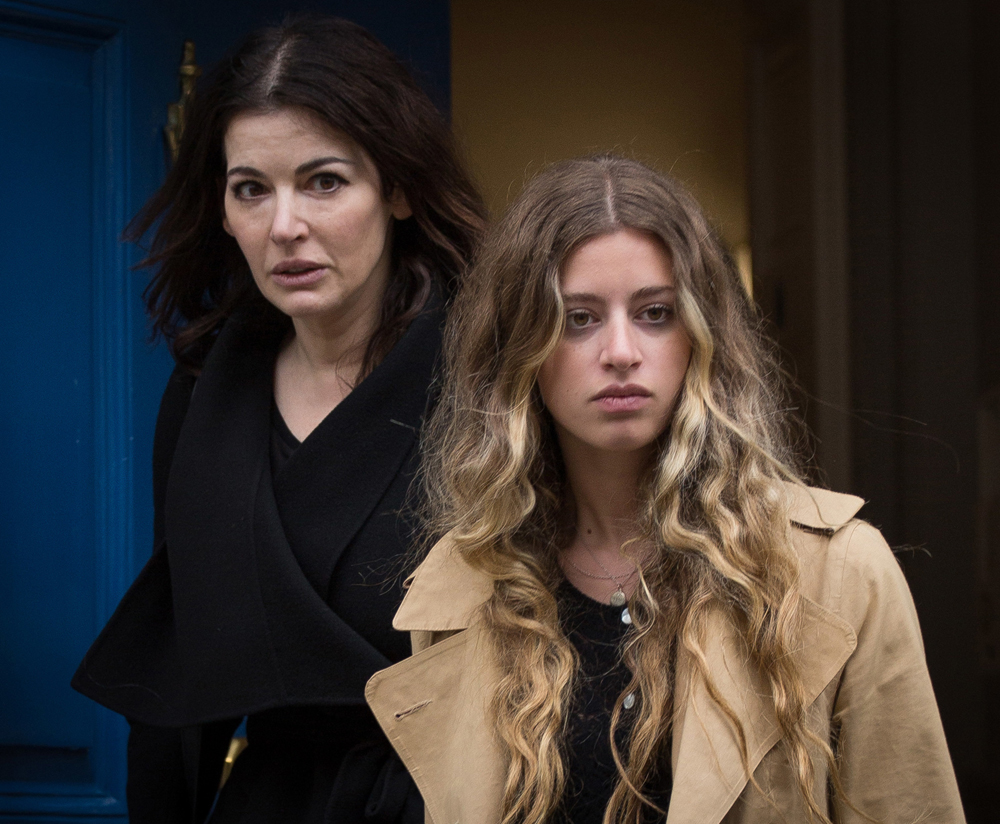 Nigella Lawson has told friends she wants to rebuild her troubled relationship with millionaire art collector Charles Saatchi and has insisted: "I am not some sort of battered wife."

The 53-year-old chef has confided that although she has no current plans to return home she is still in love with her husband. As she faces a second week away from Mr Saatchi, 70, friends have said she wants him to undergo anger management therapy or counselling to control his volatile moods.

In the first insight into the anguish that Nigella is suffering, a close friend said: "She desperately loves Charles and says he is her world. She feels that if he would look at getting some sort of help, anger management or therapy then they can work at rebuilding their relationship. As in any marriage, there are issues and problems that arise, and he is under a huge amount of pressure and stress. But she feels she is never going to be able to live this down and move on."

The Mail on Sunday has been told that Nigella would never have left the £14 million family home if images of her husband grabbing her by the throat outside celebrity restaurant Scott's had not been published.

The friend said: "Nigella feels her hand has been forced. She would not have left if the incident had stayed private."

She has fled to a £10,000-a-week Mayfair apartment where she is struggling to consider the best way forward for herself and her two teenage children, and decide whether the couple has a future.

Saatchi accepted a police caution for assault following the publication of the damning pictures last Sunday, which he initially tried to dismiss as "a playful tiff." But the incident sparked an outcry.

It was raised in the House of Lords on Friday, as Nigella's father Lord Lawson looked on, when Lord Avebury asked: 'Do you think that the leniency shown to Mr Saatchi when he half-strangled his wife set the wrong tone?'

But as the public debate rages, Nigella is craving privacy and quiet, and is tormented over how to proceed. Friends say the removal of her wedding ring last week was merely a sign of her confusion as she struggles to cope under the nationwide scrutiny of her most private relationship.

Most of Nigella's family, especially her father Nigel and sister Horatia, are said to be furious that Saatchi has created this hugely embarrassing storm. Publicly they have refused to comment, but privately they are believed to have urged her not to return to him.

Her brother Dominic, former editor of The Spectator, does not wish to comment. But author Kathy Lette, who is close to the couple, was outspoken. 'I'm not talking to Charles,' she said. "He's behaved appallingly. I can't believe that after so many years in the public relations business he's handled this so badly."
[From Daily Mail]
In addition, there's a new report that Nigella has had her clothing delivered to her new place, which I suppose is a step in the right direction of divorcing this Saatchi bloke. It sounds like Nigella is (rightfully) feeling overwhelmed, and I have to say that she looks like she hasn't been sleeping much. She's could be so used to Saatchi's ways that she didn't even realize how outrageous those photos look to outsiders, and yes, she's definitely in denial if she doesn't consider herself "a battered wife." I can't possibly believe that this is the first time he's laid hands on her in an unkind way. The public scrutiny must be excruciating for Nigella to endure, but I hope she gathers up enough strength to leave this guy for good.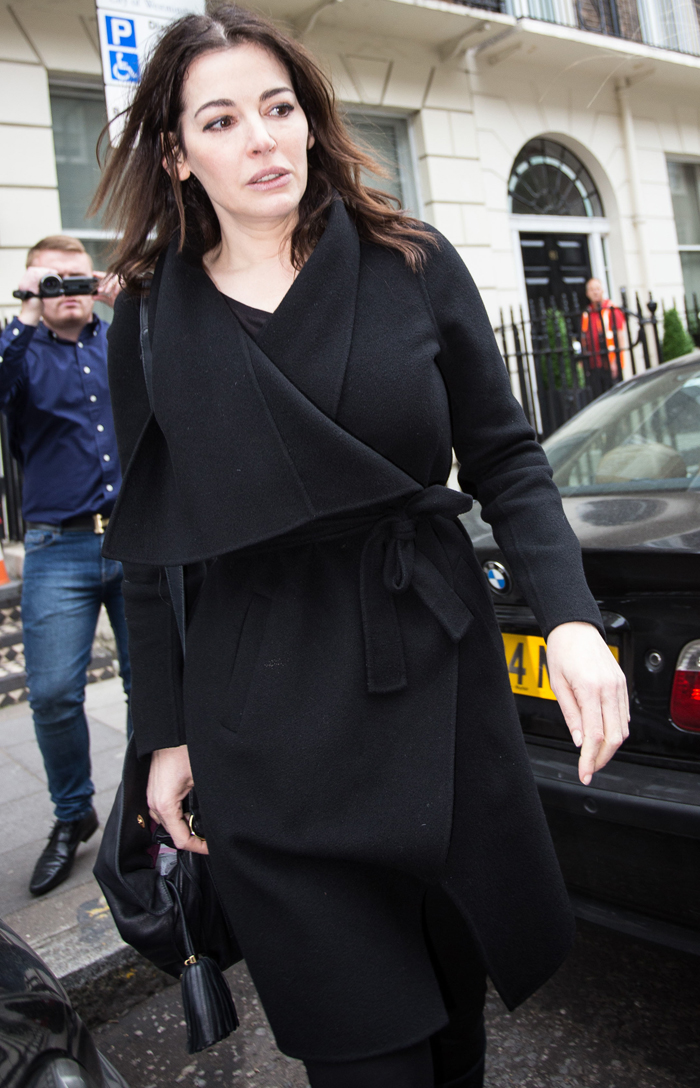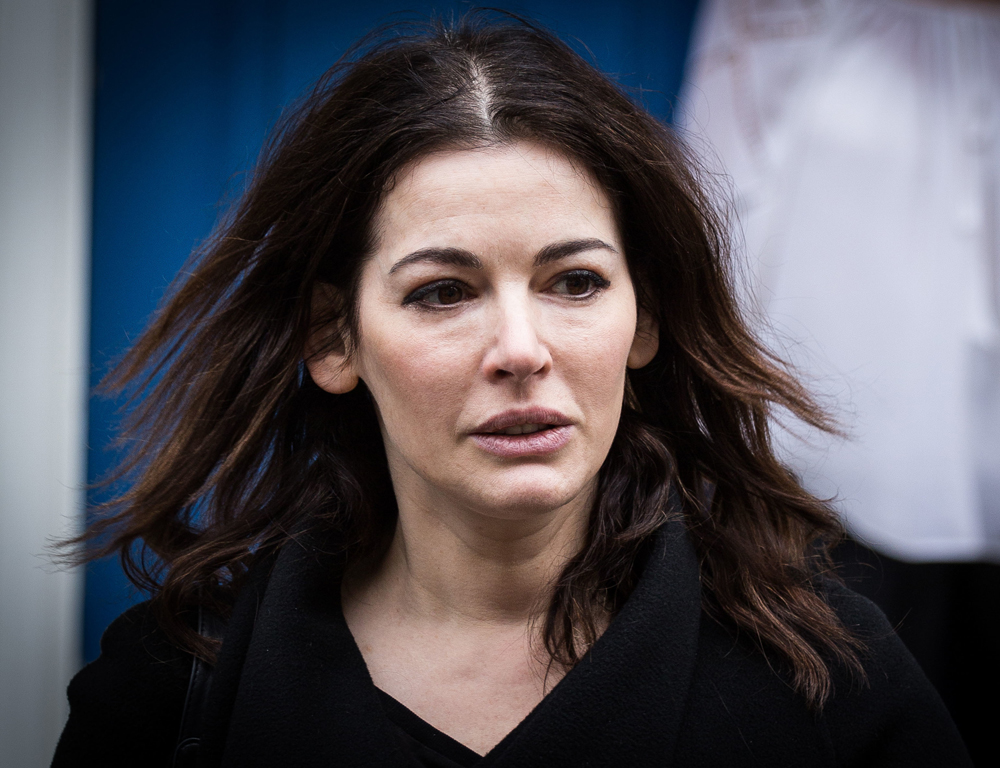 Photos courtesy of WENN