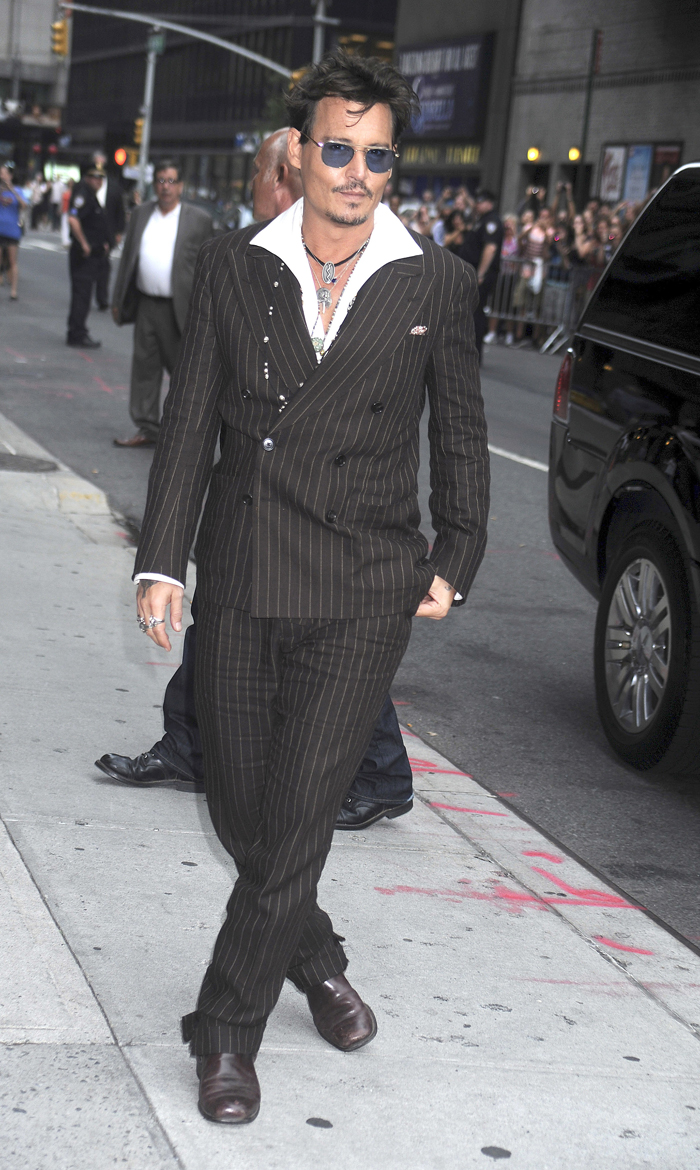 Can I start out this post with a declaration that I'm so excited about the fact that The Lone Ranger is entering its premiere phase? Finally, we're getting some photos of Johnny looking relatively lovely and groomed while not wearing torn-up hats. Even though the dude is 50 years old, he's actually starting to look like the old, swoonworthy dreamboat Johnny from the early aughts, but Johnny would probably hate to hear that, so I'll stop being nice right now. Maybe.
Johnny has been all over the place in the past week. In addition to the official premiere in Los Angeles, Depp also touched down in Lawton, Oklahoma (home of the Comanche tribe) last Friday with producer Jerry Bruckheimer and director Gore Verbinski in tow. Since I'm not the nicest person, I've been making jokes about smelling Johnny's special blend of patchouli and ciggies (downwind) via I-44 for days now. Johnny attended a special screening for the Comanches and took some photos with fans while declaring, "I'm proud to show [this film] to the Comanche Nation and members of the Indian Nations first." If you'll recall, Johnny also visited Lawton last October while serving as Grand Marshal of the Comanche nation parade. I have to admit that Johnny seems incredibly sincere in his reasons for accepting the role of Tonto. Dude wanted to right a historical wrong or two, and I'm not sure he succeeds at doing so in this movie, but we'll see. In that accord, here are some excerpts from Johnny's new interview with the Daily Mirror: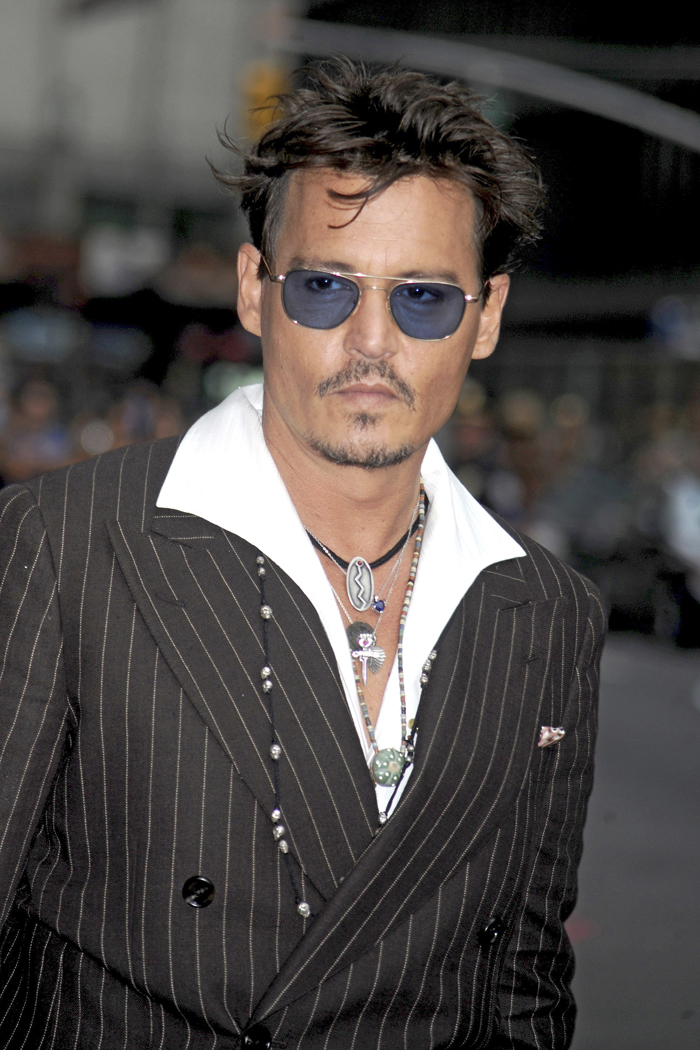 On turning 50: "We kept it simple and we just went to dinner. I find the whole idea of celebrating one's birthday is like clinging to vanity in a way, which is something I'd rather not cling to. It's one of those things. It's another decade… Cool. I didn't suddenly wake up and go, 'God my back is killing me!'"

On hiding from the paps: "There's no disguise I've ever been able to get away with, so I have to live my life like a fugitive, like a recluse. But I'm OK with that because I always felt like an outcast. I never felt like I fitted in anywhere."

His midlife crisis happened at age 19? "I was asking myself, 'What is life? What am I here for? What shall I do? Does anything matter?' I chose to, let's say, soften the process by self-medication."

He makes Tonto a hero: "I wouldn't take anything away from Clayton Moore, who played the Lone Ranger, but even when I was five or six I thought there was something wrong. I identified with Tonto and wondered why the Indian was the sidekick. I thought, 'Why isn't he the hero?' I wanted to play him not as a sidekick, but as a warrior and a man with great dignity and integrity. It's my small contribution to righting the wrongs committed in the past. It was very important to me to represent the American Indians and it's really the only reason I made the movie."

On his honorary Comanche name, Mah-Woo-Meh (shapeshifer): "It was quite apt and I take great pride in that choice. The name hadn't been used for years and they had to get permission from the elders. I'm very proud of it. It's possibly my greatest memento from anywhere."

Where do he and Vanessa stand now? I wouldn't see any weirdness at all in making a film with Vanessa now, whereas before I might have done. We're on great terms and there's nothing weird or strange. It's very normal. She's a great mommy and a great woman."

He still loves Vanessa: "If you love, you have to love beyond what you think is love. When the s*** hits the fan you have to keep loving. I know it sounds like some sort of Hallmark card, and I don't mean it to, but you cannot abandon ship, you know. You've got a couple of kids and a woman who's been good to you. So keep loving, no matter what."
[From Daily Mirror]
It must be noted that the journo makes specific mention that Johnny is guzzing non-alcoholic beer during this interview. While I have already called him out for using his breakup with Vanessa to promote Lone Ranger in his Rolling Stone interview, perhaps I should just give Johnny a break. I admit that I loved him and Vanessa together — not as much as Johnny and Winona or Johnny and Kate Moss, but yes, there's a little bit of bias on my end. Johnny seems to have come to terms with this most recent breakup, and yeah, he's probably going through a second "midlife crisis" with Amber Heard, but that relationship has many tests yet to endure.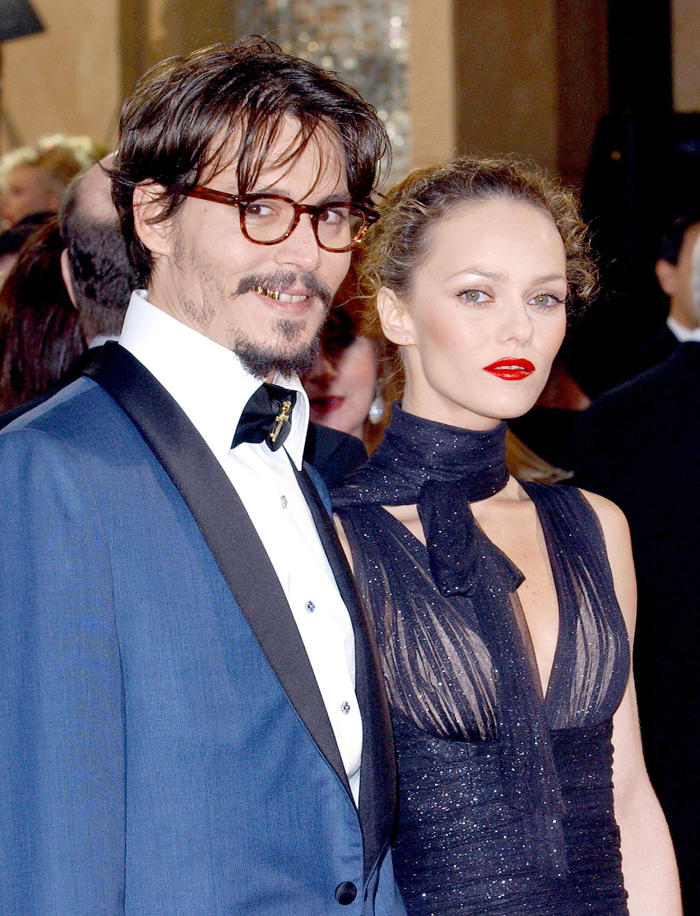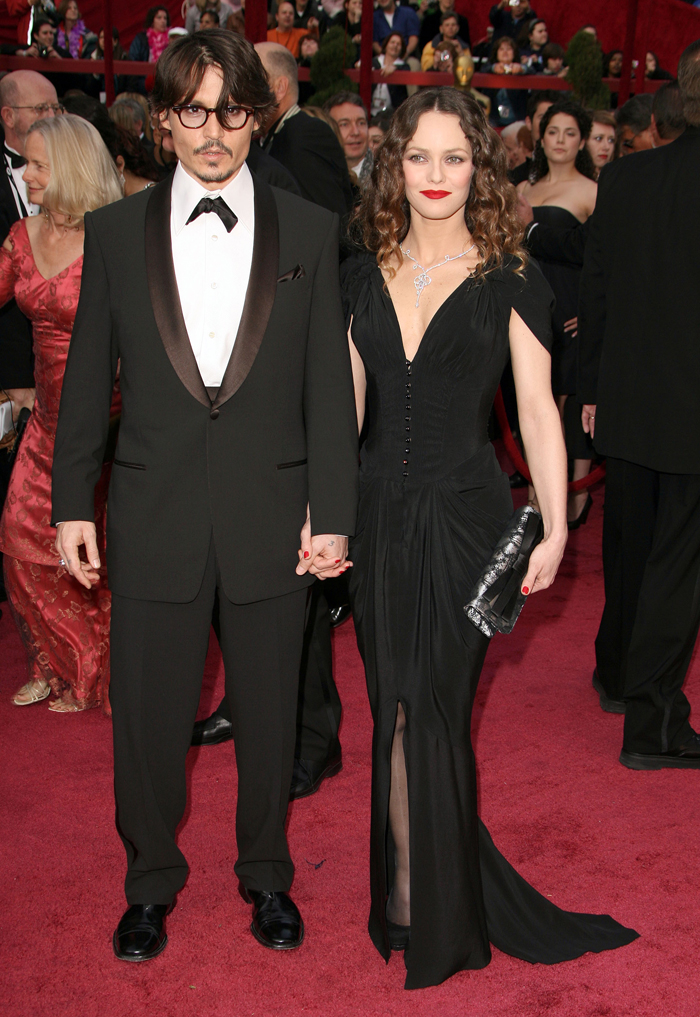 Photos courtesy of Fame/Flynet and WENN